Don't know what to buy that person who has everything? Well, I've found about 50 items they don't know they're missing.
What is that tinkling music I hear in the wind? Ah yes, it's the Chanukah joy approaching. The season of expressing appreciation will quickly be upon us, and it's time to make note of all of our favorite people's favorite things.
I have been asked for a peek at my own gifting wish list. Now, some may call me a "high maintenance lady" but I prefer to refer to myself as a lady with "distinguishing taste."
As an Insta blogger, my photos are set up to portray especially enticing images. Of course it does help that I have a cultivated sense of fashion, flair, and beauty, which better enables me to present the best version of my skills to you, my darling public.
Special occasions are often marked by the giving of lavish gifts to loved ones far and near. As a lady of distinguished tastes myself, there is an ongoing mental list kept in my mind of things I'd like to have/need to have/absolutely dying to have. These gift ideas are helpful inspiration to my loved ones when it's time for gift-giving.
I will share some of these ideas that are so close to my heart, to help you this Chanukah season, even if the only use you have for this list is your own window shopping enjoyment and the spur to create wish lists of your own.
Your loved ones will be over the moon with any of these great finds, however I can't promise not to be stricken green with envy when you rip off the gift wrapping to reveal a gift that I myself would love to get my ringed little hands on. Therefore, I will say that I am completely open to being on the receiving end of your gifting love.

1-Kitchenaid Candy Apple Red Nespresso Espresso Maker with Aeroccino Milk Frother
2-Alligator Dessert Plates, Set of 4
3-Hermès Balcon Du Guadalquivir Dinnerware Collection
4-Hermes Mosaique 24 Gold Dinnerware
5-Anthropologie's You Are My Favorite Cheese Board
6-Emilio Pucci Art Collection Espresso Cups
7-French Kitchen Marble Rolling Pin with Stand
9-Staub Cast Iron Round Cocotte 
11-Le Creuset Salt and Pepper Mills
12-Cutipol
14-Miyabi Birchwood Chef's Knife, 6 inch
15-Gold Dipped Porcelain Spoon Set
16-Slant Collection, Jewel Glasses
17-Dalstrong Chef's Knife, Shogun Series x Gyuto Hammer Finish, 8-inch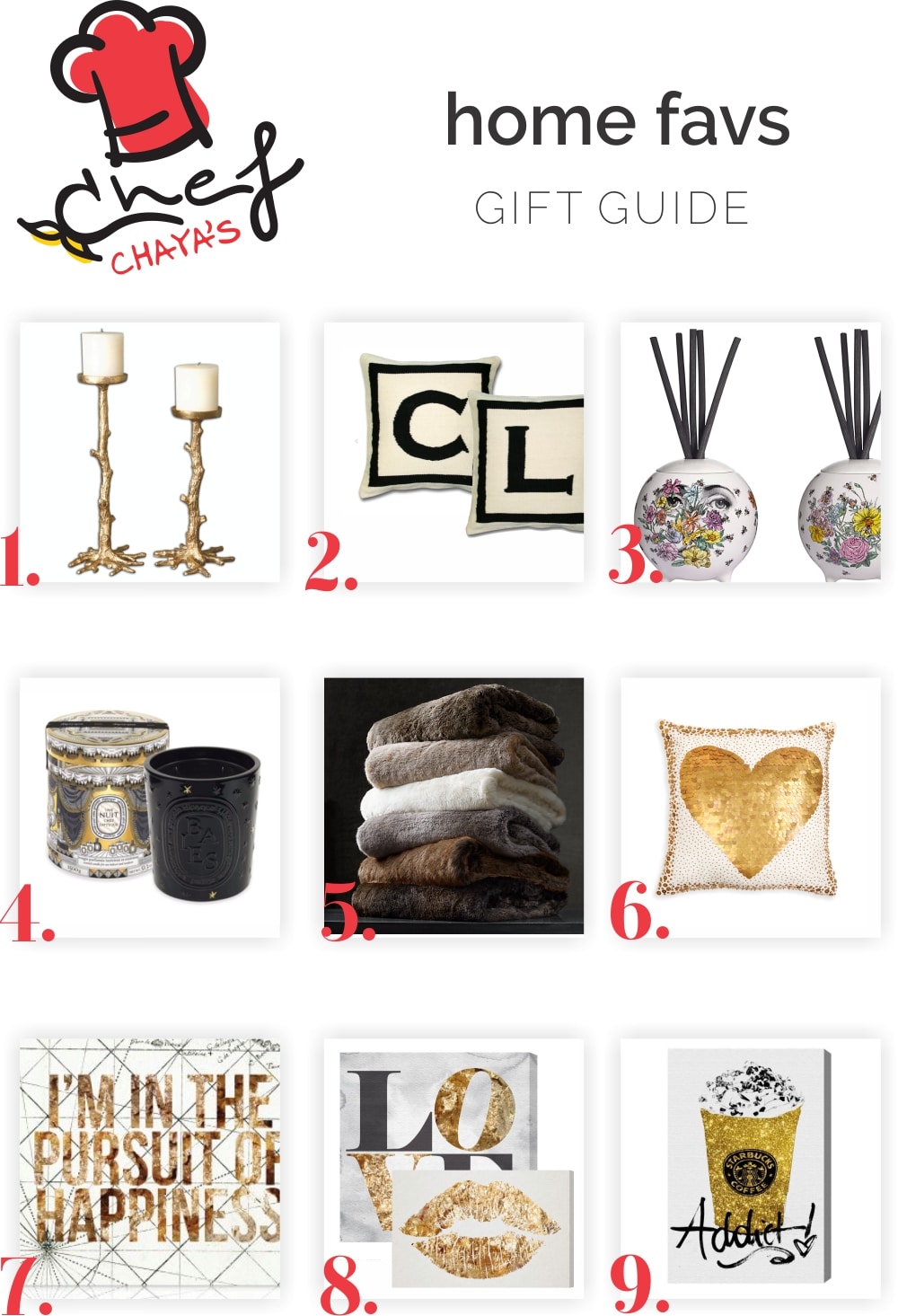 1-Gold Leaf Twig Candleholders
2-Jonathan and Let Pillows and Monogramed Pillow 
4-Diptyque Baies Indoor and Outdoor Limited Edition Candle
5-Luxe Faux Fur Throw in Coyote
6-Talitha White Heat Pillow Jonathan Adler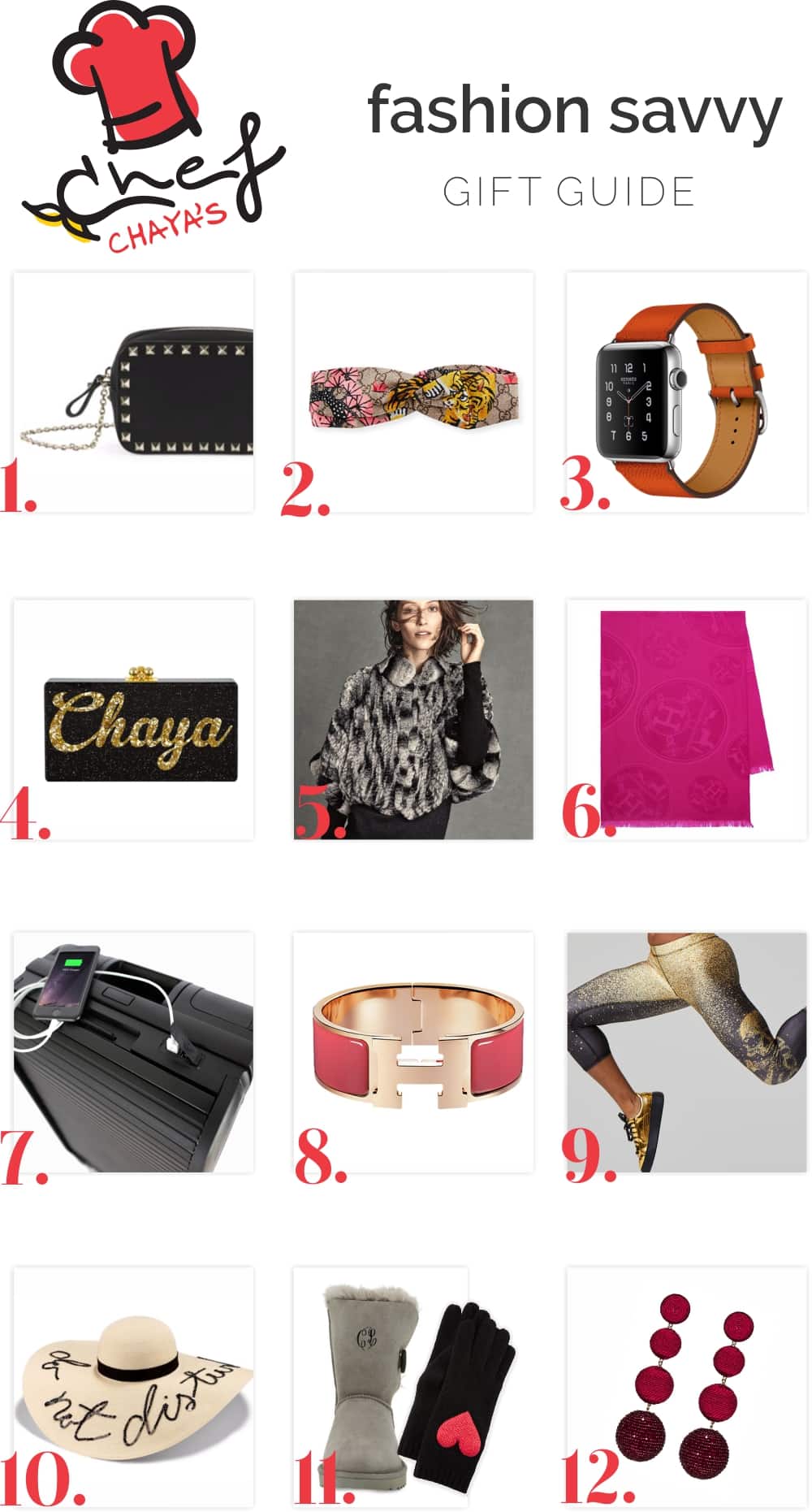 1-Valentino Small Rockstud Chain Camera Crossbody Bag
2-Gucci Bengal Tiger Silk GG Headband
5-Belle Fare Knit Rabbit Fur Bolero (both colors!)
6-Hermes Cashmere and Silk Stole with Jacquard Weave in Purple Pink
8-Hermes Clic Clac 1-inch Wide in Rose Gold
9-Glitter Print SOUL Skupp Capri
10-Eugenia Kim Sunny "Do Not Disturb" Sun Hat
11-Ugg Bailey Button II Boot with Monogram,  Portolano Cashmere Heart Tech Gloves
12-Les Bonbons Sangria Earrings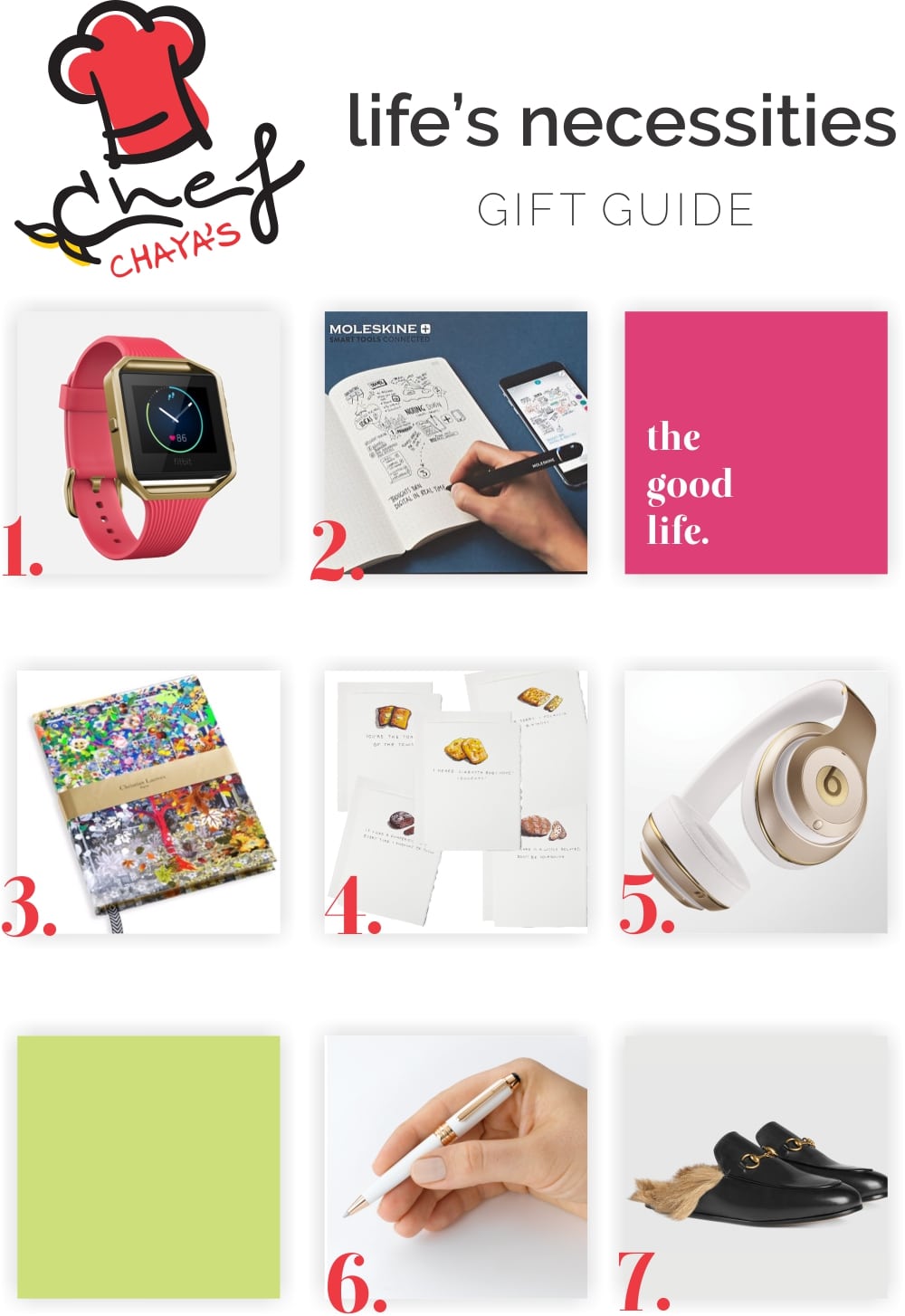 1-Fitbit Blaze Smart Fitness Watch
2-Moleskine Smart Writing Set Paper Tablet and Pen+
3-Christian Lacroix Hardbound Journal
5-Beats by Dr. Dre Alexander Wang Studio Wireless ON-Ear Headphone (Gold)
6-Mont Blanc Meisterstück White Solitaire Hommage  W.A. Mozart Ballpoint Pen
7-Gucci Princetown Leather Slippers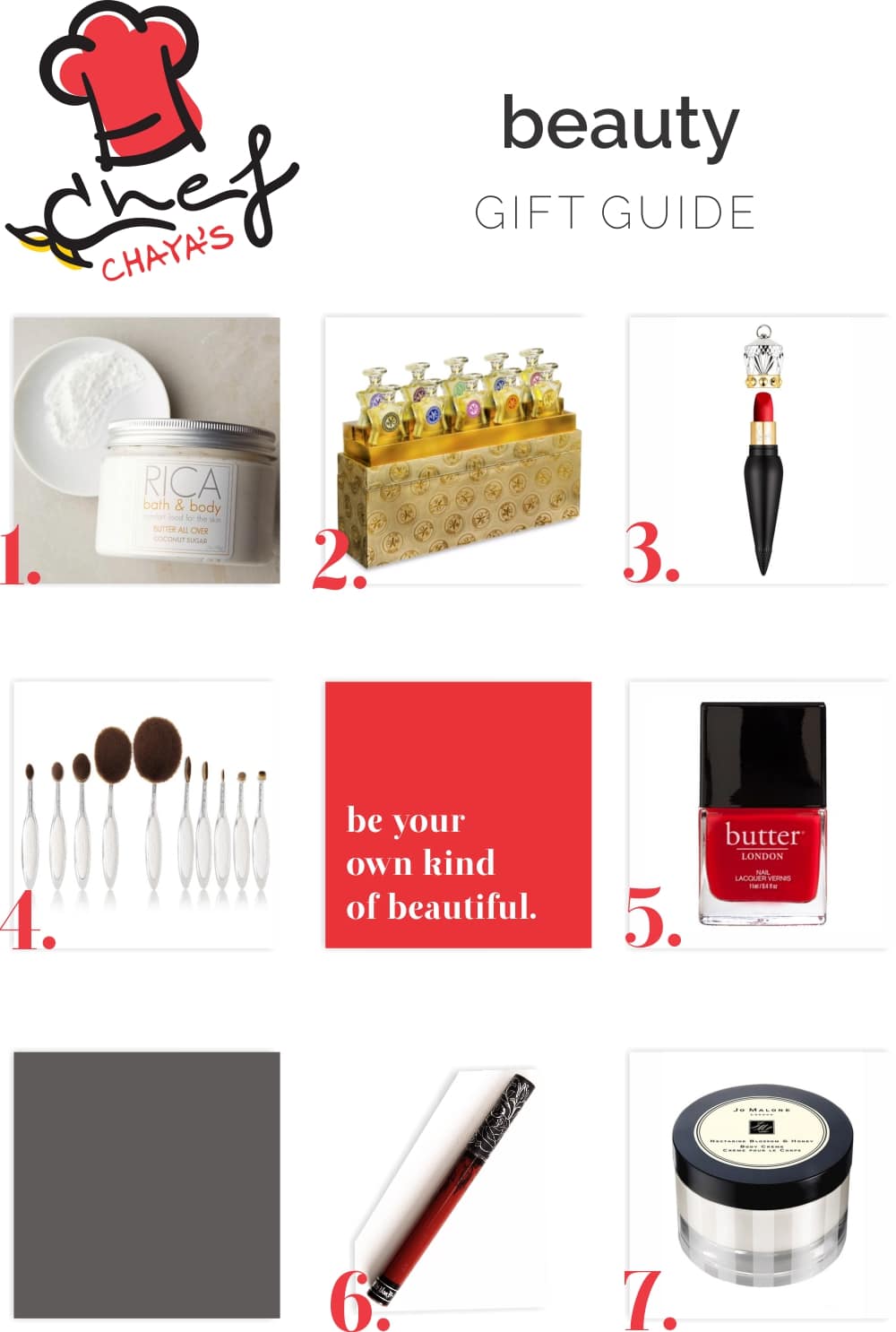 1-Rica Body Butter
2-Bond No. 9 New York the Perfect 10
3-Christian Louboutin Rouge Louboutin Velvet Matte Lip Colour
4-Elite Mirror Ten Brush Set, Artis
5-Butter London Nail Lacquer in Pillar Box Red
6-Kat Von D Everlasting Liquid Lipstick in Outlaw Brick Red
7-Jo Malone Nectarine Blossom and Honey Body Cream
[small_title title="About ChefChaya"]
Chef Chaya, the original #CarbieBarbie, is an ABA Therapist by day and popular foodie Instagrammer by night. She's known for her fabulous weekly tablesettings, cooking classes, recipe development, tempting iPhone food photos, pop up sales of coveted homemade goods, and most of all, for the humor and wit she brings to her daily posts. Find her online
@chefchaya
on Instagram or on
Facebook
.
Looking for a different kind of Gift Guide? See BCP's Guide and The Frugal Guide.