Your child doesn't need expensive tutoring to master lashon hakodesh. The
Einei HaLoshon language program
is the answer!
Does your child read Hebrew, but have trouble understanding it?

Is it keeping him/her back from progressing in his/her studies?

Is he losing confidence because he can't understand the pesukim or the Gemara?

Do you wish there was a proven fix, without endless tutoring?

A child spends years in yeshiva, and so many lessons are presented in lashon hakodesh. Why should they continue to struggle with it? Not everyone picks it up so quickly, and it only gets harder as the years go on! Don't let your child suffer another day, struggling in yeshiva each day.
We want to let Between Carpools readers know about this program, because one member of our team had personal experience with it, and it's truly amazing and revolutionary.
How Did It Come About? Veteran tutor, Rabbi Paltiel Friedman of Belgium, had a nine-year-old student who was intellectually gifted who simply couldn't grasp lashon hakodesh, and it was keeping him back from progressing in yeshiva. Trying to figure out how to help his student led Rabbi Friedman to research and develop Einei Haloshon.

He first offered it to schools in the form of a workbook, before ultimately developing the digital version which any student anywhere can use! Once the program is downloaded, internet is no longer needed to use it.
What's the Track Record So Far? Over a thousand people have successfully completed the program. Even adults who have struggled with lashon hakodesh their whole life are experiencing a second life in their understanding. 
"Children with language issues connect to it quickly," says Rabbi Friedman. "It boosts their self-esteem as they experience success. It also enhances their thinking skills, prompting them to ask questions in school when they never did so beforehand."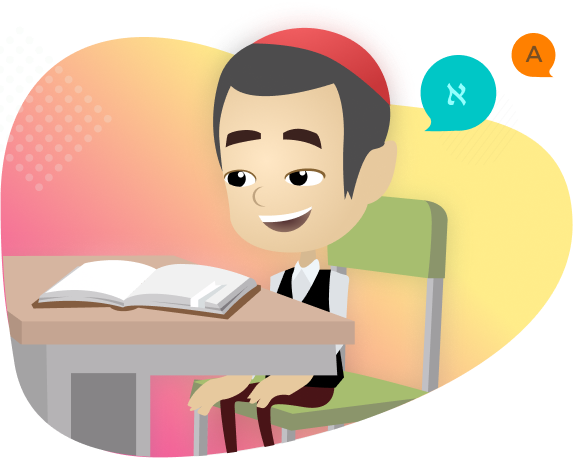 How Do I Know If This is Right for My Child? Einei Halashon has a 100% success rate — that's because they screen each candidate before they sign up, to ensure that the program is the right fit for them. The screening is free. There's also no risk if you do go ahead and sign up for the program, as there's a full money back guarantee. If you see no improvement after the first 5 exercises, Einei Haloshon offers a full refund.
How Does It Work? Einei Haloshon shows how the fundamentals a child knows from his own native language apply similarly to lashon hakodesh. The program teaches them how to implement these basics until proper grammar and syntax comes naturally. There are daily lessons, and they're fun and interactive to do. Einei Haloshon recommends spending 20-30 minutes each day using the program; in total the courses take 20-30 hours. 
"It becomes second nature to them. They learn the rules they need to know and can now apply them without thinking too much into it," says Rabbi Friedman.

Want to learn more? Visit www.Haloshon.com to discover more about this ground-breaking program. Einei Halashon has received the approbation of Torah uMesorah, in addition to the Chief Rabbi of Belgium, Rav Aharon Schiff.