How will you set the table at your seudah? If ever, this is the time to have fun and bring in the color! Use BCP15 for 15% off your order at 
LuxeParty.com!
Want to see more, fun bright setting ideas? See this Chanukah post on 8 Gorgeous Place Settings for 8 Nights.
Ok, now let's get practical. You want to set a fun table. But you don't exactly keep brightly colored tablecloths on hand. That's no problem. Use bedsheets like these over here. These Queen Flat Sheets are apx 90 inches wide x 102 inches long, so two sheets would be perfect for almost any dining room table (depending on how much you overlap them). 
Now, the moral of this post is that you don't have to go crazy and brainstorm elaborate centerpieces to create an amazing and unique Purim table.
You can start with the items that need to be on the table anyway, like that tablecloth and your place setting. In some of the place settings below, you'll see we also used colorful mini cans of drinks like these that coordinate with our place settings.
Now about the plates that go on your colorful base…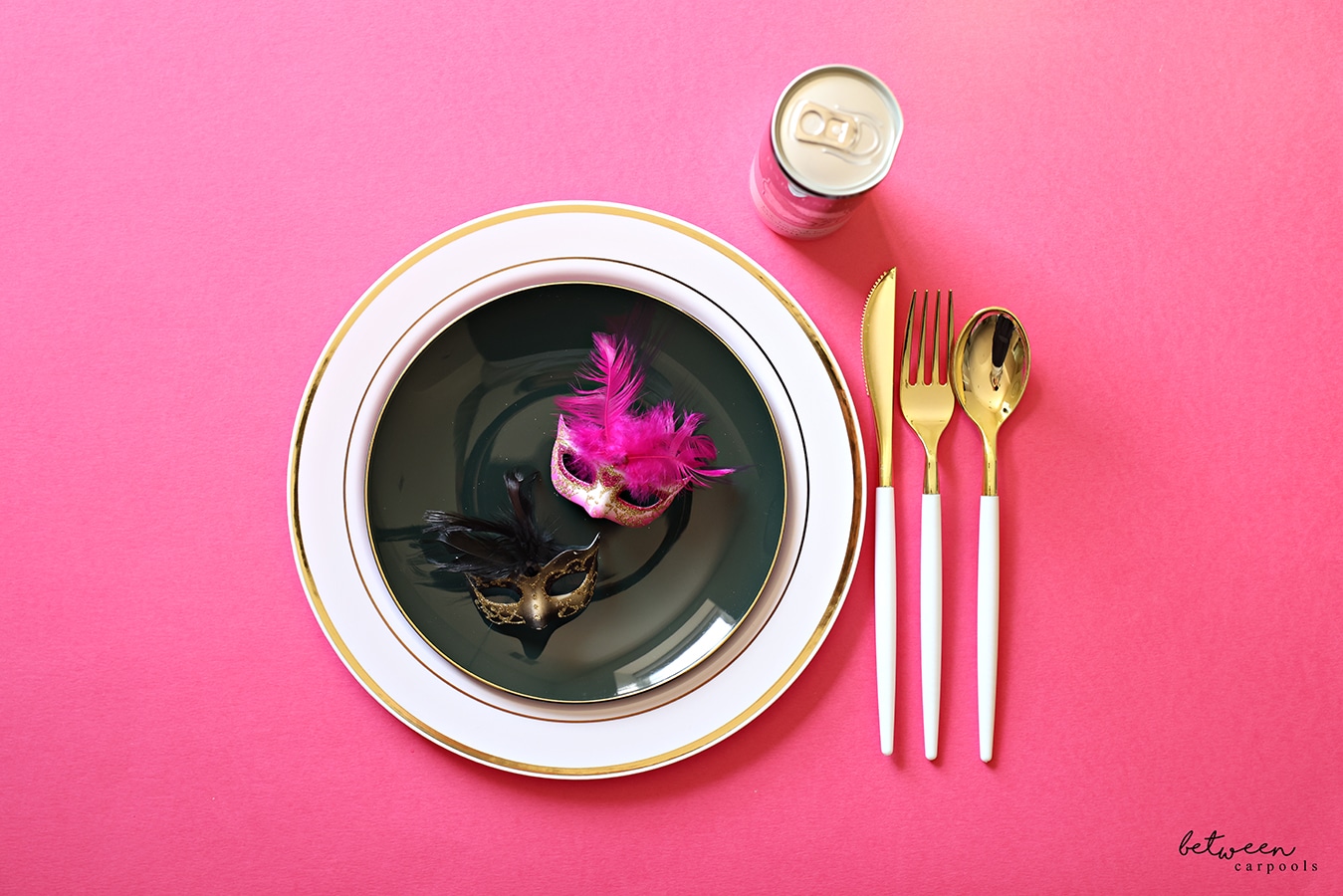 When you have a brightly colored tablecloth, a simple black and white place setting is so perfect and chic. You can go with the white round with gold rim or the classic ones shown here which have additional accents (also low-priced at $3.99/pack). Pair any with the black appetizer plate and two tone cutlery and you're set.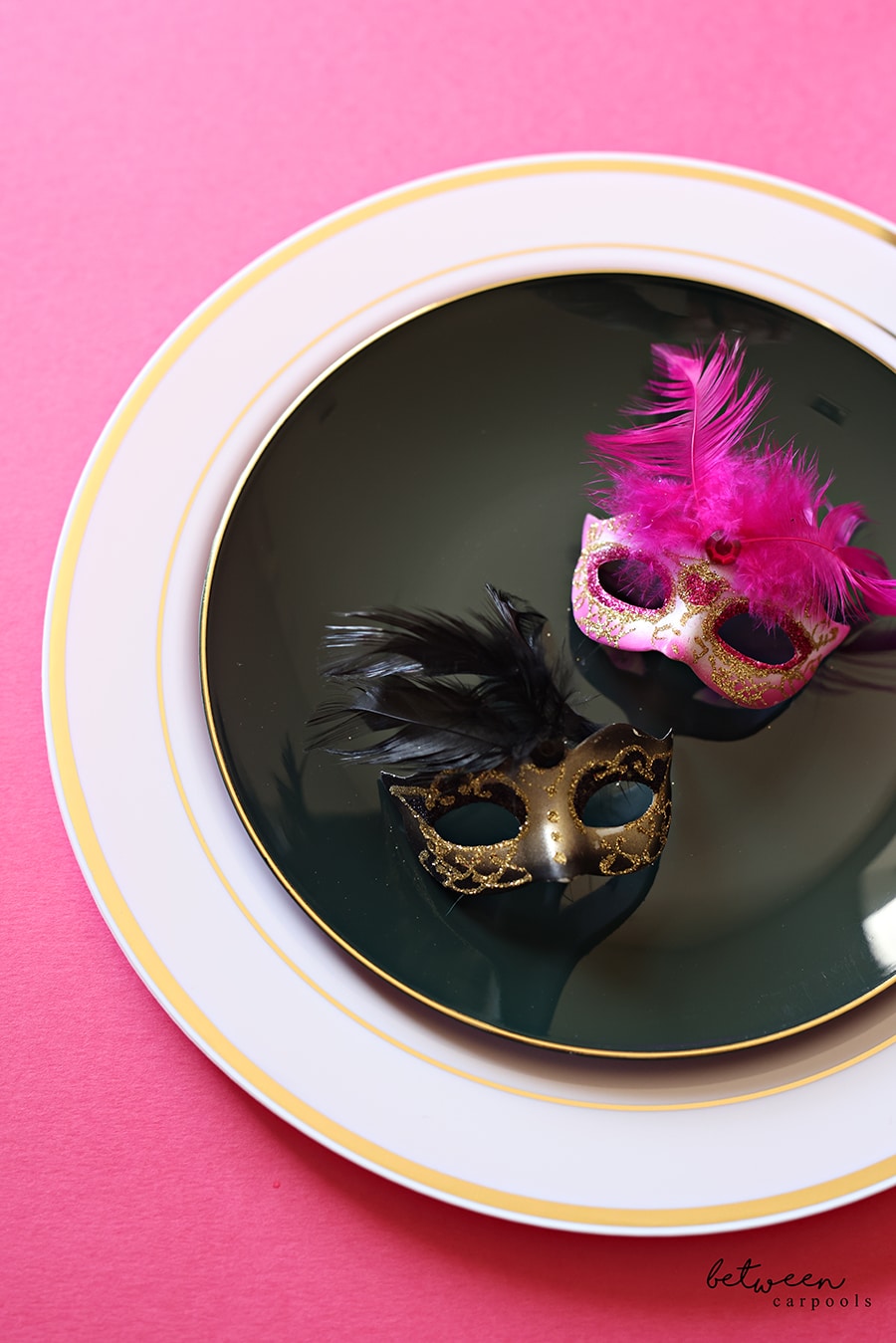 By the way, if you're serving buffet-style and just need the forks in bulk, Luxe now offers the forks on their own! (P.S. If you like the mini masks we used, you can easily find the color to match your table over here.)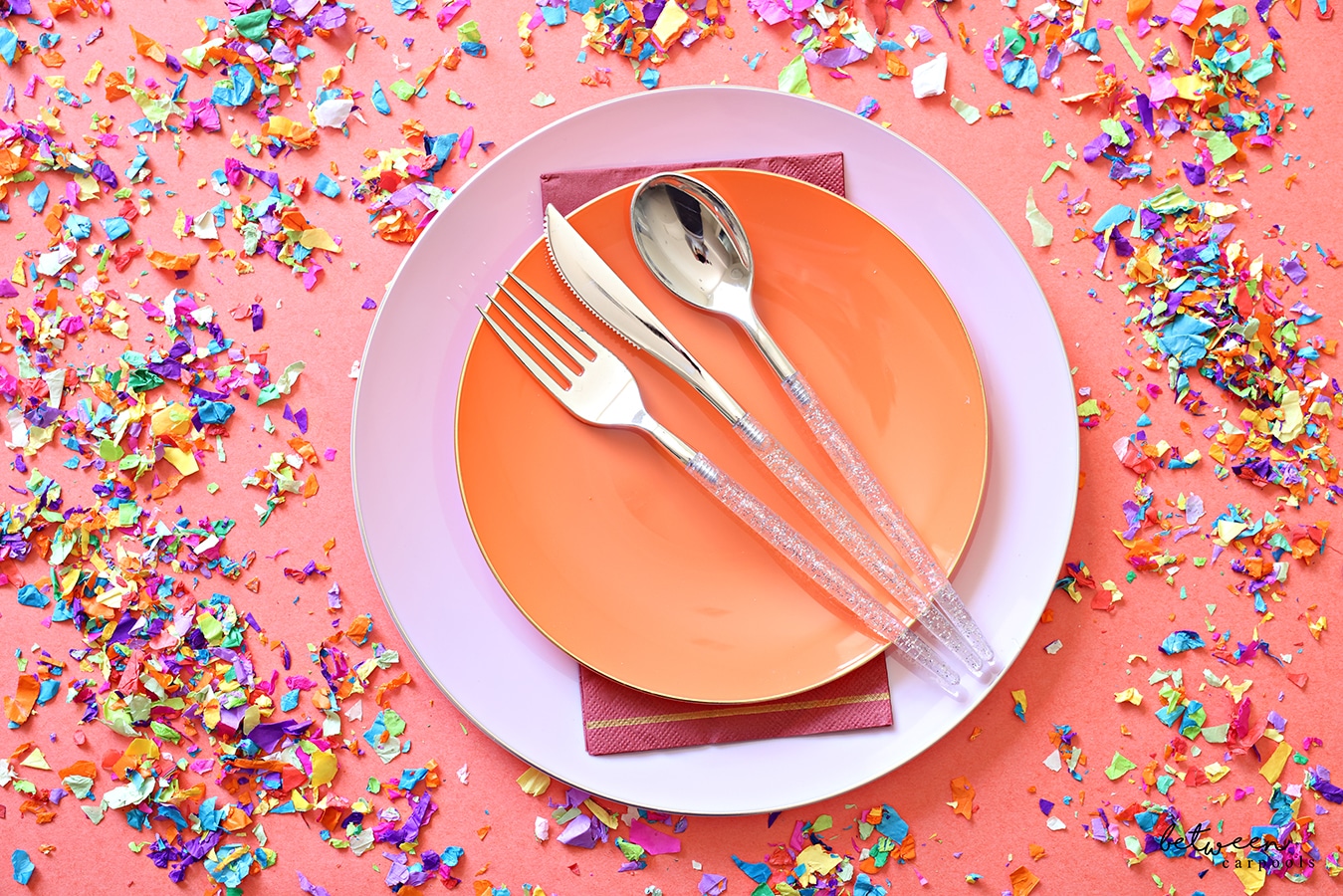 This might be our favorite of the bunch! It's just so fun! We used a blush dinner plate topped with the orange appetizer plate (if there's ever a time to use orange, it's now!). Accent with the cranberry napkins (such fun!) and glitter flatware! Really, you don't have to use these exact colors, but when else can you have this much fun setting a table? To copy this confetti look, scrunch up this type of confetti found here.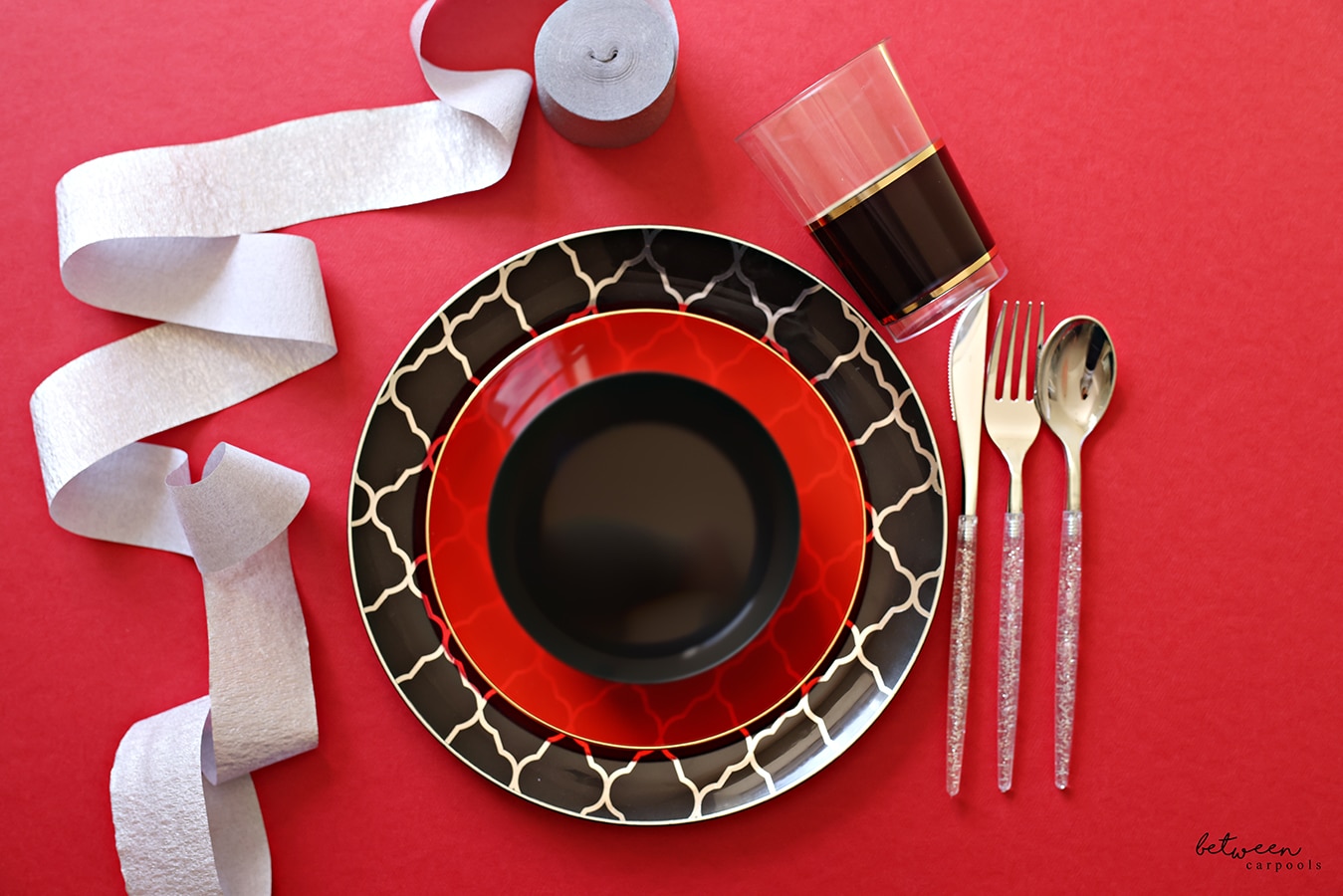 Want to travel back to Shushan? This Persia-inspired look has a festive, regal air that's so striking. Start with a black accented dinner plate (it's so perfectly Purim!) as your base, topped with the red appetizer plate. Finish it off with the black bowl and black tumblers. The glitter flatware works here too. Click here if you only want the forks!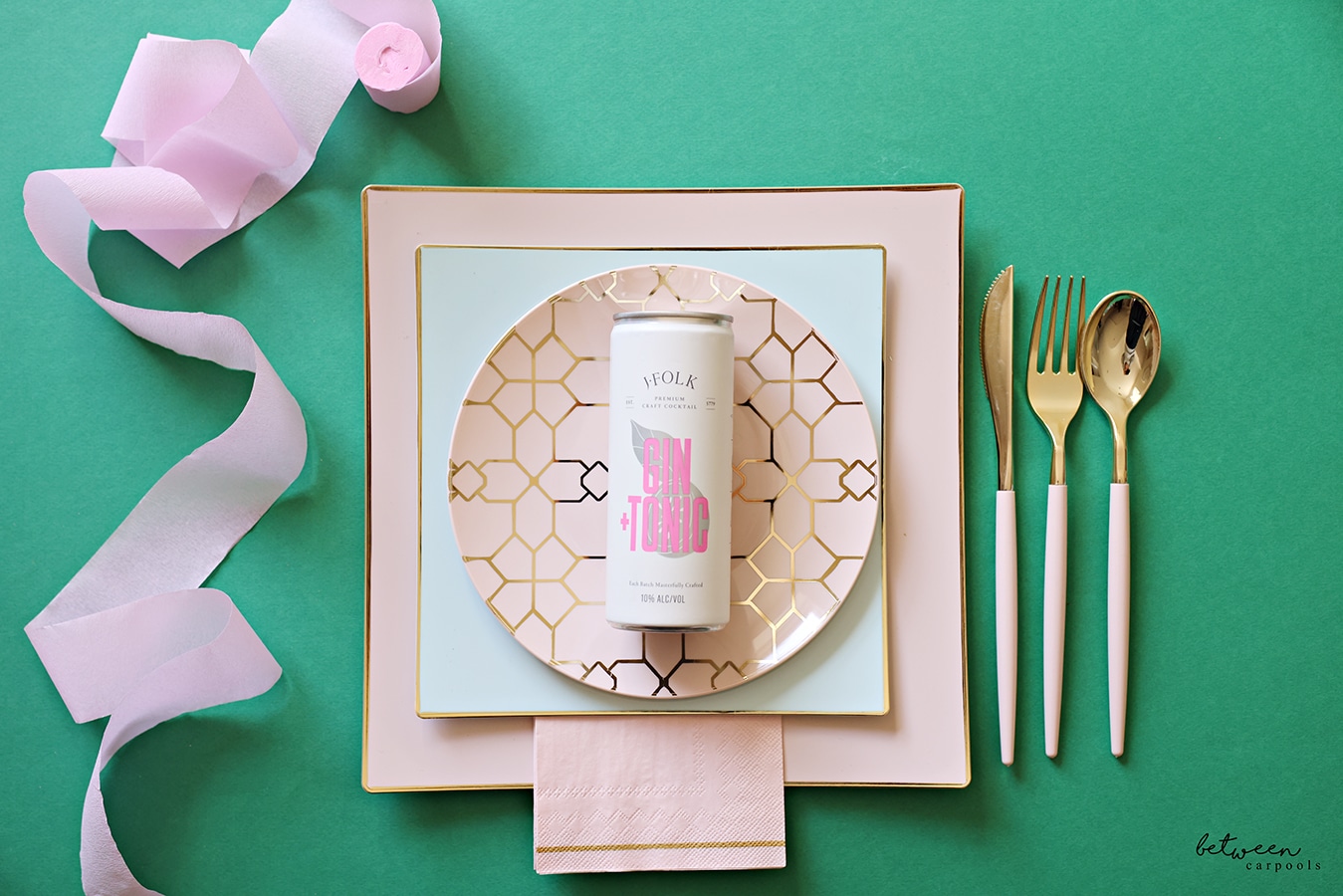 Ready to switch to a totally different color palette? (This one reminds us of ice cream.) We're using the blush square plate with the white square appetizer plate, the blush accented appetizer plate (yes, you can mix square and round–it'll look great!) and some blush napkins. Finish it with blush and gold two tone flatware.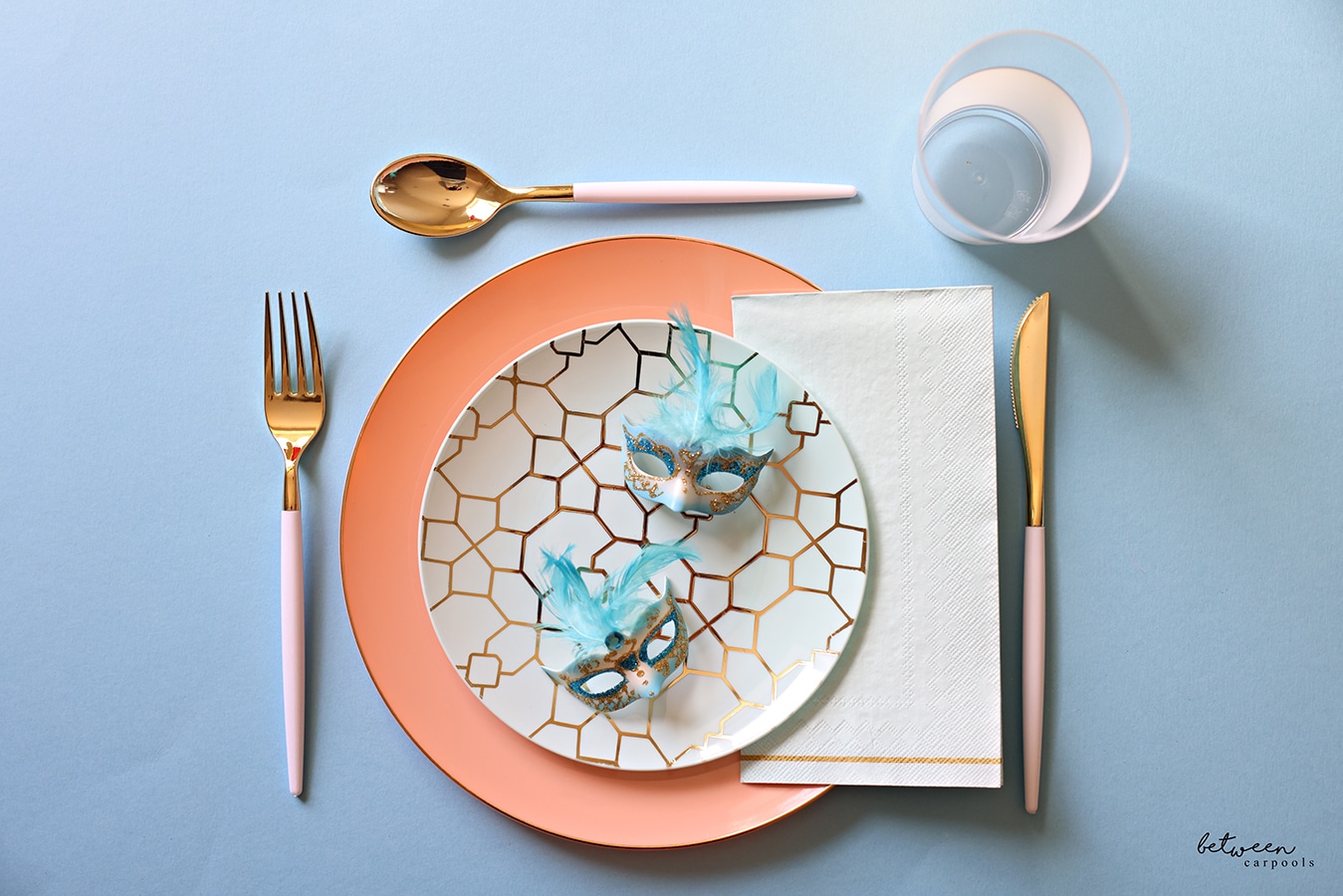 Another way to go with the table is to keep most colored soft and neutral, and have just one pop of color. Here, pale blue and white looks so pretty with that pop of coral. Almost any pop of color works! This one features a coral dinner plate, with a white accented appetizer plate (solid white also works fine). Finish with napkins, two-tone flatware and tumblers.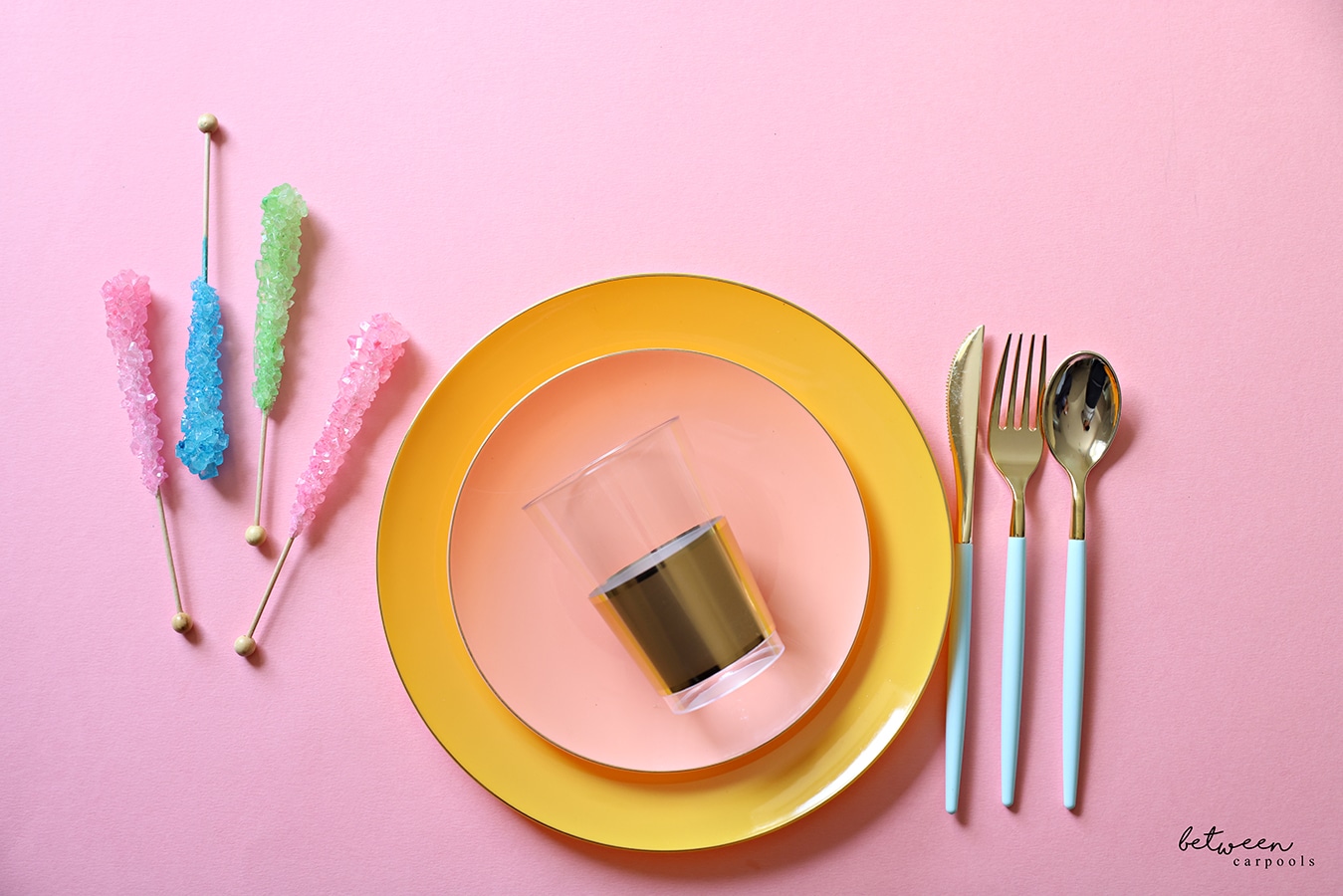 This one is sweet, reminiscent of the candy you're sure to be surrounded with by the time the seudah rolls around. But the colors here are way more delish. We actually really love this pairing of yellow, coral, and mint. You can also shop by color at Luxe Party. For everything yellow, click here. For everything coral, click here. And for everything mint, as shown in the two-tone flatware, click here. You'll find the gold tumblers over here.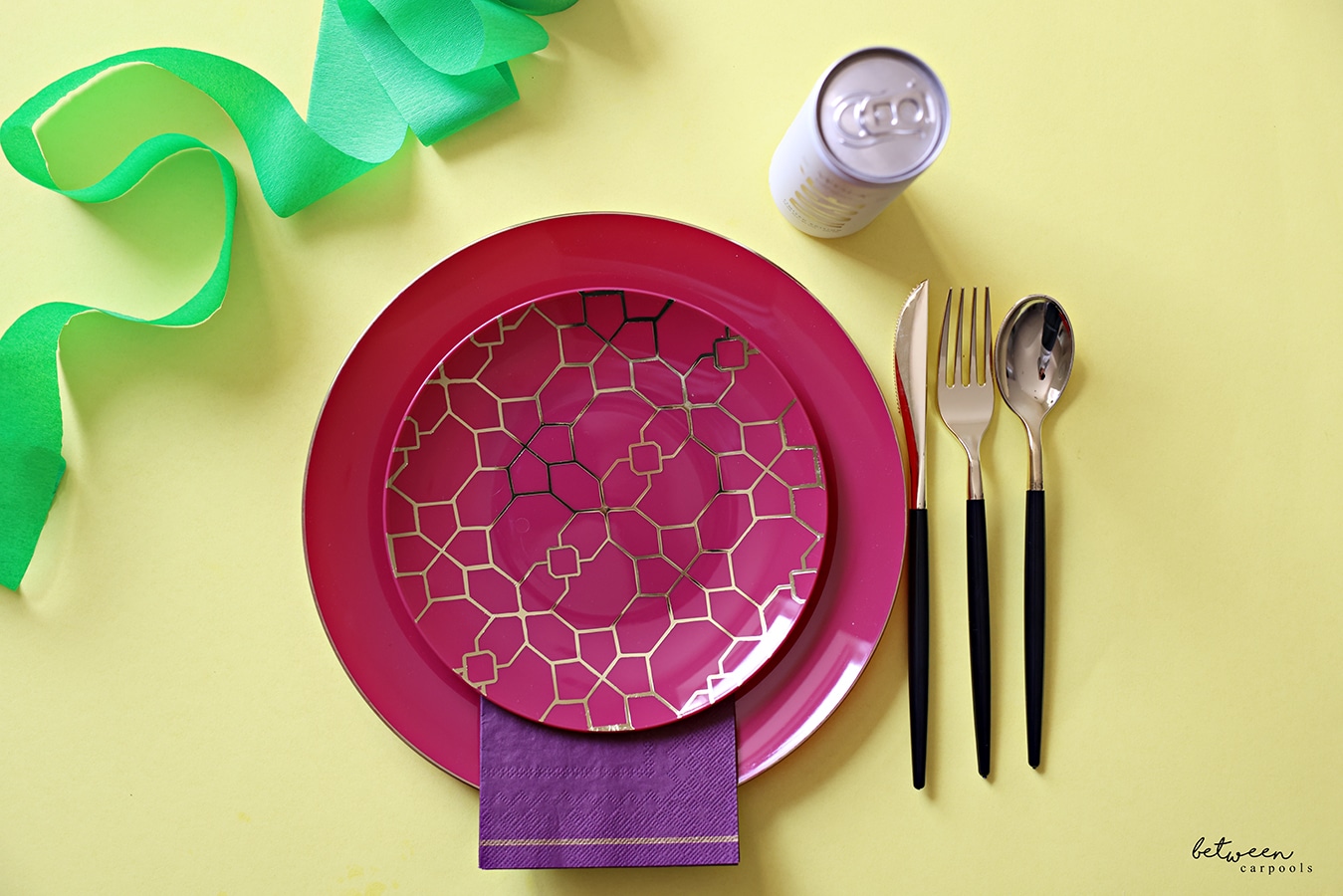 We think the Cranberry Collection at Luxe Party is just gorgeous, and it really is so neutral and will work with so many tablecloths, from light colors as shown here, to deep colors like black, navy, and emerald green. Shop everything Cranberry over here.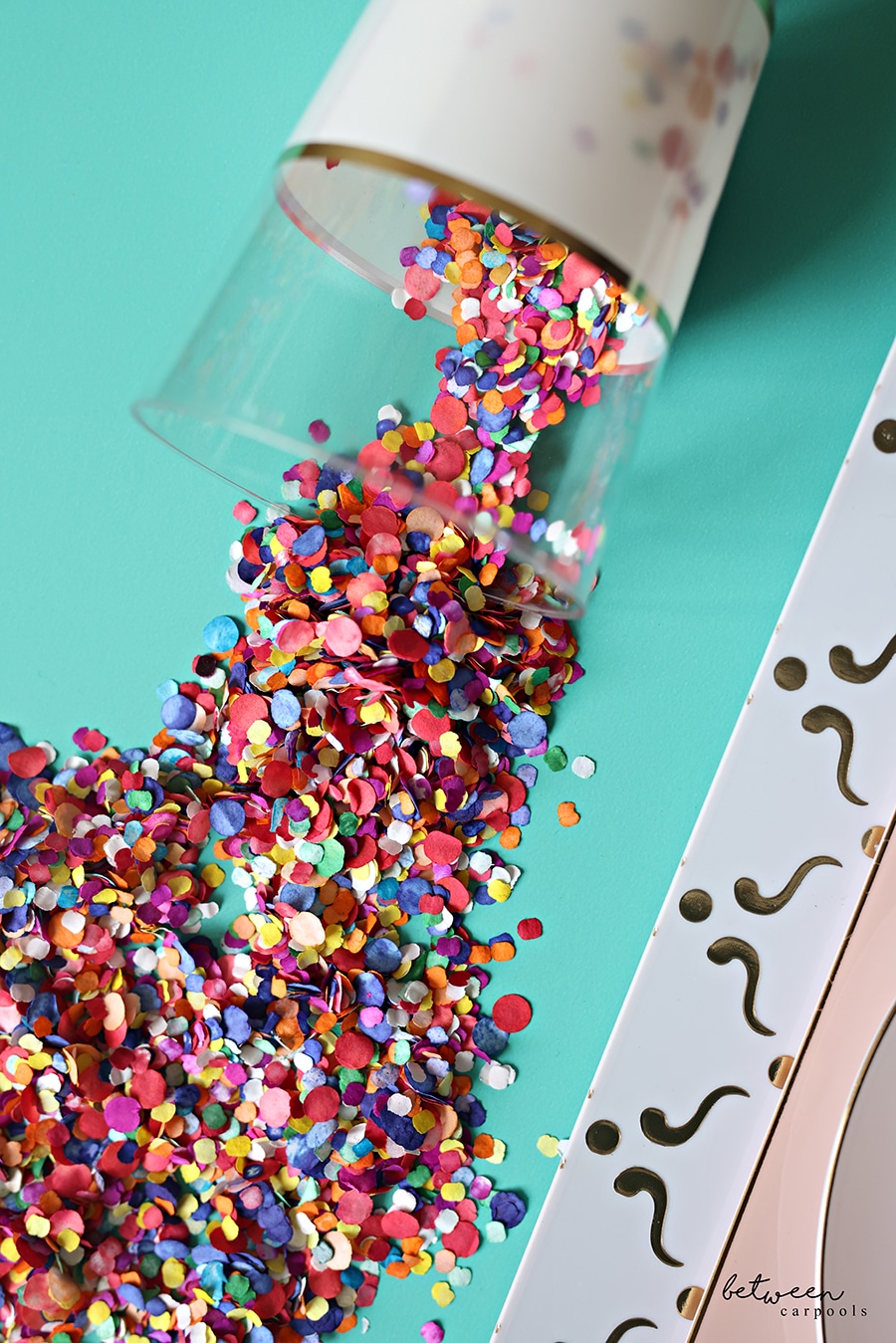 If you have the will and a vacuum, nothing will bring on the smiles like a cup-o-confetti. It will liven up any table!! Even the most neutral ones! So, if you're going with white, as shown here (You can find all white and gold items here, including Luxe's new Monogrammed Napkins), let the confetti bring the pop you need.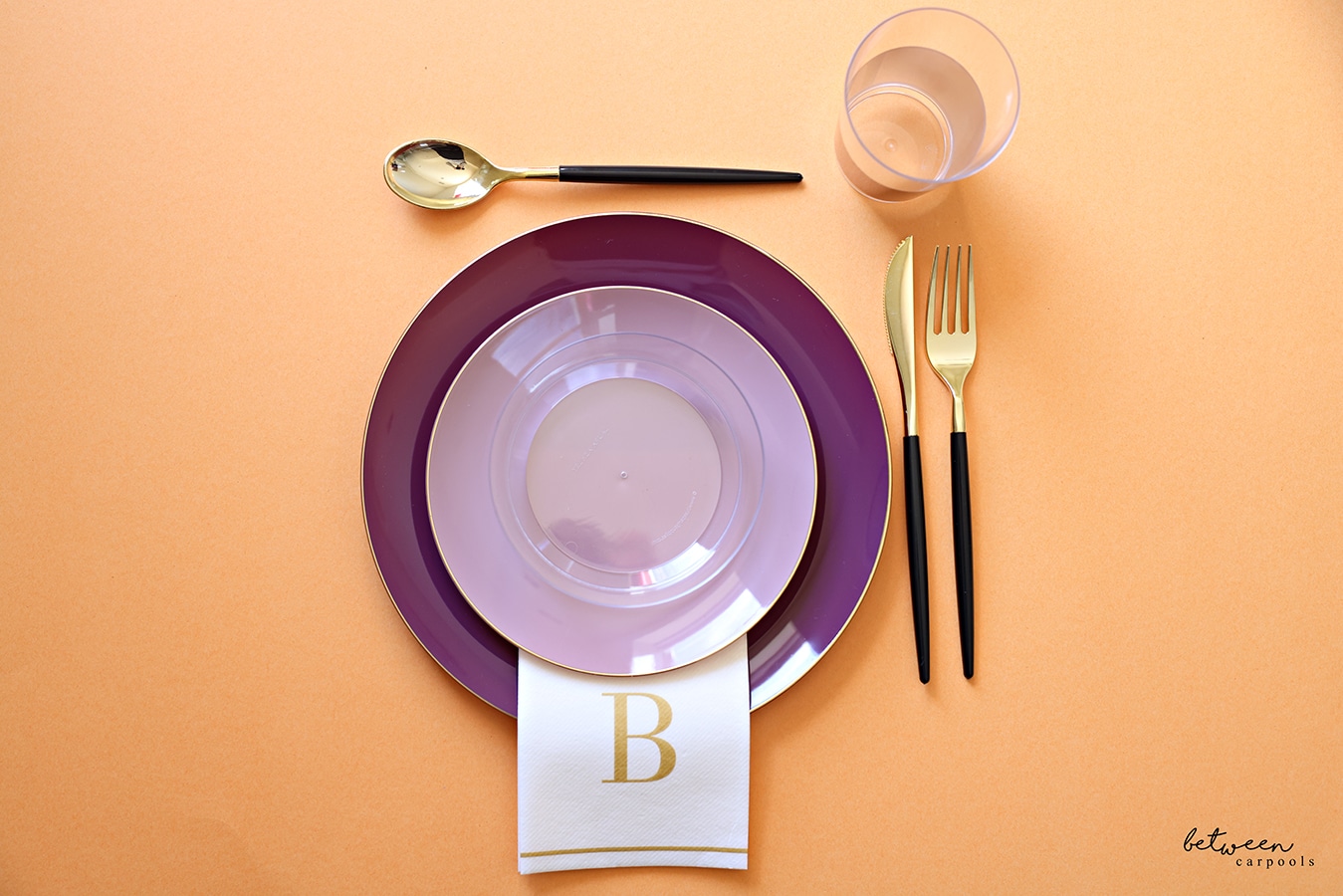 So, which color combo do you love the most! 
Don't forget your BCP15 coupon code! Order early and get your seudah all set, and have fun!
FOR EXCLUSIVE CONTENT AND A PEEK BEHIND THE SCENES, MAKE SURE TO JOIN OUR WHATSAPP STATUS HERE.