Get Handi was professional, neat, efficient, and had all the supplies needed to install my closets. Ninety minutes later, I was so, so happy.
When we first introduced the Get Handi service to you back in this post, we hadn't yet used it ourselves. If we were going to continue to advertise, we had to experience the service first hand.
Do you know how handymen — the people willing to come do the small fixes in your home — seem to be elusive (you can view all the services over here)? That's where Get Handi comes in. Book. They come. They're professional. They're trained. And the job gets done.
Now it was time for us to see for ourselves. Did I have work to do in my house? Sure. I had a couple of wire closets in my playroom that I wanted to replace, so I volunteered to test out Get Handi. My previous wire shelves were either broken or sagging and it would be nice to get one home organization project done during the pre-Pesach season. I ordered these melamine shelving boards and these shelves (available in different sizes) and then I went to GetHandi.com to submit a request for someone to come install!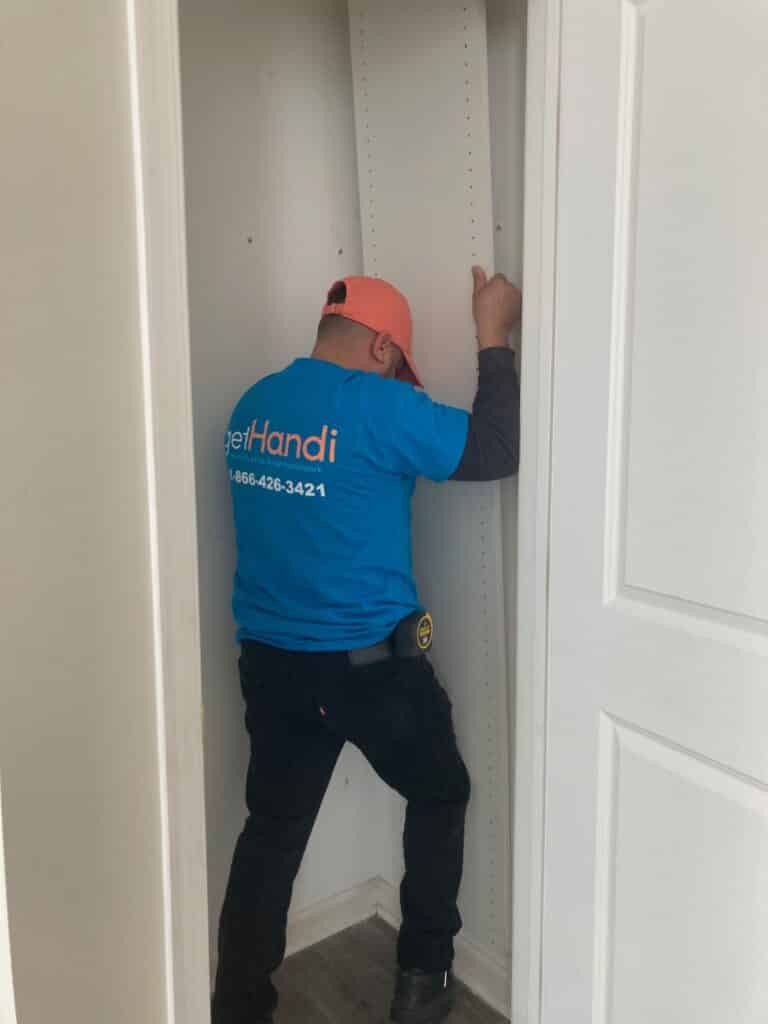 I didn't have to buy the materials ahead of time (if you prefer, you could send Handi to get them), but I did want the job to be able to get done as efficiently as possible once the Get Handi-man walked in my door. I didn't know what else would be needed to get these shelves put up, so I left that up to them. Shortly afterwards, Get Handi scheduled Dennis to come Sunday morning at 10 a.m. It was perfect! Sunday was the perfect day for me to spend organizing closets once the job was done!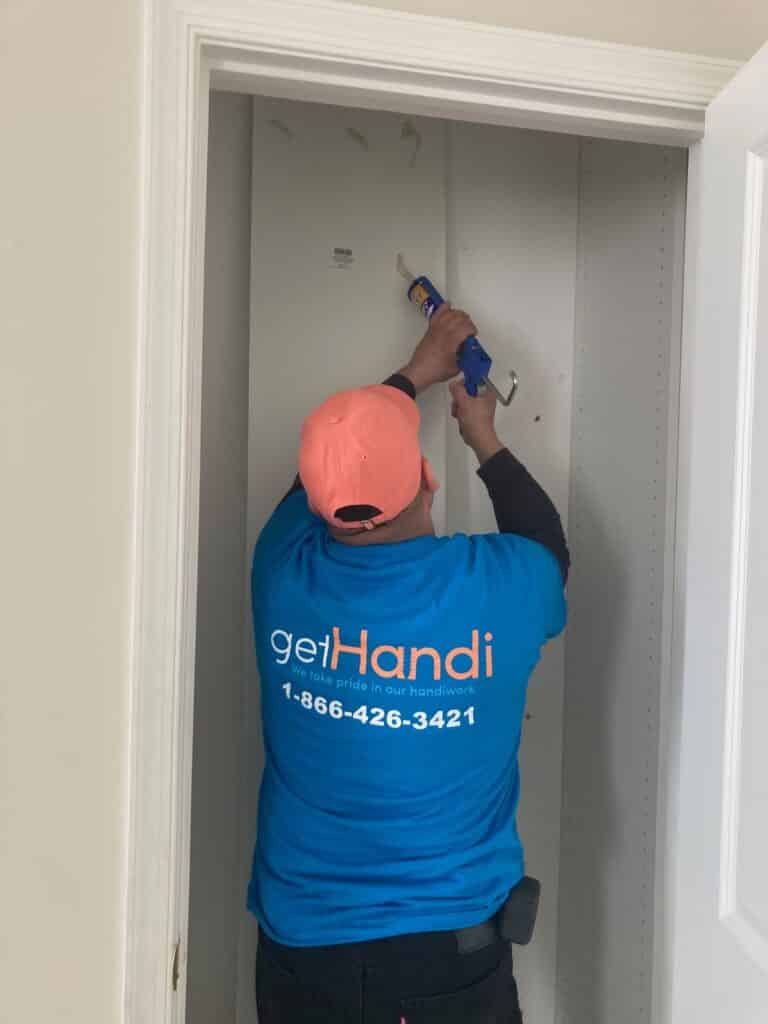 As a person who is not handy at all myself, I didn't know what would be involved. I didn't realize that there would be lots of holes in the sheetrock once the wire closets were removed. No problem! Dennis got out the spackle from his truck and the wall was good as new.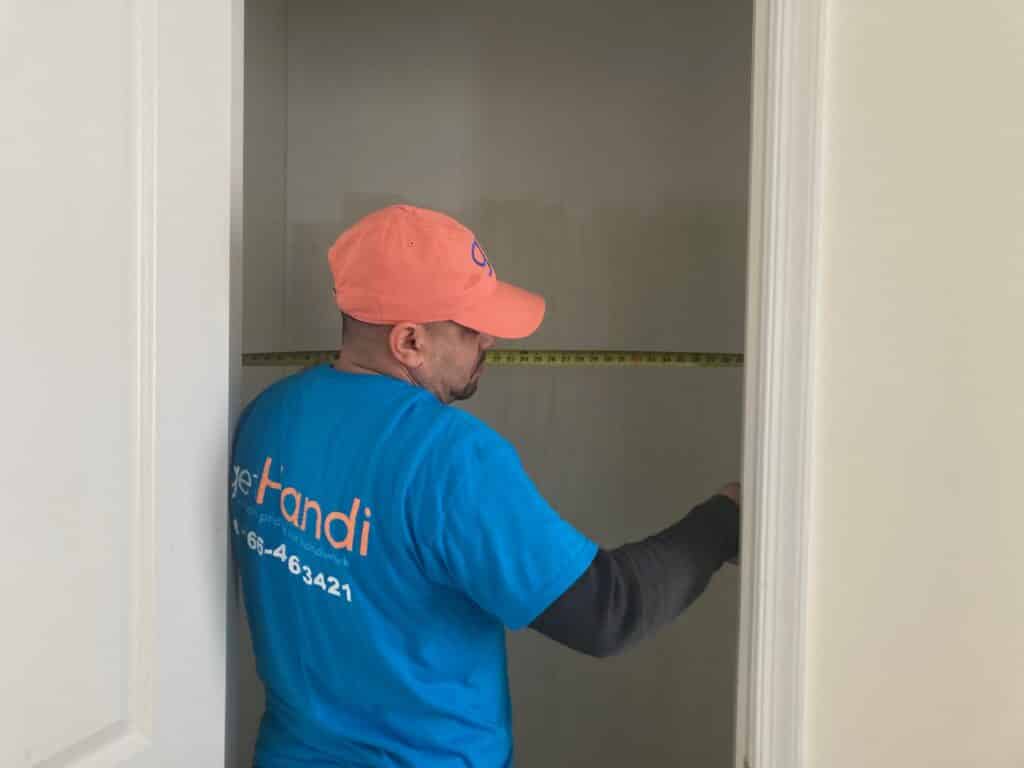 Now it was time to hang the shelving boards. Dennis did the job neatly and perfectly using materials he had brought along–he was really a pro. We figured out where to put each shelf… and within 45 minutes, I had a brand new, expertly installed closet. After only an hour and a half, the two closets were done and some bookcases in another room were also secured. It wasn't so much time but I felt so much had been accomplished–old closets out, walls spackled, new closets installed… it was a lot.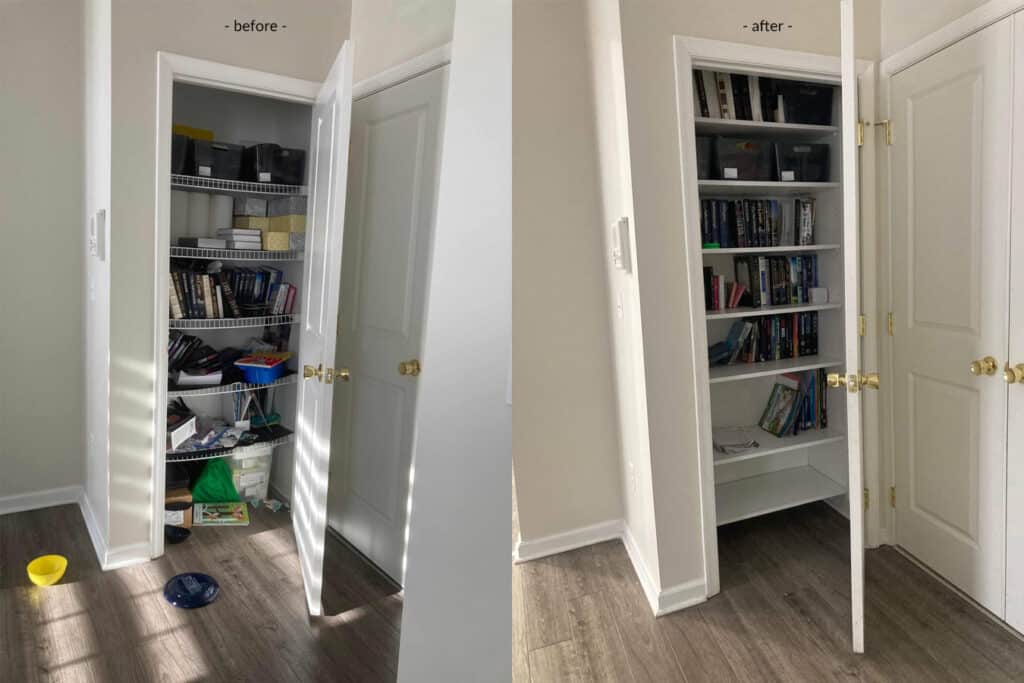 It was so gratifying to get this done! It was so easy and both time and cost efficient, I'm ready to plan transformations for more closets and get other updates done around the house.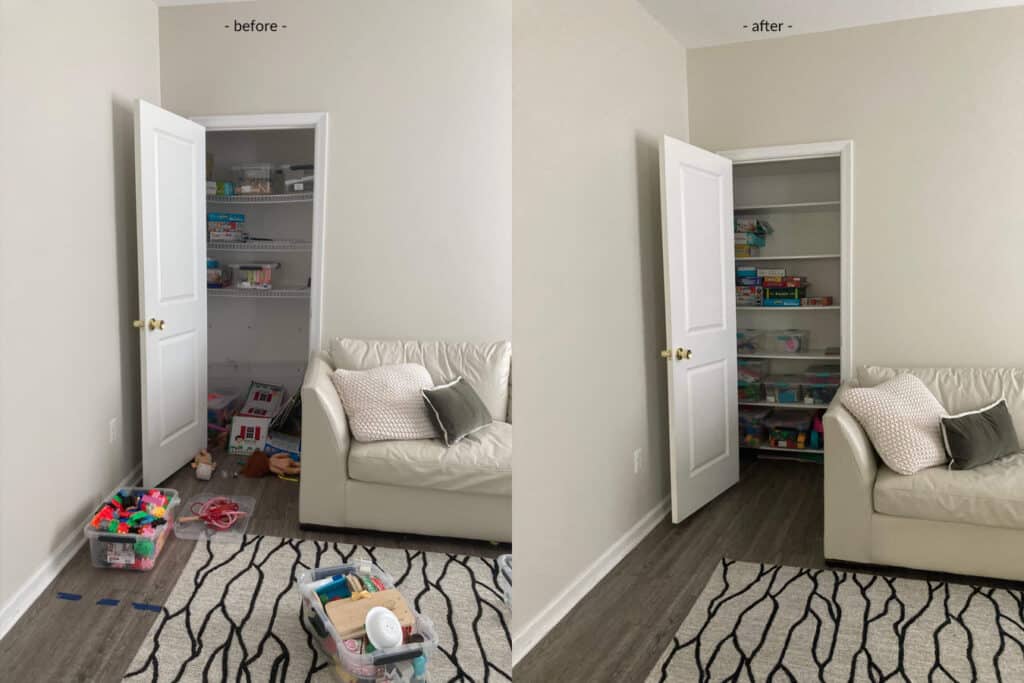 While I was watching the job being done, I expressed that it had been a little hard getting help at Home Depot. He suggested I go to Lowe's next time–the customer service is much better. I took the recommendation and was so grateful. When I went to pick up shelving for another closet, the experience was night and day and so seamless (even on a Sunday!).
Right now, Get Handi is servicing Brooklyn only (future service areas are in the works). Yes, they made a special trip to NJ so I could try 'em out. They better hurry, because I'm now planning my next Get Handi list…
Do you have stuff to get fixed or done? Why wait?