Want your papers not just to get organized, but to stay organized? In this 4-part series, we visit different parts of the house where labels are very, very welcome.
So, I trust that by now you have pulled out your label maker.
Not convinced yet?
How about this: We all deal with a huge amount of PAPERS. Yes. Mail, bills, ads, children's lists, to-do lists, articles…stuff that usually piles up on your kitchen counter/desk/dining room table?
You know what I am talking about. Because you all have this problem in your houses too.
Well, here is my solution: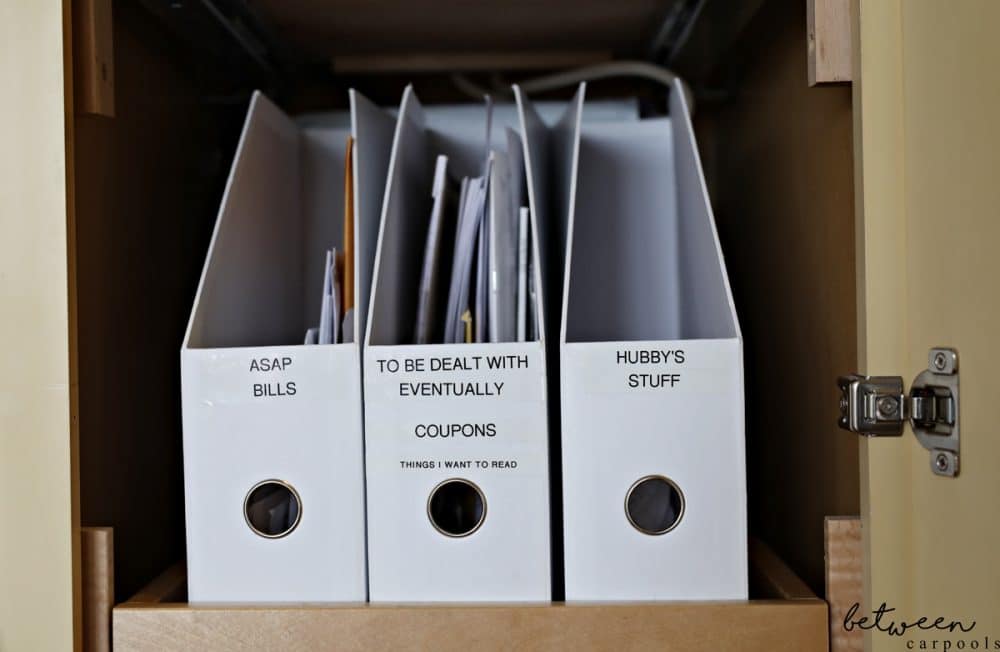 Find a cabinet in your house that you can use to store 3 (or more) magazine holders (you can order these or get the PLUGGIS from IKEA)
Then, label them according to what makes sense for you. This is what works for me:
ASAP/BILLS:
That's where I will drop in my bills, mail, invitations…anything that needs dealing with. Twice a week this folder comes out and I go through all the bills and such. Invitations get marked down on my calendar (with place and time) and then thrown out (I will take a picture of the invitation if I know I will need to remember some details).
TO BE DEALT WITH EVENTUALLY/ COUPONS/THINGS I WANT TO READ:
This folder holds all the papers that need to be saved (gym schedules, takeout menus, instructions for children's extracurricular activities, etc.), things I need to deal with but are not urgent (car tune-up reminders, the number to Tanta Mirel in Israel who you are supposed to call from time to time; you get the idea…). I also save my coupons that come in the mail in this folder (Bed, Bath, and Beyond anyone?). Articles that seem interesting but I didn't yet have time to read get ripped and stashed in there too.
This folder gets emptied once a month when I have time and am in the mood to tackle all this. I always end up enjoying this job because I usually have a nice time reading bits and pieces of things I've accumulated this month. I also don't fret if the folder doesn't get emptied out completely each month.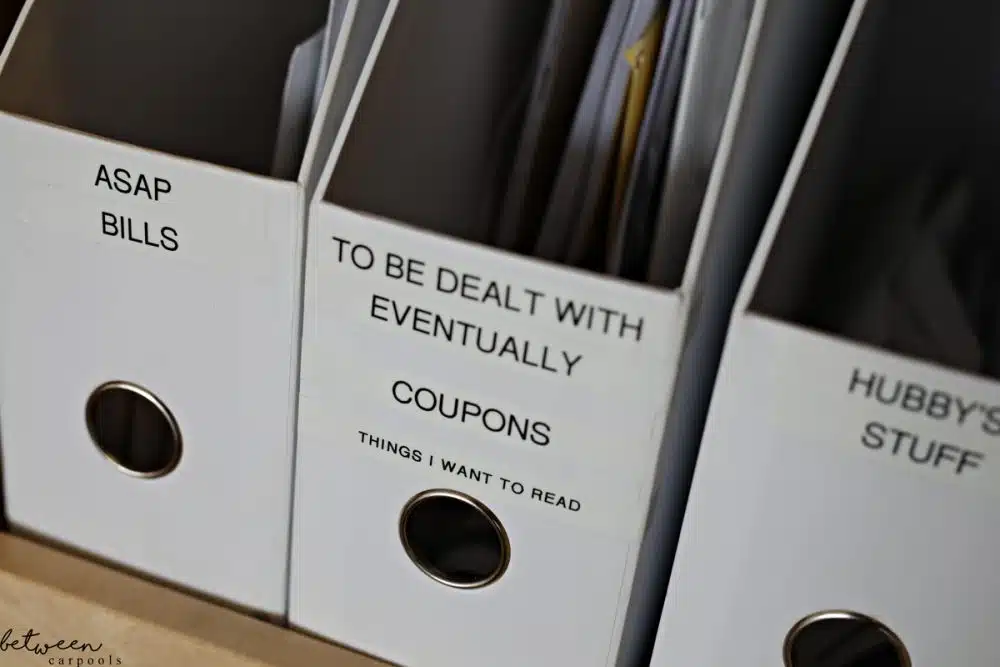 This one is my favorite:
HUBBY'S STUFF:
Geico sent something you cannot comprehend? Put into the Hubby folder.
An invitation from someone you have never heard of? Hubby pile.
Found a paper that looks important floating around between the Gemarahs and hats on the dining room table? The type that he will ask you about 3 weeks from now? Stash in Hubby Box.
See why it's my favorite?
Feel free to add folders according to your needs. I can see myself adding one for each of my kids, eventually ("Maaaaaaa!! Where is that paper with that essay that I wrote 2 weeks ago???") but for now, 3 are fine.
See these other labeling posts and look out for tomorrow's post.