Think a fabulous living room space needs to cost a lot? It doesn't have to.
Looks glamourous, no? Would you believe it if I told you this entire living room was under $700?
This past summer, I needed to furnish a summer rental…but while doing so and looking for the most budget-friendly options possible, I also realized that those budget-friendly options could actually look fabulous! So many people live with unfurnished spaces or spaces they don't enjoy because they think it will be expensive to finish. But it's not.
The Living Room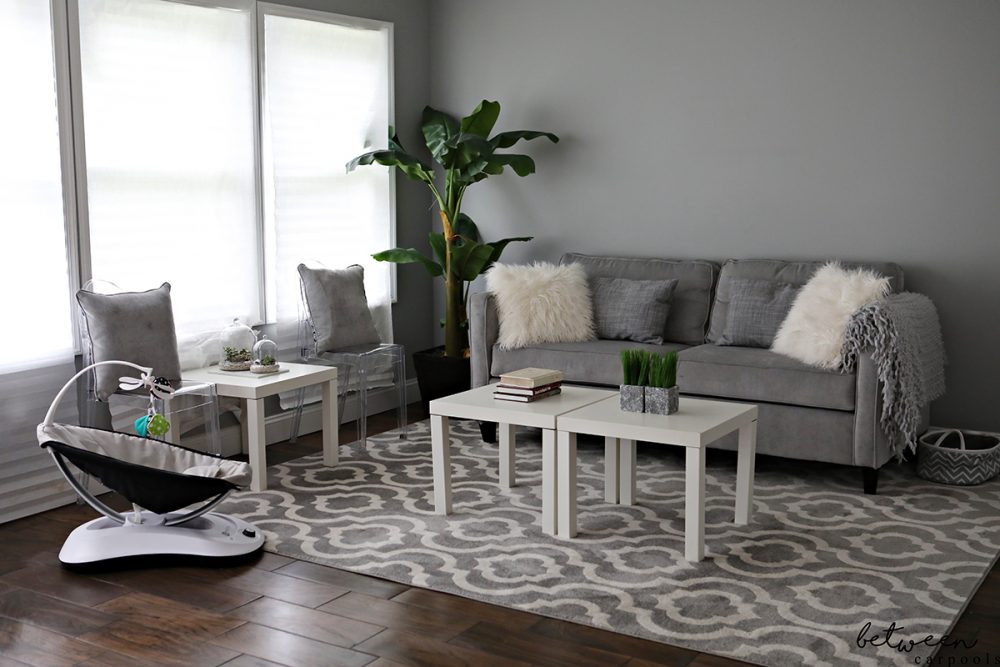 Since this was only for a summer home, I didn't invest in more seating. If I was here long term, I would have added two more spots to sit opposite the couch. I was considering this set of poufs from Target (but they also come in other colors on Amazon) for the kids to sit while we're playing games around the table (they're also great for supplementing outdoor seating). For a comfier adult-friendly solution, I love this set of 2 powder blue armchairs (they're also available in other colors, including grey, but I would have coordinated the blue accent by including baby blue throw pillows on the couch). A third, sleek and affordable option for additional seating is an upholstered bench, such as this.
Now, for the stuff that's actually in the room…
Let's start with the couch.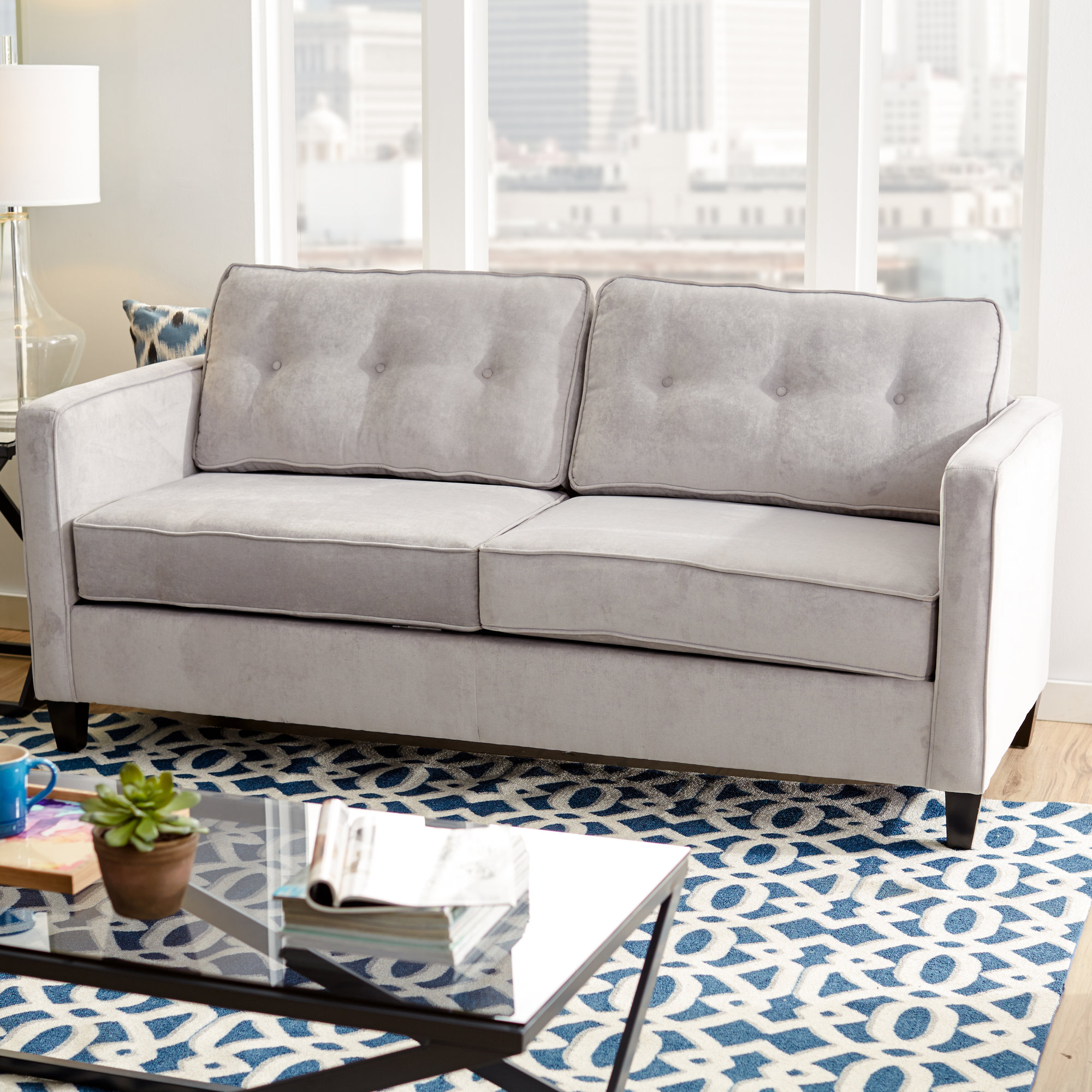 I got this one from Wayfair for around $400 (the price usually fluctuates up and down). It looks even more beautiful in real life than it did on the site. It's not as smushy or cozy as my year-round couch, but it totally does the job and we like it. If you need your playroom/den to double as a guest room, there are amazing couch solutions like this daybed. Super chic + doubles as a bed. If you want to go super budget, the best couch option is a futon. Something like this option looks very chic and is also functional for a super low price (always read reviews!). Add a couple of big cozy throw pillow and you're set.
Pillows! Nothing adds affordable style like pillows. These oblong pillows on the couch are these Isunda cushions from Ikea, but those expensive-looking white fur ones? $13 bucks each. You do need to buy pillow inserts (the pillows come with the cover only), but you can get the best deal if you buy them in packs of 4. You also get the best deal if you buy your pillows in packs of 4 too; like this set, also from Phantoscope or this pretty neutral set. (The pillows on the chairs came with the couch, but I didn't want the couch pillows to be so matchy-matchy, so I repurposed them).
The rug. I'm a big proponent of the necessity of an area rug in any living space where there's flooring (with the exception of the dining room and kitchen). It adds coziness and focuses the space, so the furniture isn't aimlessly floating. Area rugs are also practical. The absolute best bang-for-your-buck area rugs are the Diagona Designs line.
They come in lots of designs and the price is unbeatable (prices fluctuate so catch them when they're low. I bought this 8×10 rug for $86). I can vouch for the quality because, well, I walk on this rug every day. (This Ottomanson Paterson rug is even more affordable…completely insanely inexpensive for a rug of that size!).
The tables?
They're the $8 Lack side tables from Ikea. And have no assembly fears…all you need to do is screw on the legs and I promise, it's simple. These tables are big and roomy and they work great as a generously sized nightstand in bedrooms too (you'll see 'em there in an upcoming post). I put two together as a coffee table and I used a third as a side table.
The Greenery. The grass planters on the coffee tables were $5 each from Five Below. Decor items are seasonal but you can always nab just the right accent piece at Five Below for…yup, $5 or less of course. You can read about my succulents and that palm tree (from BJs) in the corner on this post.
Love the look of lucite chairs? No, they're not the comfiest chairs, but more seating is always great, and they round out the room really affordably. For the best value, you can get them in a set of four ghost chairs from Poly and Bark for $175
For an affordable modern look for your dining room, I recommend using these chairs with two upholstered chairs like the powder blue ones I recommend above at the heads of the table. The chairs are also amazing to use for your simchos because they're stackable! I also love the other options available from Poly and Bark like these Eames-Style chairs (they'd be so cute in a dinette…and easy to wash! I didn't choose them because I wanted a stackable option).
What are your favorite budget decor finds? Stay tuned for a post on budget children's bedroom decor!