Whether it's a wedding, bar mitzvah, or another occasion, leave the invitation details to The Printed Word. Read about their specialties here!
As anyone who has made a simcha can tell you, it can get pretty hectic. The amount of *things* you have to do from that first 'Mazal Tov!' are enough to make anyone's head spin. And while some tasks can be relegated to less-urgent, one thing you can't push off is invitations. You want them done seamlessly: beautifully presented and out on time.
The Printed Word is an invitation printing boutique, specializing in wedding and bar mitzvah invitations. From helping you gather your guest list to customizing stunning invitations, and even addressing and stamping envelopes, they're here to make the invitation process a pleasant one! They give each and every customer individual attention, taking specific requests to customize your dream invitation. And they've been in the business for over 18 years, designing and printing gorgeous invitations.
Do you have a design in mind? No problem. Are you totally new to the simcha world and have no idea what you even like? That's fine too. The Printed Word is here to help create your perfect invitations. Use some or all of their services to take your ideas straight to your guests' mailboxes.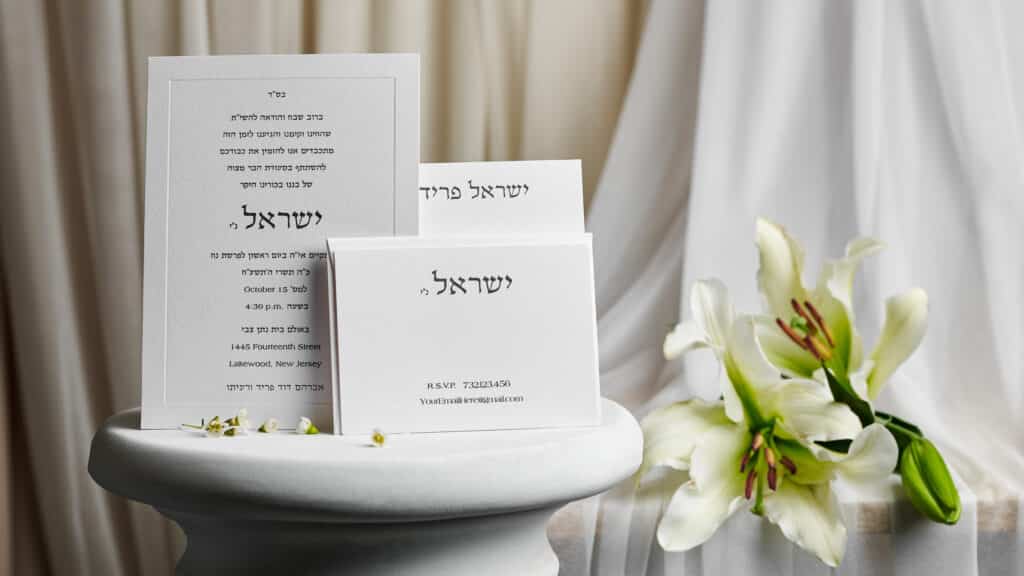 Check out their gorgeous wedding designs here, and their bar-mitzvah designs here. They really have a style for everyone, traditional, sleek, modern, elegant, you name it. And if you have your heart set on something else, reach out to them to customize. Do you have invitations, but need the mailing taken care of? Check out their mailing service here.
One more thing! While The Printed Word specializes in high-end wedding and bar mitzvah invitations, they do create informal invitations and stationery too. You can gift a new couple or graduate stunning personalized stationery, or gorgeous cards for thank-you cards for yourself. Stationery comes in a gorgeous box to really make it a beautiful gift. Browse all the informals here, or reach out to The Printed Word to customize your own design.
Need more information? You can call Rochel from The Printed Word at 347-578-0615 with any questions, and she'll be able to guide you. Making a simcha can be hectic, but invitations don't have to be with The Printed Word.