We all need a starting point.
We look forward to table inspiration as much as you do. So, when Devorah Rubin told us she was going to give us four unique looks for our photoshoot, we were very excited to see what she had in mind. One of these will be your starting point for a table that's fresh and different.
Want more table inspiration? See these posts, from 2018 – A Table with a Grand Floral Look, 2020 – Shavuos Table Inspo, 2021 – A Classic + Elegant + Fresh Shavuos Table and 2022 – Two More Beautiful Shavuos Tables.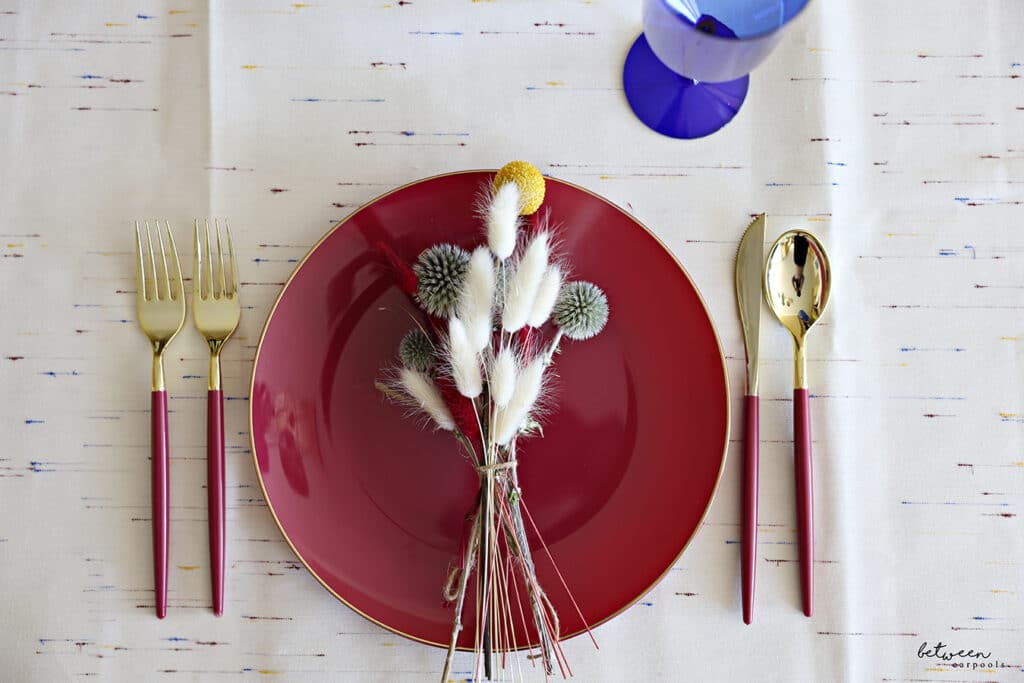 Look 1
Mixed Canva Table
Yes, bold colors can be classy! Use a contrasting dish and a mini bouquet to bring the colors together. Plus: With dried florals, you can save them and use them again!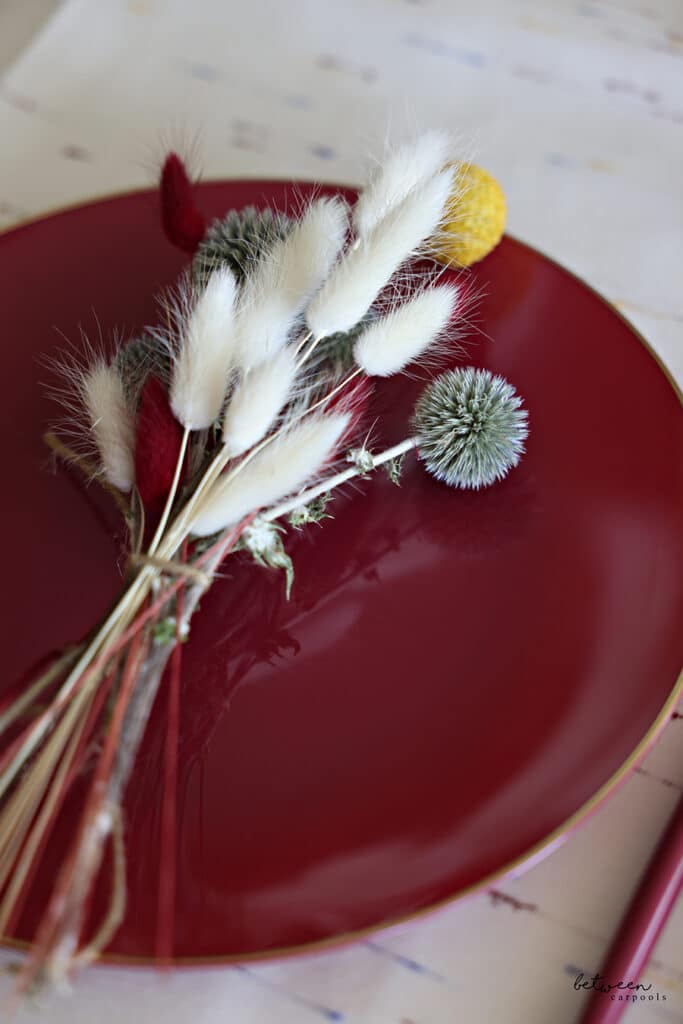 Featured in This Place Setting:
Mixed Canva Tablecloth + Cranberry Coupe Dinner Plates + Cranberry/Gold Two Tone Flatware + Blue Wine Cups + Dried Florals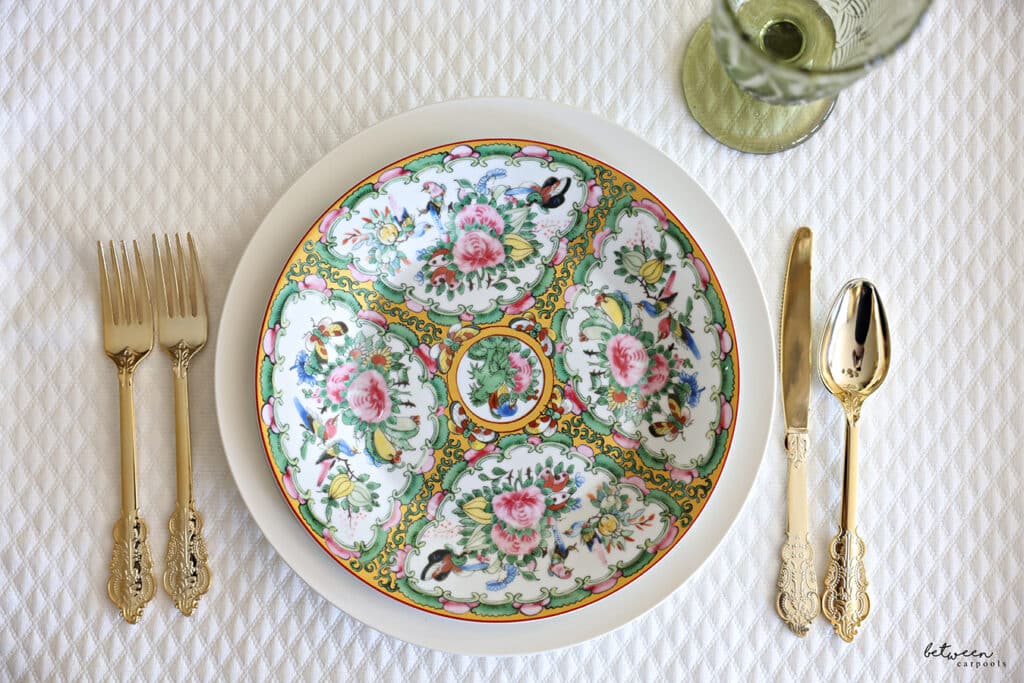 Look 2
Vintage Accents
Get a new salad plate and pair it with any simple white dinner plate (whether real or disposable) and it looks like you got an expensive new set of china. Bring out colors by pairing it with colored stemware. With a busy place setting, a white cloth like this easy and elegant quilted one is perfect.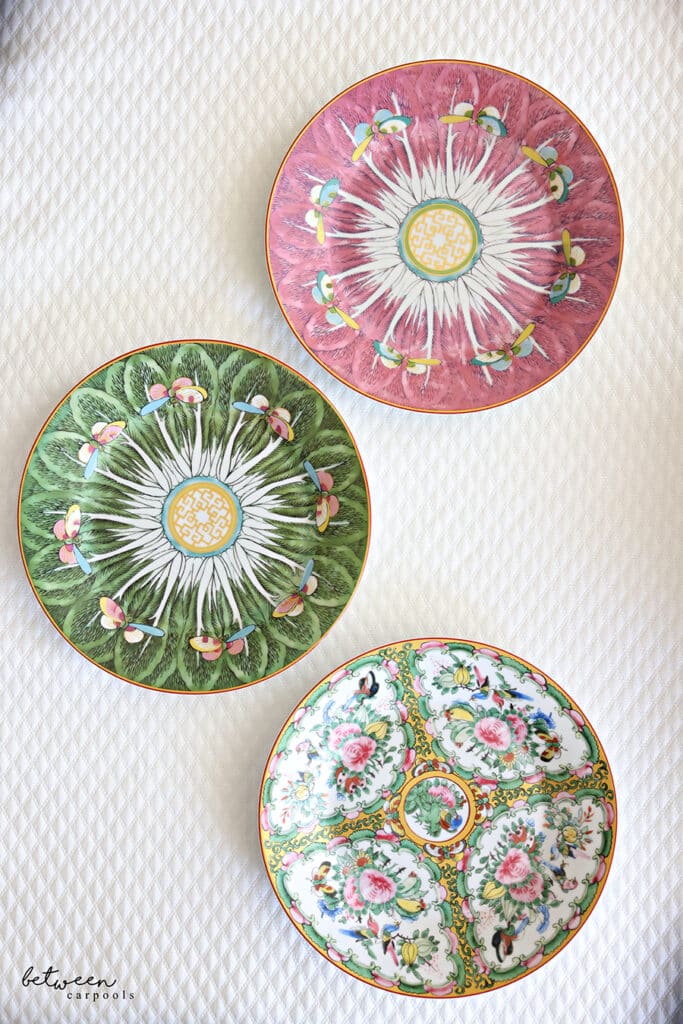 Featured in This Place Setting:
Faux Quilted Tablecloth + Green Wine Glasses + Famille Rose Accent Plates + Bone China Floral Plates or White Coupe Dinner Plates or White Real "China" + Venetian Flatware
Look 3
Black + Pop
Start with a neutral base and add a pop of color in your florals for a contrast. Personal bud vases at each seat give you lots of bang for the buck. These bud vases have mixed shapes (variety is good and makes for a more interesting table!).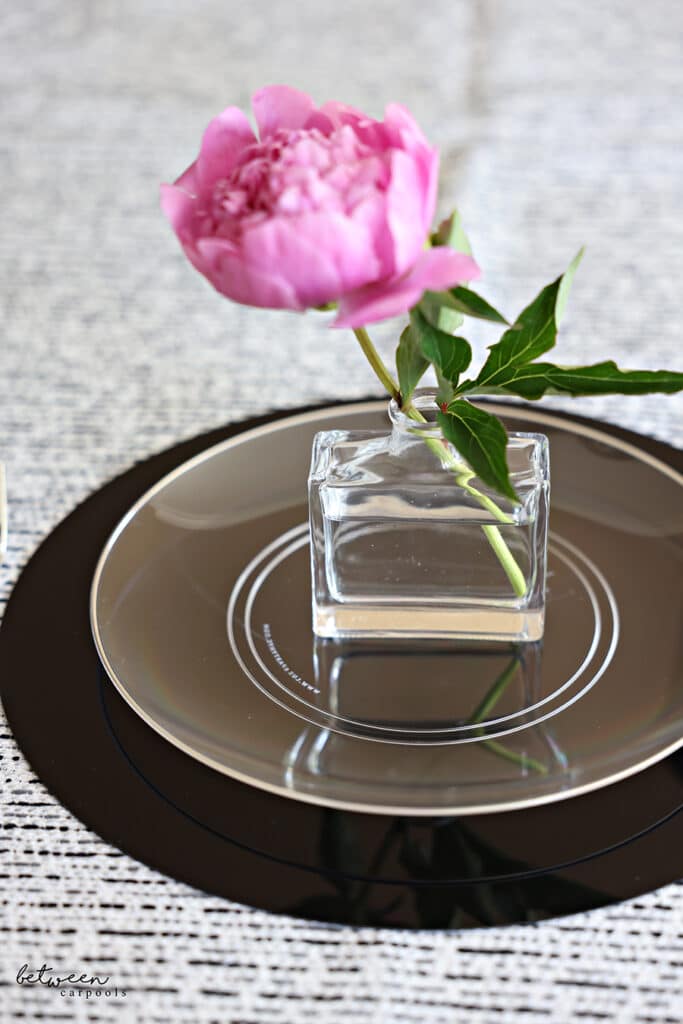 Featured in This Place Setting:
Black and White Tweed Tablecloth + Assorted Bud Vases + Black Charger + Clear Dinner Plates with Silver Rim + White/Silver Two Tone Flatware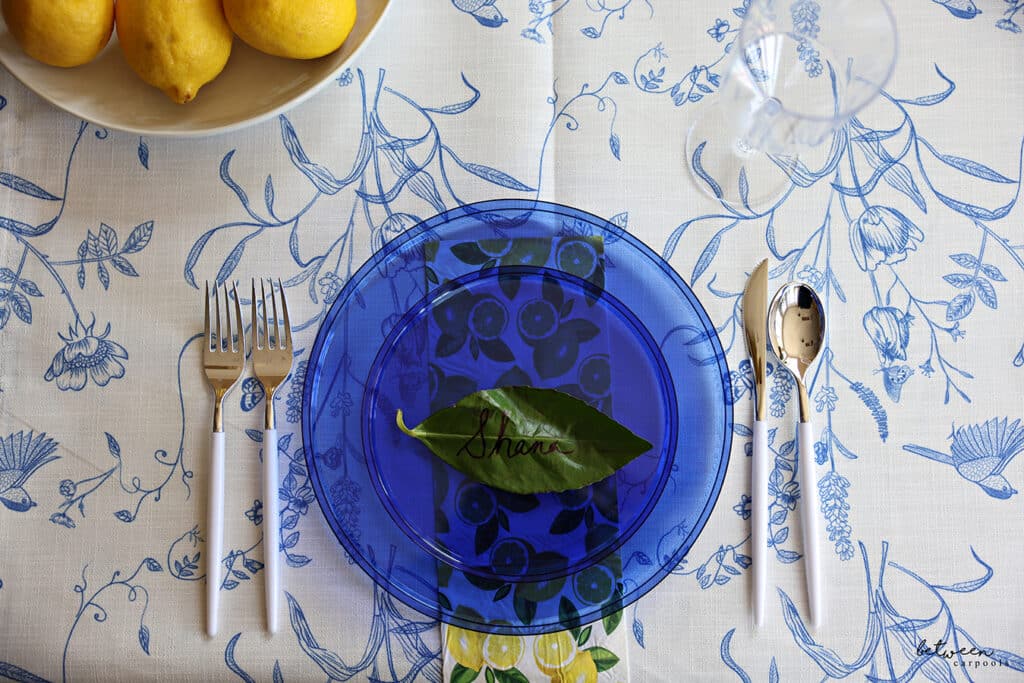 Look 4
French Countryside
I love this Tuscany look. Cute napkins bring in the right amount of color. Personalize your seating arrangements by writing a name on a simple leaf. Add some lemons to the table to complete the look.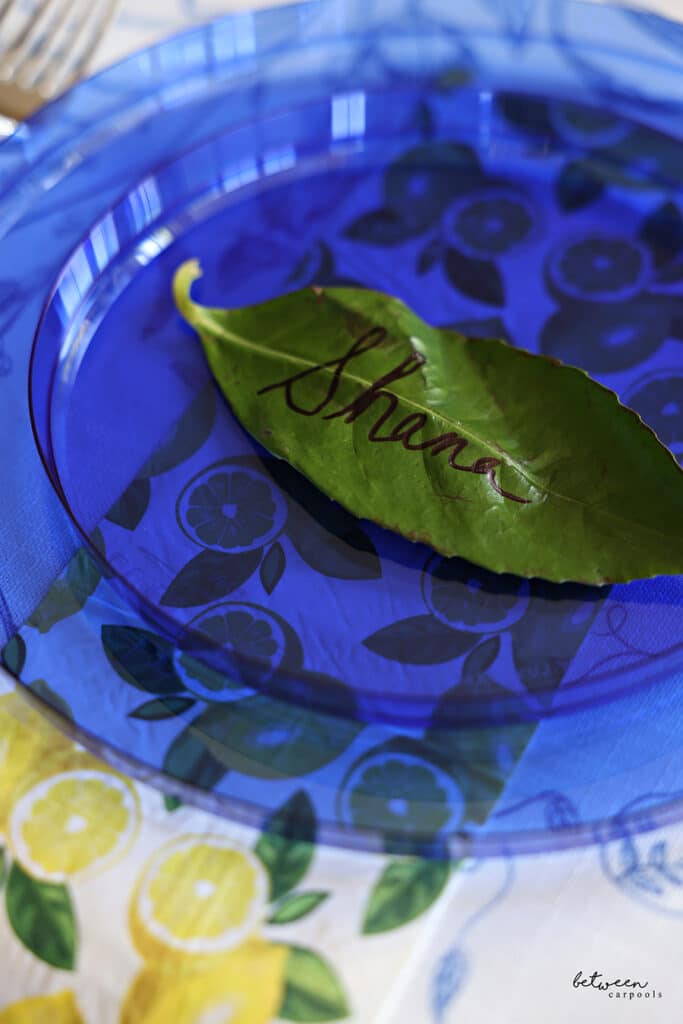 Featured in this Place Setting: Victorian Blue Tablecloth + Lemon Napkins + Blue Walled Dinnerware + White/Gold Two Tone Flatware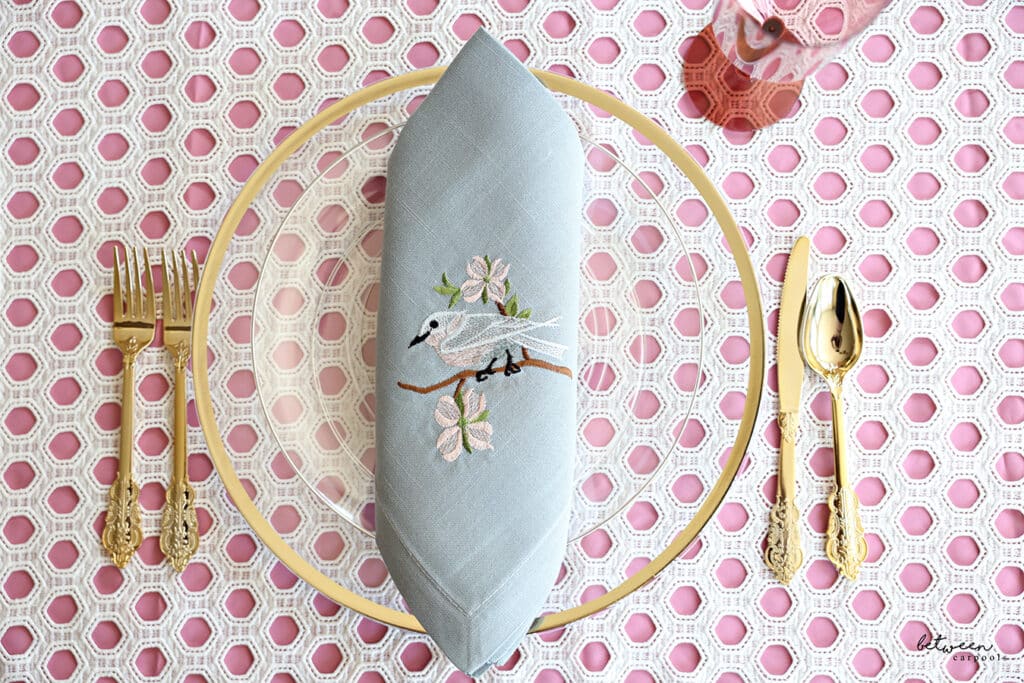 Look 5
Change Up the Lace
Lace is all the rage…change it up by putting a colored liner under cloth and it's an entire new look. Here we used a piece of fabric from fabric store underneat the cloth. You can also get colored cloths from Amazon to use underneath. We also used these embroidered napkins that are so popular now.
Featured in This Place Setting: Eyelet Hexigon Lace + Bird Napkins + Venetian Flatware + Clear Chargers with Gold Rim + Clear Dinner Plates with Gold Rim + Rose Wine Cups