Sending invitations, coordinating RSVPs, making seating charts, preparing place cards, sending thank you notes…almost every aspect of planning a simcha is easier with
Elegant Evitations.
When Yanky's oldest child was getting married, he saw that preparing the guest list, collecting the RSVPs, and then figuring out the seating arrangements was a huge chore.  
"Instead of enjoying the fact that I was making a simcha, I was spending so much time and money on this one aspect…making long lists, stamping both invitations and RSVP envelopes, worrying who received the invitation and who didn't…I knew there had to be a simpler way."
I understand. One of my friends recently told me that she would wake up in the middle of the night worrying about the seating configurations, thinking what should be switched, who would be compatible next to each other, and if each table included the right number of people. When I first speak to Yanky, it's also a few days before I'm hosting my own simcha. At that point, I didn't really know exactly who was coming and who wasn't, if I'd have too many seats or too few. And it would be too hard to pin down an exact number, even if the caterer needed one. It's so confusing!
Yanky understood the issues and set out to build a powerful website that would simplify the process where every aspect of the simcha inviting, RSVPs, and seating could be managed in one, even sending place cards and thank you cards, in one easy-to-use platform.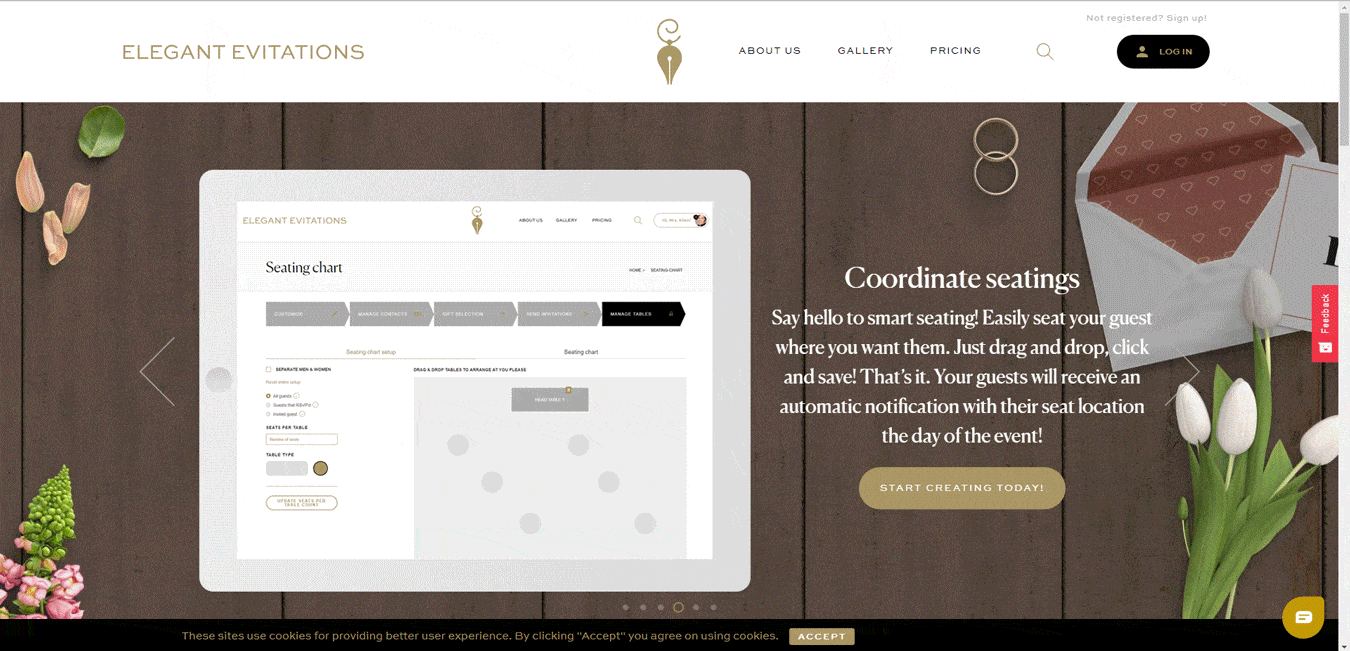 As I made my way through the Elegant Evitation system, I saw that it's so easy and fun to use…and really streamlines simcha planning. But I still had some questions for Yanky.
This is so cool. So how do I use it?
Mazel tov! You're planning a simcha! First, choose your event and design. Each design can be customized and edited endlessly, and the templates are designed specifically for Jewish events, so they'll include space for the information you need (like those honored grandparents, or the Hebrew side and English side). You can choose by event…wedding, engagement party, bar/bat mitzvah, bris/baby announcements, and more. This system was built with the Jewish clientele in mind.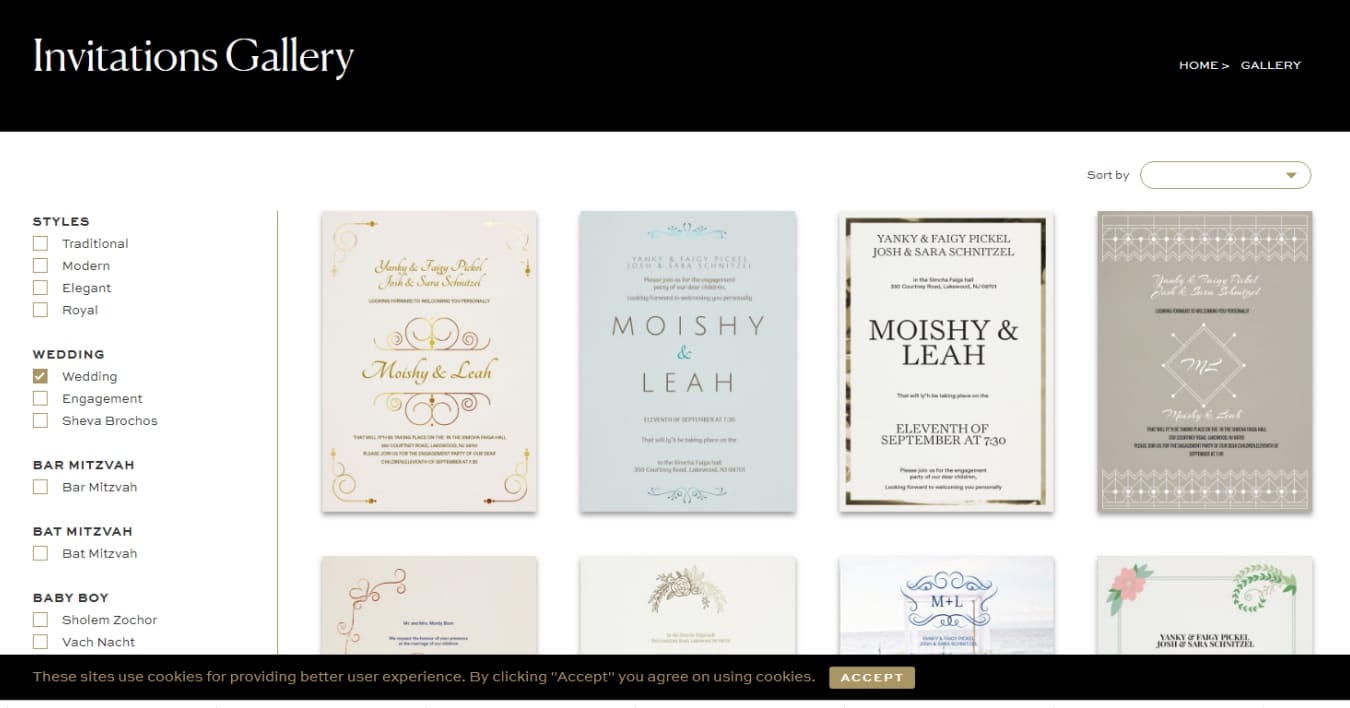 I've created my invitation. Now what?
Once you purchase your invitation package, based on the number of guests you're inviting, you have access to even more tools to edit and customize even further. If you're making a wedding, both sides can collaborate and add guests simultaneously…all you need are names and emails. You can enter your guest names manually or import them from a spreadsheet. And you can easily see if there are duplicates!
My guest list is done! Now what happens?
You can choose to send all your invitations at once (you can schedule them to be sent at a specific time if you like) or send in batches if you haven't completely finished the list. Once you send, the fun starts! You can view who opened the email, who RSVPed, who didn't yet reply, and whose invitation didn't come through. You can even send reminders as the event gets closer, including one the day of the event! Each time you log into your dashboard, you see exactly how many adults and children have so far responded.
The seating process is always arduous. How does Elegant Evitations make it easier?
The table assignment tool is the coolest! All the names who have RSVPed are automatically added to the list and you can simply drag and drop them to different tables! Once the seating is done, you can even digitally send place cards to guests…so they know which table they're seated at before they come to the wedding. That's right, no arduous place card printing needed!
What other tools does Elegant Evitations include?
The backend also includes a gift management tool. All guests receive links to your registries, and whether or not they're attending, they can purchase gifts, and each gift is kept track of, so you know what you have and what you don't. You can also enter gifts received offline so you have a complete list. And then…you can insert text into the Thank You card and send it right away!
What if I have questions and need help?
There are customer service representatives available instantly through the internal messaging service to help you through the process.
I can't send an evitation to everyone. Some people don't have email.
That's no problem. You can order a small print package for the invitations you need to physically mail. It's easy and cost-effective.
I really can't let go of paper invitations completely. Can I still use these tools?
Yes! Send your paper invitations and instead of including RSVP cards, include an RSVP link to your event's webpage. Those small envelopes and extra stamps can cost an extra thousand dollars or more when there are 500 invitations to send. Let your guests RSVP digitally and you can take advantage of all the tools in the system.
What have your Elegant Evitations customers said so far about the system?
They're really excited! It really saves time and money…that's two things people really care about. Instead of worrying, this task is done and organized.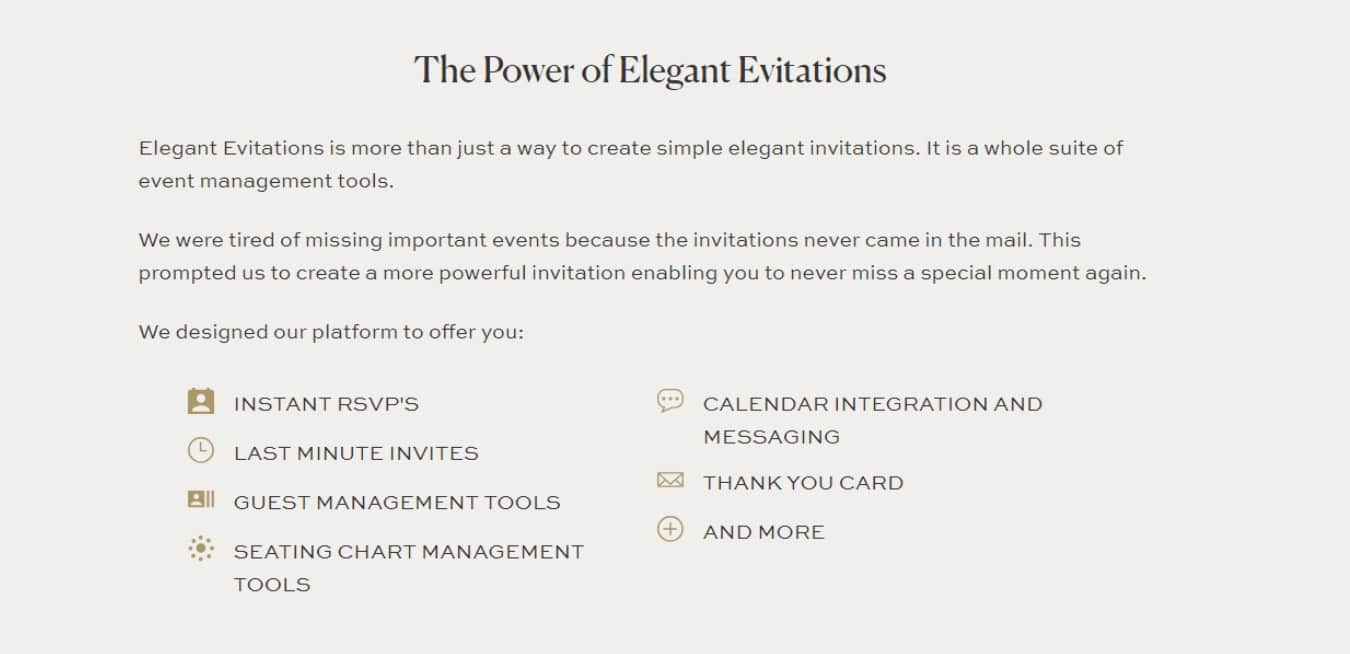 Planning a simcha? BCP Readers can enter code BCP20 and receive 20% off an Elegant Evitation package!