There's great convenience and great care at Chai Urgent Care. Now, their amazing hours and incredible level of care are available in their Jackson location! Read on for all the details.
It's 7:45 am. Backpacks are flying, yogurts are spilling, carpool's starting… but one kid hasn't made it downstairs. You run upstairs, and hear the tell-tale deep coughing before you see his flushed face. Nooo! You can't be late for work again!
Or it's 6:30 pm. Dinner's in the oven, homework's strewn all over the table, the shower's running, you're reaching for the dinner dishes… and you look down and see the baby tugging her ear. You pick her up with that sinking feeling, and feel her too-warm forehead. Now what? The pediatrician's closed, your hands are full, and the baby needs to be seen, now. 
It's flu season and you want your family vaccinated… but it needs to be convenient! Walk-in and walk-out and get those flu shots at Chai Care when it's good for you. 
Your son got slammed by a much-bigger-kid while covering second base and came home hopping. Is it broken? Fractured? Or not? Chai Care does X-Rays and Casting. 
For all these scenarios, plus IV hydration, stitches, trauma care, allergic reactions… COVID testing, and more–Chai Care is the answer.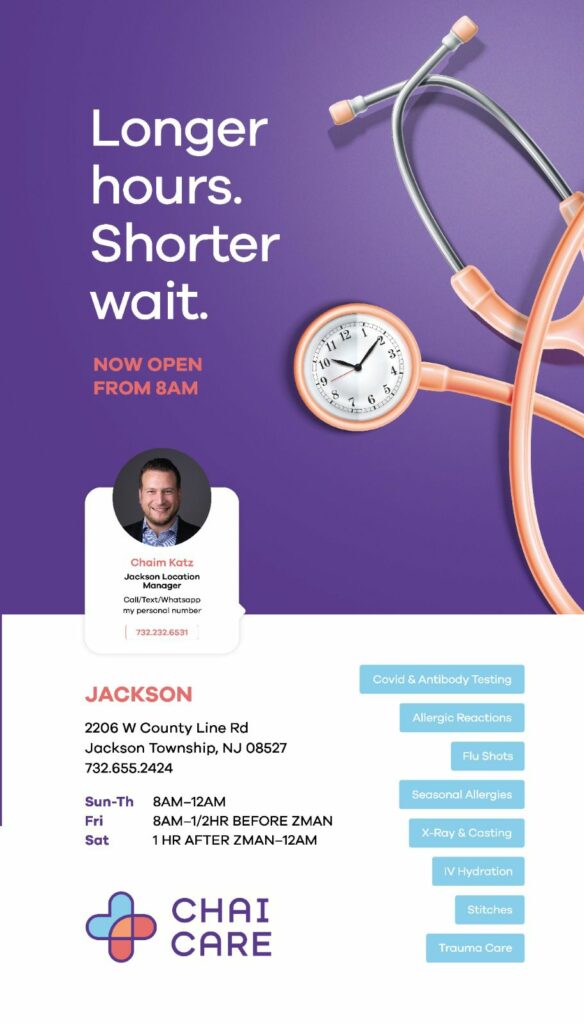 With an unbelievable level of care given to every patient, Chai Urgent Care is where you go when you need to be seen and don't have time. There is a tremendous focus on service, service, service and being there for you when you need them. 
Almost Always Open!
Chai's Jackson location is open from 8:00 am to midnight, on Friday until ½ hour before Shabbos, and on Motzai Shabbos ½ hour after Shabbos is over until midnight. You don't need an appointment, just walk in, be seen by a caring professional, and walk out.
Chaim Katz, the Jackson location manager explains, 'I give people my cell number: call me, text me, WhatsApp me, and we'll help you out.' They're here for the community, making an incredible level of care hassle free.
Jackson staff member, Melessica, says, 'Here at Chai Care we look forward to helping every patient feel comfortable and confident in the treatment we provide, from an ear infection to a laceration. There are no better hands than our amazing providers! I trust them with my and my children's medical needs. It's more than an urgent care, it's family.'
Conveniently located at 2206 W County Rd, in Jackson, NJ, visit Chai Urgent Care for all of your health needs! If you don't live close by, check out all of Chai Urgent Care locations here.