The RCCS Auction
isn't just a fundraiser. "The Flipside" is bringing an infusion of positive thinking and bitachon to every community.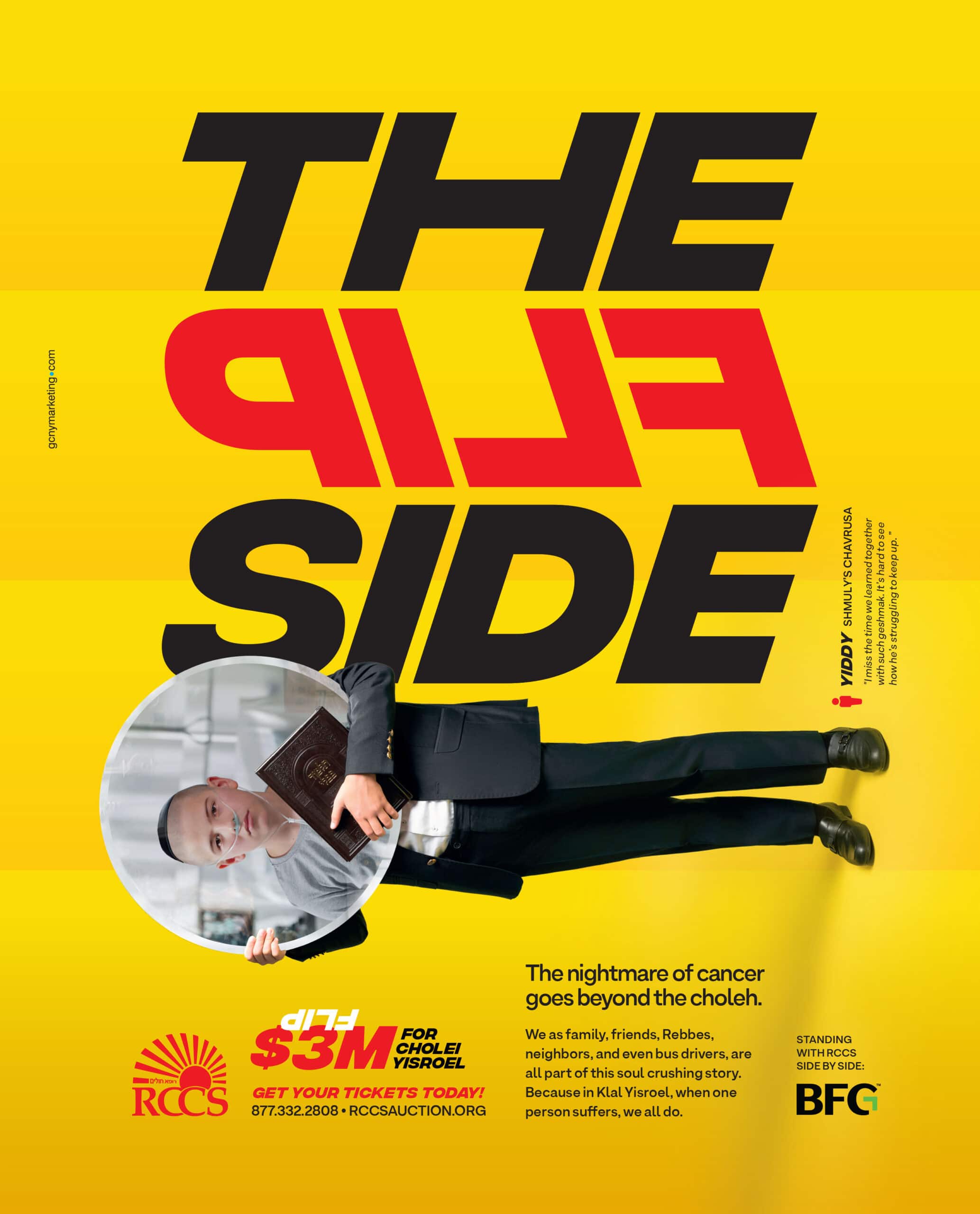 Last week, we told you about the aspect of the RCCS Campaign that we find amazing in this post. Click here to read about the "Women Who Wow!" But it's not just the cause that's making a difference: it's also the message. The "Flipside" message isn't a gimmick. We all know that happiness, hope, and bitachon can bring refuah, whether it's someone suffering from an illness, or just when we need help seeing everyday difficulties in a different light.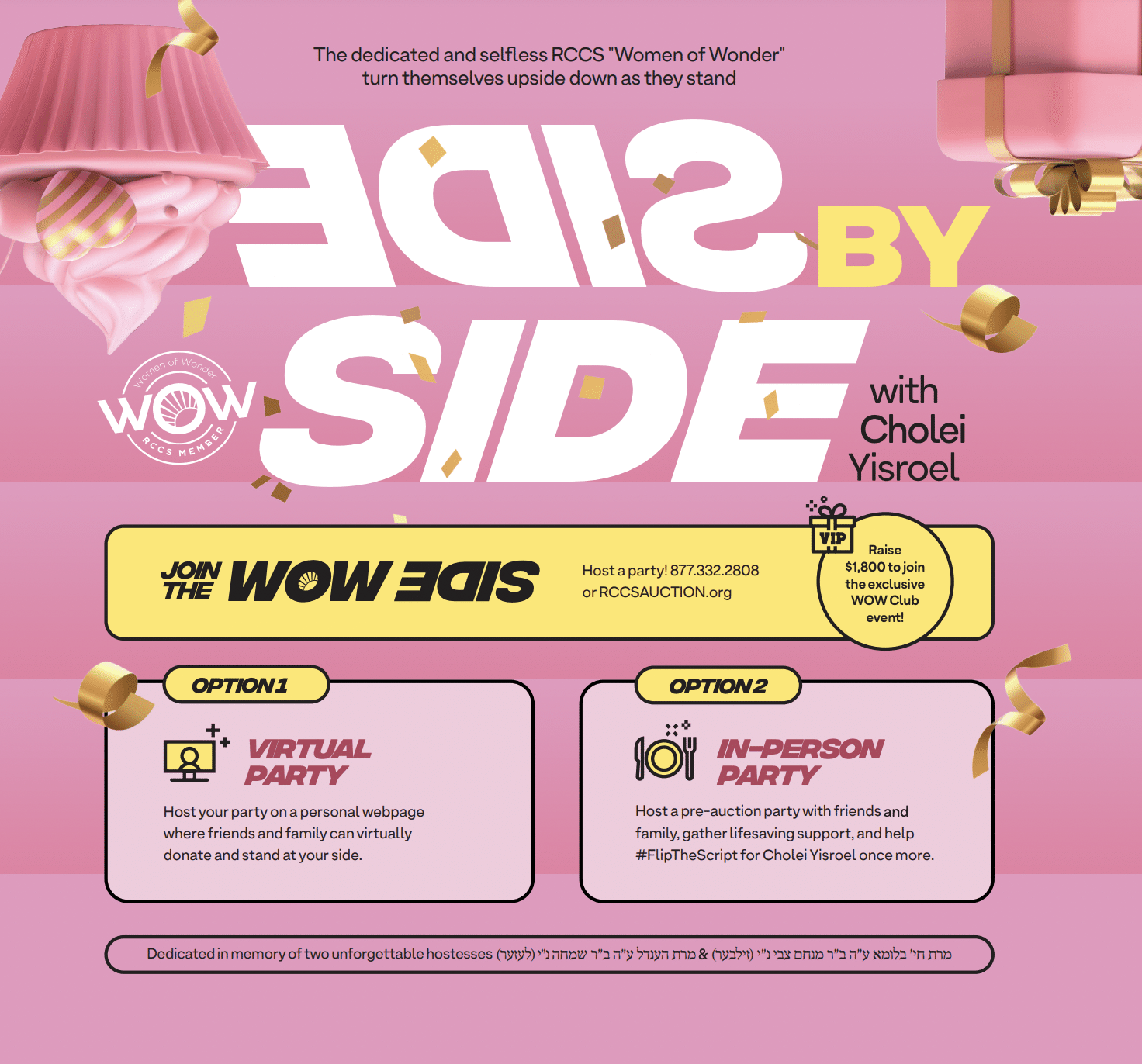 Charlene Aminoff shared this story in the auction booklet, we knew our readers too would find inspiration from reading it. 

How Charlene Aminoff Flipped the Script:
I'll never forget that fateful day when we received the phone call from my mother's surgeon that her biopsy results had come out… And unfortunately, they weren't what we were davening for. 
It had been 16 excruciatingly long days that we awaited the results… Believing with Emunah Shelema that everything would turn out to be benign. 16 days of no appetite, anxious pacing, very little sleep and almost no ability to concentrate. The surgeon called my parents' house as all the children gathered around her kitchen… Excited to celebrate the upcoming good news that her pathology reports would surely state that the tumor was benign! I replayed over and over in my mind just how silly I would dance and just how hard I would hug my mom when we heard the great news! But then, as my father answered the line – his pale face became motionless as the surgeon explained to him that my mother had Non-Hodgkins Lymphoma. A cancer of the lymphnodes. And there wasn't just one tumor, there were five. 
My siblings and I threw ourselves onto my parents' kitchen floor, wailing and screaming in complete disbelief. I'll never forget the way their cold granite floor felt against my soaked face. My mother, who was in the adjacent room, suddenly stormed into the kitchen with her hands on her hips and exclaimed: 
"WHAT ARE YOU ALL DOING?!? HOW DARE YOU COMPLAIN TO HaShem!!! YOU'RE ALL DOING "NahShokri" (the Farsi word for Kvetching!). STOP IT RIGHT NOW!! Say THANK YOU HASHEM!! Stop what you're doing, get up off the floor, hold my hands and let's DANCE WHILE WE SAY 'THANK YOU HASHEM'!! 
My mother's unparalleled strength of her Emunah pulled her broken-hearted children and husband off the ground and she forced us to dance around the kitchen island, THANKING HaShem for her cancer diagnosis.
If someone was looking in, they'd think we were doing Hakafot at Simchat Torah! But that was the moment that we learned how to #FlipTheScript because it's easy to thank HaShem when things are easy and life is great! But when the challenges strike and we don't necessarily feel HaShem's presence in our life… that's when it's the MOST rewarding to express gratitude to Avinu SheBashamyim. If we can all get ourselves to not only thank HaShem for the good times, but also in the seemingly bad times, we will be able to conquer the hardest of tests!! Huge Yashar Koach to all the selfless "Women of Wonder" for all their hard work and dedication to RCCS. May we all be Zoche to a long life of true GEFEN! GEZUNT, PARNASSA & NACHAT!"
All the best, Charlene Aminoff 
How would you flip the script?