** Sign up for Shifi's super informative and helpful email newsletter over here! It's free! **
After working with children for so many years, Passaic-based family therapist Shifi Lieberman LMFT, realized a trend: a lot of parents are running to bring their children for therapy, when they don't necessarily need it. 
Rather, they simply needed awareness and understanding about how our emotions work. Sure, they might have been helped by the therapy, but there should be easier, less time-consuming, and less costly ways to learn what they needed to know.
She also realized that there are also parents who don't reach out for help when they need it because they are hesitant to begin therapy, but they really don't know where to turn to get what they do need. 
So, she developed a course–we got a sneak preview (we actually watched more than a sneak preview–almost half of it–because we were so engaged!). It's actually entertaining! And fun to watch and implement! It's jam-packed with information on understanding your children at every age and stage!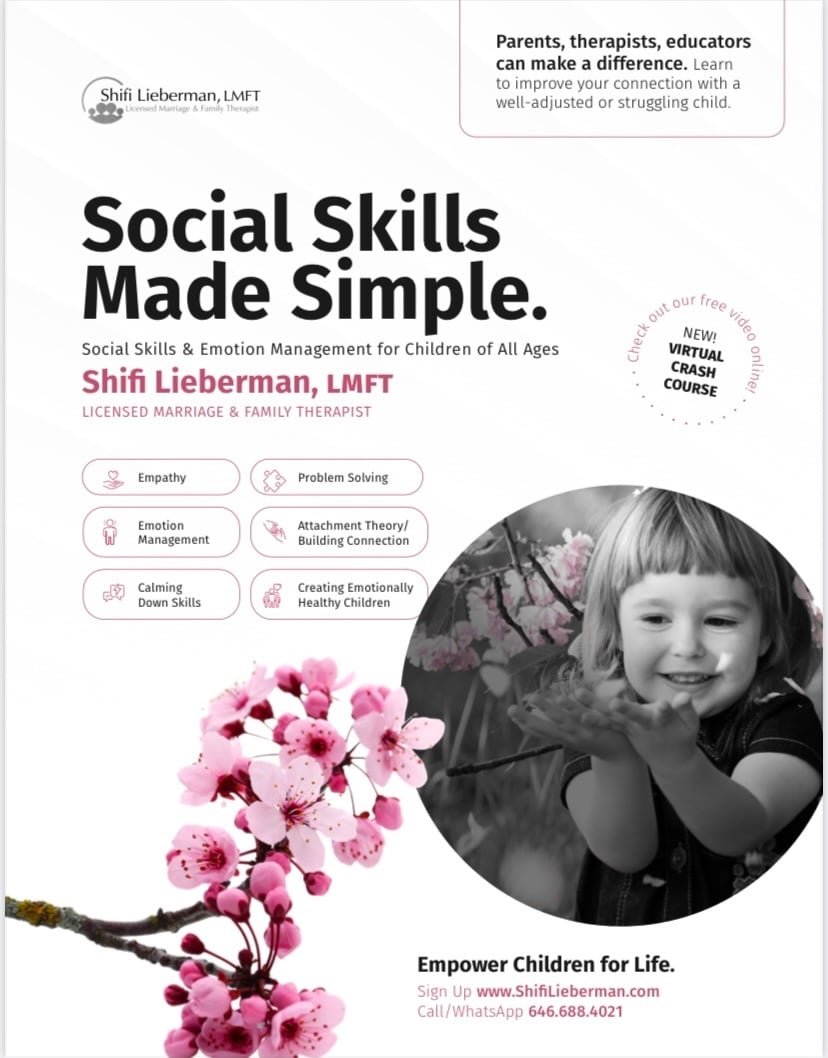 It actually enlightened and surprised us about what we don't know about our children! And we were so happy to learn! It's beneficial for everyone, even those who aren't having a specific issue.
But what kind of issues is it particularly helpful for? Parents of children who struggle with intense emotions, who get frustrated easily, or need help developing confidence or communication skills…they'll all benefit. Click here to learn more and sign up! And! Don't forget to sign up for Shifi's newsletter over here!
10 Things to Know About Shifi's "Social Skills Made Simple" Course
The course was created and put together by Shifi Lieberman, LMFT who has run and facilitated social skills groups for many years in a clinic and in school.

The course gives you all the information you need to help your own children without any stigma of going to therapy.
This course benefits everyone in the family, including parents and all the siblings, not just the child who is in need of help.
This course is cost-effective–the cost of approximately 2 therapy sessions. But it gives you the value of many, many sessions!
This course is convenient! You can watch it when it works for you and your spouse (if applicable) and do not have to worry about scheduling an appointment for after-school hours! Like she says, pajamas are mandatory! Having a coffee in hand will complete the experience.
The course is yours forever to watch and re-watch! And, as course members, anything that will be updated, you will have access to! From time to time, Additional up-to-date information will be emailed to our course family to keep you in the loop of social skills development!
This course can be watched by you and your children together! Especially those entering the shidduch market–it'll help them become more self-aware and expressive! Kosher movie night for everyone!
For a limited time, this course comes with free consultations with Shifi for all course members! Ask her any personal questions that apply to your family and she will be available for you! You will get that info when you sign up!
The course is entertaining and fun to watch!
New research all points to Social Emotional Language as the key to a successful future!! This course gives you the keys to raising Healthy, Happy Successful Children. Give yourself, your marriage, and your children the tools you all will benefit from!
Learn more and sign up here!
And don't forget to use code bcpfamily for 5% off. Expires Jan 30th.