From seudah set-up…to ready-made mishloach manos…to the package that will just work. Here's our picks for your Purim
Make the Party Pop
You need just the thing (a goblet? A charger?) to add that special look to your table…or the wow centerpiece to make the room look like it's shining…or great trays to boost your buffet…and no, you don't need to buy it, toivel it, or store it. Because you can rent it! Flair Event Rentals has the most gorgeous collection of anything you'd need when entertaining. Browse their selection @flair.event.rentals. Mention between carpools to get free delivery on all local orders (in Lakewood, NJ). To order, email [email protected] or call 732.835.7674.

Don't love using plastic for your seudah, but let's get real…you don't know how you'd manage otherwise. This line of plasticware by Occasions is a step above. Go formal with the Chateau style (click here for 25 guests or here for greater bulk). There's tons of styles to choose from. We're a fan of these silver/white silverware if you have a modern table, or these are amazing for a traditional look.

Wish you could afford these gorgeous chargers to dress up your Purim (or Pesach!) table? Guess what…now you can.
Do you entertain often? Did you ever ogle over those sequin tablecloths (they might just be peeerrrfect for Purim)? Did you know that you can buy them for the same price as it costs to rent? Yes! They're available right here!
Skip the Work

Don't want to bake or cook? Want a beautiful ready made mishloach manos that's still affordable? Send PC POPS! Click here to view their amazing lineup with prices starting at only $4. Each mishloach manos option is neat, chic, and absolutely delicious. You won't find a better value anywhere for a treat your recipient will absolutely love to receive. The last night to order is Motzei Shabbos, March 2nd! Call or text 732-523-5101 or email [email protected] Check out their instagram@pcppops_lakewood

The ultimate treat for an adult is a mishloach manos from The Nuttery. All of The Nuttery's nuts and chocolates are freshly made in house and are the ultimate indulgence. This is the mishloach manos they keep for themselves to enjoy and don't gift away (Um…you might not even want to give it away yourself). What's speaking to us? This Double Delight Chocolate Waffles Mishloach Manos…to the Classic Favorites Purim Gift Box of The Nuttery's signature nuts and bark…or this gorgeous Chocolate Praline Log…to the some really mega beautiful options. There's tons more options both online and in store! Order online at www.thenutteryny.com or Visit the Lakewood store located in Gourmet Glatt Plaza at 1600 Madison Avenue or the flagship Brooklyn store located at 4710 16th Avenue.

Want to send a special mishloach manos to the teen or tween in your life? Maybe a babysitter you can always count on? A favorite niece you want to spoil? Maybe the girl you tutor who has put in so much effort to improve her math skills? Butterfly Accessories has an adorable selection of gifts which they will package with a selection of fun candy, ready to be gifted on Purim day. And yes – they have options for boys, too!


We absolutely love this Top Trenz puffer duffle that's available with red or blue candy – your choice! And how cute are these unicorn fanny packs and crossbody bags?? Check out these and more options on their website at www.shopbutterflyaccessories.com or on @butterfly.accessory on Instagram. You can also call or whatsapp at 848.240.7255.
Pick-a-Cookie cookies are that perfect touch for your themed mishloach manos. And pick-a-cookie isn't only about cookies! Pick-a-Cookie pffers cake pops, Oreos, peanut chews/Rice Krispie treats, cupcakes…all to match your theme! Their work is absolutely adorable and each piece comes out perfect. View more @pickacookie or call 732-301-4525 to order.
Don't you love when you receive that mishloach manos that's a wholesome, filling salad? It totally saves the day! Then you know your recipients will love getting lunch courtesy of you in the form of an amazing Fork and Bowl Salad. It's a one-phone-call mishloach manos that's ready to go! Fork and Bowl salads are also available at the Nuttery in Lakewood. Call 718 216 6931 or email [email protected] to order. 
Make the Packaging Work
We're excited as you are about the launch of LabelItLabels.com! Choose your label, choose your shape, your size, your color, and then fill in your text! The prices are great and it couldn't be easier. Get free shipping from now until Rosh Chodesh. Read more about Label It on this post.
For the Between Carpools collection, click here and our downloadable tag here.

Want your own role of personalized ribbon? You can get 25 yard spools here. For greater quantity, we recommend ordering from Creative Expressions.

We love the containers we featured last year in this post. They're so practical for gifting real food and keeping them separate for freshness. Plus, the cube style is cute and sleek.

These acrylic trays with metallic handles are usually the kind of find we like to keep secret. But you know we don't keep anything secret…because we share everything! They're even more gorgeous in person and the perfect item to fill up for the people with whom you want to gift something special with your mishloach manos.

There's lots of junk around, but your mishloach manos recipient might be hungry for lunch! This wrap box makes it easy to deliver. Want to gift a great salad?  This bowl is the perfect container.  This one is even nicer, but comes in a large quantity, so you may need to share with a friend. How about soup? We have a container for that too. For other takeout-style foods, this one works well.
Cupcake boxes make a nice, neat, giftable package. This sliding box, also in black, is super sleek as well.

Aren't these cute bags? Use your imagination to fill 'em up.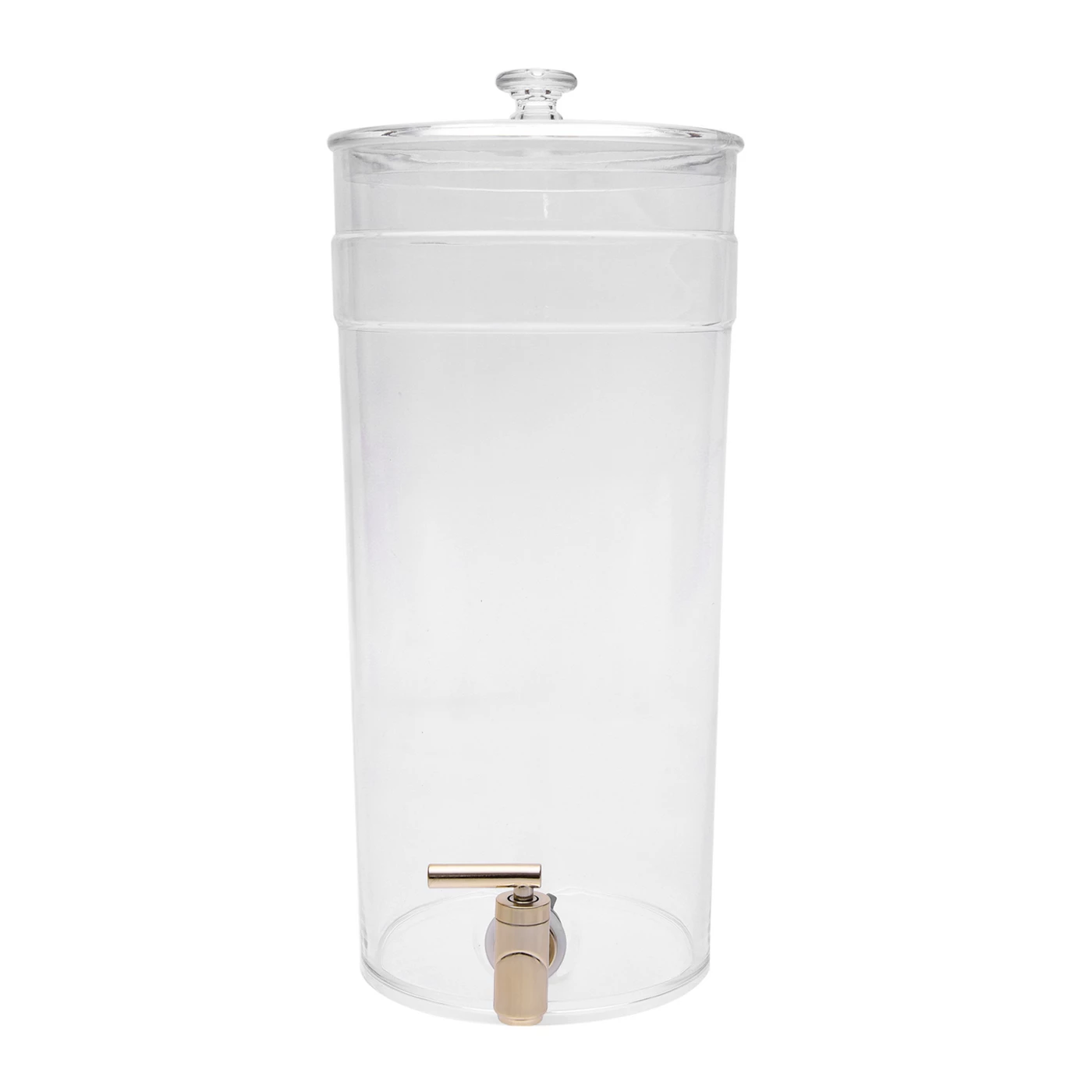 This beverage dispenser looks amazing in person, it's easy to fill, and is super useful for your recipient.
For the Kiddos

Did you know that there are lots of inexpensive personalized items you can use for your kid's mishloach manos? From a tote bag or drawstring backpack, to pencils, to a deck of cards (add your own Purim photo and text), to a trophy. The item can serve as your Purim "card" and coordinate with the theme of your choice.

These simple cello bags have a cute touch. Click here for the "Treats" version and here for "Candy."
This just in…the best deal we ever saw on cello bags! These cello bags are going on sale Tuesday night at 8 p.m. They're available in tons of different sizes, ranging from 2×3, to 2×10 (adorable for gumballs) to a really large 11×14 and everything in between. Use promo code 30purim19 to get a whopping 30% off! There's 200 bags per pack! Each bag comes with coordinating twist ties, so you're all set!