A mom of girls shares all the resources of girly things she loves
Having little girls is so much fun. Everything is pretty and sparkly.  Lucky for my girls, their mom is the world's biggest girly girl and has a tough time resisting anything in pink. We generally try to be somewhat practical as well. Here are a few of our current obsessions.

1. Hair Accessories
I love everything about shopping for my princesses, "A" age 5 and "L " age 4, but our most favorite is always our trip to Dewey of Confetti Shoppe (@confetti_shoppe). We bring all of my girls' new clothing and shoes and match up the perfect custom headbands.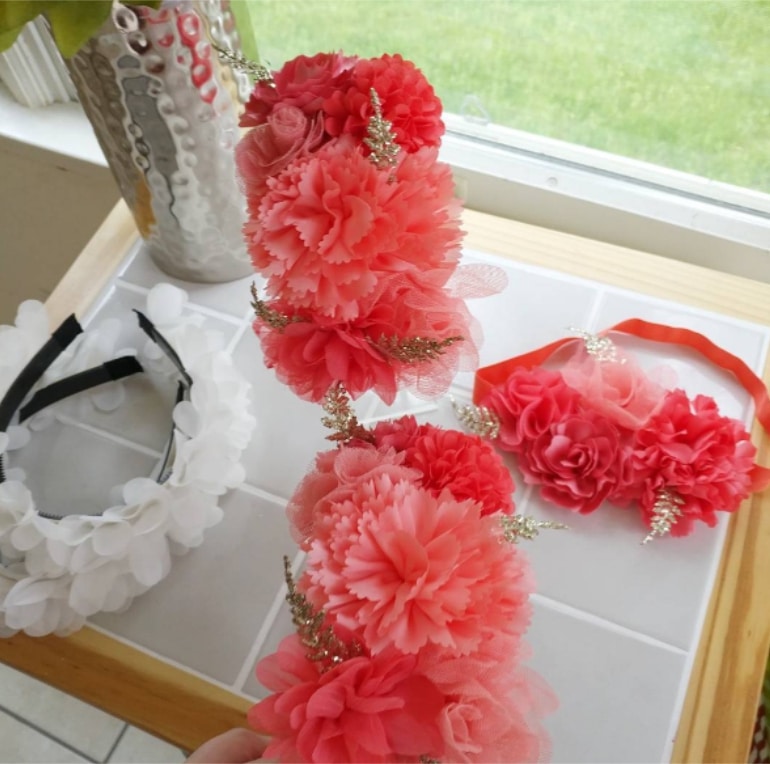 Dewey has every kind of rhinestone, feather, and flower you can imagine and we create the most fun and original headbands. I also find this super-efficient. Instead of shopping around for perfect matches, buying extra accessories, or things that don't look right, we can get the exact perfect hair accessory, only fashioning the best look for everyone. Also, her pricing is very competitive. Like adult arts and crafts, this is  a fun and creative activity for myself too.
Weekday Headbands
For weekday dressing, I love the look of wide bands because it keeps my girls' hair so neat. For our fun bands with lions, rhinestones, pearls, initials, and spoke accents we go to @headturneraccesories. Also, I love the scunci and goody bands you can buy in Rite Aid, CVS, and Target. They come a few in a pack and I throw them in the wash and dryer after sweaty summer days. We even wear them in the pool.
Headband Storage
We have a lot of headbands, and I found the most efficient storage solution.
The headband canister available at The Organizing Shoppe holds about 10 headbands with one large compartment inside that's great for soft headbands, and one smaller compartment that's great for clips. We have a few of these canisters divided by color and occasion and they look so pretty on top of dressers.
Bobby Pins & Buns
Our favorites are the J Crew bobby pins.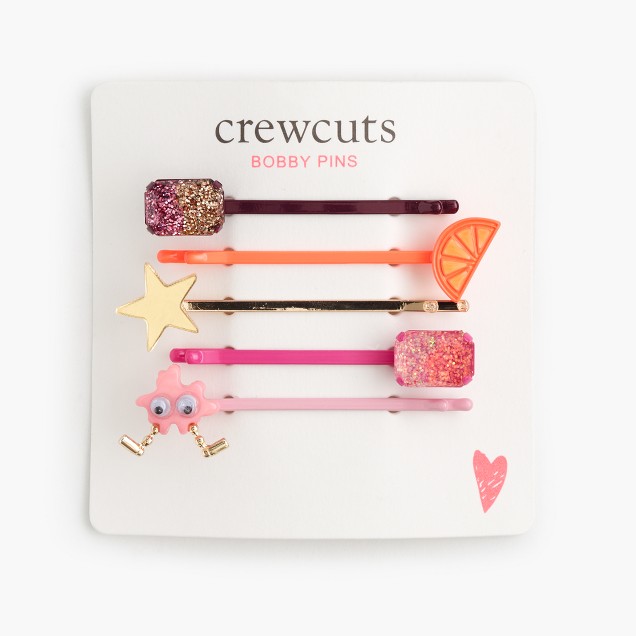 Though they come in a pack of 6 for $22, I've have never bought them full-price (usually for about 11 dollars with sales and promos). There are tons of heaven designs they keep bangs/baby hairs away from the face beautifully.
My best life hack for kids with thin hair is to use a sheitel scrunchie bun to make their pony. My daughter with short hair feels super glamorous when I make her a high bun using this, and it's so natural no one would ever know. Available by any sheitel macher.

Earrings
I've tried every type of earring, but they've always irritated my girls' ears. I gave up on earrings for a while until I chanced upon these amazing hoop earrings from Little Miss Twin Stars.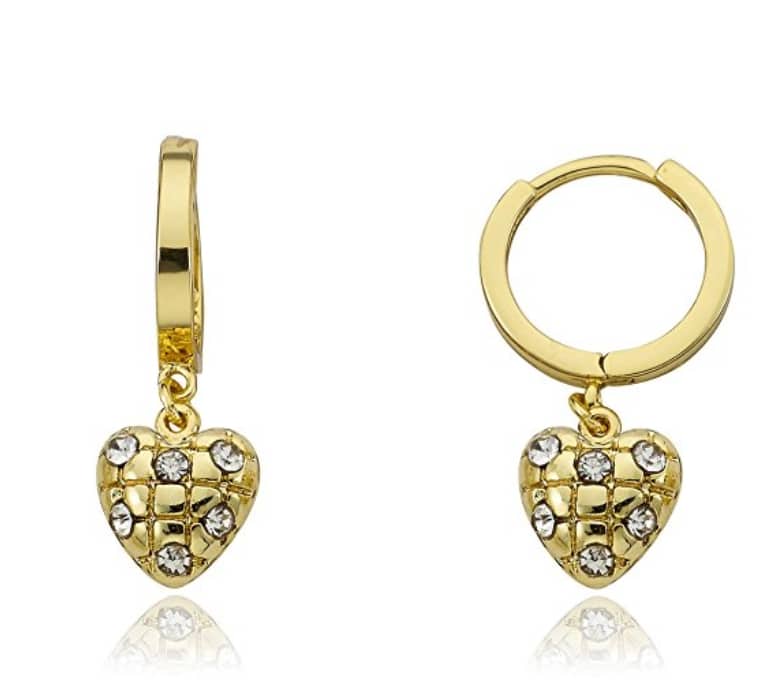 They are about $18 dollars and we have not had a problem since! They look stunning and real and are super comfortable. They do not irritate their ears and do not fall out! They now haven't taken out their earrings in months and receive so many compliments.

Summer Shoes
Mini Melissa's are the summer shoe category trophy holder.
These shoes have all the practicality of Natives while being exciting for the girls. They're comfy, waterproof,  fit great, and it doesn't hurt that they smell like candy! Go from teensy sizes to size 12 and then there are coordinating big girls' styles. They're available in tons of colors and styles. My favorite styles right now are the classic big bow Mary Jane and the Ice Pop and Ice Cream Sandal.

7. Umbrella Stroller
For the moment, we have outgrown the need for our big stroller and double-stroller. We only really need a stroller when someone falls asleep in the car and is too groggy to walk or trips where there will be a lot of walking like Six Flags. I don't want to take up tons of trunk space for this purpose so I ordered a Costco Monster Donut Stroller for the best $25 dollars I ever spent.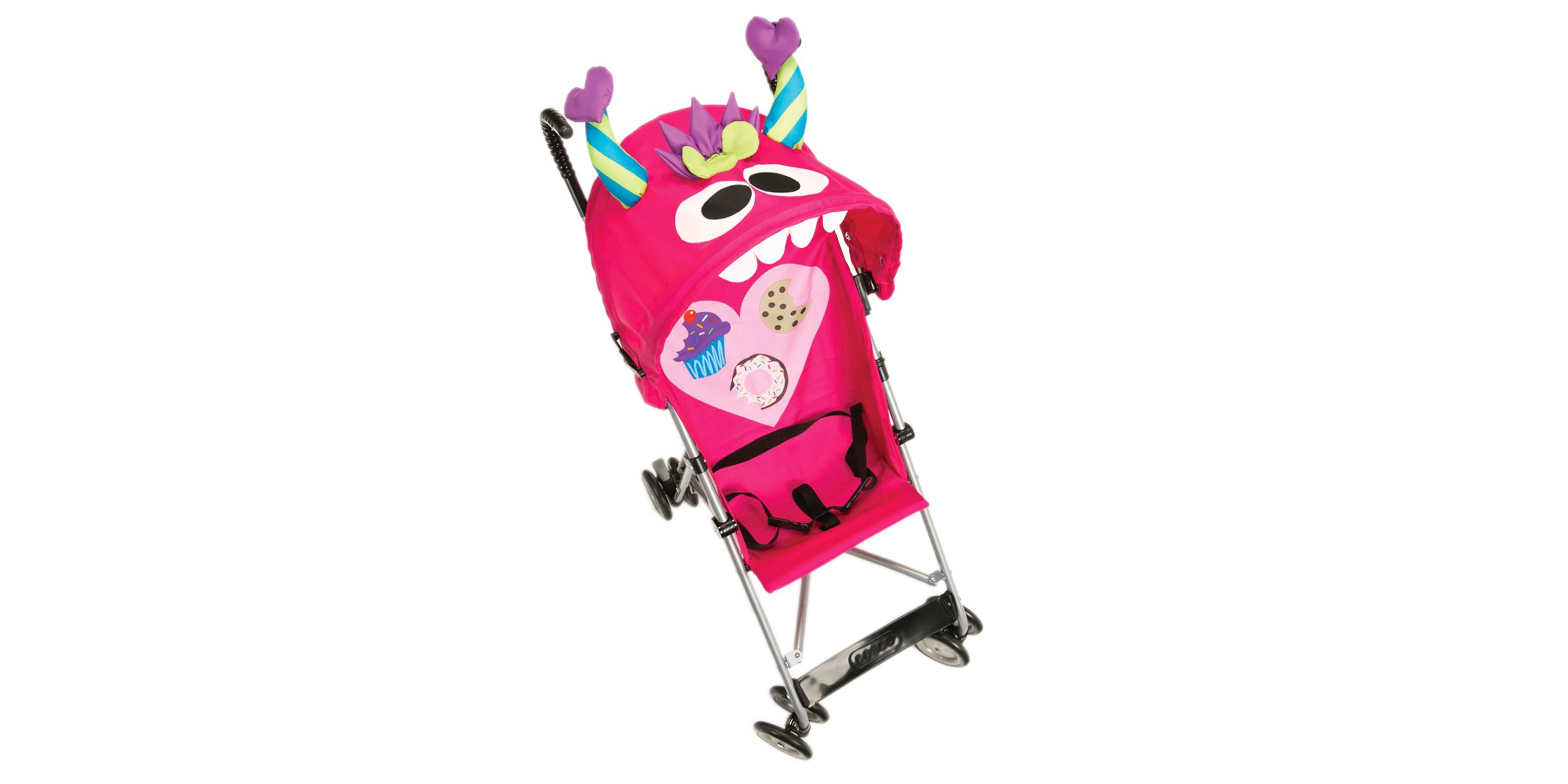 It is literally the cutest thing ever and it's so easy to push, fold up, and store. I just put my Mommy Hook on the side for bags and it's the most practical lightweight stroller ever. Just be ready to be stopped by people asking where you bought it.


9. Arts n' Crafts
We spend lots of time every day making "projects," whether it's coloring, painting, stickers, or craft kits. Some of our favorites right now include:
*Plush Crafts
available locally or on Amazon. These cute collectible "plushies" (what A calls them) come with colorful fabric and a special tool to "sew" the pieces onto the pillow. They're so easy for little hands to create. The girls follow the instructions themselves and there is pretty much no mess involved. The bonus is the instructions are so easy to follow; it's a great way for them to learn how to follow instructions on their own.
*Dot Art—This is a classic but I'm always amazed at how beautifully the girls decorate things and they're mess-free. Toys For You (multiple locations) carries especially sparkly colors.
*The best arts and crafts space saver is our Alex Hanging Wall Easel.
It looks so cute on the wall, and has cute cups attached for storing the most used markers/pencils/ crayons. It's probably one of our most used household objects. We got ours at Toys 4 Thought in Lakewood with a 20% off coupon.

Games
The best board game hands down is Pie in the Face Showdown.
It makes a little bit of a mess, but the number of laughs and excitement that result (let alone hilarious videos) make it well worth the trouble cleaning up. Be sure to have lots of whipped cream in the house!
Toys
The most time-consuming toy (in a positive way) is Calico Critters.
We sat for five hours during the last rainy Shabbos afternoon setting up our critter city. The characters are so charming with their little outfits and accessories, and each set is so adorably detailed. The girls take so much pride in setting up and dressing these little guys and they take care that it won't get ruined. Also, the smallness of the pieces helps develop their fine motor skills. I get them from Toys For Thought in Lakewood, NJ. Toys R Us and Barnes and Noble also have great selections.  (Be sure to use coupons, either the one that comes with the BP Weekly for Toys For Thought or Google coupons for Barnes and Noble.) There's usually one available. I purposely store all the pieces in one large bin instead of separate smaller bins so we have the fun of building everything all over again each time we play.

What little girl doesn't love putting on a show? This Melissa and Doug Puppet Theatre is the perfect venue.
It's easy to assemble and you can order the cutest puppets to go along with it. A and L love making both puppet shows and regular singing/acting shows as well. The chalk board and clock on the bottom are just added bonuses.



This Unicorn Pogo Stick is so cute and a wonderful way to get out extra energy while indoors. It is lots of fun; ours is from Toy Genius in Freehold Mall.

Ever notice how all the boys in the neighborhood have bells on their bikes? I found the prettiest most girly ones right here at Toys For You (multiple locations) for $2.99.  Bells are a great safety feature for riding bikes on kid-crowded sidewalks so people know to get out of the way. They're especially useful for brand new two-wheeler riders who haven't yet mastered breaking. You can hear the dinging from the bells the entire time they are riding (if they end up going too fast and get out of vision for a second, they'll still be in earshot).

At the end of the day, what excites my girls most are stuffed animals and key chains. Especially ones that come with cute names. Current favs include (but are certainly not limited to) Beanie Boos and Beanie Boo key chains, Squishems (a personal favorite; I keep one in my bag because they smell so yummy), Whiffer Sniffers and Whiffer Sniffer pillows. Beanie Boos can be found practically everywhere (I have bought most of ours in pharmacies or Michaels). Squishems are from Amazon and Whiffer Sniffers are from Toys For Thought.
In the Kitchen
We are loving our Chill Factor Cups more and more as the days get hotter.
Just freeze the cup overnight, then add juice mixed with water and the slush is ready in a minute. It's a fun activity and it's more exciting than going to Wawa (and much healthier!)
This post was submitted by a BCP reader. Do you have something you'd like to share? Email us at editor@betweencarpools.com
Alexandra Helman is a mom of two little girls ages 5 and 4. Who loves shopping, accessories, and doing fun girly activities.