I was so excited when I discovered fun, high quality Torah Treasure videos…and I wanted to tell moms everywhere.
When I first heard from Nechama Hershkowitz of Torah Treasure, I was so excited. I've been a big fan of Torah Treasure for a while now…when I discovered it I thought I had literally stumbled across…well, yes…a treasure.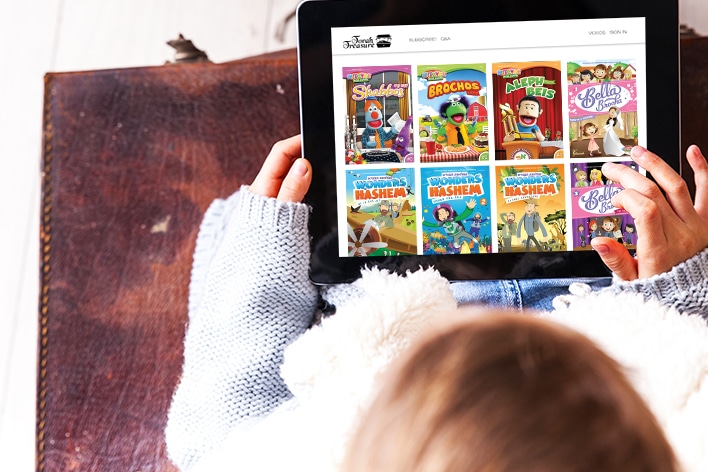 Torah Treasure is a Jewish website/app with high-quality Jewish videos for kids. Now, let's be real. Even the most engaged mothers sometimes just "need that 30 minutes" of quiet time and I don't need to explain why! I love that all the videos are self-contained on the Torah Treasure website or app, so there's no need to worry about kids clicking elsewhere. They're in a kosher, safe zone (and there's no need to worry about scratched DVDs!).
Plus—the videos are so educational! Moms have enough guilt when they put on a video—if my child is learning something, whether it's about brochos, parsha, or even about exotic undersea creatures, then I feel much better about it.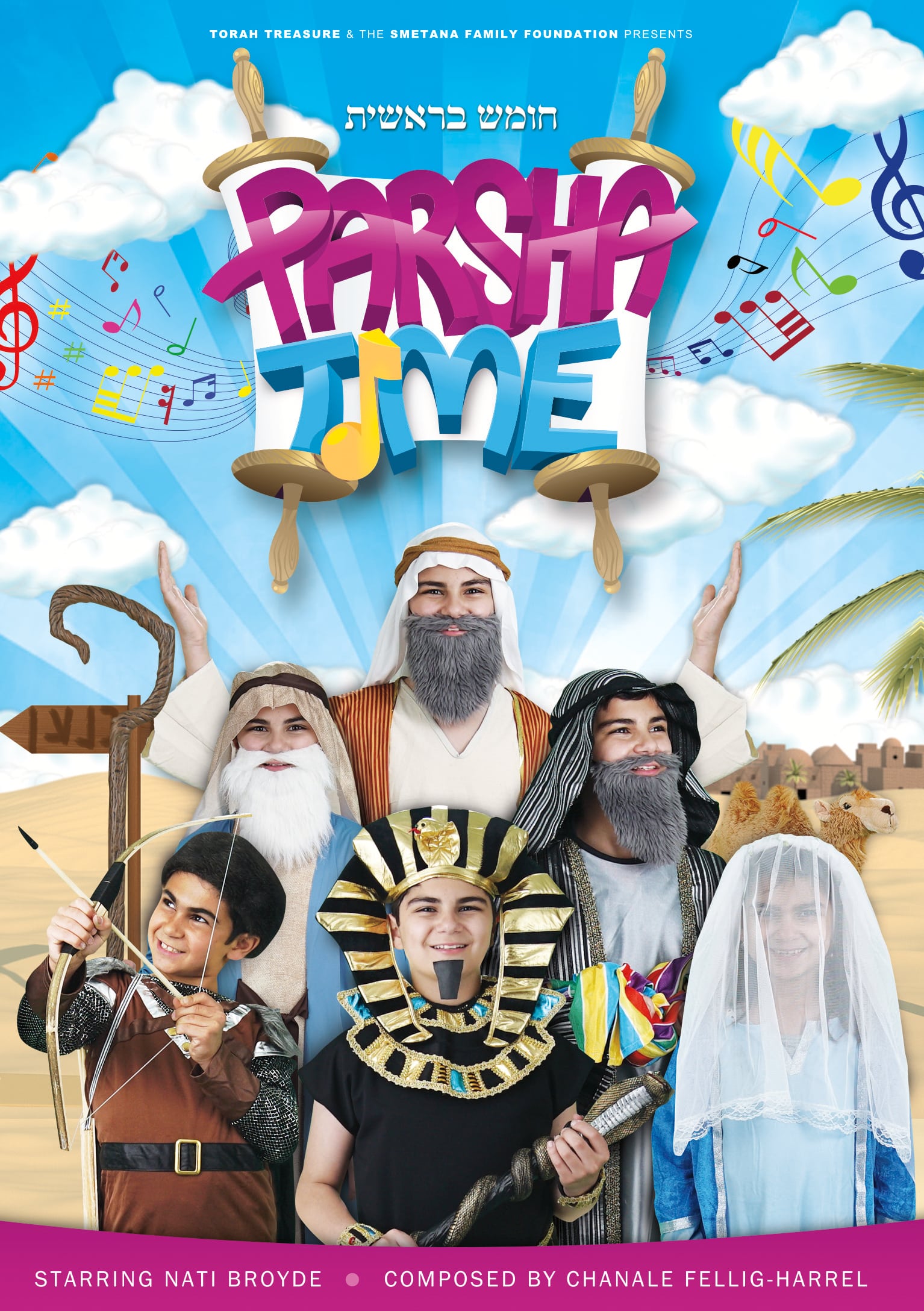 But the most impressive part about Torah Treasure is actually the quality of the videos. It's really beyond what you typically expect from Jewish videos, and that makes it so much easier because kids love them and don't mind watching them over and over! They're really top-notch and professional, and I'm so impressed with each video, from the original music, animation, and all the visuals.
Torah Treasure was something I thought all moms would love to know about.
But, then when Nechama contacted us, and I heard the story behind Torah Treasure, I was even more intrigued.
The Story Behind Torah Treasure: When There's a Need, Fill It
As a young couple, Nechama and Chaim Hershkowitz were debating whether to stay in Crown Heights or go out on shlichus. When their second child, their first daughter, Mussia, was born with spina bifida, they knew they'd be staying put in New York.  
"At the time, our oldest son Ari was 2-years-old. From the time Mussia was born, we were constantly at the hospital with her as she underwent numerous surgeries. There were doctors' appointments every day and we frequently returned home late at night. At that time, my son was spending time at my in-laws, watching PBS videos. It's hard to keep a 2-year-old entertained and happy when parents and siblings aren't around. We weren't happy about it, but that was the circumstances of life, so what could we do? As holiday time approached, the videos were just not appropriate anymore.
Chaim thought, "Why aren't there good quality, Torah-based, educational videos that we can show him instead?" There were Jewish DVDs available, but the selection was slim. So, Chaim, who always had a creative knack (he had been the host of Jewish Kids Radio before he was married), decided to produce the videos he thought were missing on the market. He went into numerous Judaica stores and asked, "What are you missing in the DVD category? What do parents want that doesn't yet exist?"
They all told him, "Aleph-Bais…Aleph Bais."
So, Chaim got working. He began playing around with puppets and practicing storylines with Ari.  He wanted the videos not only to be exciting for children but also interesting for the adults. The first DVD took three years to produce―the first ever Torah Treasure video was Mitzvah Boulevard: Aleph-Bais.
"It took so long that our son, who appears on the video, appears both with long hair, before the age of three, and as a young boy with a short haircut later on!"
Nowadays, because of the advancement in technology and Chaim's skills, videos take 3-6 months to produce. Chaim writes the storylines but also hires Jewish singers and songwriters, and actors to contribute to the videos.
Watch the Trailer for Torah Treasure's Latest Release: Parsha Time!
What kind of videos are on Torah Treasure?
The first Torah Treasures video I rented for my children was "Wonders of Hashem: Under the Sea" – I really couldn't believe something so high quality existed when I watched it (Yes, parents don't mind watching the videos either) and my kids didn't mind watching over and over again. The Wonders of the Hashem series was created to especially interest boys. Chaim went through the Gemara and Chumash to learn what the Torah says about every animal, so he could teach about nature from a Torah perspective. Girls who want something special for them will love the Bella Bracha (but of course, both boys and girls love all of them)…and the latest video in the Torah Treasure collection is Parsha Time (it's amazing!).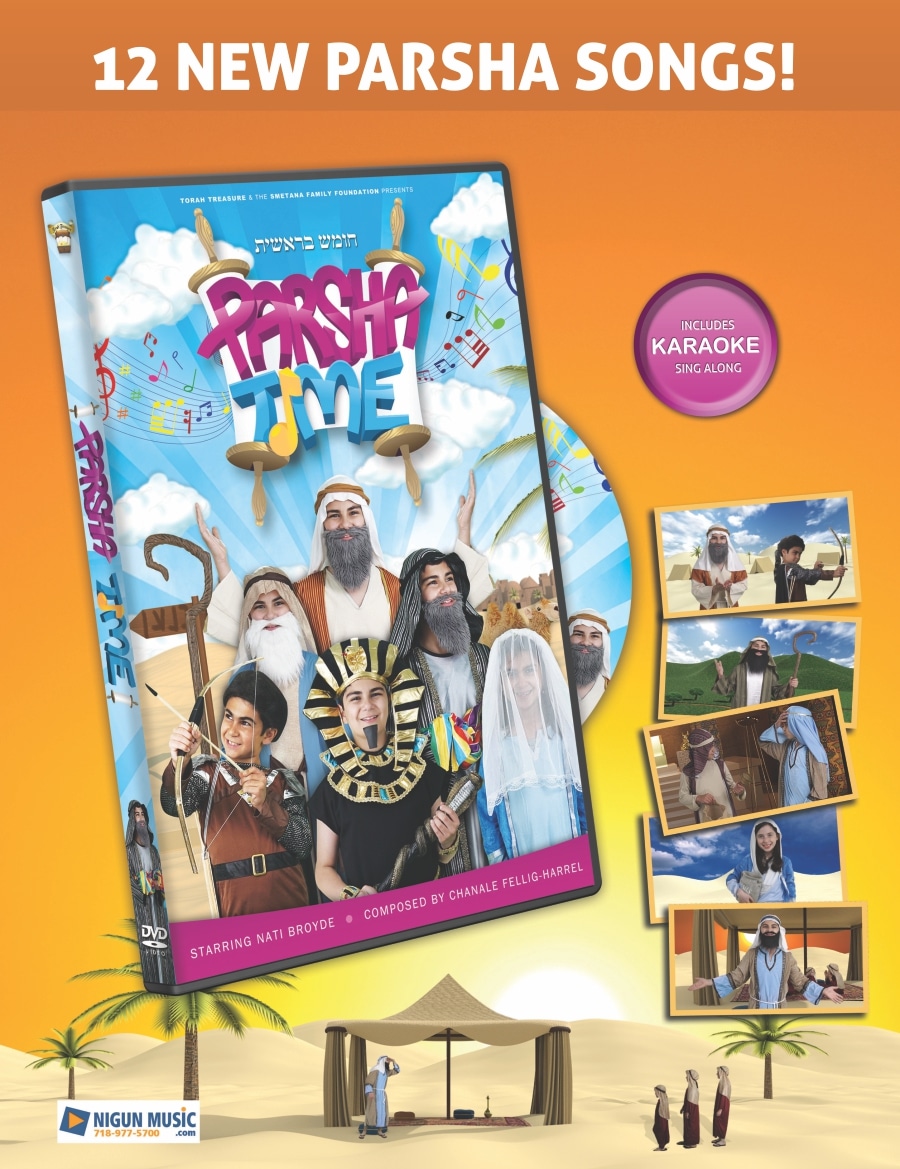 There's been so much excitement for children of all ages since the first videos of The Mitzvah Boulevard series (on Aleph-Bais, Shabbos, Brochos, and Songs), geared towards younger children were first released. And though the lineup keeps getting better, there are also common threads throughout. Mussia, Chaim and Nechama's daughter, appears in all the Torah Treasure videos. "When kids see a child in a wheelchair, they grow up learning there are all different types. It's not just about the gorgeous and perfect kids. We include her to be inclusive of children with disabilities."
See the entire line of Torah Treasure videos here.
You can rent each video for a 3-month subscriptions or subscribe and have access to every video for a full year and have the video up and running in an instant! (Either on the App which is compatible with Android and IOs or on any computer.)
Of course, you can also get any DVD at your local Judaica store or on Amazon.
Learn more and have fun at TorahTreasure.com.
This post is sponsored, however, opinions are our own.