The pages are filled with lots of inspiring messages. But some messages of NShei HaSiyum stick out in my mind.
Baruch Hashem, earlier this year, I was humbled to have been offered the opportunity to curate the content for a new publication that would be distributed at the Siyum HaShas: NShei HaSiyum, a magazine for women. All the recent siyums (in the last few decades) have featured a publication for men, and the last siyum had one for children. But this is a first for women. Agudah felt it was important to recognize the women's role in the Siyum.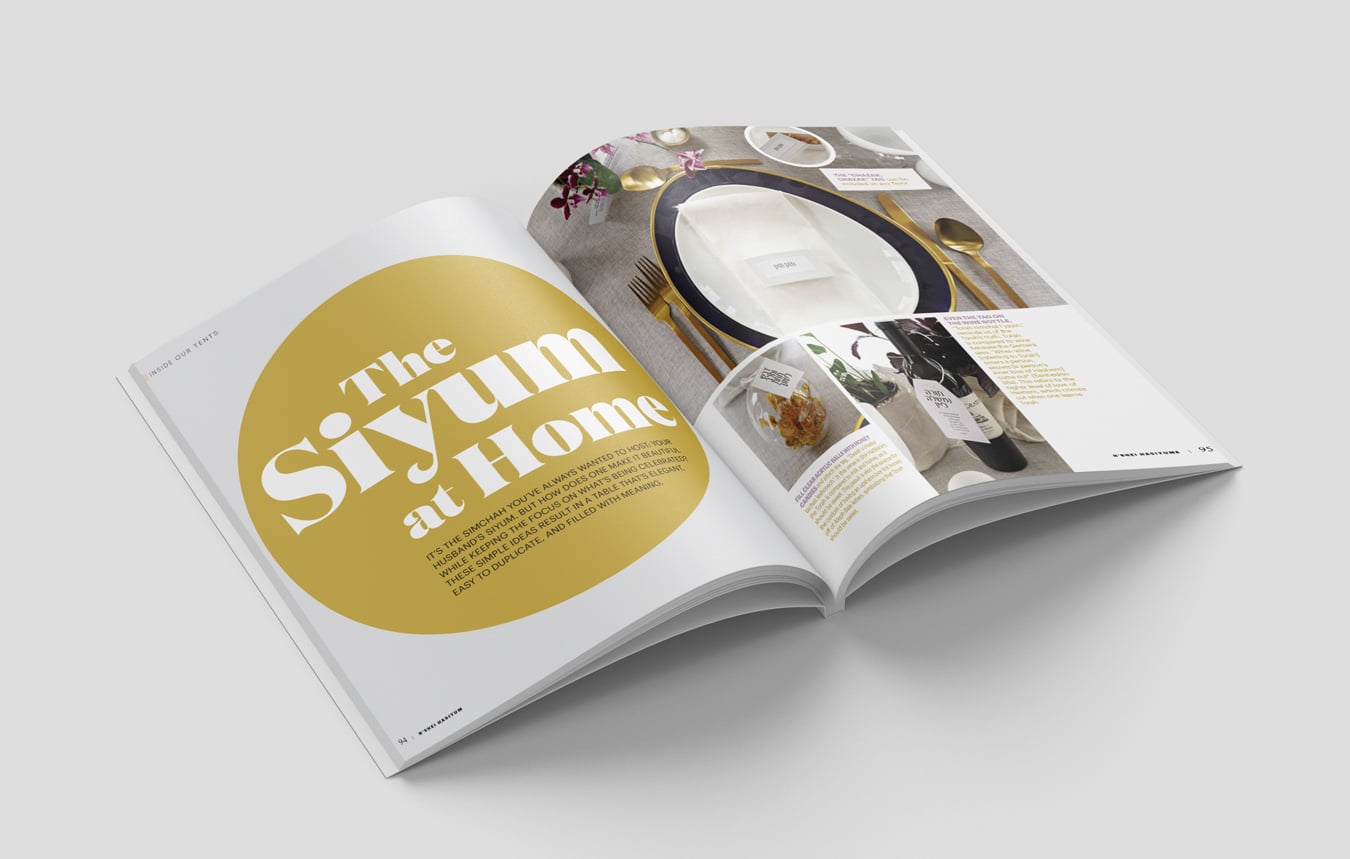 Even though I don't usually like taking on extra projects (my current day jobs are enough for me!), I couldn't say no to the opportunity to learn firsthand from Rebbetzins and other mechanchim in the Jewish world about the role of a woman. 
Around siyum time at the end of each cycle, we always hear that we're so wonderful because we give up time with our husbands so they can learn, but I think that women want to be more than "passive" beings who sit and wait. We are active, growing people who also have our own capabilities and spiritual aspirations. But the man's goal is so clear, especially at the time of Siyum HaShas. Torah learning–how could it be clearer? But what should be our goal? What's our job? It's so multifaceted and hard to define!  
I stated this mission to all those writing or being interviewed for NShei HaSiyum. What would be the message they would send to women? In the end, I received firsthand inspiration about our role as a wife, as a mother, as a builder of Torah in our homes, as the cook, the organizer, and the carpool driver. 
There are some messages that stick out in my mind.
Little things matter. We are "the mother of all life," our existence enables the lives of all our family members. And every single little thing we do in support of them has spiritual merit. From packing a lunch, to clearing the breakfast table, to driving a carpool, and yes, all that menu planning, shopping, cooking, and cleaning up afterwards. This "job" we have is not just an extra load of responsibilities. It's an extra gift of merit!
I always wondered what "encouraging a husband to learn" means if nudging is completely counter-productive. And I received many answers to this question. It means showing respect for a husband, whether it's his learning, his tzedaka, his chesed, or any mitzvah that he does! This is super important to know because not all women have husbands who learn. But everyone excels in some mitzvah or midah. There is always something to respect and admire. And this is our obligation. Hashem picked our husbands as the right complement to us. It's not our job to nudge them to do the things we think they aren't. But it is our job to respect and build them up in the areas that they are, and to train our thoughts to think positively.
Women have more power than you think. It's the wife that sets the tone in the home. When we show what's important to us, and how we approach growth, learning, and mitzvot, that will impact our other family members. It's not about the preaching, it's about the doing. They can see what's important to us. They can see when we walk the walk. When it's important to us, and we take responsibility, it will be important to them. It's also the woman's responsibility to ensure Torah values are maintained in the home. She can push her husband to work harder and longer and demand a high lifestyle. Or she can be happy with less and allow him to have less pressure, and more time for his family and shiur. The example would be different in every family and situation. 
Every step only brings happiness. Do you think a step towards growth will infringe on your lifestyle? I was reminded that growth only brings more happiness. You'll likely not miss those things you've given up. 
Make it a big deal. I learned to make a big deal when my young children are celebrating a siyum. I learned this from two places: from the stories that Rabbanim shared about their mother's role in encouraging their love of Torah, and also from my very own Between Carpools colleagues, who created the sweet treats a mother can prepare for a child to bring and enjoy when celebrating a siyum. Showing excitement shows that it's important to us. And children are so impressionable. Those winkies we wrap to look like a Torah scroll (vs. just buying the bag) or the chocolate cake we bake from scratch (vs. store-bought nosh) really makes a difference in their minds.
I learned it's meaningful to be good at anything. I learned that I can build up my children's confidence by encouraging anything they are good at, anything at all. It's that confidence that can eventually give them the ability to finish Shas. They don't have to be a big lamdan when they're little. They just need to be confident. 
Edited to add: To download the siyum downloads click here.