If you don't want to use plastic on your table, what's the right way to clean up?
I don't remember what I did before the vinyl tablecloth days, that era when tablecloths became easy to wipe up. Since I switched back to using a traditional tablecloth a couple of years ago, I've had a quandary. And after discussing this quandary with multiple women, it seems lots of us are equally confused.
What's the right thing to do with a tablecloth to get rid of the crumbs after a meal if you don't want to use a plastic covering?
Some of us knew that we're not supposed to shake the tablecloth onto the floor so that we could sweep it up. Some thought it's ok if it's shaken out in one place. Some thought it's better to shake it outdoors. We didn't know if this was ok on Shabbos or must be done only after Shabbos.
If one uses a plastic covering over their tablecloth, this is not an issue. Thin plastic coverings are scooped up and thrown away. Thick non-disposable plastic coverings can be wiped like a vinyl tablecloth. But many of us prefer the more formal look of our Shabbos tablecloths–and we all know, even though it is more work, it is nicer. So what's the best way to clean up?
So, one Friday night, when my father-in-law was in my home for the meal, I asked him my tablecloth questions. 
Note that this post is just meant to clear up some confusion, NOT to pasken. Please ask your own LOR what is best for you specifically to do. 
All the Concerns
First, about those pieces of bread that are left on the table after the meal. Pieces which are larger than a kezayis (or smaller pieces that when combined could become more than a kezayis) shouldn't be thrown directly into the garbage, but wrapped or put in a separate bag before being thrown out. There are a lot of sources which warn about being careful to show respect to bread to prevent poverty. This part is simple. 
Once that is done, we're still left with a tablecloth full of crumbs that must be emptied before that tablecloth can make its way to the laundry room. 
My father-in-law explained that the main concern with the crumbs is that they should not be stepped on. This is why we don't shake a tablecloth out onto the floor (some are very careful that no one should walk while they are doing this). But it's not better to shake it outdoors like I thought (it might even be worse, because it can't be swept up) because people walk outdoors as well. The Shulchan Aruch says that one must be careful with challah crumbs, as stepping on crumbs can lead to poverty. 
He told me the Gemara (Chullin 105b) of a man who was being pursued by the angel of poverty, but the angel was unable to impoverish him because he was extremely careful with crumbs. One day, he had a picnic and ate over grass and some crumbs fell on the grass. The angel thought he had got him: it's impossible to pick up crumbs from grass. But, when this man finished the meal, he brought a hoe, uprooted the grass, and threw it in the river.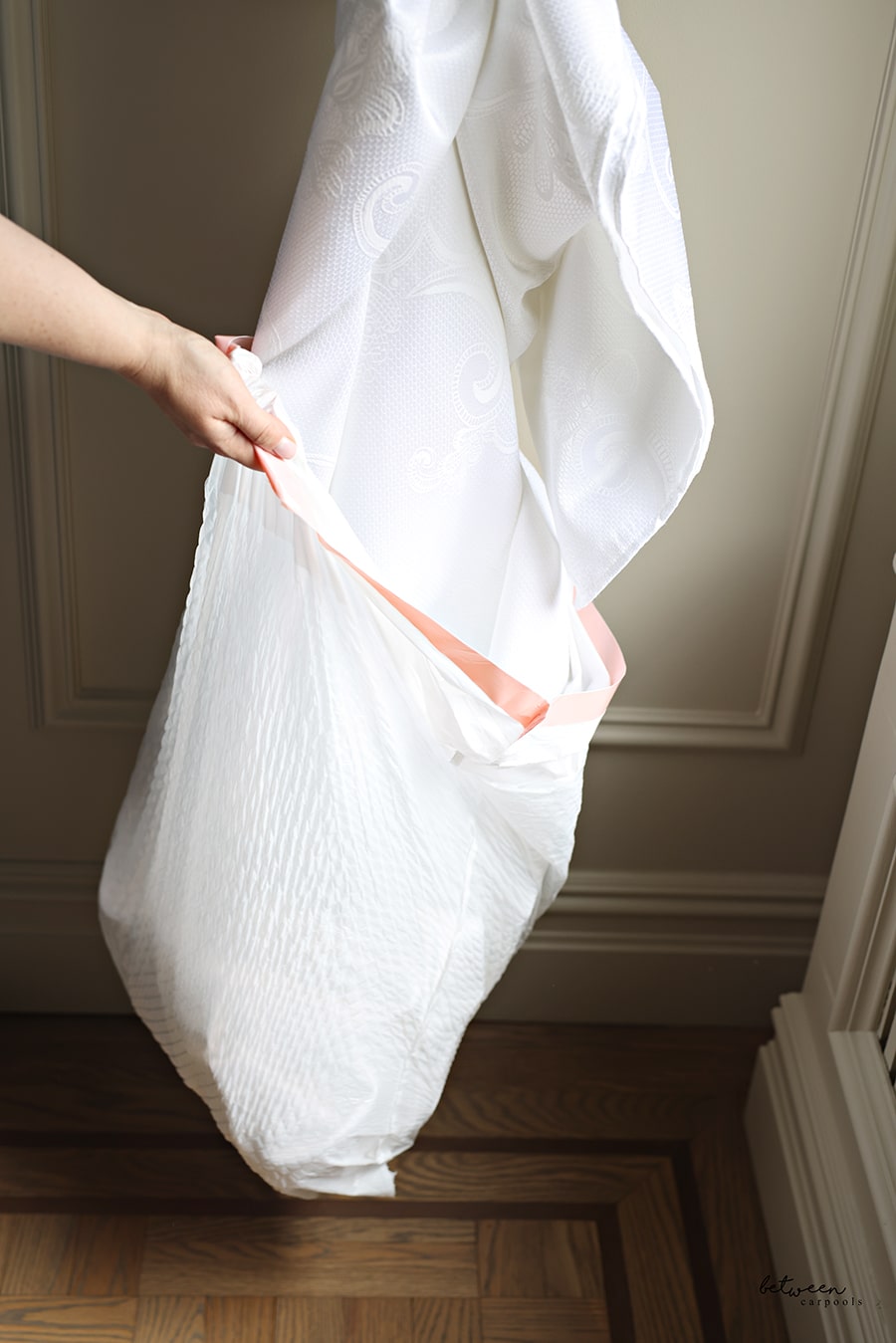 Ok, So What's the Solution?
Anything that minimizes crumbs on the floor–I tried shaking the tablecloth out inside a clean garbage bag. It wasn't perfect, but it caught most of them. The garbage bag only works for tablecloths that are either thin or less than 144 inches. If the tablecloth is a thick one or over 144 inches, I found that shaking it out in a box works better as it's hard to maneuver so much cloth in a garbage bag (line the box with foil so it's easy to scoop them up and they don't get stuck in the flaps of the box). 
Basically: Any creative solution that you can think of that will help prevent additional crumbs from being thrown on the floor is worthwhile to do.
If you have the type of deck that no one can walk under, then it may be fine to sweep the crumbs through the wood slats when cleaning up in your Sukkah. Ask your own LOR. 
What's your solution?
Tablecloth courtesy of Loom and Table
We got lots of of suggestions from readers on products they use to "sweep" crumbs off the table. Here are the top ones!