Watch "A Time to Sing" 
featuring Devorah Schwartz, Kineret, and more, tonight at 8 P.M. Or, watch it anytime on Chanukah!
"You named this event!" Devorah says as soon as we start speaking.
This is not the first time that I'm speaking with singer Devorah Schwartz, perhaps the top female vocalist in the Jewish world. Earlier this year I interviewed her for AmiLiving Magazine and titled the article "A Time to Sing." But I hadn't even remembered.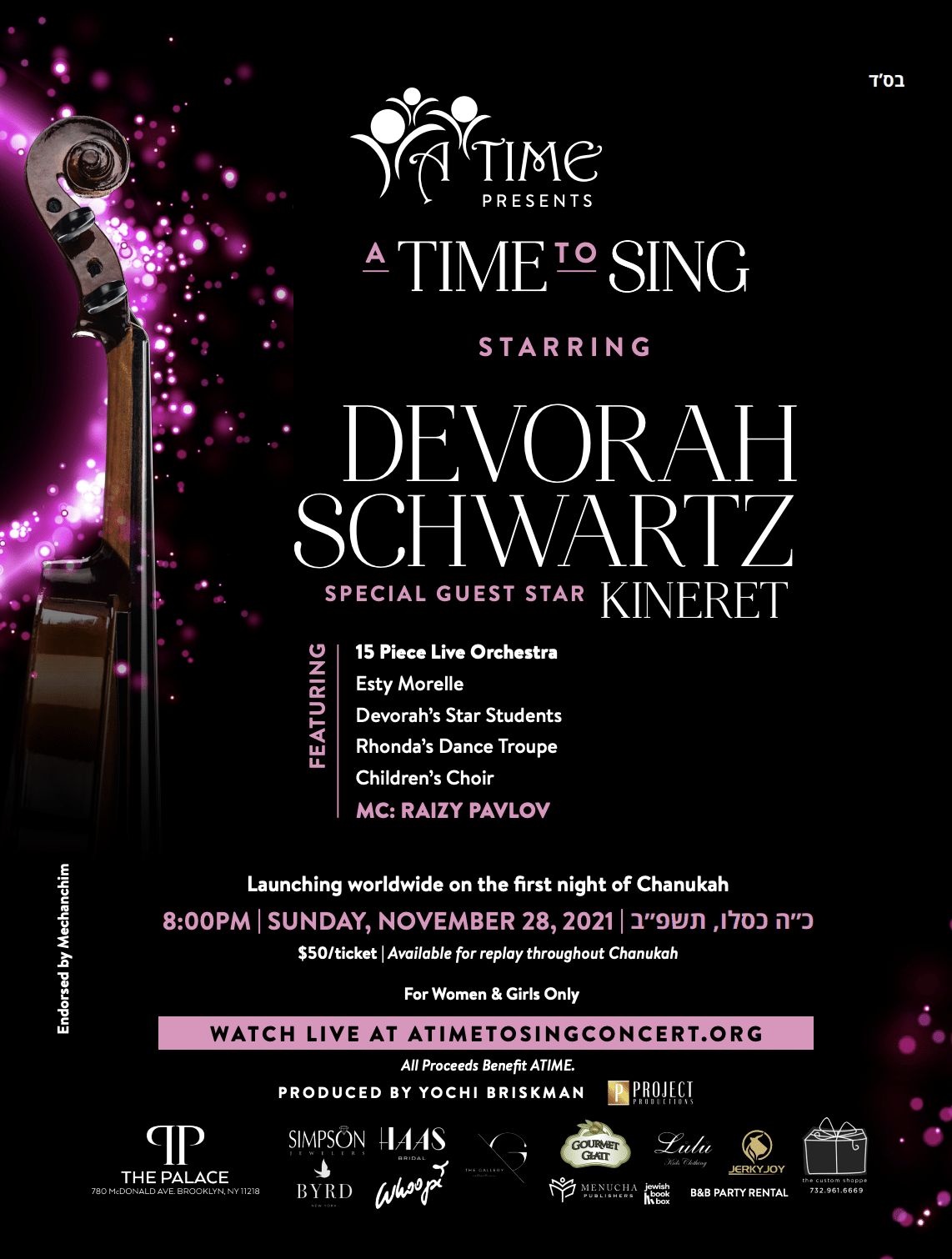 "Last year, was the first time we aired a women's Chanukah concert, but this year I got together with A Time to create the event, produced by Yochi Briskman. A Time plus Devorah Schwartz equals A Time to Sing," Devorah continues. "It's the biggest women's musical event ever."
"A Time to Sing" airs live tonight at 8 P.M.! But this year, you can enjoy the magnificent production on your own schedule as A Time to Sing will be available for unlimited replay through the week of Chanukah only! 
"Our goal is to reach women all over the world, wherever they are, on their own schedule. They can watch the show whatever time on Chanukah works for them and bring music and light and inspiration wherever they are! Host a watch party with sisters or cousins and have fun!" 
This is going to be next level. The concert features a 15-piece all-female orchestra with an 8 piece string section. "It's really major!" There's a dance group, an angelic children's choir, Raizy Pavlov is MCing and for the culmination of the evening: Devorah will be singing a brand new song written by Chayala Neuhaus. 
"Throughout the concert, we'll be singing songs that everyone loves. I performed at over 40 concerts this summer, and I saw what the favorites are! There's oldies and current hits, but you'll love every bit. The flavor of this show is so beautifully Jewish and definitely family-friendly, I'd be comfortable with my daughters watching it. It's going to be magnificent!"
And there's one more major announcement about "A Time to Sing:" KINERET! "I grew up on her albums. I used to go watch her sold-out concerts. She had an all-female band and she'd throw frisbees into the audience. I'd never thought I'd be a singer and invite her to my show! It's an honor and incredible! Today she is a Rabbanit and she speaks all over. I can't wait to hear her! No one sings like her!" Watch A Time to Sing here!