You can help without spending a penny!
Today's parsha discussed the concept of giving ma'aser – a tenth – of one's earnings to tzedakah. We decided that we'd like to share this mitzvah with all of you who helped us sell more cookbooks than we could have imagined in just two weeks since its release.
We've chosen some of our favorite charitable causes who will be receiving donations. So how can you help? It's simple. Leave a review of the cookbook on Amazon! For every review that comes in by the end of December, we will donate $5. The donations will be spread amongst these charities. Let's see if we can donate $5000 in just 2 days!
CLICK HERE TO LEAVE A REVIEW
TO BUY THE BOOK CLICK HERE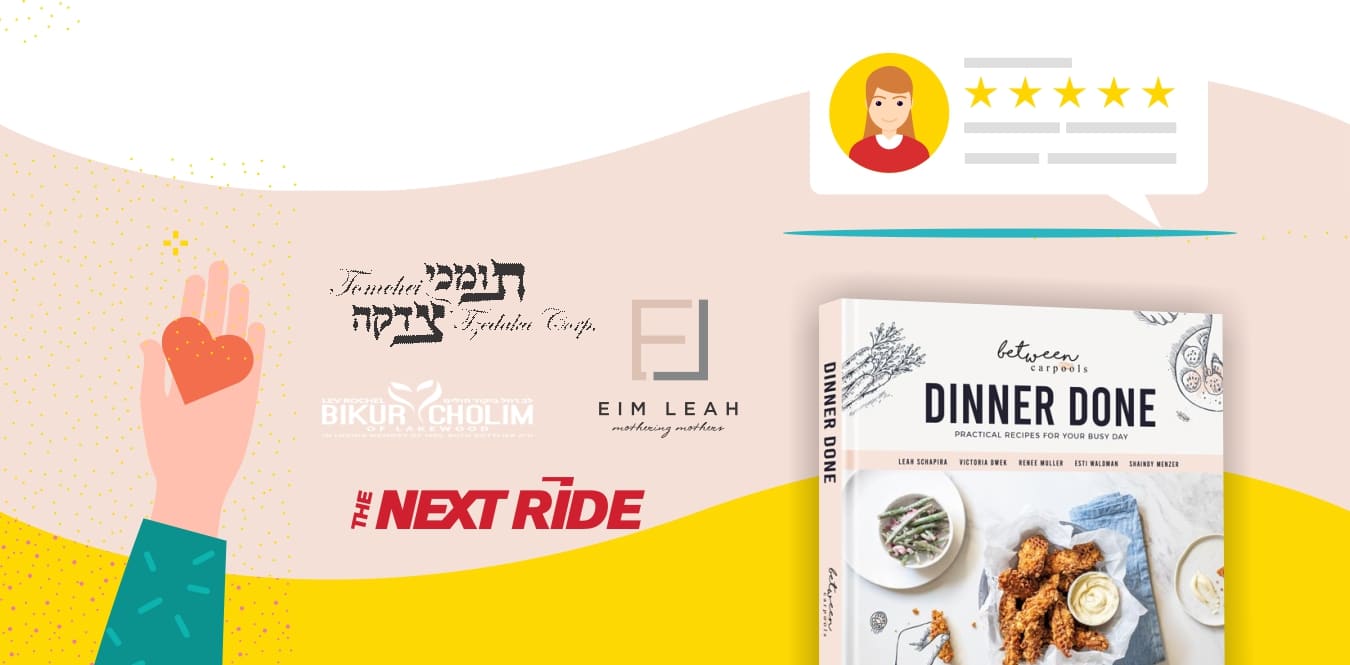 Lev Rochel Bikur Cholim When any Lakewood resident finds him or herself facing medical concerns – however minor or major – they can take comfort in knowing that there's a single address for complete care. With Lev Rochel Bikur Cholim at your side, you can – and will – overcome anything.

Tomchei Tzedaka Fund for a Single Mom "O" is an old friend of a member of our team. She's hardworking, self-sufficient and has never turned to anyone for help. We recently learned her husband had left, leaving her with tremendous debt and great heartache.
She wakes up every morning afraid that she will lose her apartment and her business that she worked so hard to build. She has been set up with someone to guide her on a plan to repay the debt; however, we're reaching out to all of you to help close the gap and allow her to return to self-sufficiency so she can support her children with dignity.

The The Next Step is an organization that provides prosthetics and all kinds of support for amputees in Israel. They help victims of terror, soldiers, survivors of accidents or illnesses, and anyone else suffering from limb loss.

Eim Leah's mission is to provide respite for Lakewood women after birth, providing a weekly care package consisting of babysitting, hot suppers, lunches, and more. This bundle of love and assistance is so crucial to the physical and emotional well-being of the new mother, setting her on the path to a complete recovery.
Of course, we invite all of you to contribute to any of these causes if you have any ma'aser you'd like to give right now.