These Crunchy Fish Tacos are like a party on the table, and the tacos can be customized to suit the picky to the gourmet eaters at your table.
While we think "dairy" when we think of Shavuos, we can all use some more pareve ideas too. My sister R. makes this fish and I thought it would make the perfect crunchy fish for tacos. You can also make them as fish stick/fingers.
If you don't want to fry it, you can bake it. Preheat oven to 475ºF. Coat the bottom of an oven-proof (such as cast iron) skillet with oil. Heat skillet over the stove until oil is hot and smokey. Add fish and spray the top with nonstick cooking spray. Place in oven until fish puffs up (it will not turn golden) about 8 minutes.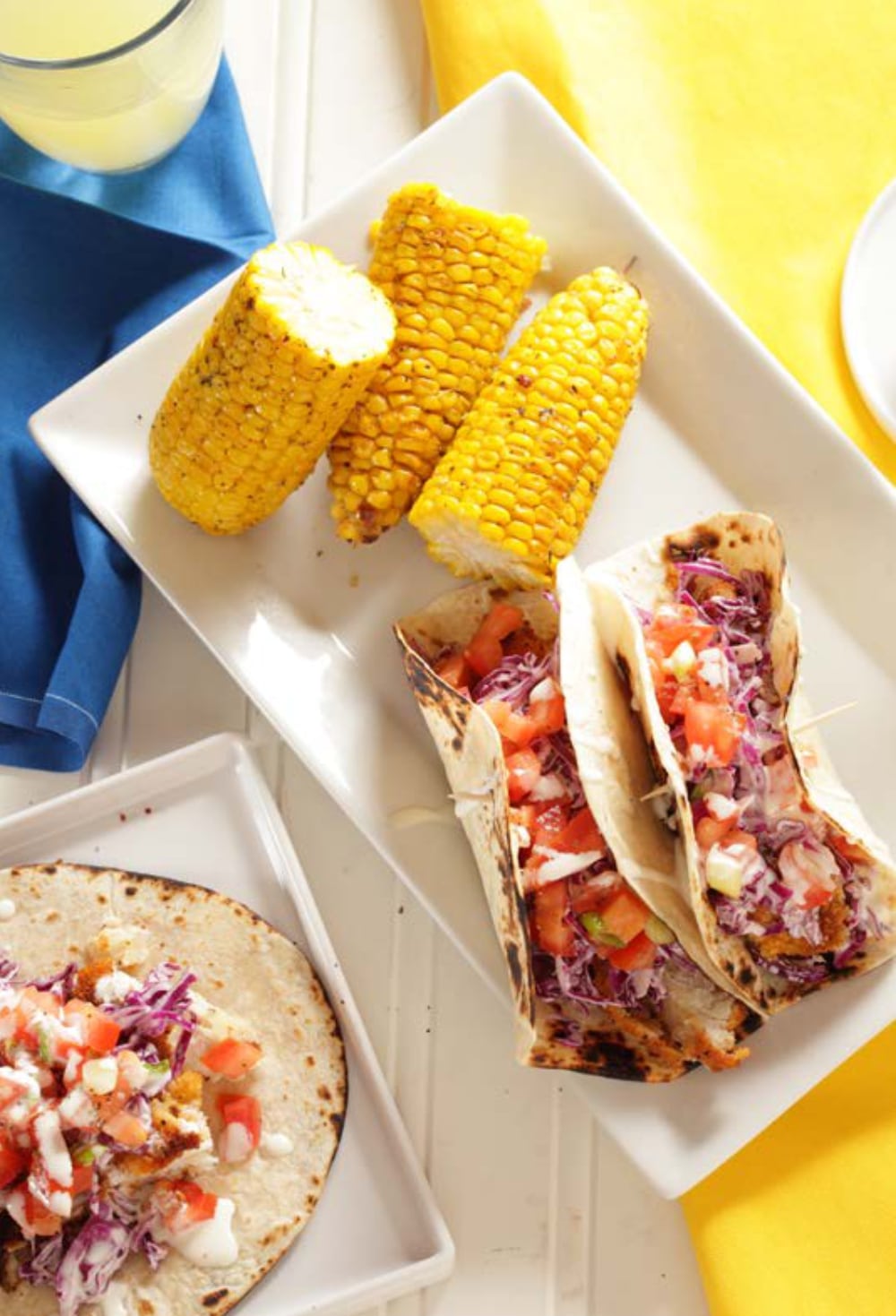 Fake It Don't Make It:  If you like the idea of making the tacos but aren't looking to cook, you can use this recipe as inspiration. Use store-bought coleslaw or combine red cabbage mix with store-bought Caesar or garlic mayo dressing. Use ready fish from the store or frozen fish sticks.

Crunchy Fish Tacos
Ingredients
3-4 fillets tilapia
½ cup flour
1 tablespoon baking powder
1 egg
2 teaspoons mustard
¼ teaspoon garlic powder
½ teaspoon kosher salt
dash ground black pepper
¼ teaspoon paprika
1 cup bread crumbs
1 teaspoon Italian seasoning
½ teaspoon kosher salt
Oil, for frying
Tomato Salad:
1 large tomato or 2 plum tomatoes, finely diced
1 scallion, thinly sliced
1 tablespoon olive oil
1 teaspoon salt
½ teaspoon coarse black pepper
Red Cabbage Slaw:
3 tablespoons mayonnaise
2 tablespoons water
1 tablespoon oil
Squirt mustard
2 teaspoons lemon juice
1 to 2 garlic cloves
1 teaspoon Worcestershire sauce
1 teaspoon salt
8-ounce shredded red cabbage
Instructions
In a shallow bowl, combine flour and baking powder. Whisk egg and mustard together in a second shallow bowl. In a third shallow bowl, season breadcrumbs with garlic powder, salt, pepper, paprika, and Italian seasoning. Dredge fish in flour, then egg, then breadcrumbs.
Heat oil in a skillet and fry fish until crispy on both side.
In a medium bowl, combine tomato, scallion, olive oil, salt, and pepper.
In a small bowl, whisk together all the slaw dressing ingredients. Mix with the cabbage and let sit 10 minutes.
Warm up the tacos in oven, or place it directly over an open flame for 30 seconds on each side.
To assemble the tacos, fill each taco wrap with fish cut into strips. Top with cabbage and tomato salads. Drizzle with additional garlic mayo if you like your sandwiches with lots of dressing.