Help your struggling child grasp Lashon Hakodesh once and for all with
Einei Haloshon
. Read on for all the info, testimonials and more!
*Use code BCP23 for 20% off the cost of the program!*
If there's one mantra that you can find me telling my kids day after day, it's 'Different things are hard for different people.' One child may struggle with keeping his cool, another may have trouble with timeliness, and yet another has difficulty with impulse control. What it really comes down to is each child (okay, and me) understanding that everyone has his/her struggles, and we do with them the best we can.
When it comes to difficulty with academics, particularly with Jewish subjects like davening and learning that are so essential to our children's academic success and continuing into their adult day-to-day lives, the struggle can be brutal. Einei Haloshon's incredible program was created for children (and adults!) ages 9 and up to learn the grammar and syntax of the Hebrew language. This program, through an interactive digital app, teaches grammar first, enabling your child to grasp vocabulary more quickly, then seamlessly graduate to better comprehension of Lashon Hakodesh. Learn in English or Yiddish with a digital program that's easy to use and intrinsically motivating. Internet is required to initially download the program, but it can then be completed without internet.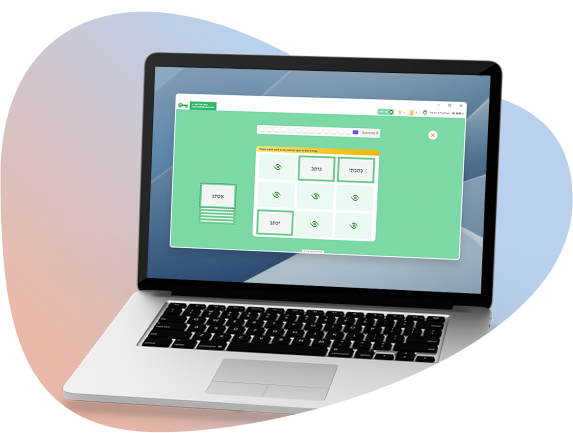 How do you know if the program is the right fit for your child? Take a 15 minute no-commitment screening to determine whether your child is eligible for the program.
Scared to take the leap? If you don't see improvement after the first 5 exercises, you can get a full refund. So what do you have to lose? Absolutely nothing. Einei Haloshon has a 100% success rate (they'll only advise the program based on the screener) for over 885 graduates. Testimonials attest to the incredible potential in the Einei Haloshon program for your children. 
"I have no words! The breakthrough level of this learning program for kids is literally revolutionary! It couldn't have come more in handy than at this difficult time… In truth, I wish I had known about this program months ago! The price is nominal compared to its value."
"Even after having heard from teachers and friends about the powerful results of Einei Haloshon, we were completely stunned by the remarkable integration to Lashon Hakodesh that our son achieved through your program. We wish you much success and zikui harabbim."
And it's not just anonymous testimonials, members of our BCP team have witnessed amazing results first-hand. Ready to give it a try? Go to www.haloshon.com to get started with the free screener. Use code: BCP23 for 20% off
Yes, we all struggle with different things but with Einei Haloshon you can help your child discover the joy in reading and comprehension, find fulfillment in their learning, and gain confidence in themselves.