This Chanukah Gift Dreidel Game is simple enough for kids to play, but interesting enough to get teens and adults into the Chanukah spirit as well!
HERE IS HOW TO PLAY:
Invite guests to each bring a wrapped gift – you set the budget for the gift or any other requirement you choose.

When guests arrive take their gifts and redistribute them. Each player gets a gift (not their own) before the game starts. They DO NOT open the gift. Have all players sit in a circle with their gifts in front of them.
HOW THE GAME PLAY WORKS:
Choose a player to start the game.  They spin two dreidels and follow the instructions on the cross-section of those two Hebrew letters.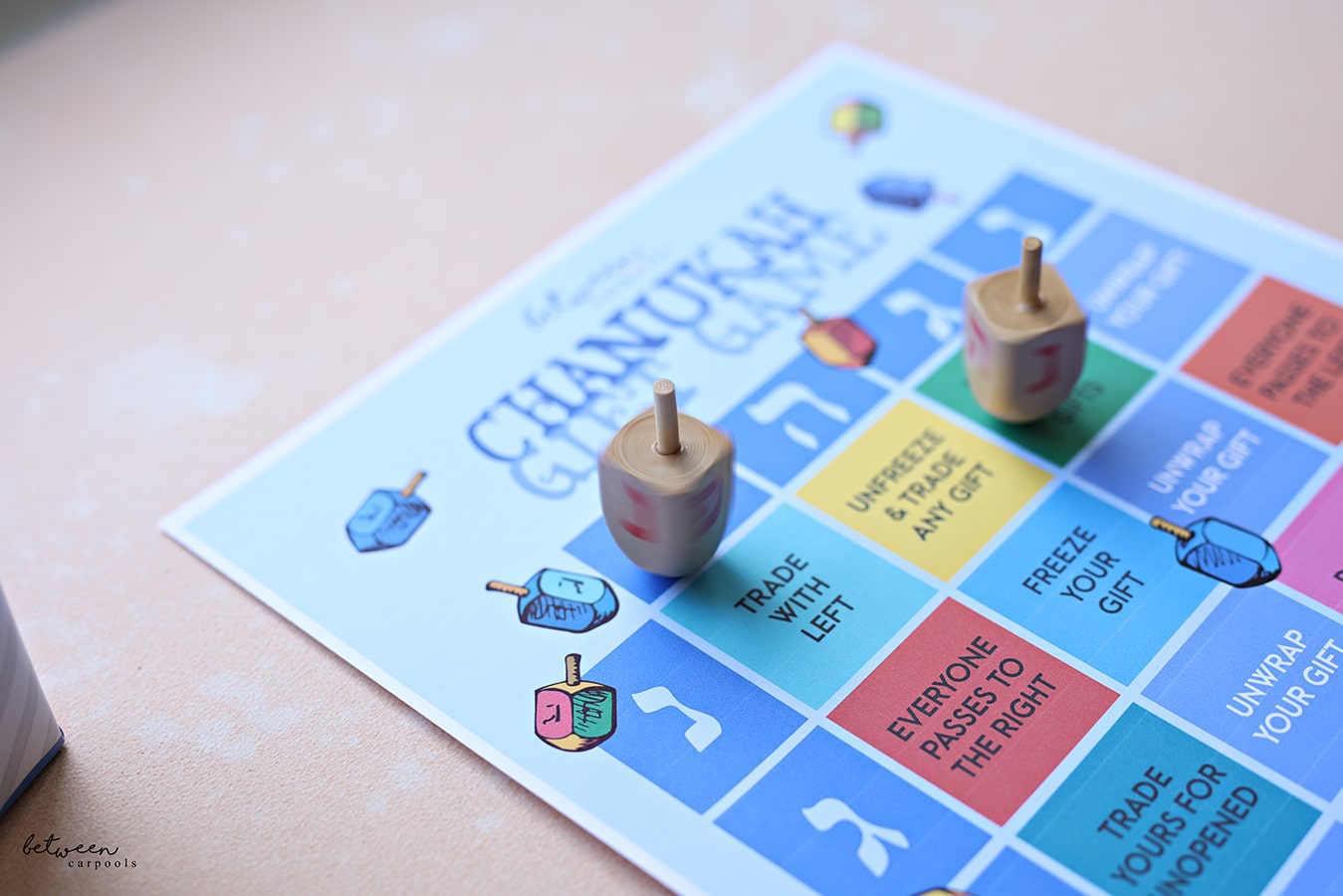 For example, if a player rolls a "shin" and a "nun" then they must trade their gift with the person on their left.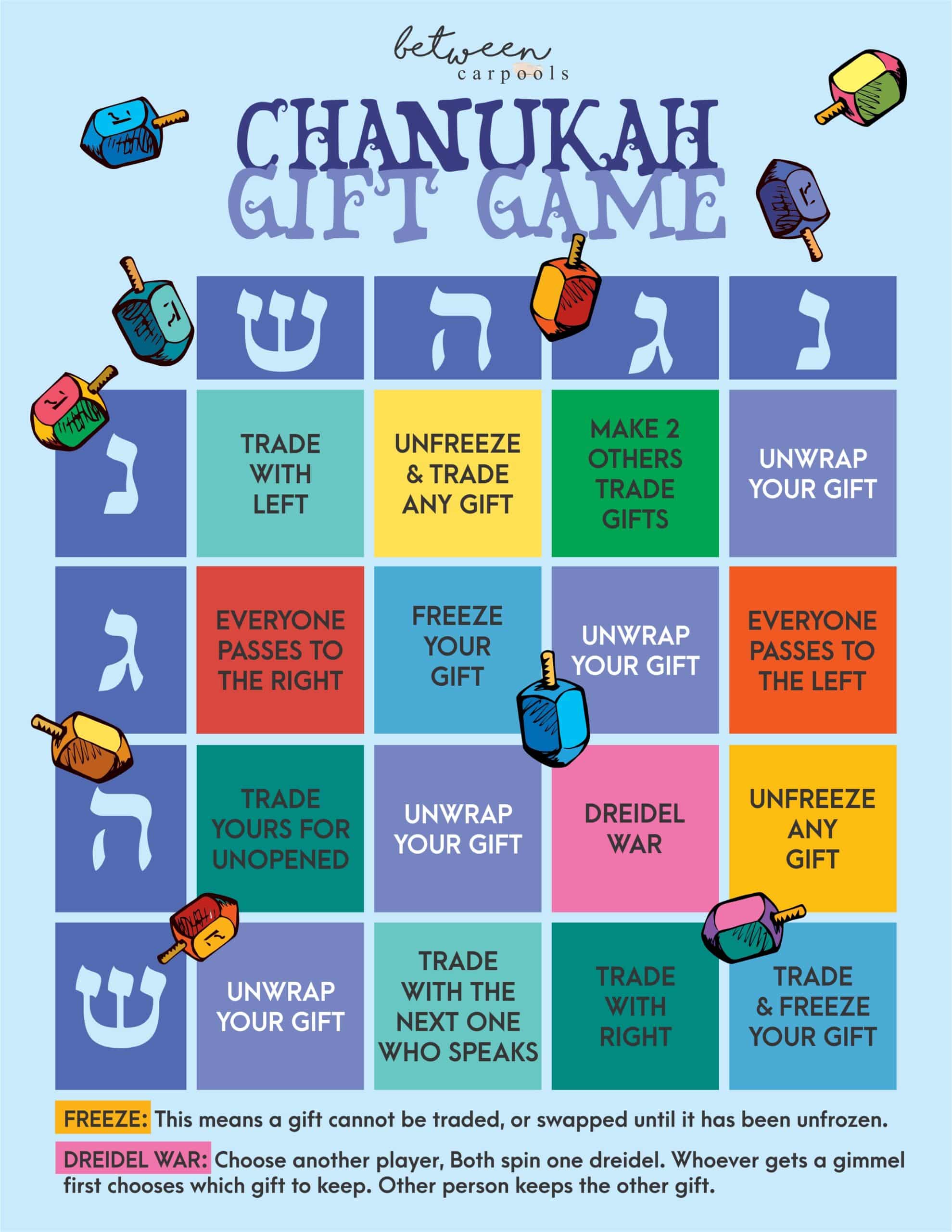 In this Chanukah Gift Dreidel Game, players get to do many types of gift trades! Sometimes you get to choose who you want to trade gifts with, other times the game rules tell you what trade you must make. Sometimes you don't trade your gift at all, but instead you get to make others players trade.
Another thing you get to do in this game is FREEZE your gift.  This is great when you have opened a gift that you really want to keep.  Freezing means that the gift can't be taken from you until another player spins one of the yellow squares and chooses to unfreeze your gift.
Another really fun roll is the Dreidel War.  When you roll this then you get to choose another player – each of you spins the dreidel and the first to get a GIMMEL gets to choose which present to keep.  The loser gets the other gift.
The great thing about this game is that each player ALWAYS has one gift – what gift they end up keeping depends on the spin of the dreidel.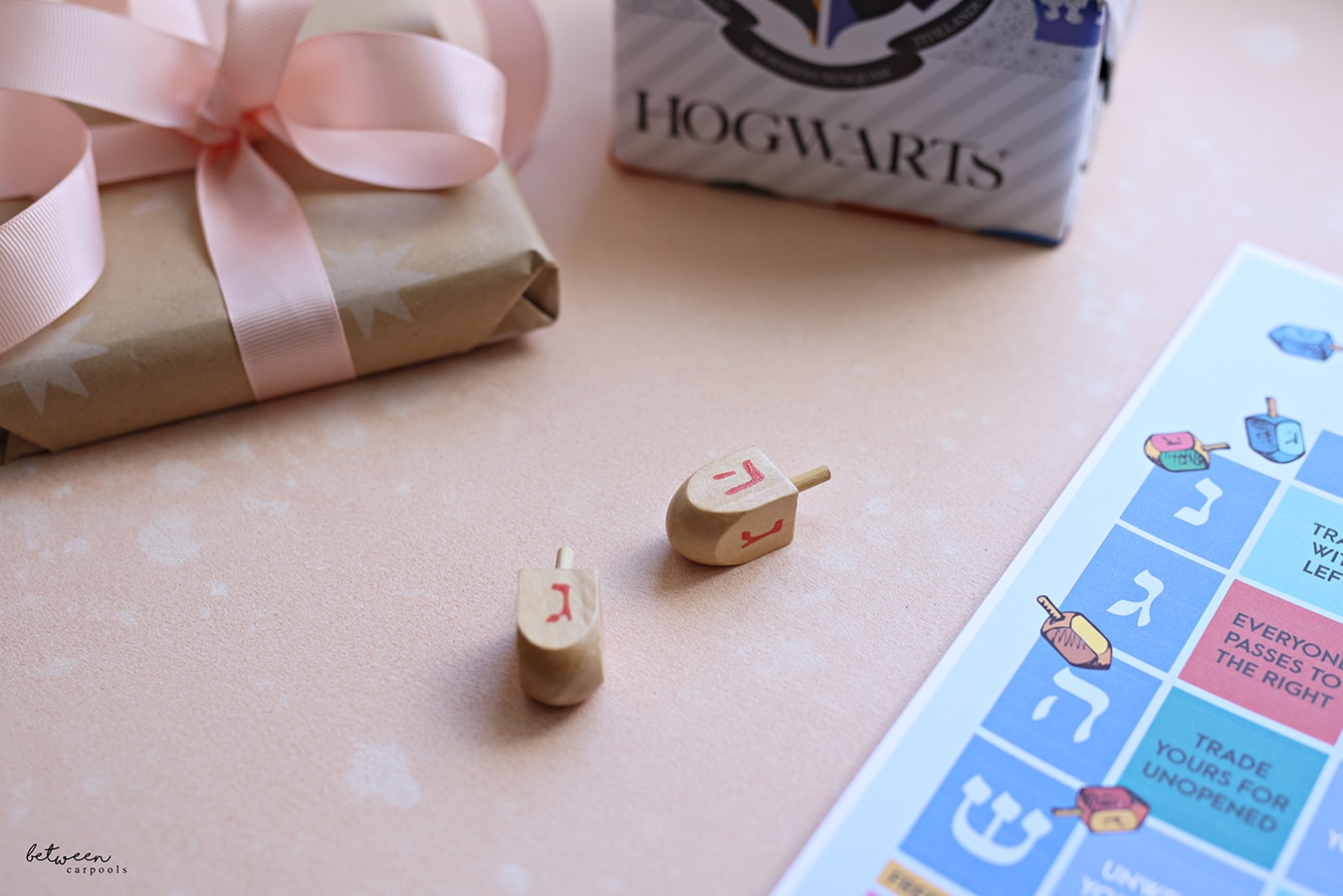 HOW THE GAME IS WON:
A present gets unwrapped when a player spins doubles.  When each and every gift has been unwrapped the game is over.  Whatever players are holding when the last gift is unwrapped is their gift to keep.
FOR EXCLUSIVE CONTENT AND A PEEK BEHIND THE SCENES, MAKE SURE TO JOIN OUR WHATSAPP STATUS HERE.