Pets are a great way to keep kids busy during the summer. And there are few that are as cute as chicks!
So…you want to get chickens. Maybe you keep seeing people with cute little backyard laying flocks, taking in their own fresh eggs every morning and wish that were you. Or perhaps, like me, you've been dreaming of having your own chickens since you were 12 years old and it's finally the time. Or maybe your kids have been begging for chickens. Backtrack. DON'T do it only for your kids. No matter how much you love them. No matter what they promise, YOU will be the one dealing with chicken poop and filling the feeder in the dead of winter and on those 105⁰F summer days. Be sure this is something YOU want as well. If not, feel free to use my mother's line on your kids: "When you grow up, if you still want chickens you can get them then."
If I haven't scared you off yet let's discuss getting started with chickens. I recommend starting with baby chicks. They'll be much friendlier if you raise them yourself from babies and raising chicks is so much fun! It will be 4-6 months before they're ready to start laying but it's worth it for the baby chick cuteness you'll get to experience. You should always buy chicks directly from a reputable hatchery. Two I recommend are mypetchicken.com (which is where I buy my chicks) and Meyer Hatchery meyerhatchery.com. You'll want to be sure to order only hens, female chickens. There is no need for a rooster in a backyard laying flock. They can be aggressive towards children (and adults), harass the hens, and are illegal in many municipalities. Do NOT buy chicks from Tractor Supply or other farm or feed store. They are notorious for selling the wrong gender as the chicks often get mixed up in transit to the stores or in the stores themselves. I suggest starting with between 3-6 chicks. Do not get less than 3 chicks. They are social creatures and need their flock to be happy.
An important thing to know is that not all chickens have a mesorah of kashrus. If you want your eggs to definitely be kosher it's important to get breeds that definitely are. Breeds like Leghorn, Rhode Island Red, Golden Buff, & Barred Rock are Kosher according to all opinions. There are other breeds that are OK as well. It's best to speak to a Rabbi who is knowledgeable about poultry breeds if you want to branch out beyond those five breeds.
Creating a Home for the Chicks
Chicks will need to be raised in a brooder with a heat source at first. A basement or garage are fine for this as long as the temperature in the room doesn't get below 60 Fahrenheit. I use a large plastic tote like this one as my brooder: I created a cover from some plastic garden fencing for it. I line the bottom with a good thick layer, at least 6″ thick of pine shavings as bedding. The thick layer is key to absorbing moisture and odors. Otherwise you'll need to change out the shavings every other day. With the thick layer you can go a week or so between bedding changes.
For a heat source, many use heat lamps. I do NOT recommend them as they present a risk of fire and use a lot of electricity to run. I have been using the Brinsea Ecoglow to raise chicks for over a decade and highly recommend it!
Feeding the Chicks
This is a good basic feeder and waterer to start with in your brooder. Here is the chickfeed that I recommend. When your chickens first arrive, you'll want to dip their beaks into the water to make sure they know where it is. They usually figure out the food pretty quickly on their own. 
After the first few hours or days I like to train my chicks to drink from a chicken nipple bottle like this one (it looks like a regular water bottle, but the chicks drink from a spout located at the bottom of the bottle). Ultimately, this is the best type of waterer for your chickens since the water stays clean. It's easy to train them when they're tiny, curious chicks to peck at the shiny thing at the bottom. Sometimes I have to gently put their beaks on it but once one or two have it figured out, the rest will follow and you can remove the chick waterer that they probably have started to kick wood shavings into by now.

Growing Up and Moving On
You should probably get your coop built and set up before your chicks arrive but if you haven't, then get a rush on it because chicks outgrow their brooder fast and then they need a chicken coop! This is the coop my chickens' coop is based on. I built it over a decade ago. I spent almost a year researching the best coop before settling on this one and I have been very happy with it. I use the "deep litter" method in my coop and covered run, using about 8″-12″ deep layer of wood shavings. This keeps the odor down as the carbon balances the nitrogen of the chickens' waste. I only need to clean out the enclosed coop area 3-4 times a year and the run once a year.
By the time my chicks are about 3 or 4 weeks old, I usually have them moved out to the enclosed part of the coop (block off the ramp until they are at least 2 months old) with their warmer set up in there to keep them warm if needed. As long as the nights are above 50⁰F and the warmer is in there, they should be fine in the coop at this point.
Once in the coop you'll want to transition to a larger feeder. Hang it so the bottom of the feeder is about even with the middle of the chicken's backs (I use a piece of chain so I can adjust as they grow) and a larger "chicken nipple" waterer. There are some nice options here for waterers or you can make your own using "chicken nipples." I actually made one using a heated bucket you can buy at a farm store. I only plug it in in the winter and it keeps the water from freezing.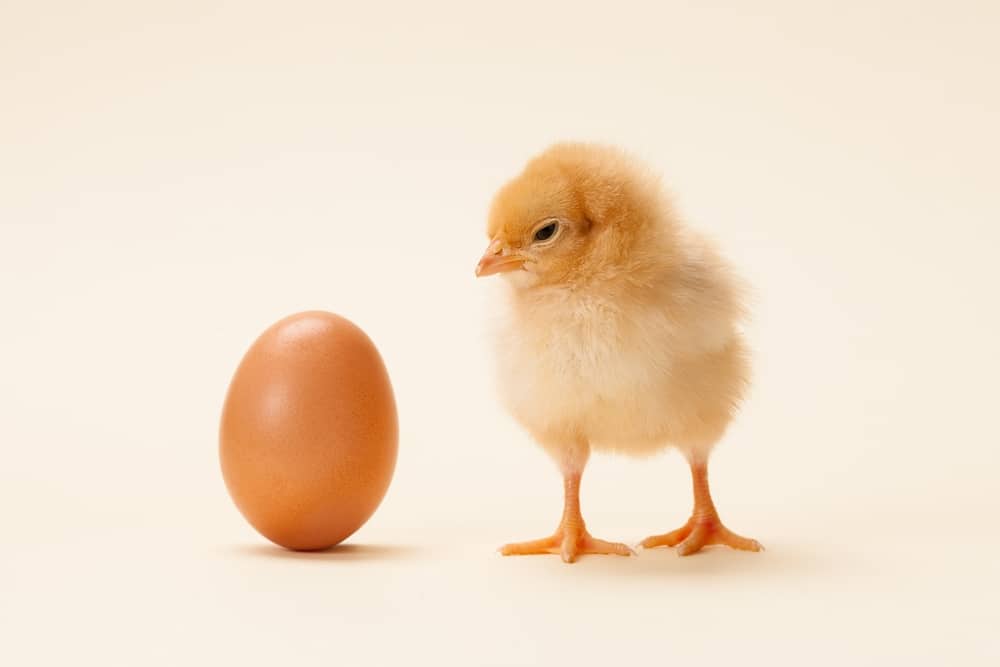 Once your chickens are about 14 weeks old you can switch to layer feed which is what they will be eating from for the rest of their lives. The added calcium is important for eggshell development.
FOR EXCLUSIVE CONTENT AND A PEEK BEHIND THE SCENES, MAKE SURE TO JOIN OUR WHATSAPP STATUS HERE. JOIN OUR WHATSAPP GROUP AND WE'LL LET YOU KNOW WHEN A NEW POST IS UP!