Do the healthier substitutes for potato latkes just not do it for you? If you're going to change it up a bit, this is these vegetable latkes are the only way.
I'm a purist, and really I don't think anyone should mess with latkes by making different versions and variations. I prefer my latkes the plain, old-fashioned way. I used to try to make sweet potato latkes, spinach latkes, and spiralized latkes too. Yet they were so disappointing. At the end, good old-fashioned latkes always won first place. And yet, here I am sharing a recipe for a vegetable latke. This is the only exception I make these days.
Somehow, keeping things simple by using basic vegetables makes these just as satisfying and addictive as plain potato latkes.
No, I won't say they are lower in calories (though in reality, they are a little bit) because they are fried, so who are we kidding? But they are delicious (and perhaps a bit healthier).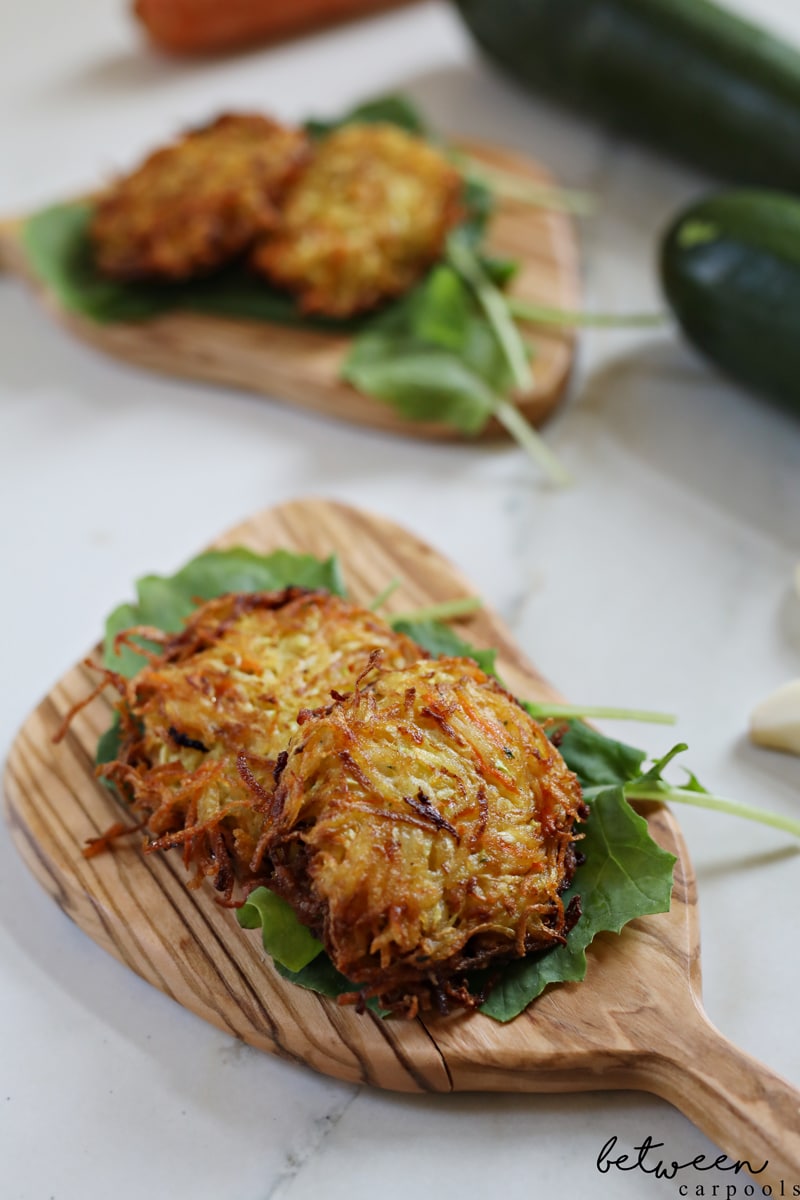 Keep in mind that these won't crisp up like latkes made from starchy potatoes so you don't want to make them too big or they will fall apart.

Vegetable Latkes
Ingredients
2 large zucchini, peeled
1 carrot, peeled
1-2 Yukon Gold potatoes, peeled
2 garlic cloves, crushed
2 eggs
Salt and pepper to taste OR Garlic Seasoning
Oil, for frying
Instructions
Using the shredding grate on a food processor, shred the zucchini, carrot, and potatoes. Mix together with the garlic, eggs, and plenty of seasoning.
Heat oil in a skillet. Using a slotted spoon or spoon, scoop up the vegetable mixture squeezing out the liquid. Press each scoop of vegetables into a patty shape as you squeeze them. As you are frying, the vegetable mixture will release more liquid and you can drain it out as you go along.
Add vegetable patties to oil and fry until golden on each side, flipping in between. Drain on a paper-towel lined plate.
Want tips on frying latkes? Check them out
here.
Learn how to get rid of the frying smell in your home here.