These swim dresses are so super comfortable (you might want an extra for when you're not swimming). Get free shipping now at
Flamingo Sport
with code BCPSHIP.
Visiting an indoor water park? Or perhaps somewhere that's nice and sunny? You or your daughters will most definitely need a swim dress!
Flaming Sport dresses are a staple. They're that super useful basic that you gives you so much mileage! Keep 'em in your closet and enjoy from year to year. They're also so super lightweight and comfortable. Wear them to the pool, in the pool, or out of the pool and get going with your day because they dry fast!
They're made of SPF30 fabric, so your skin is protected while you're swimming. Plus they're great quality, so you can wear them from year to year or hand down from child to child and they'll stay perfect! 
And since they're solid colors, they won't go out of style. 
Simply rinse in cold water and hang, and it's ready to go for the next day of swimming! 
Available in all children and women sizes!
Don't forget code BCPSHIP
**UPDATE FOR SUMMER 2022**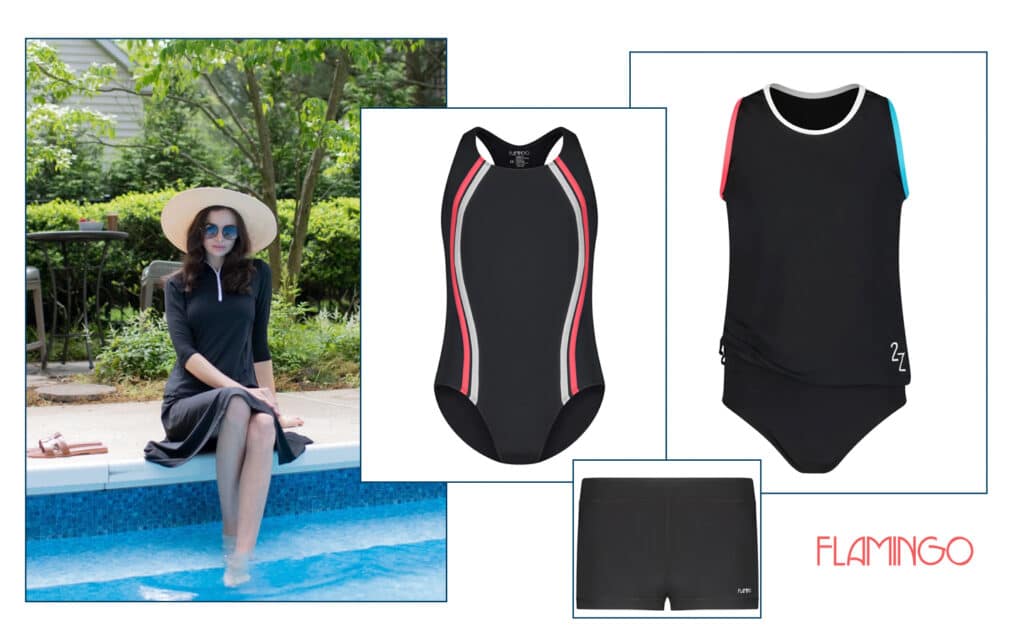 Flamingo has worked on creating the best fitting swimsuits for girls. They now offer an athletic style one-piece with a fully supportive fit that is perfect for tweens and young teens. These are perfect for confident and comfortable swimming for your girls.
And they went a step further and created the "2Z". Along with the premium fabric and fit offered in the one piece suit, the two-piece features a long top and high rise bottom for maximum coverage. But for the girl who prefers it, there are hooks available on the two sides to attach the top to the bottom. They call this suit the "2Z" – because a onesie snaps together in one place but a "2Z" closes in two!
Another item they released this season is their swim shorts. These offer a fitted, comfortable, stay-put layer that helps avoid tugging and self-consciousness. It's available in sizes for teens and women ranging from xxs (girls 14) to xxl (womens 18).
And let's also talk about the new cover-up set in women's sizes. Sold as a set, but with options to choose different size top and skirt, this set features a new white on black zip neck for the perfect comfortable fit.
The staff at Flamingo is happy to help you determine the right fit before you order. Simply email them at info@flamingosport.com and they'll work on getting you just the right product.