Loved those little pastrami pizzas featured at our Chanukah party? You can prep all the components in advance and assemble before serving.

Pastrami Pizzas
Ingredients
1 pound Meal Mart Naval Pastrami
24 frozen pizza rounds, or use your own pizza dough and create (3-inch) round disks. You can also use any mini pita, small baguette or ciabatta
2 tablespoons oil
1 large onion, sliced
8-10 baby bella or white mushrooms, thinly sliced
Salt and pepper, to taste
For Assembly:
1 package Meal Mart Smoked Beef Fry
1 ½ cups greens
Spicy Mayonnaise, for drizzling
Parve Caesar dressing or garlic mayonnaise
Instructions
If the pastrami isn't in a vacuum-sealed cooking bag, place the chunk of pastrami into a cooking bag. Place in a pan of water, cover and bake at 250ºF for 4-6 hours or until soft. For best results use these tips for the softest and tastiest pastrami. The larger the piece of pastrami, the longer it will need to cook. Remove from cooking bag and let cool slightly.
Heat up a grill pan until hot. Place pizza rounds on the grill and bake 2-3 minutes until grill marks form underneath. Turn over and finish grilling until dough cooks through. You can pierce it with a knife if it puffs up too much.
Heat oil in a saute pan over medium-high heat. Add onion and saute for 3-4 minutes. Add mushrooms and saute until soft and brown. Season with salt and pepper.
Heat beef fry in a pan or place them all on a baking sheet at bake for 8-10 minutes at 350⁰F until beef fry is crispy. All these components can be prepared ahead of time.
To assemble, place a teaspoon of mushrooms on the round dough. Top with some greens. Place a strip of beef fry on top. Top with shredded pastrami. Drizzle on Spicy Mayo and some parve Caesar or garlic mayonnaise.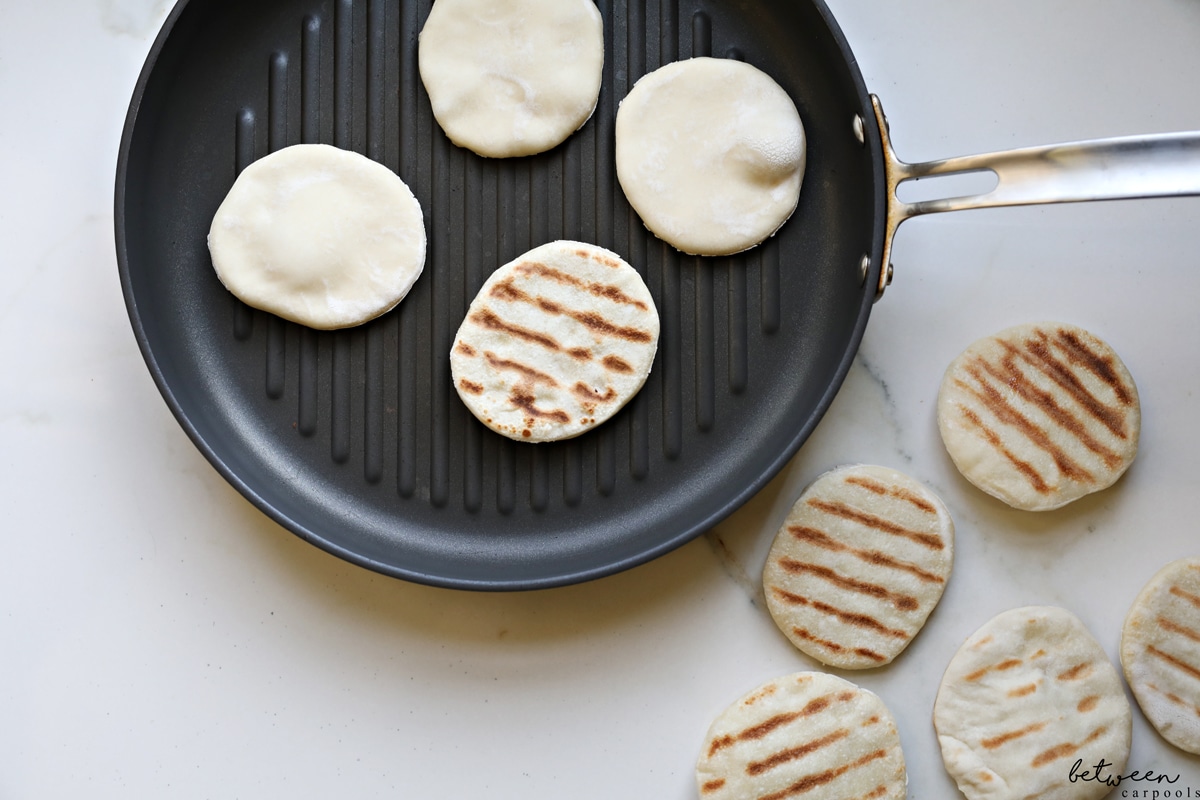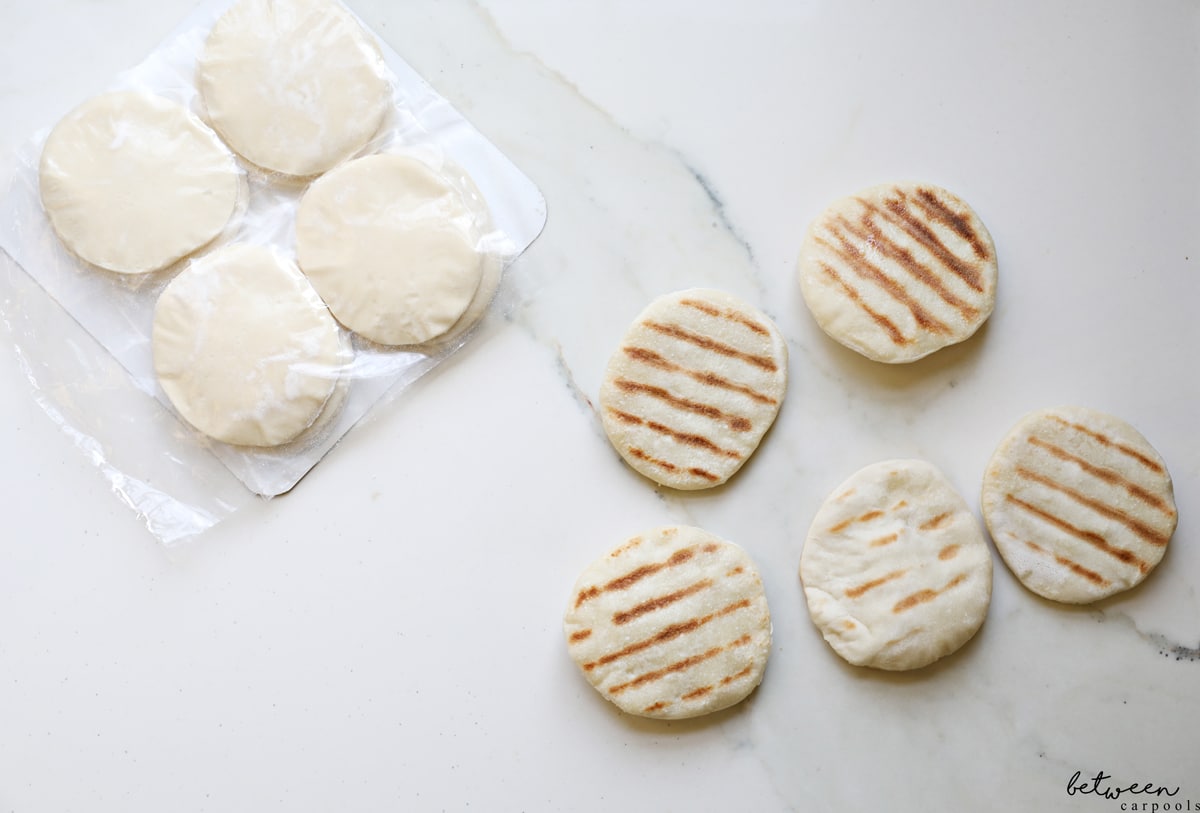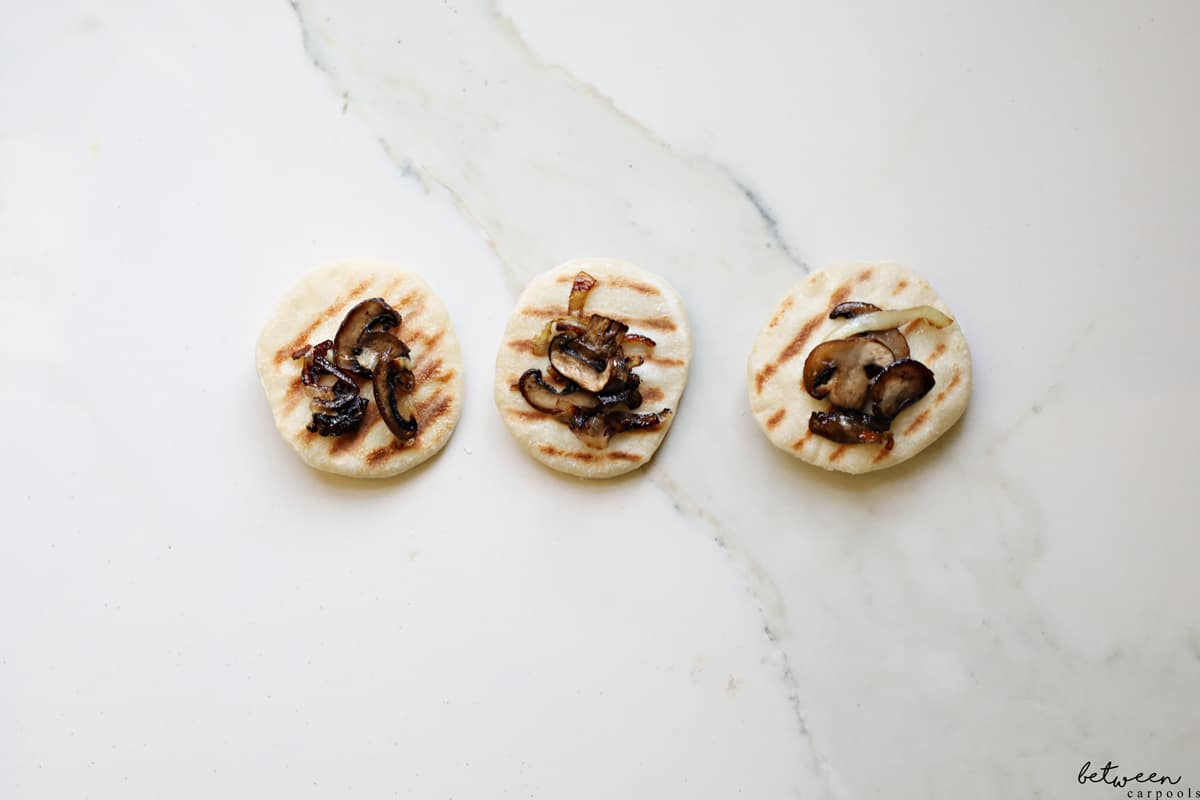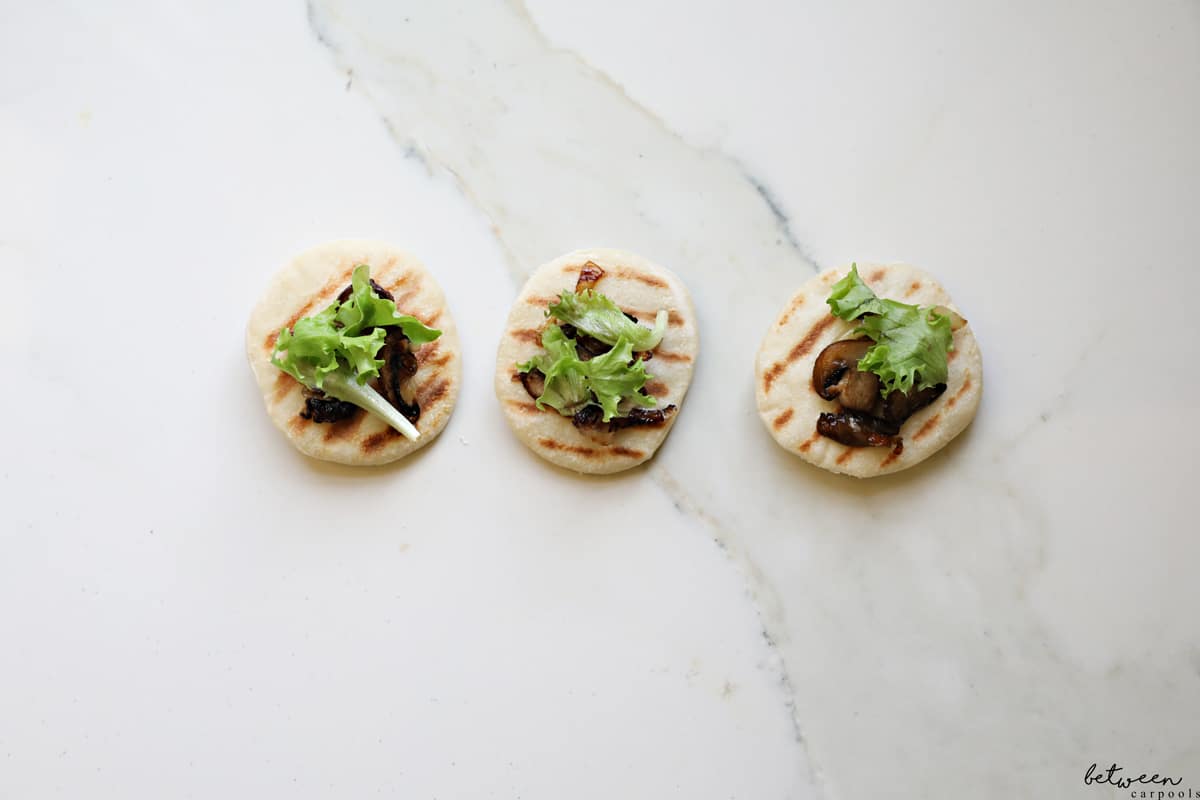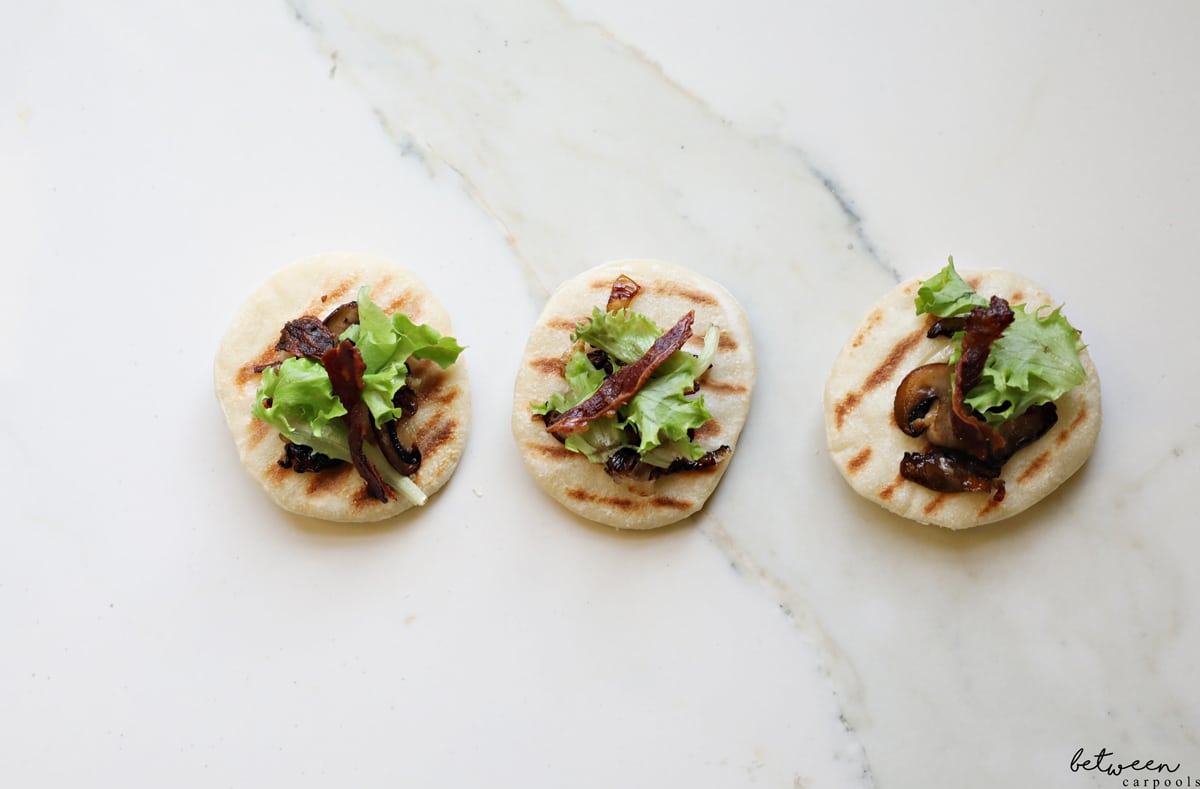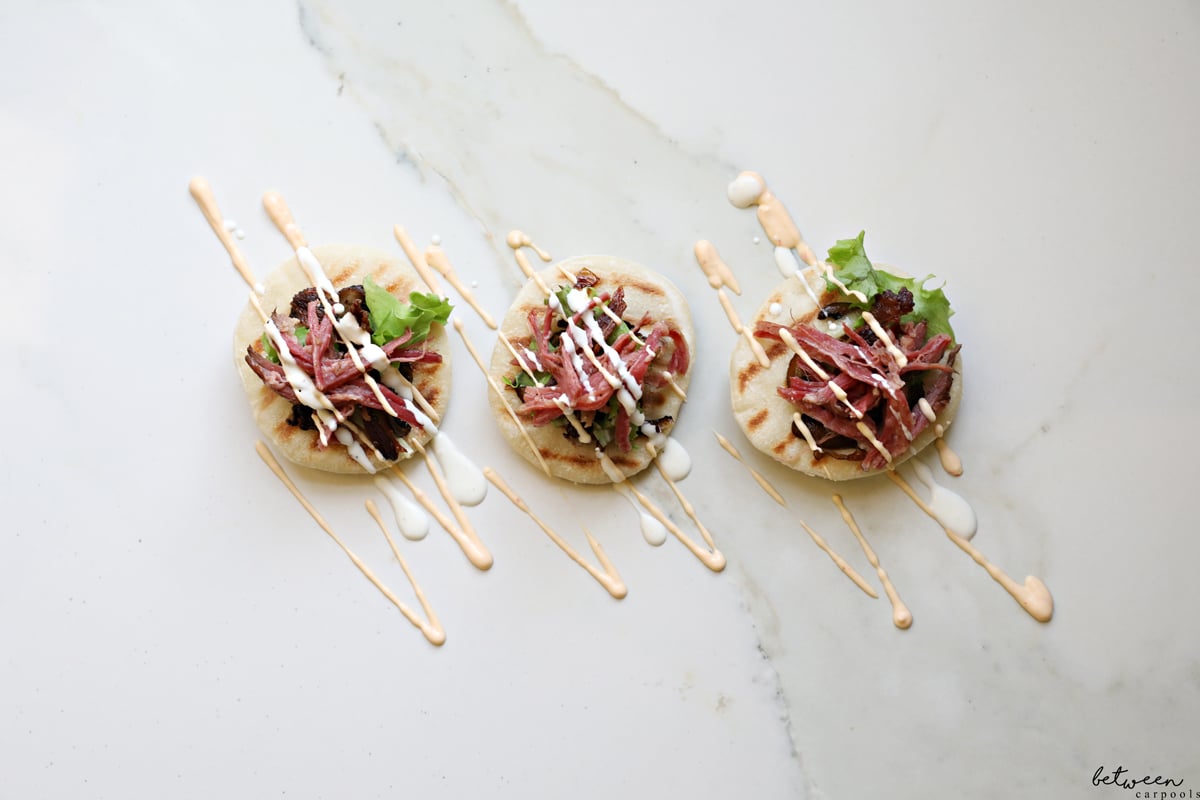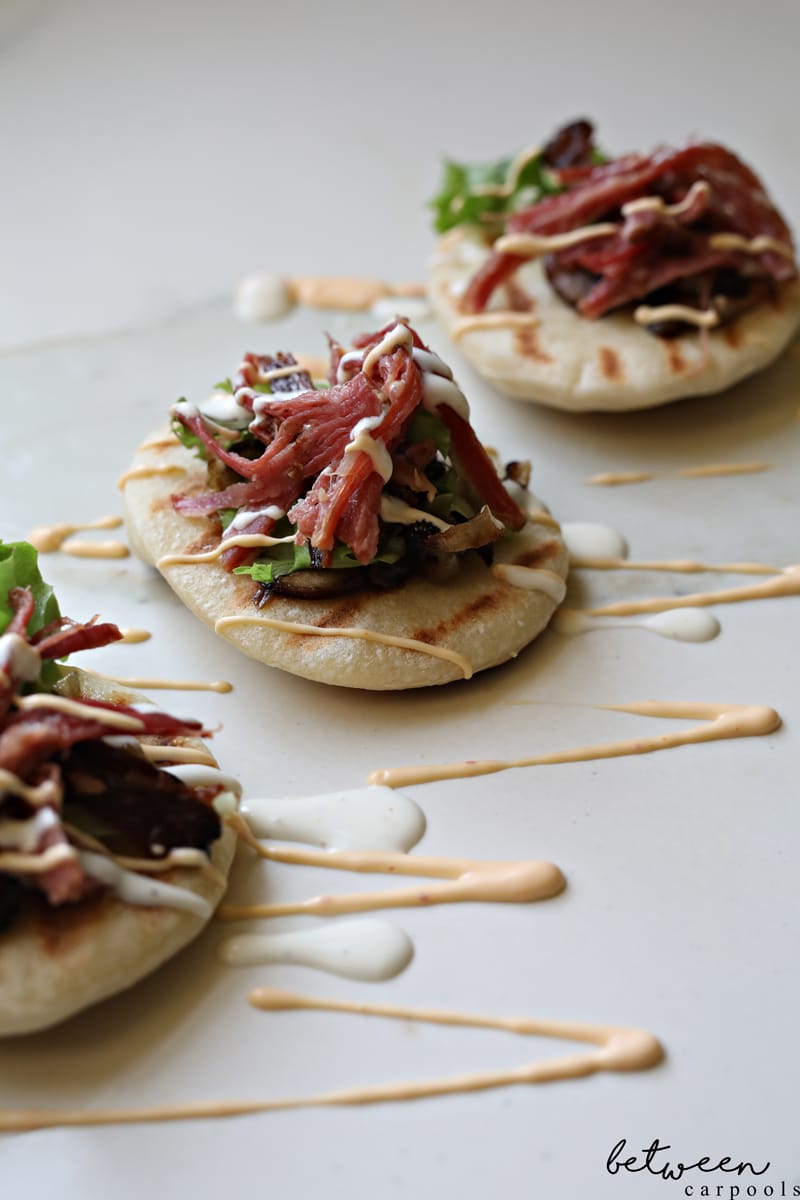 This post is sponsored by Meal Mart – all opinions are our own.