There are some toys that just go hand in hand with outdoor fun. Here are some of our favorite outdoor toys that will entertain your kids and will last for years to come.
(Originally posted in 2018 and updated in April 2020.)
I love anything and everything made by Step2. The designs are intuitive, the quality is top, and the best part…they're easy to assemble.
First, the Step2 Push Around Buggy is one of those must-have toddler toys that you'll see in front of almost every home. This will be an item you use every single day for those walks around the block with your baby or toddler. Make sure you put your name and phone number on it in a Sharpie or it's certain to get mixed up with your neighbors (I learned from experience)! The Step2 Push Around Car is a similar product that's less common so it's also less likely to get mixed up. The Whisper Ride version is a quieter and smoother choice you might want to consider.
If you have two children between the ages of 1 and 3, then you'll want a two-seater option. I'm going with this Step2 Wagon for Two this summer.

The Step2 Roller Coaster was my best toy purchase this year. Though it was a gift for my 2-year-old, the bigger kids always try to sneak a ride on it. It accommodates up to 50 pounds, so there's a nice range of ages that can use it. And which little girl wouldn't love this unicorn edition?! (There is a "more extreme" version for older kids up to 75 pounds, but it's triple the price).
Of course, every household needs a few Razor scooters for the bigger kids who go zooming about (we try to keep you posted when there's a deal on these!), the Skidee Scooter is great for little kids who aren't strong enough to push pedals but still want to move on their own, and it'll grow with them. If you have dirt paths nearby, or very bumpy sidewalks, these Razor scooters with dirt tires will be lots of fun for older kids. Just make sure they are wearing helmets!
For a traditional scooter, the Micro Kickboard Mini is pricey, but it's the most recommended one out there for kids ages 2-5. You may be able to find a copy of this scooter locally for less. The Micro Kickboard Maxi scooter is for ages 5-12 with an adjustable handlebar. There's even a Micro Kickboard scooter for teens and adults – they make a great mode of transportation for those who don't drive!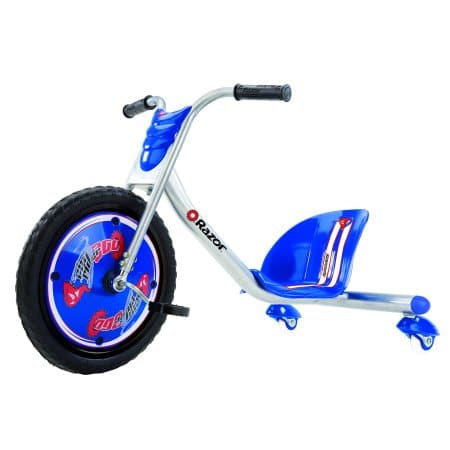 The Razor RipRider is a really cool option, especially for cul-de-sac streets.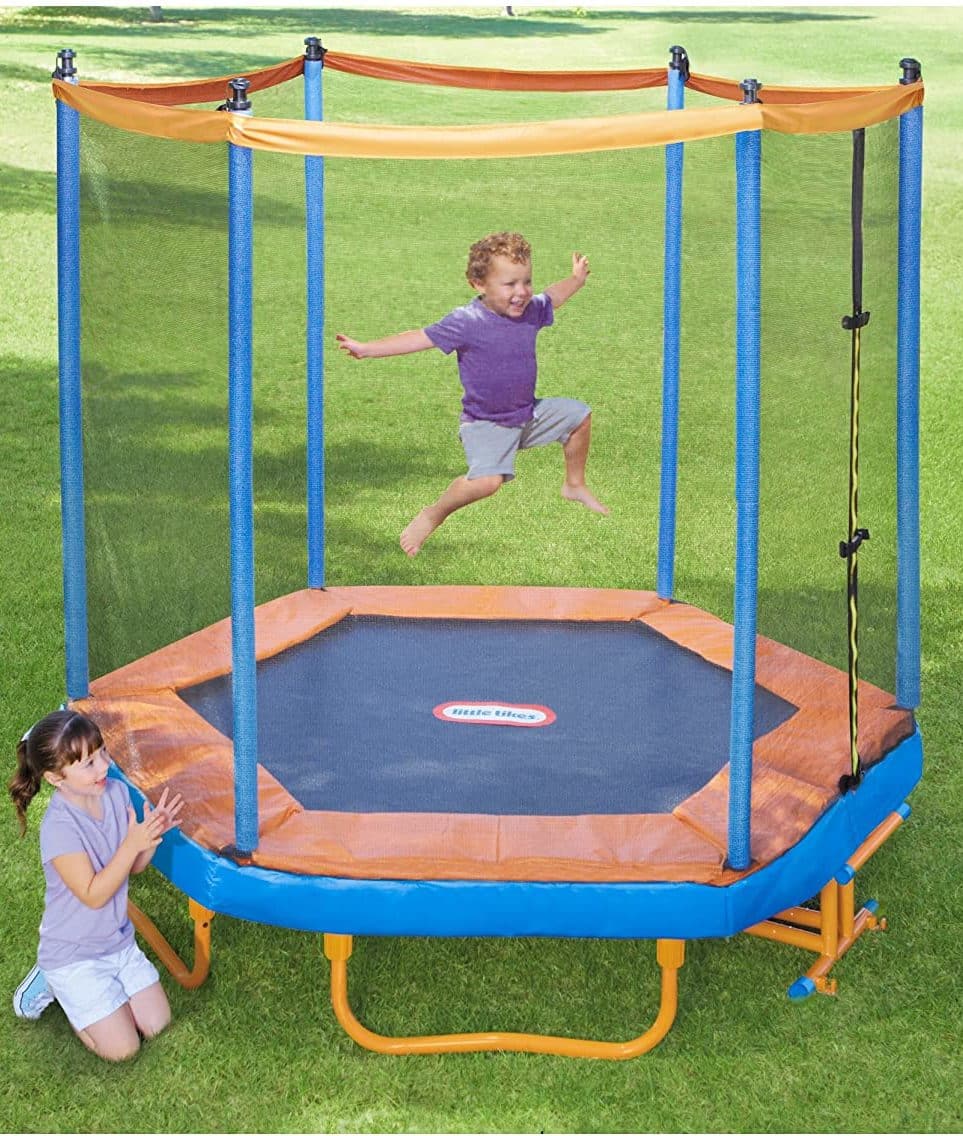 Kids seem to gravitate towards trampolines. They sit for hours and enjoy the outdoors. But lots of you are concerned about trampolines because of safety issues. Here's a solution for the little ones. The Little Tikes Easy Fold Trampoline is low to the ground, is easy to move out of the way, and it's still cozy enough to be a hangout. It's recommended for kids age 3 – 10. Bonus: You won't need to hire someone to assemble it. (UPDATE: The Little Tikes version doesn't seem to be available anymore. This one is similar.)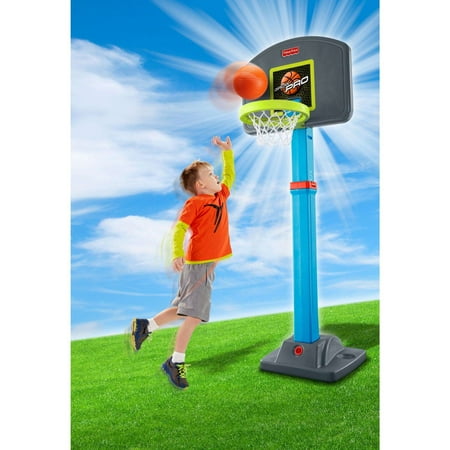 Got boys? This Little Tikes basketball hoop can be used indoors or outdoors and is almost a "must".
A few years ago, my sister-in-law bought a water table for her kids. It kept the little ones very busy and cool on days she didn't want to go to the pool. There's lots of fun options in this category, including the Little Tikes Spiralin' Seas Waterpark and the Step 2 Big Splash Waterpark or the more elaborate Rain Showers.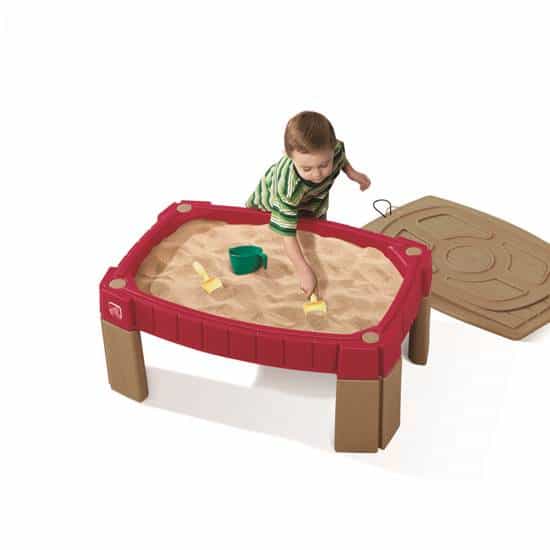 If your kids are more into sand than water, Esti loved this Step2 Naturally Playful Sand Table. Unlike with a traditional sandbox, since the kids don't sit in the sand here, they don't get full of it and stray animals don't get in either. You can order play sand for pickup at your local Lowes or Home Depot.
If your littlest ones are too small for the big swings, the Little Tikes Hide and Seek Climber is compact enough for use indoors in the winter and outdoors in the summer. It works for the littlest climbers, even pre-walkers.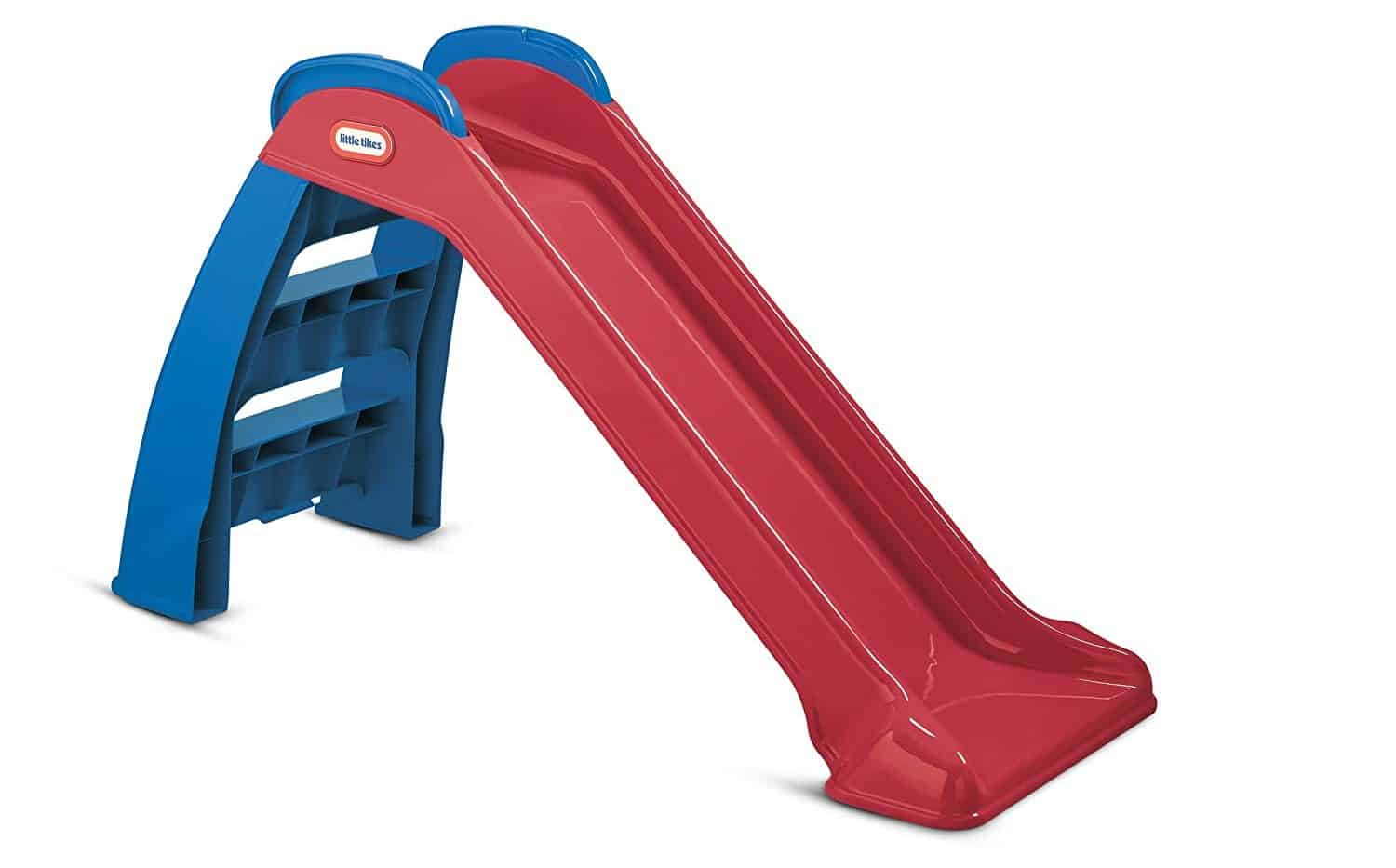 Have a baby pool in your backyard? Add a Little Tikes First Slide and it's turned into an instant water park.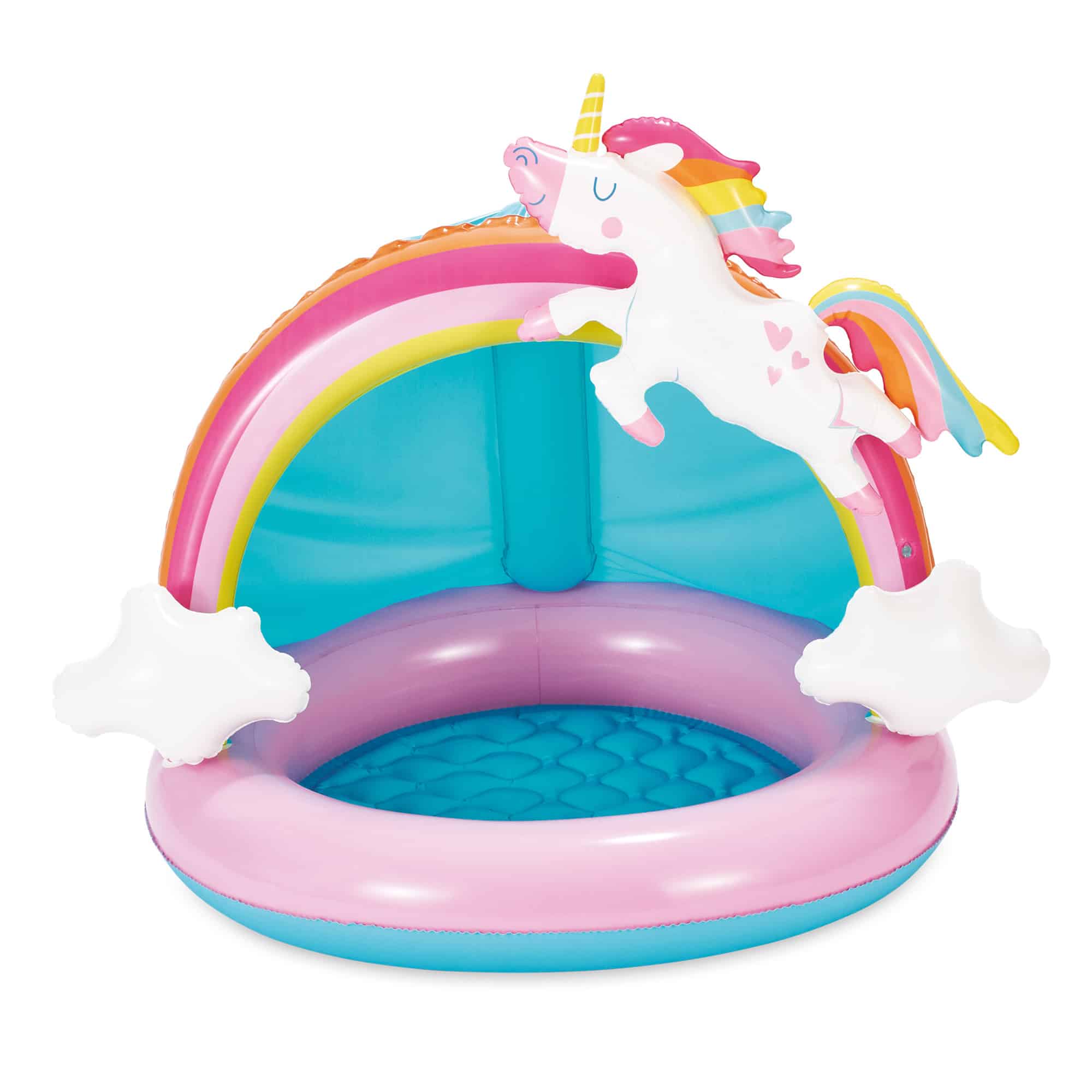 Don't have a kiddie pool yet? This large inflatable pool is great for 2-4 kids at a time. And this little unicorn pool has a built in shade for the littlest swimmers. Or you can go with this fun sprinkler for toddlers, though we do like standard gardening sprinklers best for older kids who enjoy bigger and stronger water jets.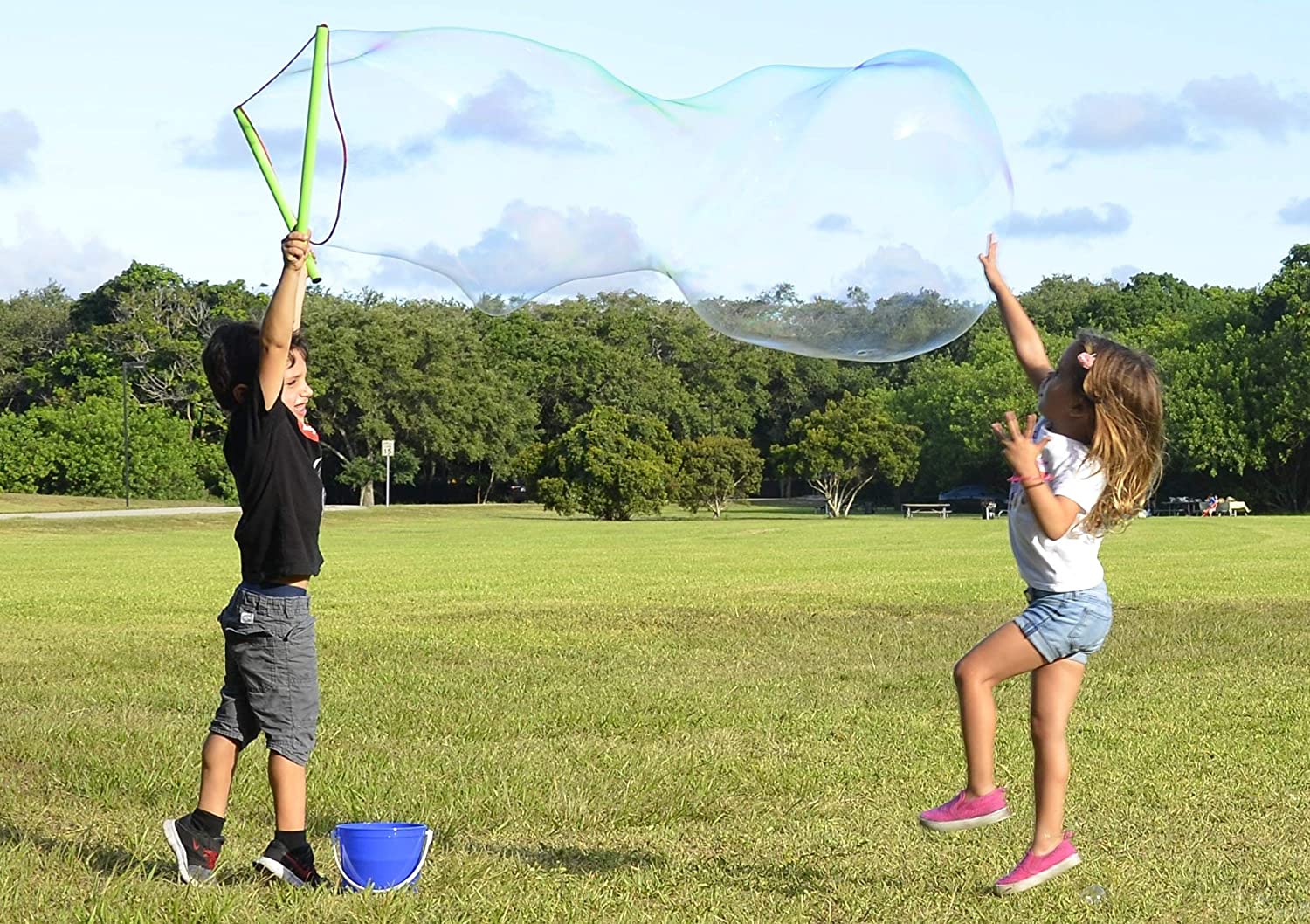 Not ready for swimming? How about some giant bubble fun? Sidewalk chalk art has become very popular. Get some blue tape and create stencils for a "stained glass" driveway or sidewalk. Or check out our tie dye post now that you can do messy projects outdoors.
For active kids, a proper soccer goal and ball is a great setup for burning off some energy with a brother or even alone.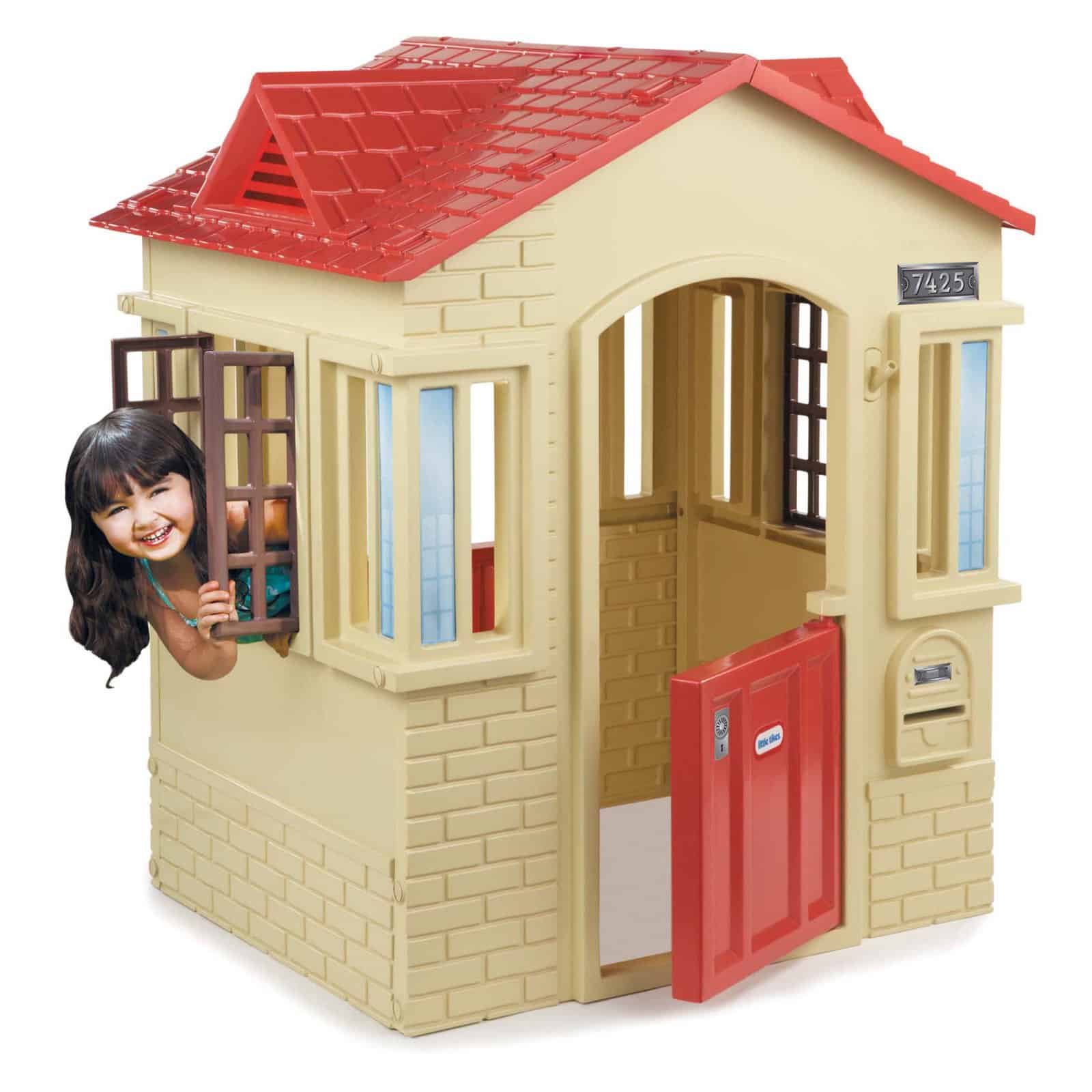 Oh, and need another house where your kids can hang out? Let them move into this playhouse in the backyard!
One of us received this zip line as a gift and her kids are loving it so we figured you all needed to know about it! It's also available in a shorter 80 foot length, so measure your trees or posts before ordering!
What outdoor toys are your favorites? Share with our readers in the comments below.