Reflections from the Rabbanit Yemima Mizrachi's English writer upon the publication of their first book
Make your brilliance relatable.
The very first time I heard the Rabbanit speak about three years ago, I was immediately taken by the drama. One of the touching stories she told during that speech was of a family who had escaped Iran. When she was telling the part of the father handing over one child after another to the mother across the border, she literally ran across the stage, her arms folded as if she was cradling a child, to demonstrate. I mused at her dramatics as she conveyed one powerful message after the next.
But what was it that had me looking out for her name on posters around the city? Yes, I sure love drama, but for that I can attend a local show. I love hearing meaningful Torah thoughts more—and here's a woman who effortlessly disguises her brilliance in the wrappings of fun and dramatics. What a rare combination!
It's nice to be smart. It's nicer to be brilliant. But what the Rabbanit teaches by example is to keep those gifts under wraps, to share them with the world in a way that relates to them most.
Speak the language of the soul.
I've had the privilege of observing the Rabbanit's interactions with women at every range of the Judaism spectrum, of every age and stage. Her incredible ability to comfort an aging widow minutes after she rejoiced in the simcha of an older single's engagement is awe-inspiring. Women from around the globe reach out to her with the most unusually heart-wrenching life stories and she always manages to find the right words to serve as a balm for their soul. In Eretz Yisrael, she's officially known as the comforter. Whenever tragedy strikes, the Rabbanit is sure to be there soon after to console the shattered family and community.
How does she do that? When the Rabbanit hears someone's saga, she sees the person's soul. And she speaks directly to that. Every neshama, she once told me, craves to hear the same message. A message of hope, of strength, of survival.
When a friend or relative unburdens herself, before we offer guidance and advice we can first speak directly to the soul. By sharing words of encouragement and support, we can provide a struggling Jew the ability to push forward despite the challenge.
Switch your hats with ease.
The Rabbanit recently married off her second daughter, Shuli. When I spoke to the kallah at a Sheva Brachos I attended (As per Rav Mizrachi's advice, I popped in to discuss our book because when else is the Rabbanit available?) she told me that she didn't need to go anywhere for marriage advice before her wedding. "In our house," she told me, her eyes glowing, "My father was always the king. No matter how popular and influential my mother is in the world, she manages to keep my father's place at the head of the family intact." Whenever a child has a question or any decision needs to be made, Shuli told me, the Rabbanit will always tell the child to discuss it with his father first. In a recent lecture, the Rabbanit discussed that many women today are like the sun—independent, bright, and oh so powerful. What we need, she said, are some clouds. We need those times when we relinquish our control, we let our husband take the reins, and we go along with it happily. Of course, you won't hear the Rabbanit tell you how she does that in her home. On the contrary, her self-deprecatory humor usually highlights her human side. In that very same lecture, she shared a memory of her early motherhood days when her husband complained to her, "You only love the baby. You forgot about me." But now you know the truth.
Many powerhouse women in today's day and age face the challenge of being an ezer k'negdo in the home. It's tough to transition from the leadership role to that of a dutiful "surrendered" wife, but that is the Jewish woman's ultimate compliment.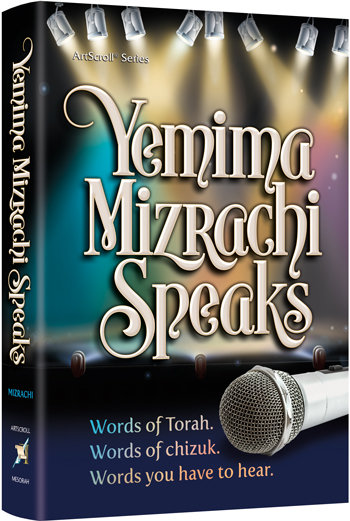 To be inspired by the Rabbanit's down-to-earth, engaging wisdom, read her latest book, "Yemima Mizrachi Speaks"  (or at amazon).  A magnificent compilation of Torah thoughts for Jewish women facilitated by Shiffy Friedman, the book provides chizuk, guidance, and support on a wide range of topics, such as marriage, parenting, overcoming challenges, and relationships.
Read Rabbanit Yemima Mizrahi 4 tips for the school year.