If you're planning to do it all, you will need more than just one day! There's loads of family-friendly activities to enjoy at American Dream Mall.
In one of the lobby areas at the American Dream Mall there are huge signs proclaiming "Ultimate Dream Daycation" with one of the attractions featured. I beg to differ. American Dream Mall has enough activities to do for a few days and there are many more attractions scheduled to open in the next little while. American Dream is a 3 million square foot destination with something for everyone. American Dream is not a mall but a destination for all things entertainment, shopping, dining, and even relaxation.
There are lots of cutely designed areas and lobbies throughout the American Dream. The Secret Garden is the most amazing area with a large fountain in the center with paths, benches and greenery all around. It was created using mountains of preserved natural moss, along with crystals and mushrooms. There are also sculptures of gnomes and bunnies within the garden. It truly is a serene corner to relax and recharge.
Currently there aren't a very large number of stores open yet but quite a few of the stores along with attractions have opened already. The most major attractions are Big Snow indoor skiing, Nickelodeon Universe amusement park, Dreamworks Water Park (which I haven't visited yet) and the NHL sized Ice Rink. There are two mini golf courses. One with the Angry Birds theme and the other is glow in the dark with an outer space theme. Some of the vendors also offer activities such as Make It Too Ceramic painting and the Riders-electric Riding Animals.
During busy times such as during holidays and vacations it is especially advisable to book your activities in advance online.
Address: 1 American Dream Way, East Rutherford, NJ 07073
Approximate Distance from Brooklyn Bridge: 25 minutes
Approximate Distance from Lakewood: 1 hour, 10 minutes
Approximate Distance from Monsey: 35 minutes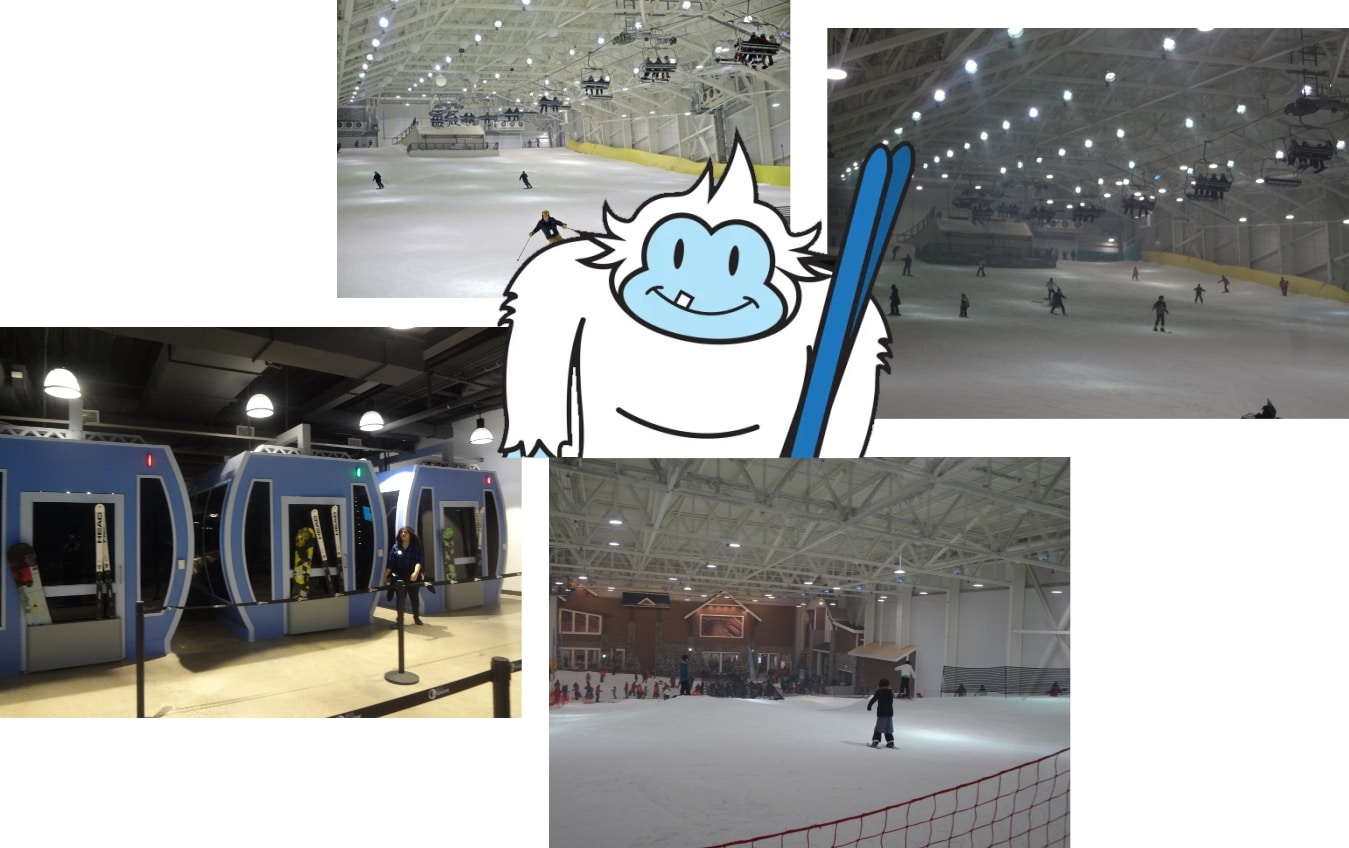 Big SNOW
"We're going skiing and it's raining", my daughter pointed out as we drove to Big SNOW. Everyone had a good laugh and appreciated the irony of it.
Located in the popular new American Dream Mall, Big SNOW is North America's first indoor real-snow ski and snowboard park. We visited at the end of December not long after Big SNOW opened. There were many people walking in without reservations but they were unable to ski since all the tickets for that day had been sold out in advance.
When we arrived the professional staff pulled up our reservation and helped us check in. We were introduced to Big, the Big Snow Mascot and were explained the way Big Snow works in one of the orientation "gondolas."
 We were surprised to be told that snow gear such as snow pants and jackets were included with our ski rentals. This is extremely practical for anyone who wants to spend the rest of the day in the mall. You don't need to lug around your snow gear. Once everyone bundled up and stored our belongings in the lockers provided, we headed to pick up our skis. The staff helps put on and fit the boots—it made putting on the boots so much easier. Once our skis were fitted we headed "outdoors." Our two hour slot only began once we went out, not at our arrival time.
They could have fooled me. If I wouldn't have seen the roof and walls I would've believed that we were indoors. The 180,000 square-foot outdoors where the snowy slopes are located are kept at a steady controlled 28 degrees—a comfortable cold. The good thing is that it is never windy so it never feels really freezing. The wall facing the slopes are designed to look like a lodge. There were instructors available to help guide anyone that needed help. My kids only skied last season and were nervous to head to the slopes before practicing. They practiced with the instructors for a few minutes until they were comfortable with trying the smaller hill.
The Lil' Dipper is the smaller hill with two magic carpets taking beginners up the hill. The hill has lots of twists and turns dug out to help improve the skills needed to tackle the more difficult Switchback and very difficult Northern Lights slopes. Skiers can get up the slopes either with the Big Express Quad chair lift or standing with the Poma Lift. I didn't dare try the difficult slopes but it was fascinating to watch all the skiers and snowboarders have a time of their lives going up and back down.
Down at the bottom of the hill there are some chairs where you can sit in the snow and watch the goings on all around.  Big SNOW also sells observation tickets for anyone escorting skiers but are not actually skiing or snowboarding.
We had such an incredible time skiing that when we left we were trying to think when would be a good time to return. One thing is for sure, the weather forecast will not play a factor in our plans.
Mall Location: Level 2-Court A
Phone Number: (973) 864-6600
Hours: Check online for the current hours
Price: It is recommended to buy tickets online since it guarantees a slot and there is a discount for tickets purchased online.
Single snow Day Package: $69.99-$79.99 plus tax
3-Day Package: $149.99 plus tax
3 Visit Card is valid for 1 guest to use on 3 separate visits. Valid for only 1 admission use per time slot.
2-Hour Ticket (Does Not Include Rentals): $34.99-$44.99
Ticket Block Card: $129.99
Visit when you want. Valid for 6 anytime use 2-Hour Tickets. No reservation required.
6 & Under Free Ticket is valid for Slope Access only with an Adult Ticket Purchase, does not include outerwear or equipment rental. Children must have their own equipment.
Observation tickets are available onsite for parents and escorts at a rate of $14.99
Website: bigsnowamericandream.com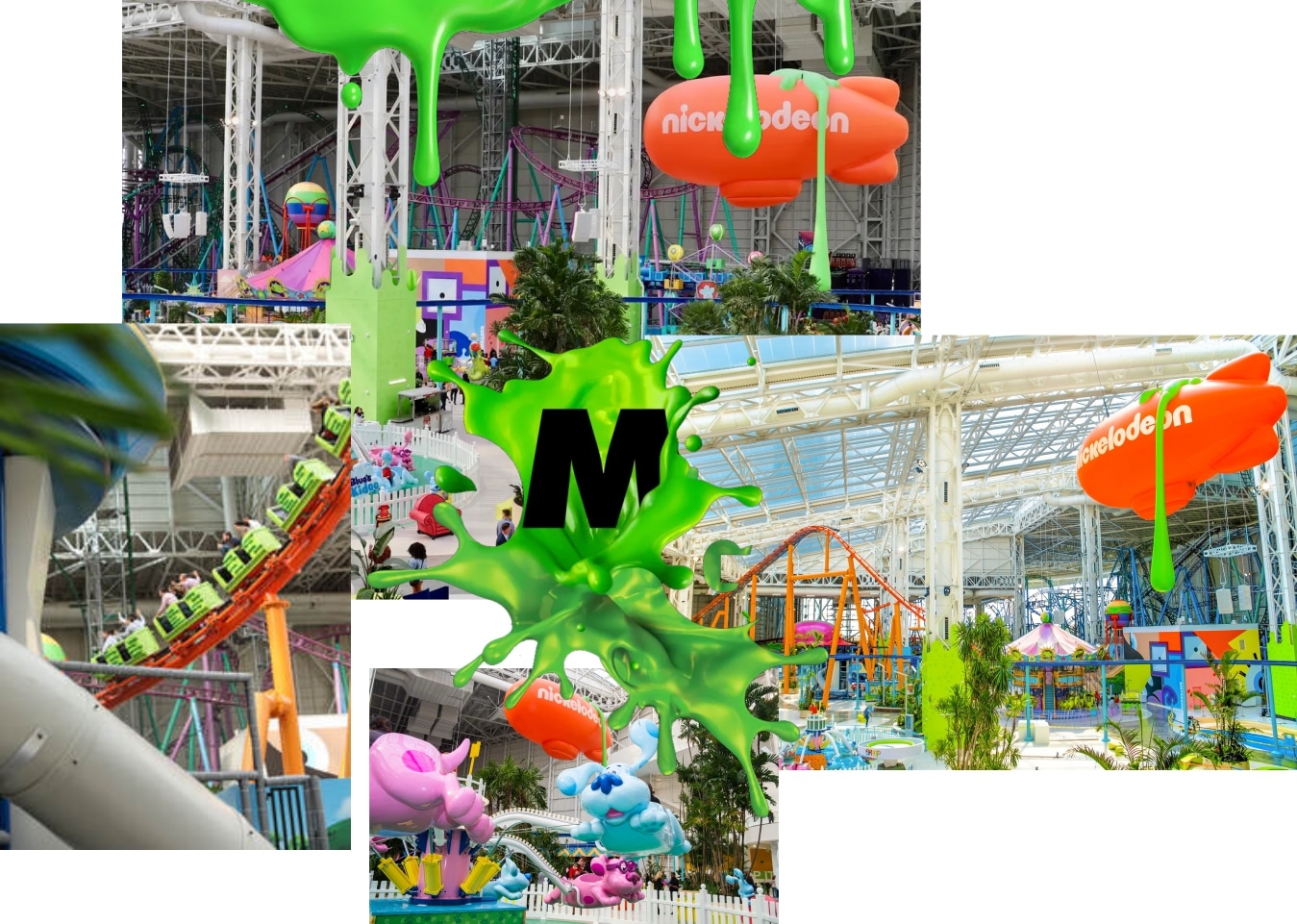 Nickelodeon Universe
The roller coasters, all four of them, were definitely our favorite part of Nickelodeon Universe. When we arrived we were amazed to see the site of a full–sized amusement park, just like the outdoor ones, under a roof; we were so excited that we were actually able to go to an amusement park in the winter.
There are more than 35 rides at Nickelodeon Universe with rides catering to all ages and stages. Thrill rides, kiddie rides, kiddie play areas, family rides and everything in between.
A third of the rides are thriller rides, but not just regular thrill rides, each has a unique distinction. The Shellraiser, famous as world's steepest roller coaster, is popular for its almost straight drop. The shrieking and laughter accompanying the ride reflects the riders' moods perfectly. The Shredder is famous as the world's tallest and longest spinning roller coaster. The Skyline Scream is the world's tallest indoor spinning drop tower with views of Nickelodeon Universe and the Manhattan Cityscape. Timmy's Half Pipe Havoc is a giant skateboard that zooms up, down and then up again in skateboard fashion. These are just some of the thriller rides for the adventurous.
If you don't care for thriller rides, no worries. A third of the park is populated by family friendly rides-rides suitable for all ages. Some examples are The Slime Streak roller coaster which is tamer than the others. It's perfect for people who want to ride a roller coaster but are afraid to ride the tallest or spinning roller coasters. Spongebob's Jellyfish Jam is a great swing ride, the two level merry-go-round is also enjoyable. The world's tallest ropes course is also a popular family attraction at Nickelodeon Universe.
If you have toddlers in your party, the last third of the park is geared to them. The Paw Patrol Adventure Bay has climbing structures and slides for the little ones under 52". The Dora Sky Railway allows the children a ride on a train with a view from above. There's a smaller ferris wheel, a truck ride and an airplane ride that the young ones enjoy.
We visited on a Sunday in January. The park was quite full and the lines were long.  It is smart to come early on weekends so as not to have to wait on long lines. I would also suggest counting on spending a whole day there, even though it is located within the mall and you may be tempted to go elsewhere. There is so much to do and so much fun to be had that I wouldn't be surprised if you plan a return trip while you leave.
All guests need a ticket to enter any attraction. 
Mall Location: Level 1-Parks Court
Phone Number: (833) 263-7326
Hours: Check online for the current hours
Price: Detailed pricing for Peak and Non-Peak Day is displayed after specific date is chosen. Valid ID and Credit Card used for purchase may be requested when you check in.
Nickelodeon Universe ticket for guests ages 10+: Non-Peak Days: Starting at $59  |  Peak Days: Varies $69 to $85
Nickelodeon Universe ticket for guests ages 3 to 9: Non-Peak Days: Starting at $55  |  Peak Days: Varies $59 to $75
Children 2 years and younger have free access to the park.
Nickelodeon Universe Senior Citizen ticket for guests ages 65+: Non-Peak Days: Starting at $53  |  Peak Days: Varies $59 to $69
Website: americandream.com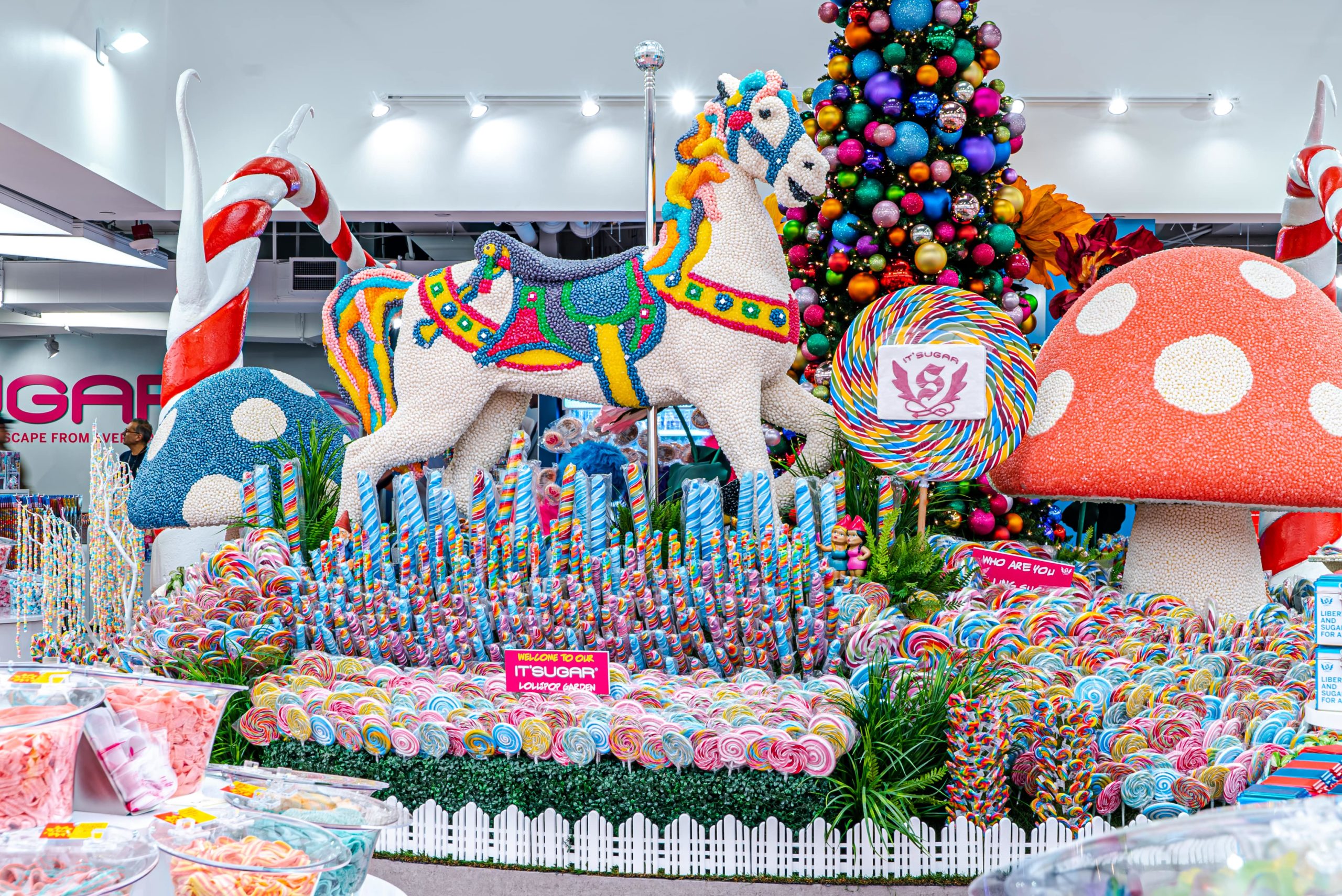 It's Sugar
Some stores offer unique experiences and are attractions in their own right. On our way out of Nickelodeon Universe Amusement Park in the American Dream Mall we couldn't miss the unique 22,000 square foot candy department store. The Statue of Liberty replica holding a very large lollipop instead of the torch is covered in jelly beans. When I walked in, I thought the store itself would just be a very large candy store. I was mistaken. There is an amazing garden made of all sorts of candy and a merry go round horse made of jelly beans in a garden of lollypops and other candy. There are the longest candy necklaces and a framed Harry Potter picture made of jelly beans in the Harry Potter section. There are many sections featuring specific types of candy. If you don't find what you are looking for, you can always head up to the second floor for some more candy. They sell many favorite types of candy in giant size. It's really fascinating to see what can be made of candy even if you don't taste it all.
When I returned recently I saw that there was an area for kosher candy with the kof-k hechsher.
Mall Location: Level 1-Right near Nickelodeon Universe
Phone Number: (551) 213-3744
Hours:
Sunday-Thursday: 10 a.m.-8:30 p.m.
Friday-Saturday: 9 a.m.-11 p.m.
Price: Pay for what you purchase
Website: itsugar.com
The Rink
Just Down the hallway from Nickelodeon Universe, and alongside the Dreamworks Waterpark, which is adjacent to Court C on Level 1, you'll find The Rink. The NHL size ice rink beckons visitors to come and skate on the ice. The Rink and the area of the skate rentals are meticulously well kept and clean. No food and drink is allowed in the rink area (that includes the area just outside the rink near by the entrance).
When we entered the rink area we were greeted by the friendly professional staff. Once we had our online reservations scanned we were given skates to use during our hour long session. Skates are available on a first come basis as well as helmets.  There are staff members out and about to help at all times including on the ice. The Rink area is not very cold like many other ice rinks are.  We really enjoyed our time on the ice. It was refreshing and fun. Only skaters are allowed into the rink area but there are many seating areas some with tables and some just with chairs surrounding the rink where you can the skaters even if you are not actually on the rink.
There are really cute seal–shaped skating aids for children to hold onto as they learn to get steadier on the ice. We also watched a father push a child that was sitting on the seal. The minimum age requirement for skating is 3 years of age. Children 14 years of age and under must be supervised by a parent or guardian. Children 5 years of age and under must be accompanied by a supervising companion on the ice.
Mall Location: Level 1-Between the Parks Court and Court C
Phone Number: (833) 263-7326
Hours: Check online for the current hours
Price: All online ticket purchases for The Rink include skate rentals. Tickets include entry into The Rink for one (1) hour of skating. Detailed pricing for Peak and Non-Peak Day is displayed after specific date is chosen. Valid ID and Credit Card used for purchase may be requested when you check in.
Rink Admission (one hour) & Skates for guests ages 10+: Non-Peak Days: $25  |  Peak Days: $31
Rink Admission (one hour) & Skates for guests ages 3 to 9: Non-Peak Days: $18  |  Peak Days: $21
Rink Admission (one hour) & Skates for Seniors (ages 65+): Non-Peak Days: $18  |  Peak Days: $21
Skate Rentals: $6
Helmet Rental: Free Limited quantities & sizes available.
Date Change Fee: $4.69
Website: americandream.com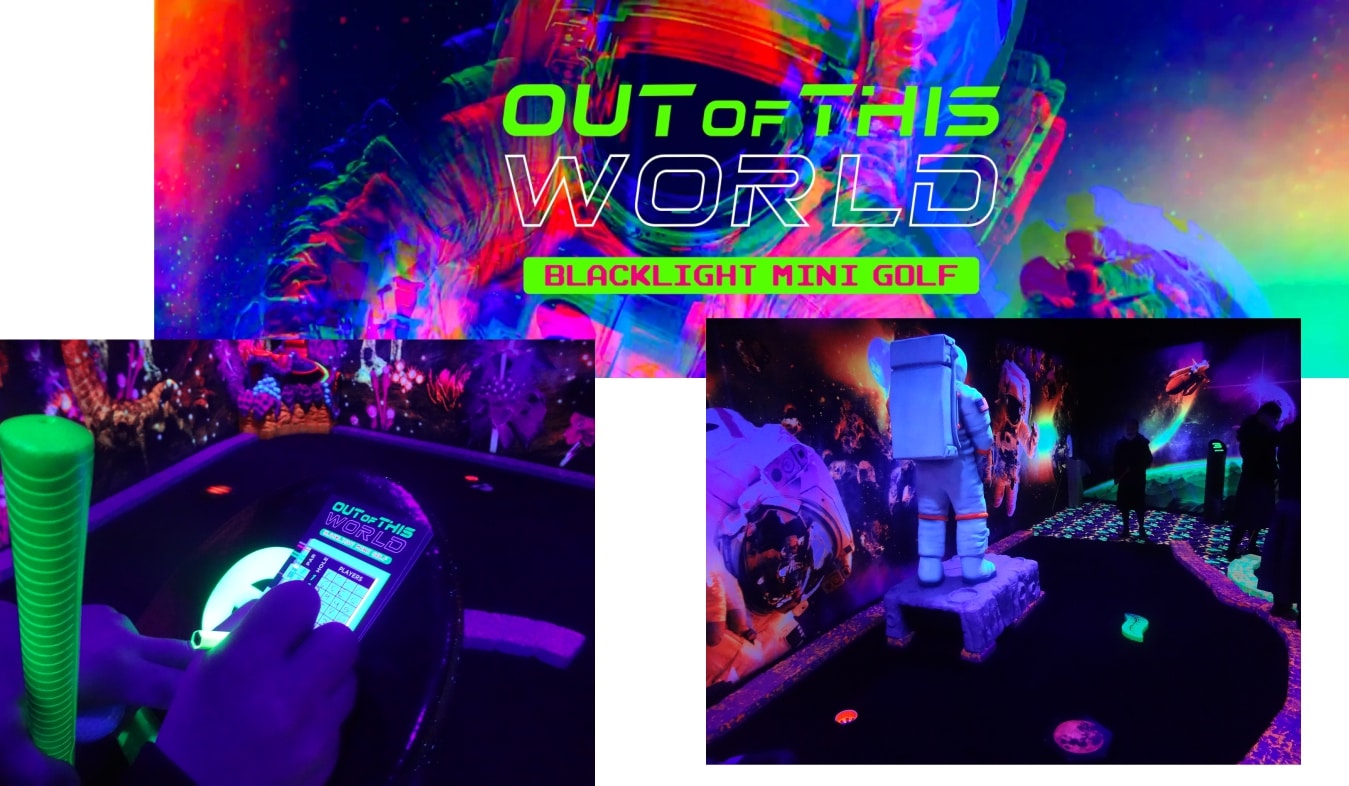 Out of this World Mini Golf
I love all the fun elements found on mini golf courses. The different 3D sculptures and scenes from outer space truly is Out of This World. The entire 18 hole mini golf course is other worldly. It is completely dark with everything glowing including the print on the carpet. The scenes on the walls glow, and the structures and sculptures are all outer space themed in neon colors glowing bright. The balls glow as do the golf clubs. Even the pencil and scorecard glow. This all adds to the excitement of the game.
We had lots of fun trying our skill at getting the ball into the hole through all the interesting obstacles. Each station was more interesting than the other one. I enjoyed the theme of outer space-no dinosaurs or monsters.
There are posts by each station with the number and a spot to put the score card.
Mini Golf is great for all ages, it is a enjoyable activity to do when taking a break from shopping and is even worth coming to the mall specifically to play.
Mall Location: Level 1-Merlin Court near Court A
Phone Number: (833) 263-7326
Hours: Check online for the current hours
Price: Valid ID and Credit Card used for purchase must be presented at check in.
General Admission: $15.00 Valid for one round of mini-golf (18 holes). Groups are limited to four people.
Children 2 years and younger have free access to Out of This World Blacklight Mini Golf (restrictions apply).
Senior Citizen Discount (Ages 65+): $13.00
Date Change Fee: $4.6
Website: americandream.com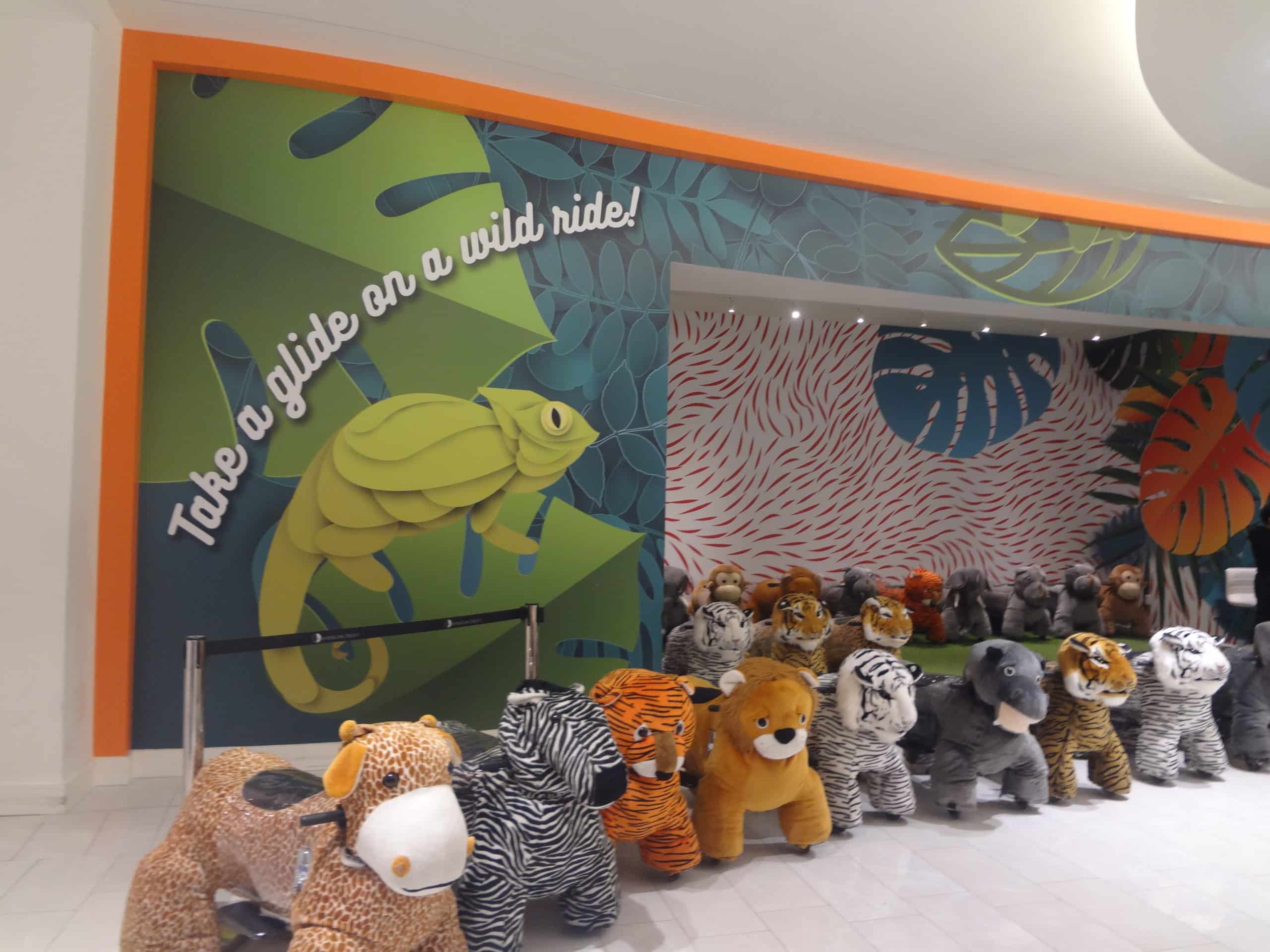 In one of the hallways on Level 1 near the Secret Garden there is the
American Dream Riders
. They rent electric powered animals to ride around on.
They charge $10 for 10 minutes $15 for 15 minutes and $20 for 20 minutes.

Make It Too
If you enjoy painting and creating something pretty or even if you just want a calm yet enjoyable activity in the American Dream Mall, Make It Too is the perfect place to go.
Make It Too is a ceramics painting studio located on level 1 in the lobby across from Sealife and Backlight Mini Golf. Painting is done on specially reserved tables on the side of the lobby area. It is airy and light. There isn't a closed in restrictive feel.
When we arrived at Make It Too we were greeted by Sharona Hoffman, the owner. Make It Too is actually a branch of her main store in the Five Town's which is a fun space for all types of creative projects and very popular for parties. Sharona showed us the options of ceramics to choose from. Once we selected what we would paint we sat down at one of the tables reserved for the painters. Sharona supplied us with everything we needed from paints in a huge variety of colors already prepared in small cups, bowls of water, paint brushes and instructions on how to paint (two layers) so that it will come out looking beautiful.
After painting the ceramics we left them there to be fired in the kiln. No need to come back a week later to pick it up, it is shipped free of charge once it is ready. We can't wait for our projects to arrive all finished
Mall Location: Level 1-Merlin Court near Court A, across from Sealife
Hours: Check online for the current hours
Price: Ceramics run between $20-$55. The most popular pieces are usually $25. Price of the ceramics includes free shipping to home once it is ready
Website: makeitadream.com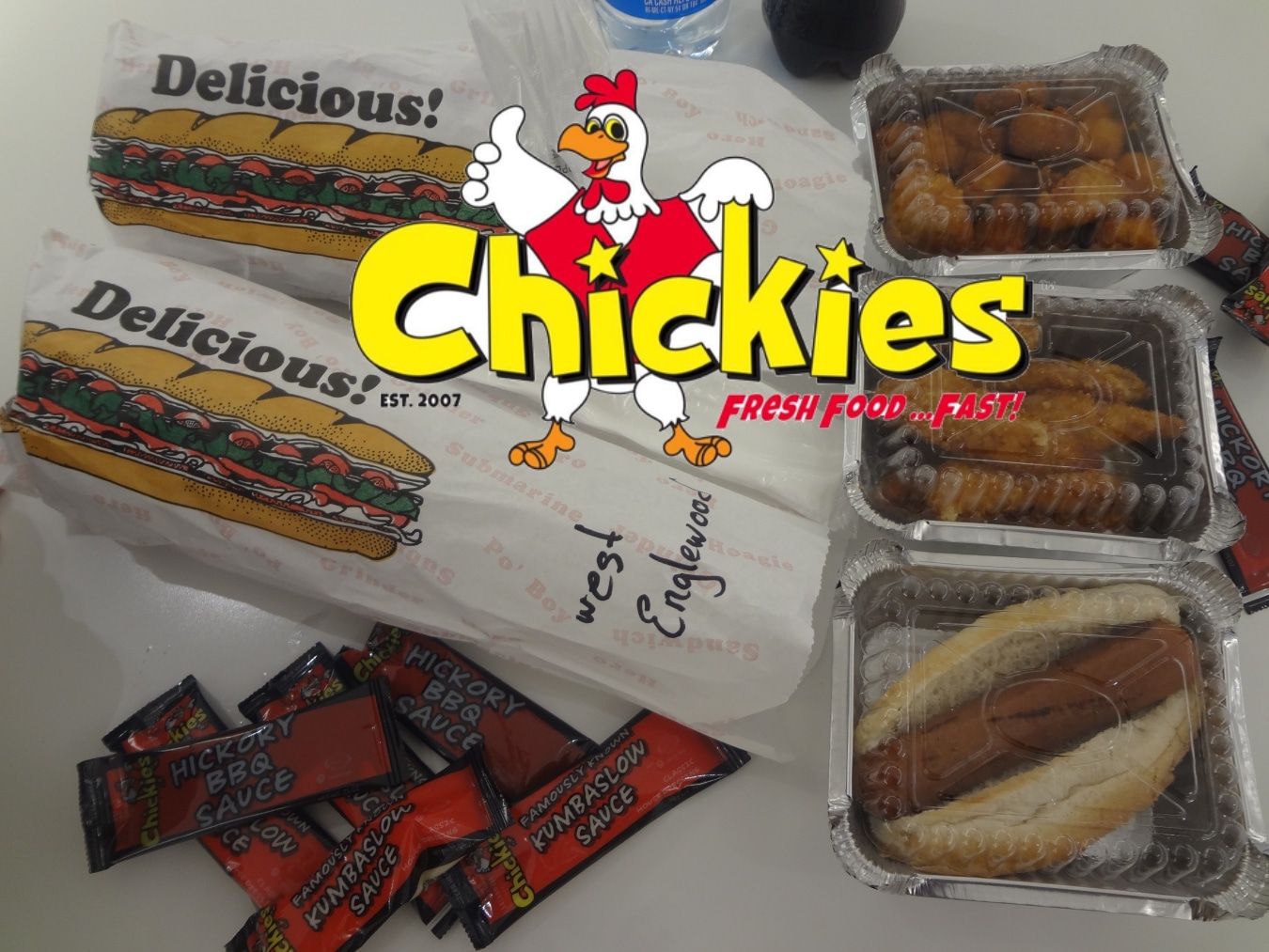 Chickies
Chickies is currently the only kosher eatery at the American Dream Mall. Located right near the information center and near where Sealife is going to open, Chickies is in a temporary storefront since they are waiting to move upstairs to the second floor once the Kosher Food Court opens. There is currently no seating in the temporary store but there are tables and chairs outside the store in the Court A lobby area.
While they are in their temporary location Chickies gets the ready-made food from their Teaneck store and sells their famous sandwiches and chicken dishes to go.
When we visited the store recently we tasted some of their amazing dishes. Rena's Sweet and Spicy Poppers were our favorite. I also really enjoyed the Cap'n Munch fried chicken sandwich. The sandwiches are huge—half was more than enough. We also enjoyed the chicken fingers with the famous Chickies sauces.  
We really enjoyed the different foods we tasted from Chickies. I can only imagine how much better the experience will be once they have their permanent location with seating and the full menu.
Chickies is under the kosher certification of CRC.
Mall Location: Court A, Level 1 (temporarily until the Kosher Food Court opens)
Phone Number: (763) 265-6700
Hours: Check online for the current hours
Website: americandream.com
Update! There's more activities at American Dream in this part 2 post!