There's more activities to choose from than anywhere else.
You enjoy it, they have it! Think of any activity you enjoy doing, any attraction you enjoy visiting and American Dream has an option for you. There is a major amusement park, largest indoor waterpark in North America, two options of mini golf, ceramic painting, a full size ice rink, an aquarium, a 7D ride, a viewing wheel with a view of New York City, indoor skiing and many more attractions.
In January of 2021, just about two years ago, I shared my impressions of the many attractions that were open at American Dream at that point: Big Snow, Nickelodeon Universe, The Rink, Out of this World mini golf, Riders and Make It Too.
As more and more stores and attractions are opening in the American Dream Mall, the place is hopping more than ever before. Each time I visit the mall, in addition to shopping, I like to visit a new attraction. Some of the attractions are too major to combine with shopping and other attractions require a full day trip. There are so many new places that I've visited in the past two years. Read on:
Address: 1 American Dream Way, East Rutherford, NJ 07073
Approximate Distance from Brooklyn Bridge: 25 minutes
Approximate Distance from Lakewood: 1 hour, 10 minutes
Approximate Distance from Monsey: 35 minutes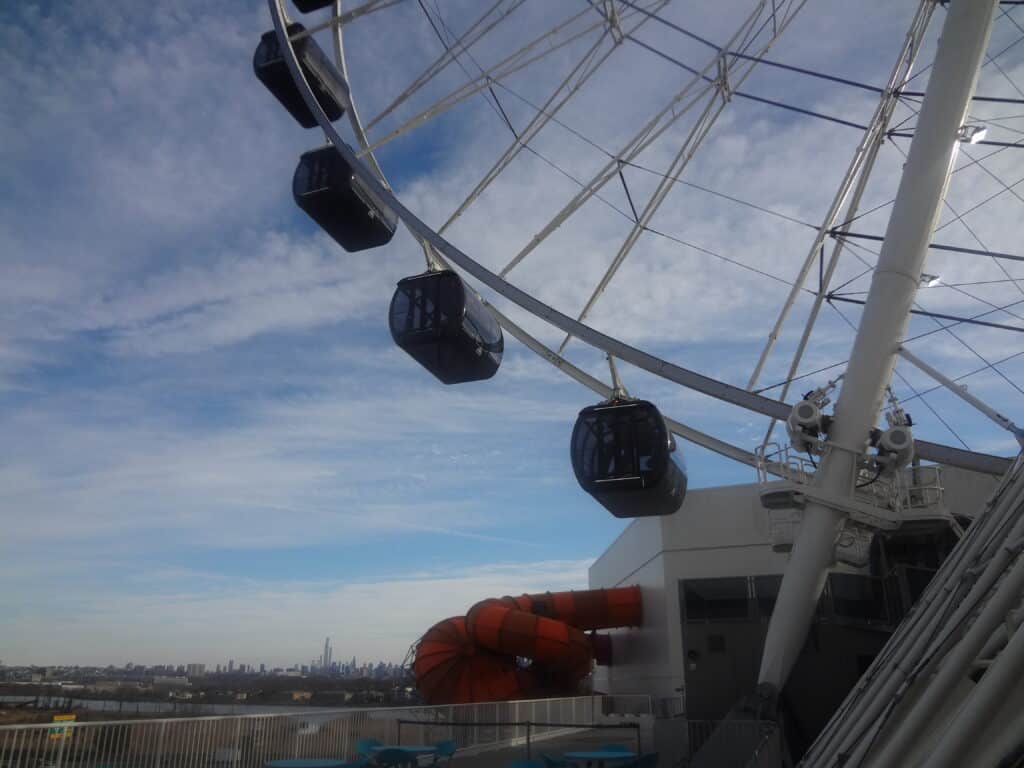 Dream Wheel
The viewing wheel at the American Dream Mall facing Manhattan is just that, a Dream. Access to the 300-foot Dream Wheel is actually from the inside of the mall. Once tickets are purchased visitors head out to the deck which is right below the wheel. The Dream Wheel has 27 glass enclosed and climate controlled gondolas. Each Gondola has a low table in the center where up to 16 visitors can enjoy a snack or meal while on the 20-30 minute ride.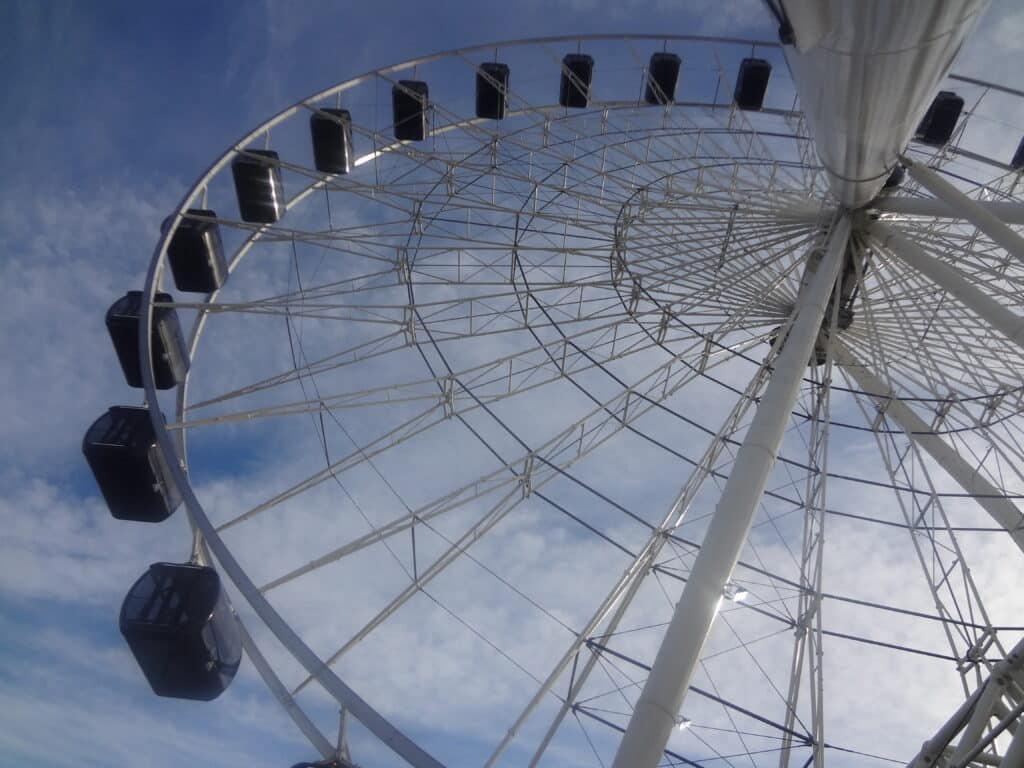 The Wheel makes its way around slowly enough to enjoy the panoramic views of NY without feeling the crush of the City, rushed to get a glimpse or nauseous from the ride. No one is left dangling mid air when people board. The Wheel moves continuously and it is slow enough for people to get on comfortably while it is moving. There are also upgraded options of enjoying the ride on the Dream Wheel with extra comfort. The VIP Cabins have leather seats and upgraded amenities.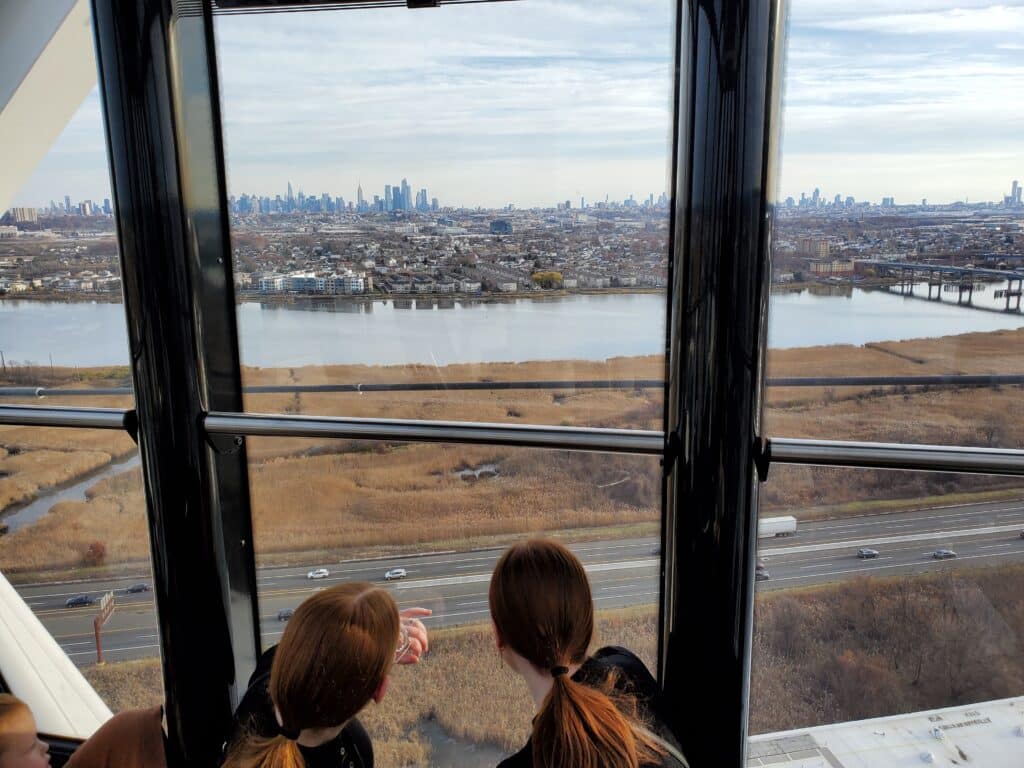 The ride on the Wheel is both relaxing and intriguing. The views all around are spectacular! In addition to the NYC Skyline, the Hudson River and the local New Jersey scenery, we got a view of the nearby Metlife Stadium with its full parking lot. We got to see the beginning of sunset and the sun's reflections on the Dream Wheel.
Mall Location: Coca Cola Eats-Court C, Level 3
Phone Number: (301) 455-8899
Hours: Check online for the current hours
Price: Tickets valid for Dream Wheel only. Tickets are not transferrable between attractions and should be purchased separately for each park attraction. This ticket includes entry into Dream Wheel and access to the Dream Wheel ride (rider restrictions apply). Valid ID and Credit Card used for purchase must be presented when you check in. All prices listed are before tax and subject to change.
Guests ages 12+: Starting at $29.75
Guests ages 5 to 11: Starting at $18.75
Children 5 years and under have free access to Dream Wheel (rider restrictions apply)
Website: dreamwheelnj.com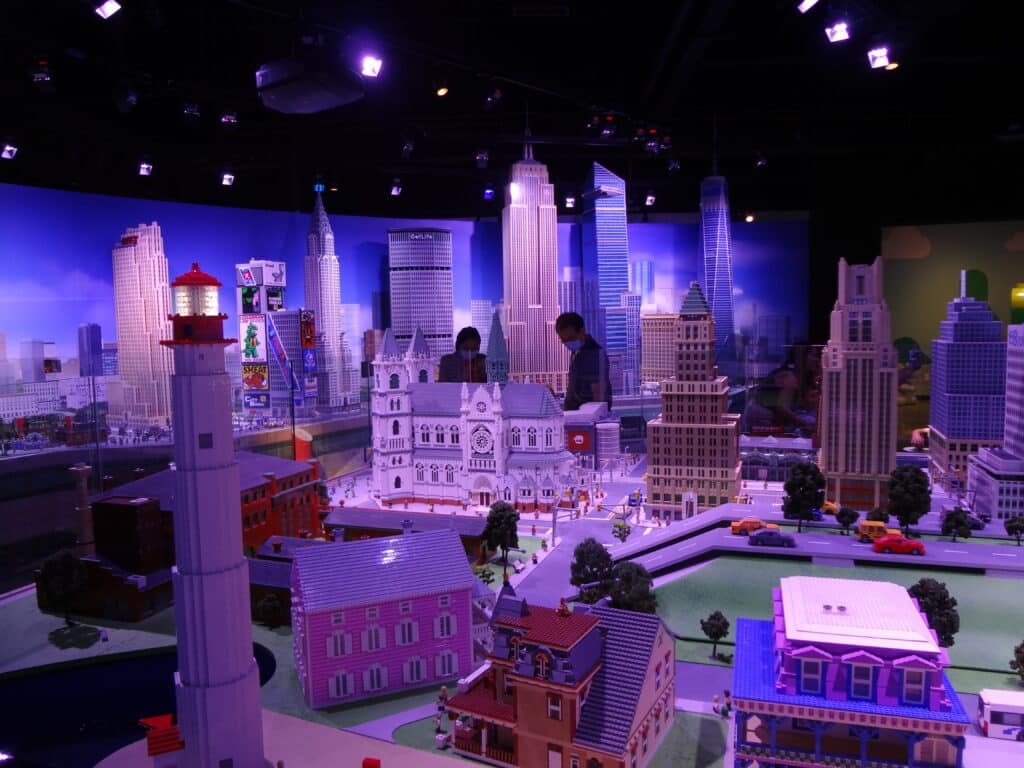 Legoland Discovery Center
Interactive is the one word that most describes Legoland Discovery Center in the American Dream Mall. Every Lego exhibit and Station has something for visitors to do not just to see.
The Imagination Express ride takes visitors on a train ride. Every rider is given a magic wand with zapping power and every rider competes to see who gets the most targets and points.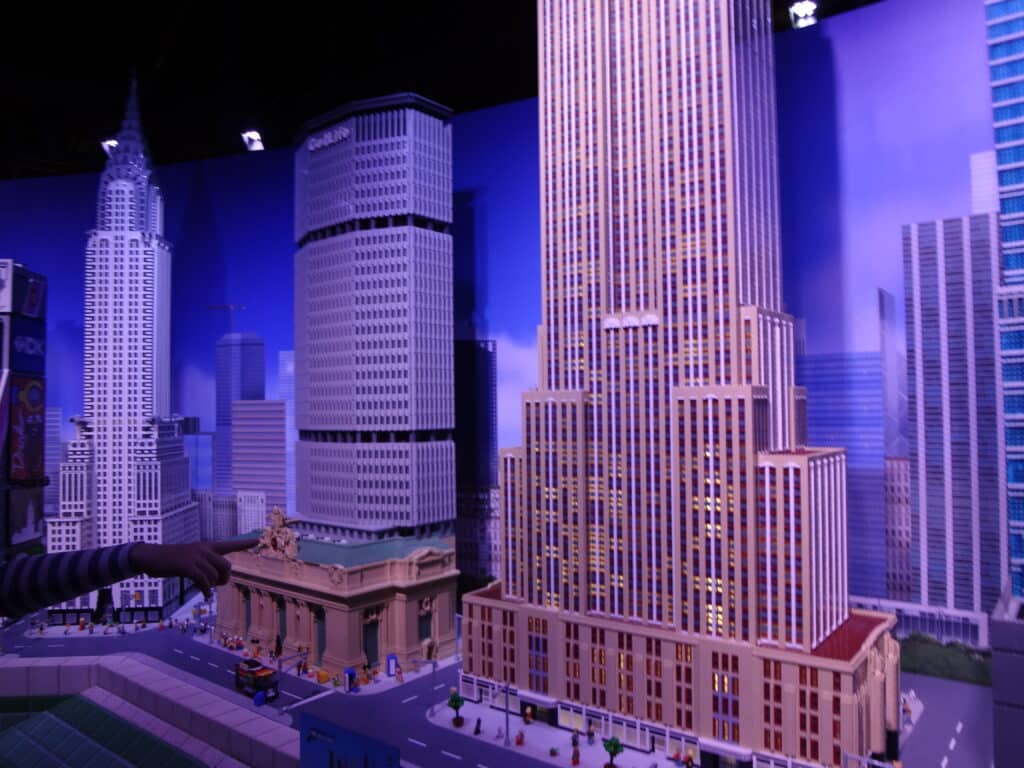 I absolutely loved Miniland, a series of models of New York City and New Jersey landmarks made of more than 1.5 million lego bricks! Even this was interactive. Take on the challenge to find Minifigures hiding in Miniland. There are also stations with buttons that can be pressed to activate some parts of the model such as activating and amusement park ride or activating a construction worker to start drilling a hole in the concrete. I laughed heartily when I saw some of the names given to some of the famous places such as the "GetLife Stadium" instead of the MetLife Stadium. There was a billboard at the stadium advertising "Burpie" instead of Pepsi. Every little while it got dark in Miniland and all the lights in the city twinkled as in real life.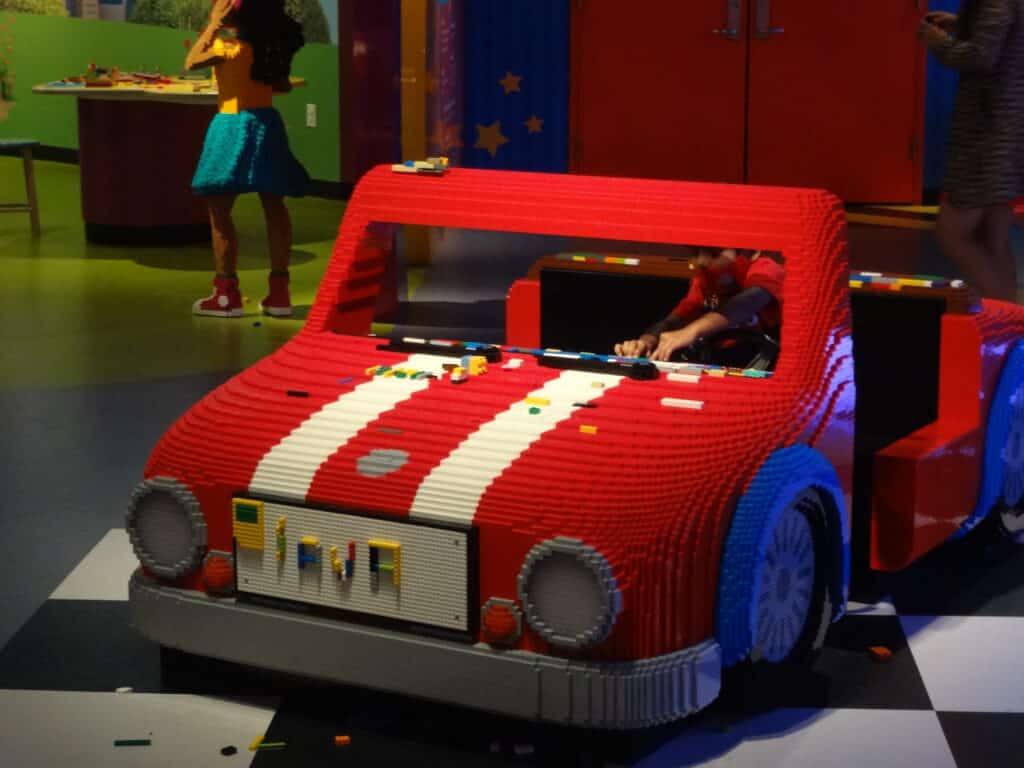 There are Lego figures and a large car displayed throughout Legoland. There are many major lego scenes professionally made that anyone can add their own creations to. It is a common site to see adults building with the Legos and enjoying just as much, if not more, than the children. The Creative Workshop offers instructions on how to use your imagination and create Lego stuff through a Master Model Builder. In one area I watched some boys with their father work on putting together a Lego car which later could be used on the race track. An area with a small slide and a wall area made of a Lego board can be enjoyed by the very young children. The Lego Ninjago Softplay can be enjoyed by both older and younger children (Socks are required.)
The 4D Lego Cinema kept us entertained with a movie that we felt like we were a part of when we wore the special glasses we were provided with. When the wind blew or when it rained we needed to remind ourselves that we weren't actually in the movie.
Legoland is owned by the same company as SEA Life and is located right next door. Discounted combination tickets can be purchased for visiting both attractions.
Mall Location: Suite A, Court A
Phone Number: (551) 234-6381
Hours: Check online for the current hours
Price: Starting at $28.99
Website: legolanddiscoverycenter.com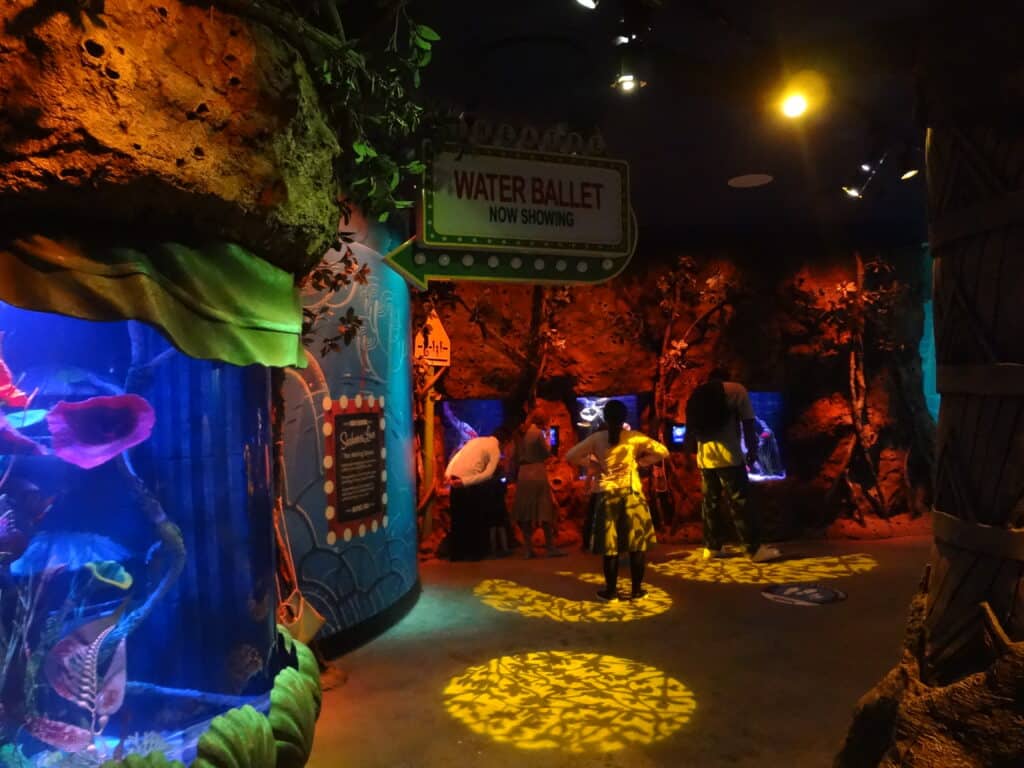 New Jersey SEA LIFE Aquarium
I've been to many aquariums and have seen many styles. What sets SEA LIFE apart from other aquariums is the design. The design of the aquarium is striking and brilliant.
There are areas designed as parts of New York and New Jersey, with street signs, bridges and some displays even look like windows of a subway and the large glass tunnel at the end has all sorts of New York icons as the backdrop for the fish. You can spot the fish swimming around the Statue of Liberty, The Empire State Building and "The Babbling Brook Bridge" (Play on the Brooklyn Bridge) are just some of the landmarks we spotted.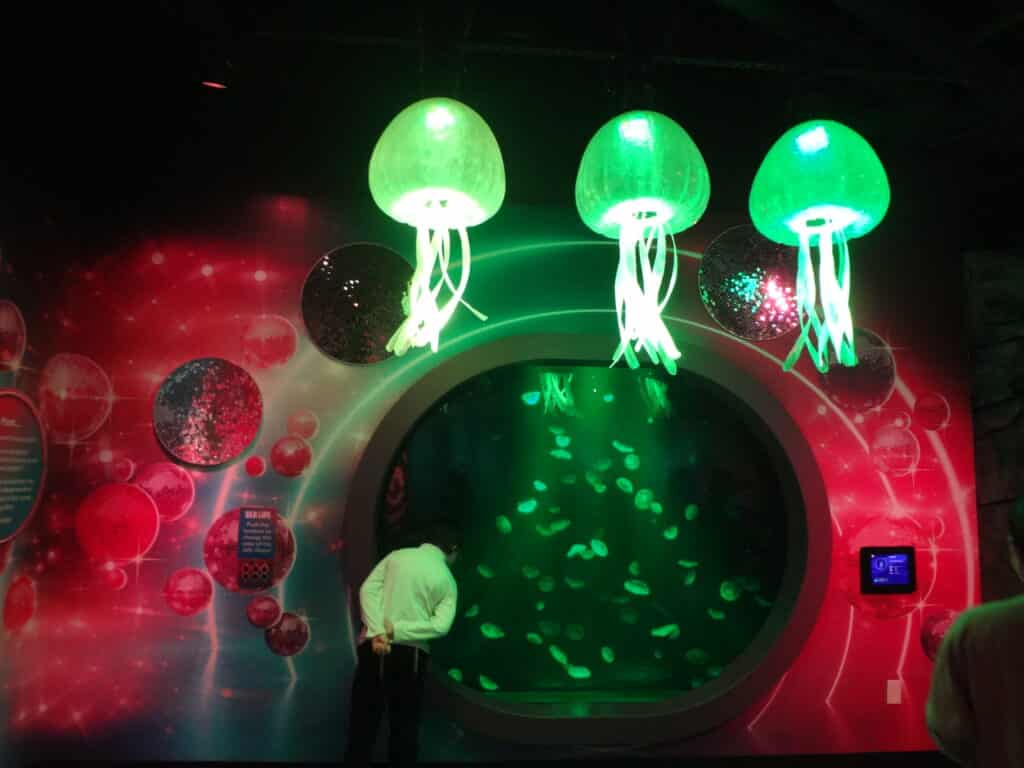 SEA LIFE has all sorts of fish and sea animals for visitors to enjoy including sharks, sea horses, jellyfish, stingrays, clownfish and a variety of many other types of fish.
Visitors can learn about and touch eight different species in the interactive touch pool. The touch pool educators are there to answer any questions and offer information on the sea creatures. I love seeing the face of stingrays. We got to see and enjoy the faces of the stingrays as they swam on the sides of the large glass pool.
The ocean tunnel is immense and fascinating to walk through. We spotted many types of fish, sharks and sea creatures. Upon leaving the Ocean Tunnel the little ones got to enjoy themselves on a climbing structure made for children up until 4'10. Socks are required for climbing (Socks are sold for $1 a pair in the adjoining gift shop).
SEA LIFE is located right near Legoland and combination tickets can be purchased at a discounted price.
Mall Location: Suite A, Court A
Phone Number: (551) 234-6382
Hours: Check online for the current hours
Price:
Adult: Starting at $28.99
Children: Starts at $23.99
Website: visitsealife.com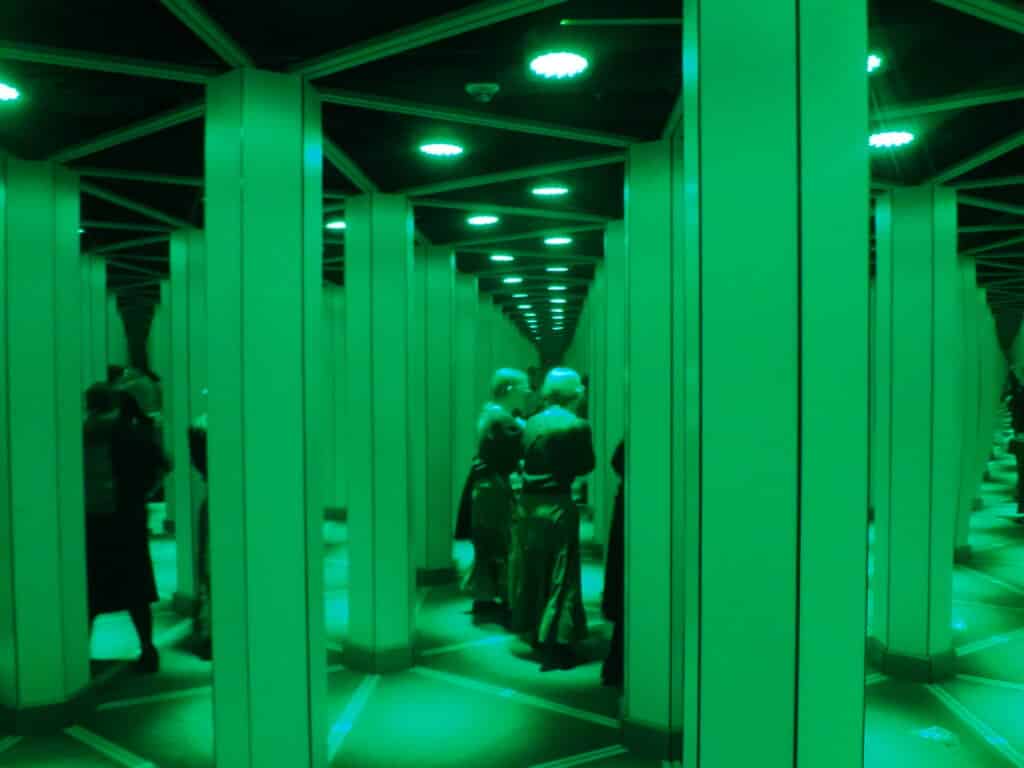 Mirror Maze
The Mirror Maze is the perfect attraction to visit if you have a limited amount of time but still want to do something fun and not very costly.
After donning the plastic gloves we received (They don't want fingerprints so that it won't be obvious which is a reflection and which is a real person.) we entered the actual maze. We really had a hard time differentiating between the glass and our reflections. We just walked with our hand outstretched as we tapped in front of us to ascertain if we were crashing into a dead end. The colored lights kept changing colors to add the fun vibe.
Once we completed the main section we found ourselves in a maze of clear pillars that were lit with strand of lights. It almost felt like a maze of lights. Once we managed to navigate the light pillars we found our way out of the maze.
Mall Location: Court A near Backlight Mini Golf
Phone Number: (833) 263-7326
Hours: Check online for the current hours
Price: Valid ID and Credit Card used for purchase must be presented when you check in.
General Admission: $10.00 per person
Children 2 years and younger have free access to Mirror Maze (restrictions apply)
Date Change Fee: $4.69
Website: americandream.com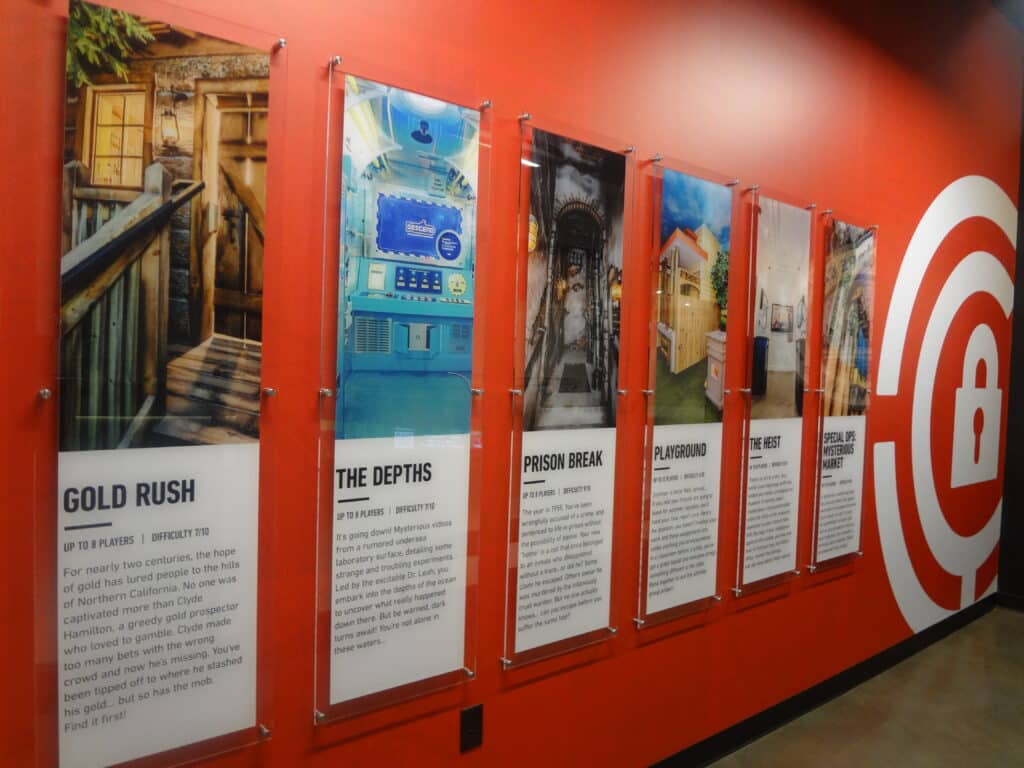 The Escape Game New Jersey
All seven of us in our group enjoyed the experience at the Escape Room in the American Dream Mall. There are 6 different room options with varying degrees of difficulty at The Escape Game New Jersey. We chose The Playground Room. It is not too difficult, the theme is not intense. The atmosphere was all around light and fun. The room can accommodate up to 12 people while the other rooms can have up to 8. The theme is appropriate for all ages, not just for adults.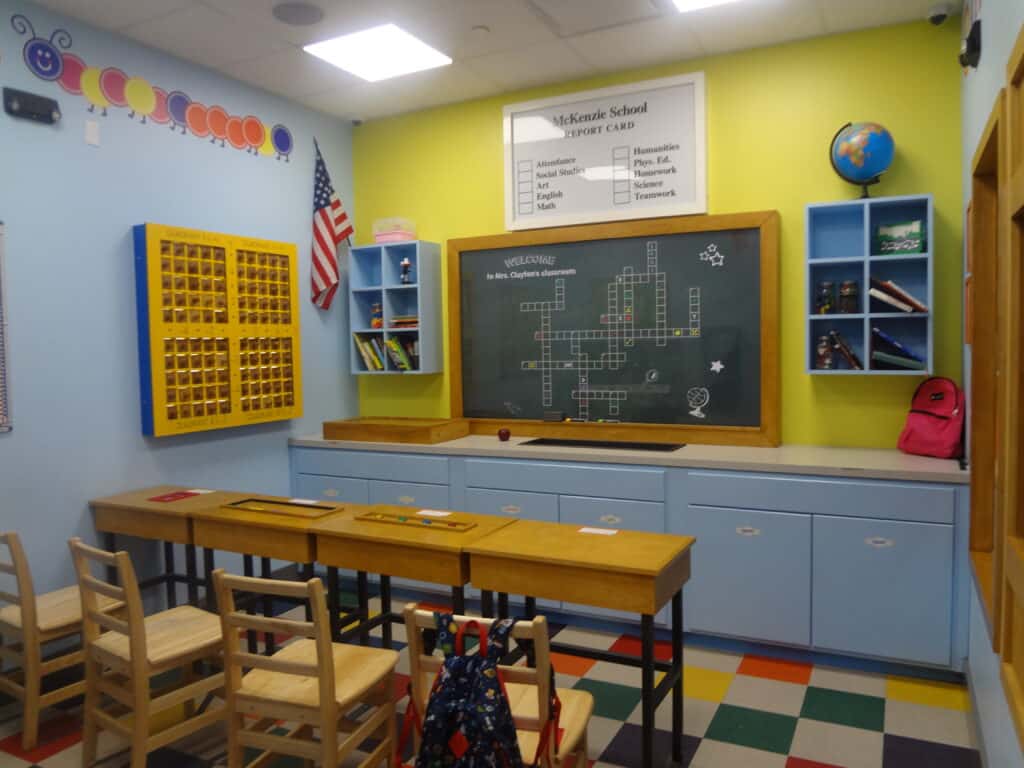 The object of the room is to complete assignments in eight different subjects before the end of the school day in order to be able to enjoy the school break. The room starts in a classroom setting and continues in the adjoining playground. It was very satisfying that with each task that was completed it was checked off on a big screen listing the tasks. We enjoyed the many unique things we had to solve and the variety of elements found in the colorful yet realistic looking classroom. I can't enumerate any of the fun surprises and clues we encountered since I do not want to ruin the fun for anyone who still wants to try it.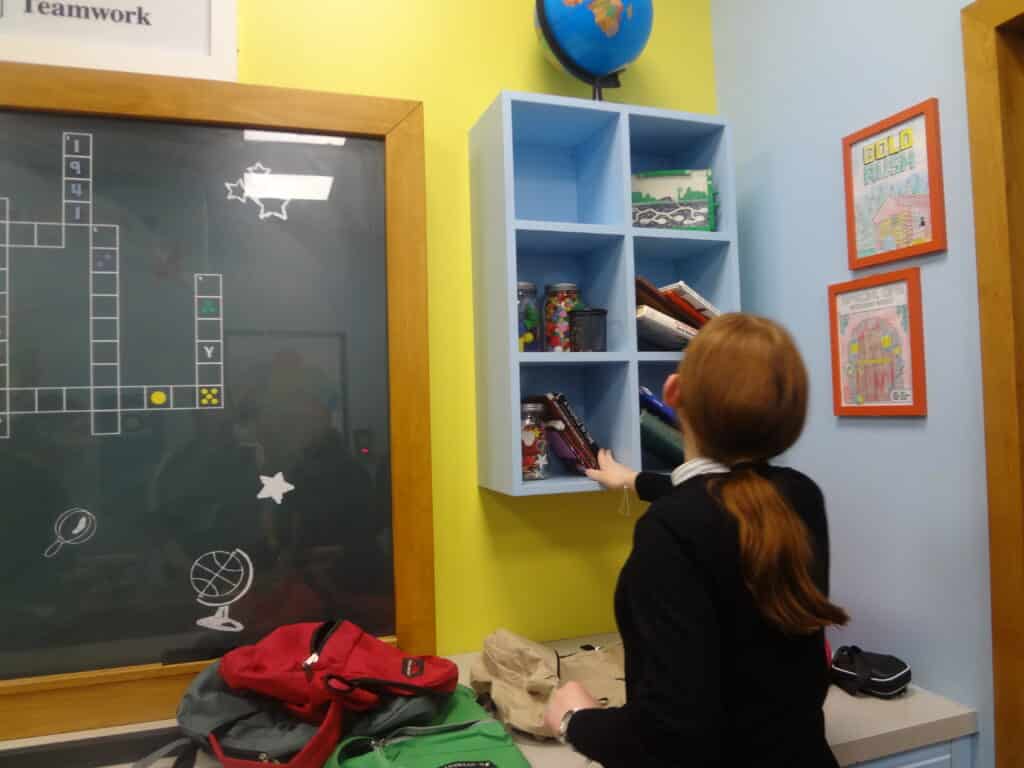 There is no limit to the amount of hints allowed in this room. The staff was following along on a screen outside and would post hints from time to time when we hit a dead end. The game was lots of fun. I'd highly recommend it.
Mall Location: Parks Court, Level 3
Phone Number: (201) 514-5699
Hours: Check online for game availability
Price: $42.99 per person
Website: theescapegame.com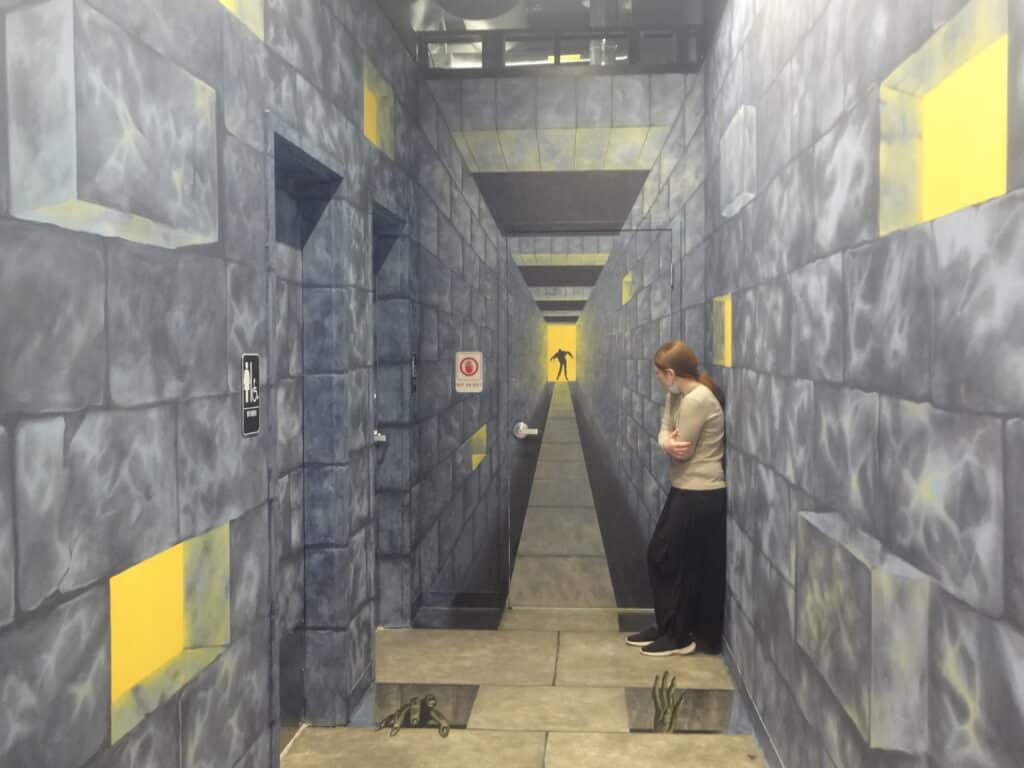 TILT Museum
The TILT Museum in American Dream Mall is like no other place I've been to before. On the one hand I'd describe it as an art museum since it features the most amazing mural paintings by Tracy Stum, world-renowned urban art master. But really it is so much more than an art museum!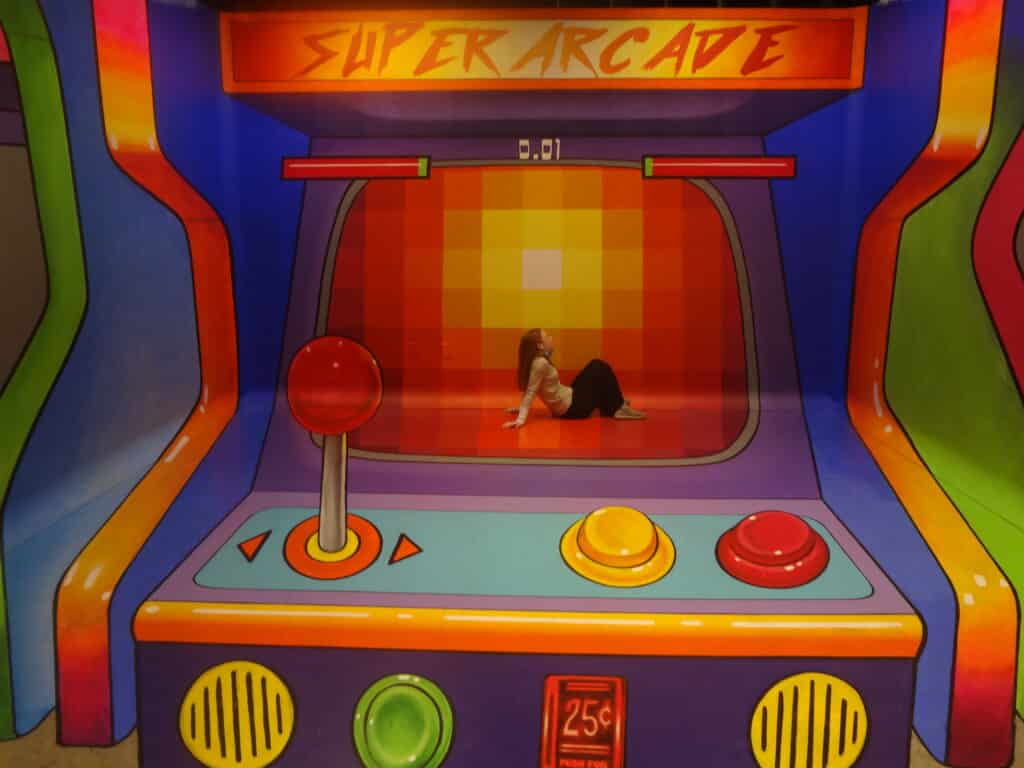 The museum features paintings that are huge murals which create optical illusions. The scenes are so creative and so realistic looking. When you walk in, you see many paintings that extend from the floor up onto the wall. Often you need to take a picture to get the full brilliance of the scene.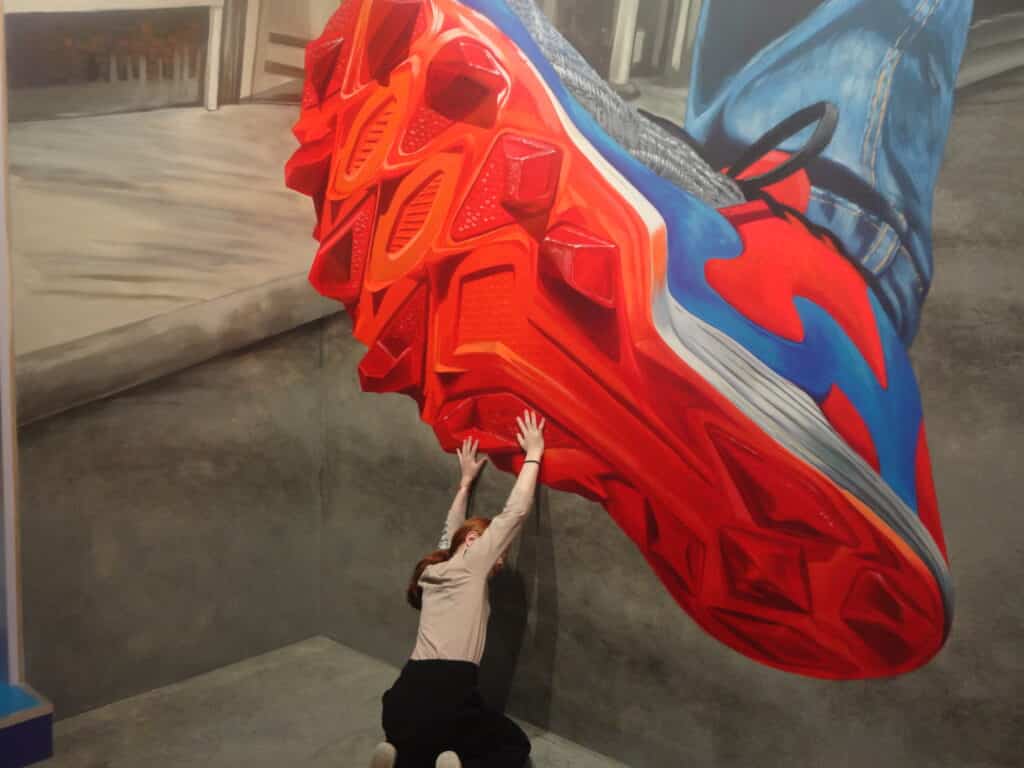 Not only are visitors allowed to touch and go onto the painted scenes they are encouraged to do so. There are spots marked on the floor near each painting which points out where to stand in order to get the very best shot. There are also sample ideas in small near each scene showing some cool ideas of poses. But really there is no wrong and right, use your imagination and take really awesome and creative pictures.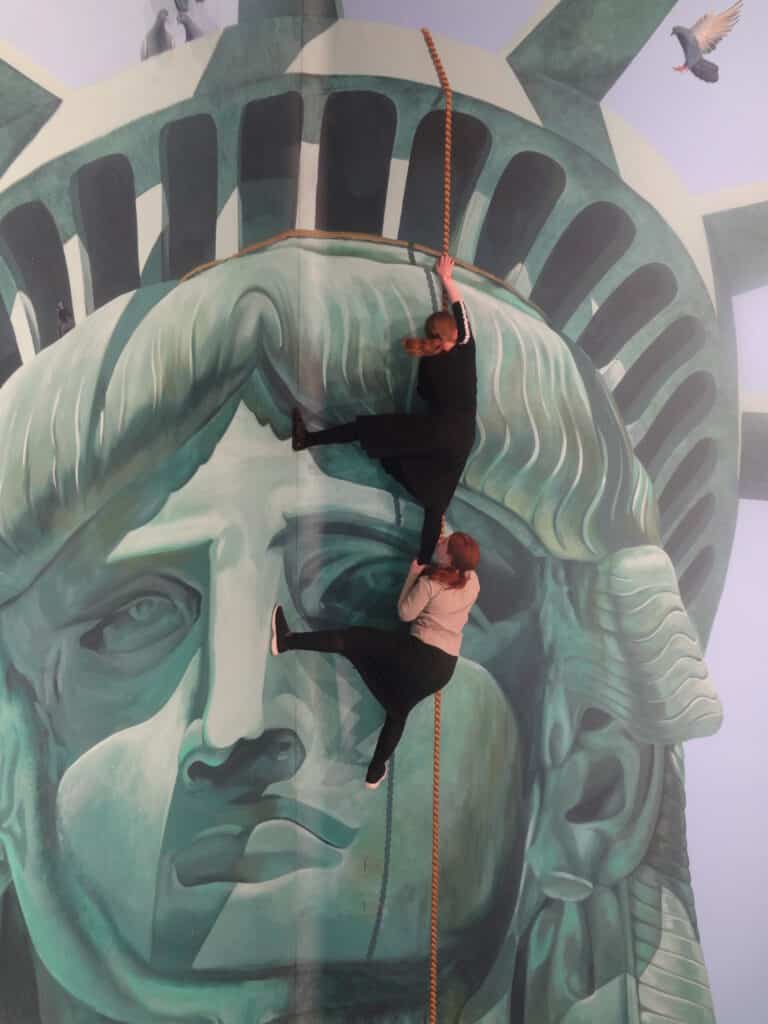 Some of the scenes are sideways such as the Statue of Liberty's head. In order to make it possible to get a shot which seems as if you are climbing to the top, you take the picture sideways and when you rotate it, this creates an incredible effect. The same is with the space scene. If you rotate it after taking the picture it seems as if you are suspended in space.
The TILT Rooms create an effect where the floor is not straight and the illusion it creates is that on one side of the room the person looks a lot larger than the person at the other corner. It was fascinating to see identical twins at the two sides, one looking much larger than the other one.
The TILT Museum plans on featuring new pieces periodically from emerging artists in a residency program to keep it fresh and exciting.
Mall Location: Garden Court
Hours:
Sunday-Thursday: 11 a.m.-9 p.m.
Friday-Saturday: 11 a.m.-10 p.m.
Price:
General Admission: $20 per person. Valid for one TILT Museum course. Groups are limited to four people.
Children 2 years and younger have free access to Tilt Museum (restrictions apply).
Website: tiltmuseums.com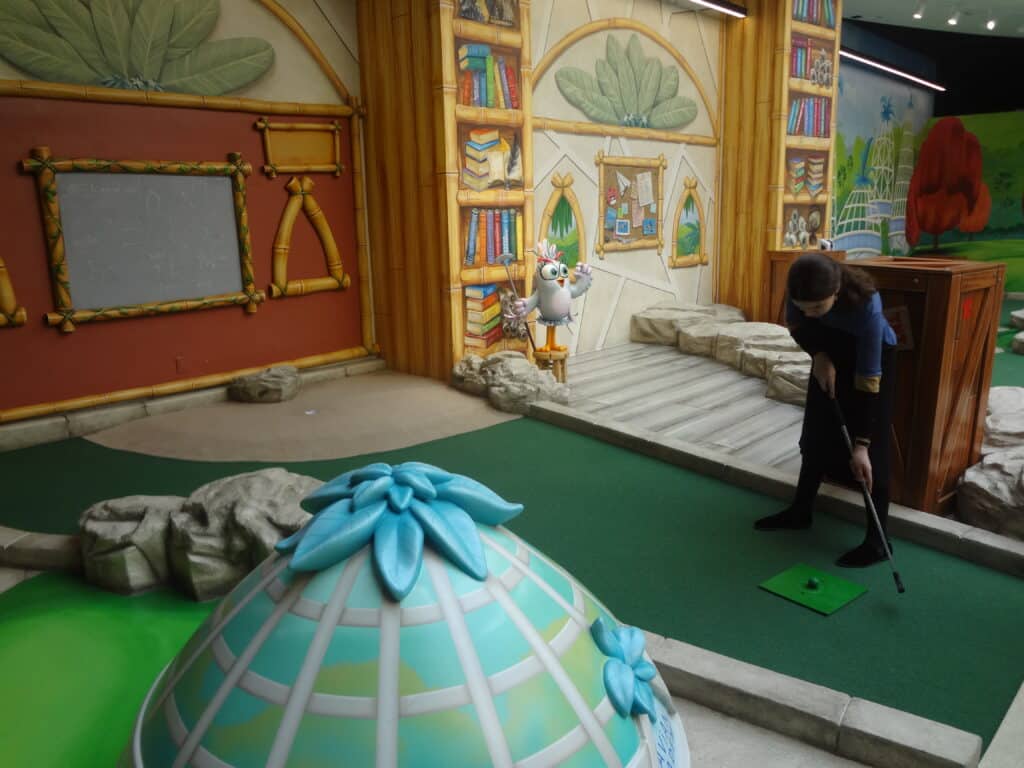 Angry Birds Mini Golf
You do not need to be an Angry Birds aficionado to enjoy Angry Birds mini golf. The Angry Birds mini golf is adorably designed with lots of fun and cute elements, starting with a huge volcano in the center of the room and then crossing over a "stream" to the next element. There are so many different scenes displaying Angry Birds characters to play on (and of course take pictures with:).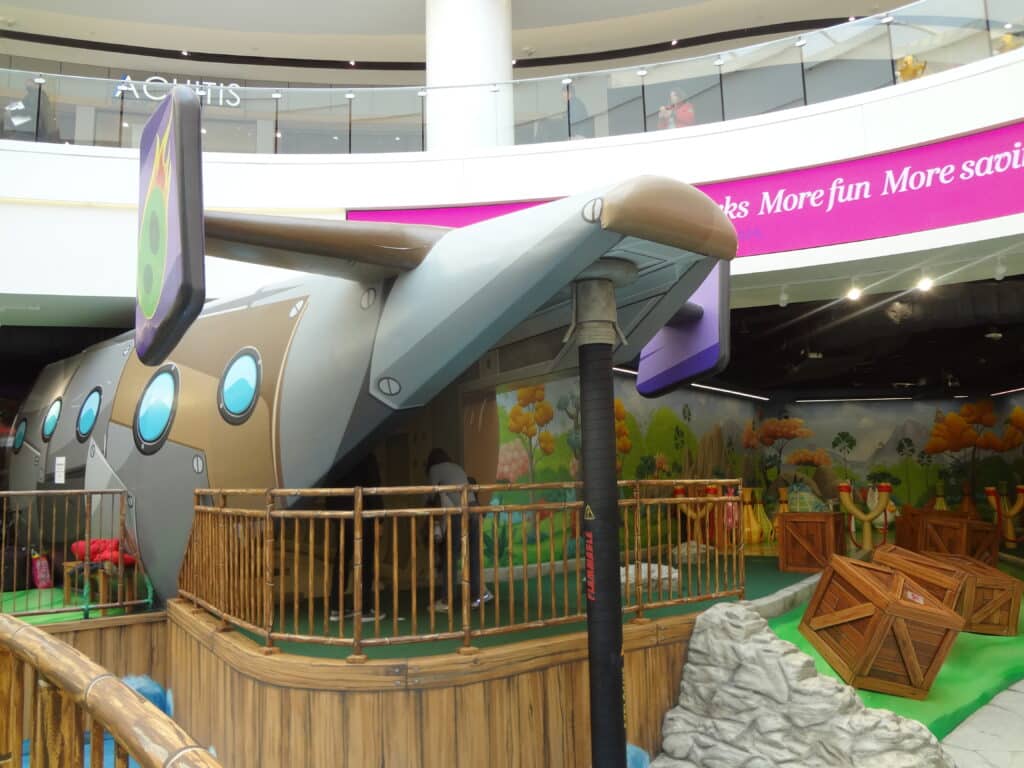 The 18-hole-course ends with walking into a hollowed-out model of an airplane and doing the last hole inside the airplane.
Although Angry Birds is an indoor course it is not stuffy, it's actually bright and cheerful. The course is open all the way to a sun roof with sunlight pouring in. Visitors to the mall are able to view the course from the hallways on the second and third floors since there is nothing covering the course.
Mall Location: Floor 1
Phone Number: (833) 263-7326
Hours: Check online for the current hours
Price: Valid ID and Credit Card used for purchase must be presented at check in
General Admission: $20.00 per person. Valid for one round of mini-golf (18 holes). Applicable taxes may be applied at checkout.
Children 2 years and younger have free access to Angry Birds mini golf (restrictions apply).
Date Change Fee: $4.69
Website: americandream.com
Dreamworks
I was skeptical. I couldn't imagine what is so amazing about Dreamworks that makes it such a sensation.
All it took was a visit of my own to put it into perspective. Firstly, Dreamworks is huge! It's the largest indoor waterpark in North America. At first glance, when entering the park it is not so obvious that there are more than 20 different types of water activities, in addition to the enormous wave pool with 1.6 million gallons of water in it alone. The park is designed with Shrek characters all around. We really enjoyed experiencing the 81 degree summer weather while it was snowing outdoors.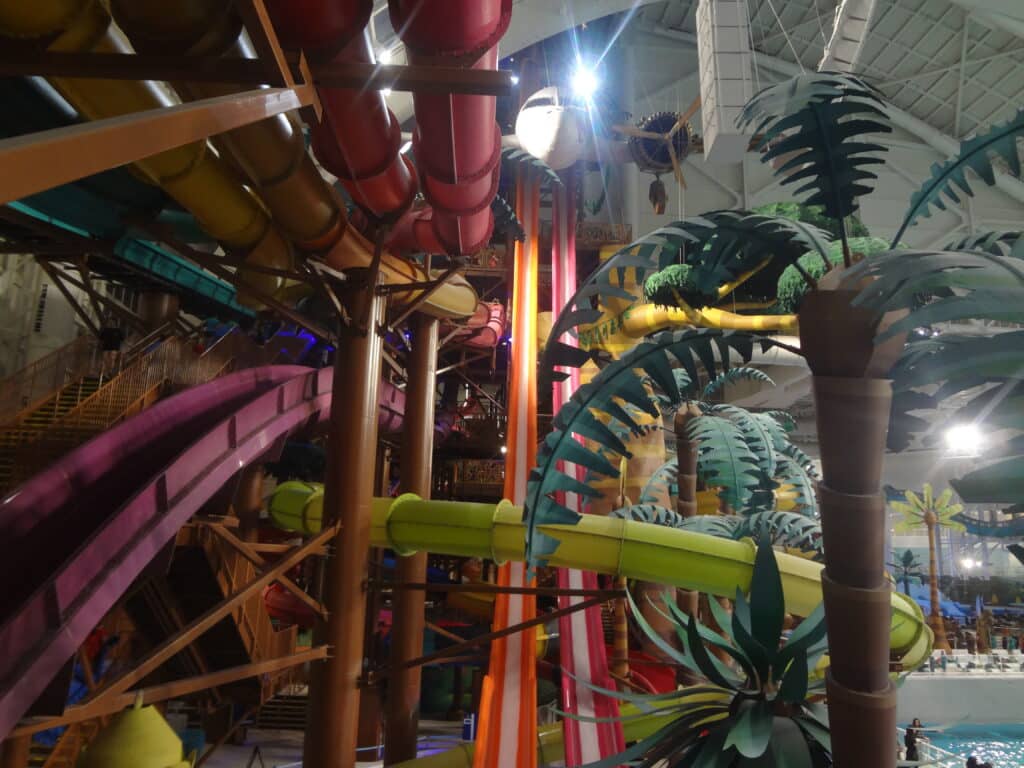 Across the entrance there is a tangle of many different types of slides that extends through the back of the park. Some slides are ridden on tubes or mats while others are ridden without tubes. My favorite ride, the Toothless' Trickling Torpedo is the world's longest hydromagnetic rocket coaster that circled the park up on top. Up to four people are able to ride together on the boat-like tube. We were tipped off by someone that visited before us to go there first, because it is one of the more popular rides, and the lines can sometimes get long.
There were some of the most unusual and thrilling slides I have never seen at other parks. The Thrillagasger and Jungle Jammer are slides with a 14 story high drop. Every now and then we'd look up to see a quick swish of water without being able to actually see the person swish down the slides.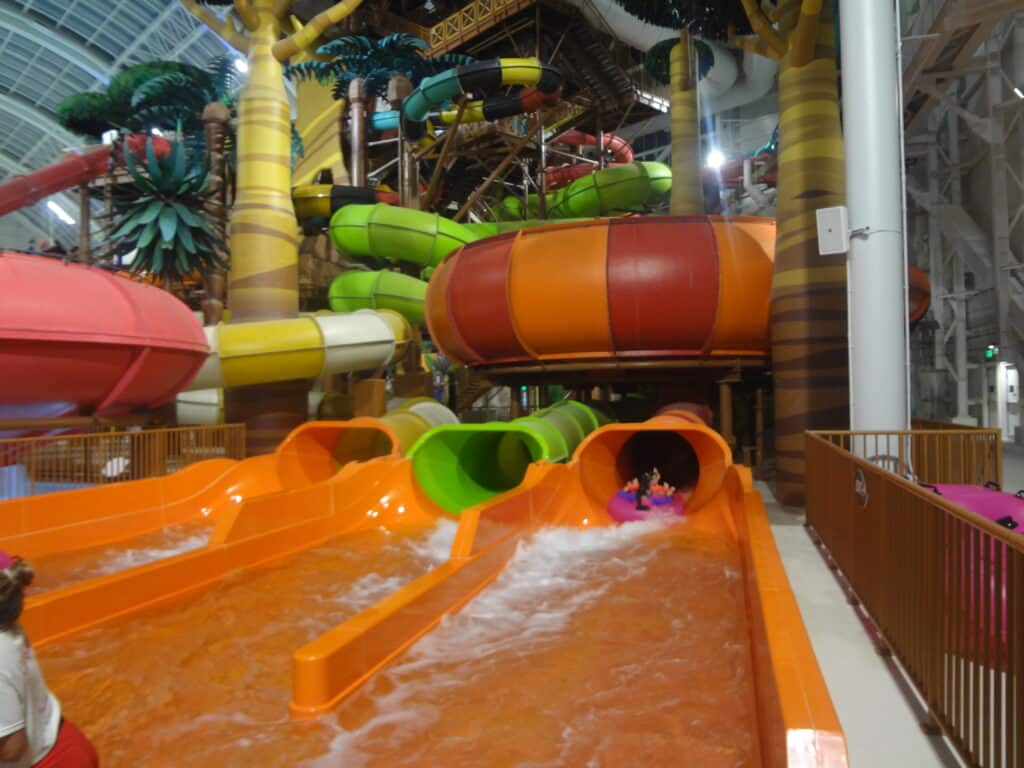 At the far end of the park there are three different multi person funnel and bowl slides. Near those slides are the Penguins Frozen Fun Zone, 6 slides designed especially for toddlers. Across from the Penguin area is the Kungfu Panda Temple of Awesomeness, a multilevel play structure for all ages to play on. The lazy river circles this whole area-around all the play areas and slides at the far end of the park.
There are so many slides with different twists and unusual turns, I'm not even sure I got to see them all. As we were leaving, we all agreed that we definitely need to go back to try the ones we still had not explored, and of course, to try again many of the thrilling water rides.
Mall Location: Parks Court
Phone Number: (833) 263-7326
Hours: There are often private special men's and women's events for the public. This Chanukah there will be a men's event: Thursday, December 22; 7:30-11:00 and a women's event: Monday, December 26; 6:30-9:30. For additional questions email events@americandream.com. For updates on separate waterpark hours and all Jewish or Kosher information and events follow @lchaimamericandream on Instagram.
Price: Varies for private events
Website: americandream.com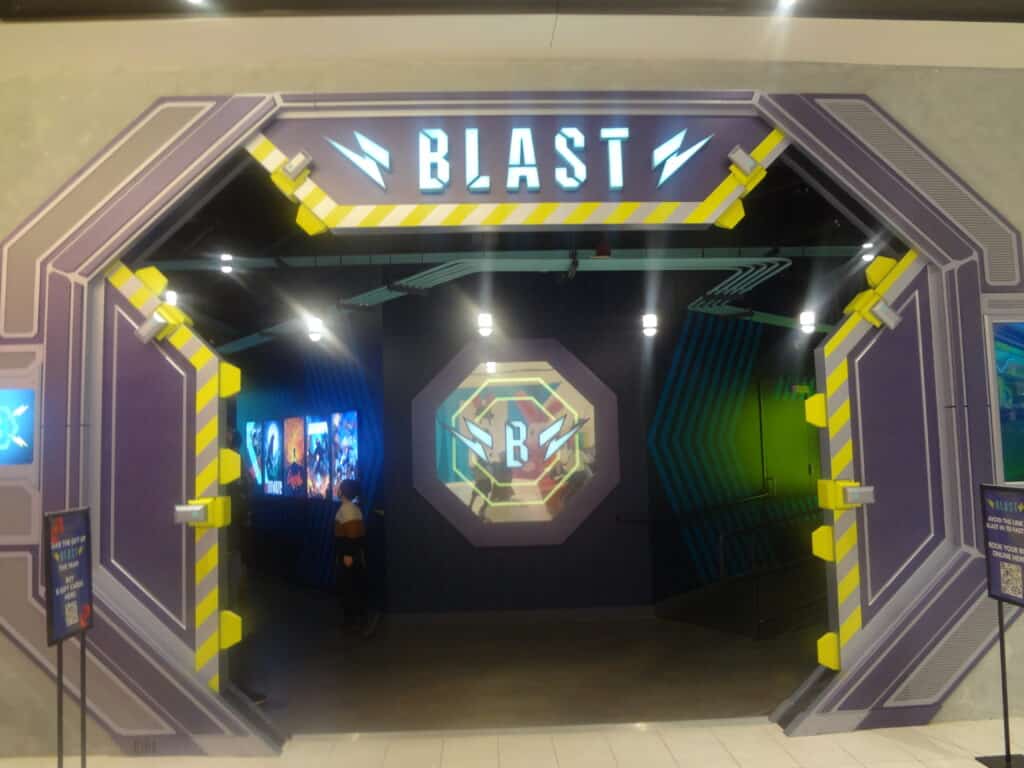 Blast 7D
Blast 7D is a fully immersive interactive 7D motion ride with an added twist of a video game. There are 5 unique scenarios to choose from. Each scenario offers its own thrilling experience. Once you chose which scene you will play you are given special 7-D glasses transport you along with the help of the lights, sounds, wind effects and full motion seats that move at 400 motions per second, "into" the scene.
Each player has a laser blaster by their seat and while experiencing the ride, players compete in blasting the evil villains in their respective scene. Each player tries to earn the most points.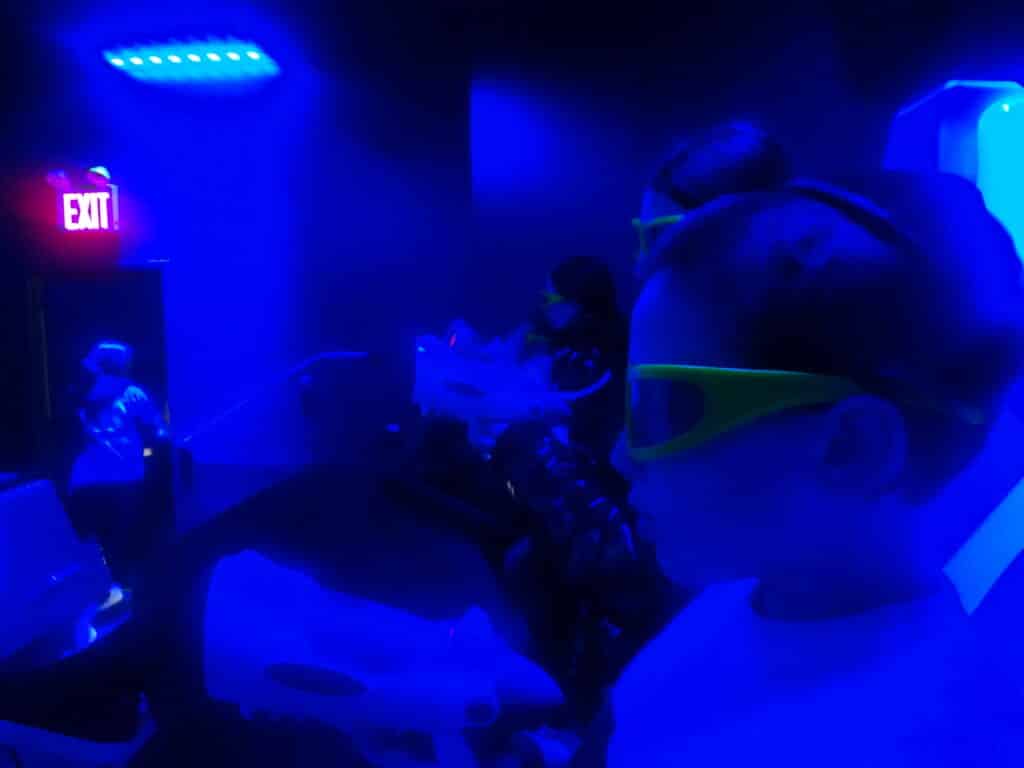 Los Banditos, the most popular family friendly ride, takes riders back to 1800s Wild West where Robot Cowboys want to take over town and you have to protect it. Another popular scene is the Gigamon ride where Godzilla tries attacking NYC and the players need to fight back. When on the ride you feel every sort of thrill such as flying, diving, jumping, falling, driving and speeding along without lifting your feet off the ground.
Blast 7-D is the first ride of its kind in the world and many of the visitors come back again and again to try out other scenes or to repeat the ones they enjoy. Each ride just takes 6-7 minutes so lots of people stop by between shopping or visiting other attractions in the mall.
Address: Floor 1, right next to Angry Birds mini golf
Phone Number: (551) 248-4943
Hours:
Monday-Thursday: 11 a.m.-9 p.m.
Friday-Saturday: 11 a.m.-10 p.m.
Sunday: 11 a.m.-8 p.m.
Price: $15 per ride
2 Ride Combo: From $27.00
3 Ride Combo: From $36.00
Website: blast7d.com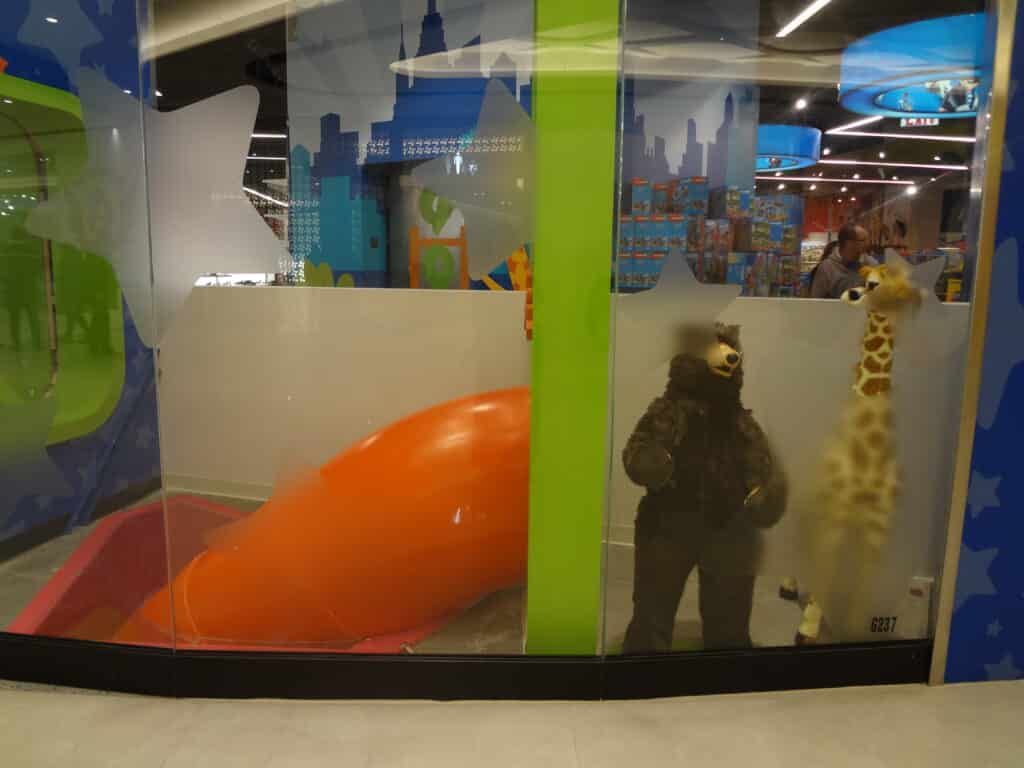 Toys R Us
Toys R Us always had an exciting and fun vibe. I was excited to see Toys R Us open recently in the American Dream Mall. The huge two story toy store even has a tube slide from the second to the first floor. If you choose to go through the stairs you can't help but notice how the steps are designed in a fun way. There are separate sections within the store for particular types of toys such as a Playmobil section, Lego section and more.
When we visited there was a woman demonstrating the wonders of Squirmies and another time we saw a demonstration on magic tricks with the possibility of purchasing a kit that demonstrates how to do the tricks.
What's a toy store without a good dessert? Toys R Us now offers the Geoffrey Café with Chalav Yisrael ice cream, slush and milkshakes (Lakewood Hashgacha). We enjoyed a delicious Mehadrin ice cream that really rounded off our visit and gave it a sweet ending.
Mall Location: Parks Court, Levels 1 & 2
Phone Number: (551) 600-8697
Hours:
Sunday-Thursday: 11 a.m.-8 p.m.
Friday: 11 a.m.-9 p.m.
Saturday: 11 a.m.-10 p.m.
Website: americandream.com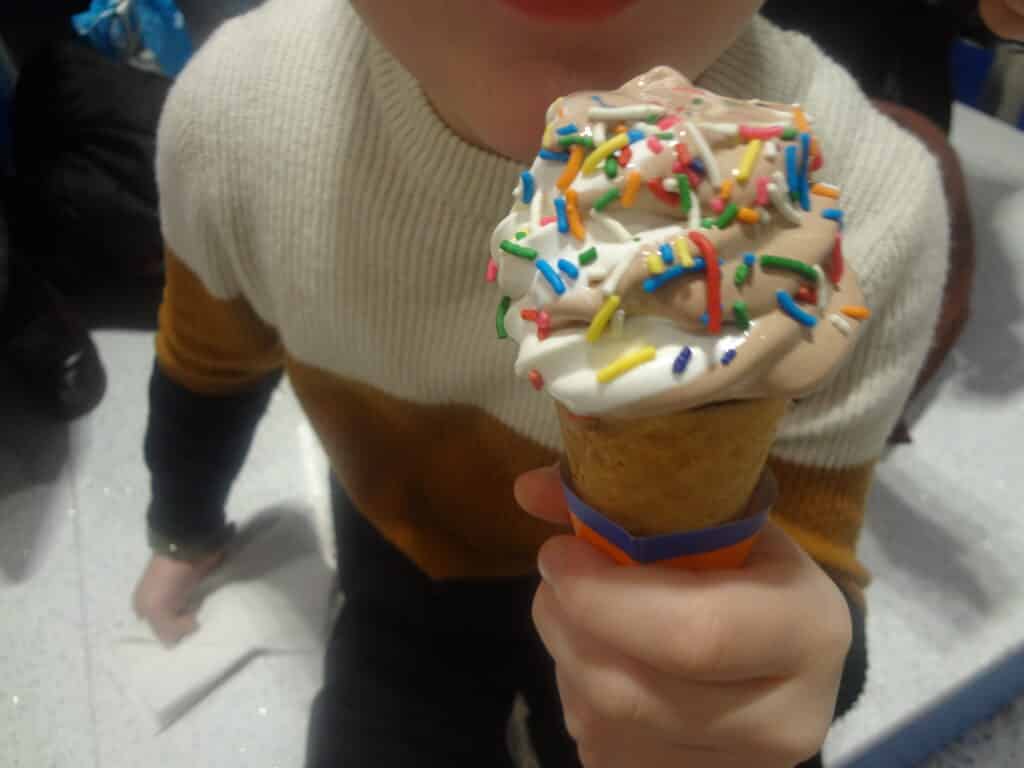 Kosher Food
There are many kosher food options in American Dream. The new Goldi Lox Café, Cholov Yisrael Café recently opened for business. With a Bravo Pizza and Falafel and Chips soon to open in the first ever Kosher Food Court outside of Israel.
American Dream has some unique plans in the offing, specifically of benefit to our community.
The ADdress@americandream is scheduled to open in February, 2023. The Address is the first and only modest wear department store in the world. Many brands of clothing, shoes, giftware, jewelry and accessories that we are familiar with and love are already planning their presence in this huge store. The Address will feature a curated collection of the premier trending brands. The 50,000 square foot store will offer shoppers an elevated shopping experience without having to filter out inappropriate items.
For more updates Follow @theaddress_americandream on Instagram
For all kosher and Jewish Event updates, follow @lchaimamericandream on Instagram.
FOR EXCLUSIVE CONTENT AND A PEEK BEHIND THE SCENES, MAKE SURE TO JOIN OUR WHATSAPP STATUS HERE. JOIN OUR WHATSAPP GROUP AND WE'LL LET YOU KNOW WHEN A NEW POST IS UP!