It's during these weeks before Pesach, when we're working so hard, that these feelings tend to creep up. How do we deal with it?
It's Pesach again! Ah! The Yom Tov of freedom, when we're meant to feel like kings and queens, the pinnacle of royalty. Freed from the bondage of Mitzrayim, which the sefarim explain as meitzarim, the areas in our life that feel constricting, this chag has the capacity to usher so much lightness and joy into our hearts. But what happens if we feel anything but regal? What happens if we find ourselves running on low, depleted from so much doing, doing, doing without receiving ample recognition for our hard work? By virtue of our being human, we need that validation, the encouragement to keep delivering. Whether we're busy cooking, cleaning, managing the kids, hosting, or even "just" helping our hostess, and we don't feel that our efforts are valued, a lack of appreciation can suck the joy out of giving.
When we're feeling resentful that our efforts aren't being acknowledged, we're not in a good place. Resentment is never still. Like a live organism, it expands. Rav Avraham Genichovsky zt"l, the famed rosh yeshivah of Tchebin, would often say that negative feelings that fester within are akin to a currently benign tumor. The growth might be harmless right now, but if one lets it smolder, it may very soon morph into a malignant beast. If we find ourselves being critical or lashing out at others (Where is this temper coming from?), or lacking excitement to participate in the festivities of Yom Tov and feeling unreasonably sad or despondent (I was so excited for Pesach just a few days ago!) these might be indicators that hard feelings are simmering beneath the surface and they're simply presenting under a different cover. Thus, just letting it all simmer under the surface is certainly not a solution.
So, how can we deal with this challenging circumstance so that we can finally experience the lightness of heart that we seek? Communication is always a good idea—sensitive communication that relates how we feel and focuses on us, as opposed to the other. "It's so hard for me to keep doing this when I feel that my efforts aren't appreciated," or "I feel so much better when what I'm doing is acknowledged, even with just a few words." But what if we want to do something different for a change, something that takes us inward so that we can cultivate a healthier inner base? Here are four ways to feel truly valued this Pesach so that you can keep on giving the way only you can.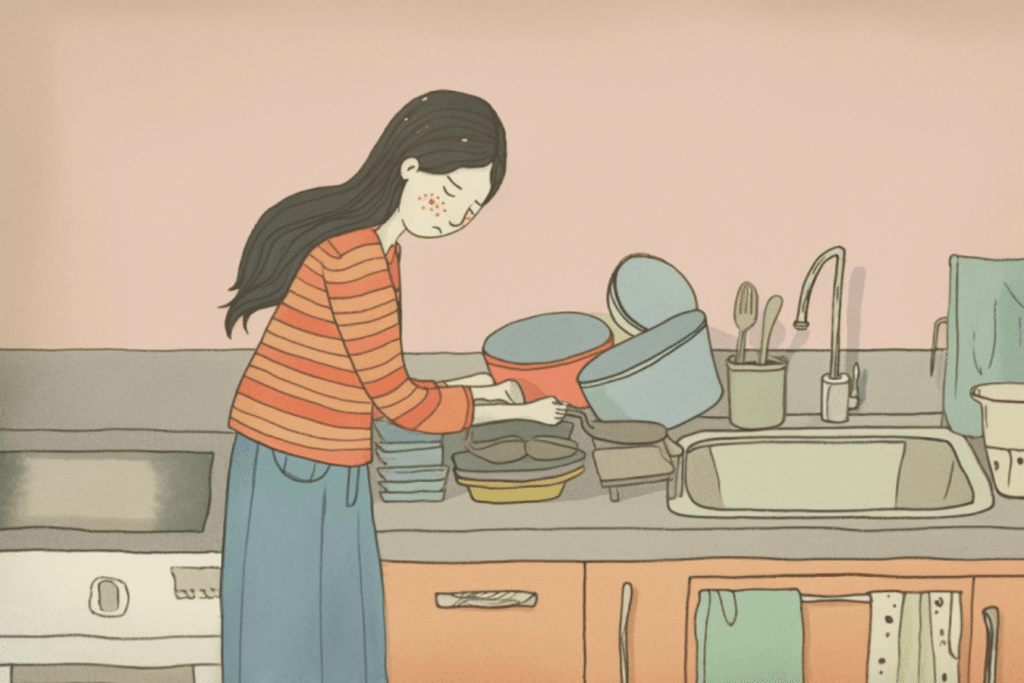 1. How to Deal with the Ache of Being Unnoticed
Every circumstance in our life is intended as an opportunity for introspection and growth, and feeling underappreciated is no different. Like with every challenge, it's a painful place to be, but one that can help us gain a new understanding that may otherwise not have crystalized for us. Now that we're in a position of feeling the ache of being unnoticed, we can grab the opportunity to ask ourselves, "Are there people in my life who might be feeling the same way and would feel so much better if only I'd communicate more positive feedback?" After we take note of our own circumstance and we recognize that this is how we feel, we can make the choice to channel this feeling into noticing others. Instead of wallowing in our own discomfort, we can initiate positive change. This advice sounds counterintuitive. What, I'm the one who's feeling underappreciated and I'm supposed to be the one to keep pumping positive feedback to others? It's our choice to stay stuck in that brooding place—or to choose growth and happiness instead.
If we're blessed to be married, the husband is a great start. How appreciative am I of what he does in our home? (Sure, sure, the yetzer hara will always make sure we focus on what he doesn't.) Relate your thoughts about something more meaningful about his being, "It means so much to me that you create such positive vibes around here." "I love the way you connect to the boys." "I love that you're just around the house over Yom Tov," or elevate feedback regarding more mundane deeds, "I know you've been taking out the garbage for years already, but did I ever stop to tell you how much it means to me? It's not only about the garbage, it's the feeling that we're in this together…" "Those flowers you brought home, I don't take it for granted." "Knowing that I can count on you to do those errands makes me feel so taken care of."
With your focus on noticing, you'll find something to express your appreciation for. If you're a guest, even at your own parents, keep your eye on the prize. True, most of your peers are also being hosted by their parents, so it can easily become a given, but that doesn't mean we can't and shouldn't express our appreciation for that kindness. Kids are helping out around the house? Yeah, they make the messes too, but our focus right now is on "What do I appreciate in others?" If you're having the married kids over, they can blossom too from your words of appreciation, whether for the help they're trying to give, for trying their best to keep the place in order, or for raising such a beautiful family. Notice those single siblings(in-law) who are graciously giving up on their space and comforts, helping out however they can, and let them know how much that means to you.
Most important of all, we can ask ourselves, "How appreciative am I of the gifts Hakadosh Baruch Hu keeps showering upon me?" He is the One who is orchestrating our current emotion, after all. Perhaps He's placing us in this position so that we can experience this awakening, this aha moment of "Wow! When was the last time I stopped to take note of the many gifts in my life?" (Paying attention to all those we're indebted to can feel supremely uncomfortable, which is why it might not come easily for us, but the more we can move past the discomfort, the more beautiful our life will become.)
That one is treated the way he treats others is an oft-mentioned concept in the sefarim, and with this perspective it's simple to understand why. The reason Hashem might be putting us through this experience is so that we can improve the situation for others, thus infusing more positivity and gratitude into our relationships. If we keep at this with sincerity and a desire to give to others (with the least focus on receiving in return as possible), we will soon notice an incredible shift. Be the first one to start the trend and enjoy its magnificent ripple effects!
2. Do You Appreciate Yourself?
The impact of how the world perceives us pales in comparison to how we perceive ourselves. As much as we're affected by others' treatment, we're exponentially more impacted by our self-treatment. After all, who else spends 24/7 with us and mans the unabated running commentary in our mind, letting us know just how valuable and good we are?
So here's the big question we may want to ask ourselves when we're feeling undervalued: Do I appreciate myself? Do I notice the efforts I'm taking to provide for my family, to be there for others, to give my roles in my life my best? 
We are our single best cheerleader. Patting ourselves on the back as we go along goes a long way in enabling us to not only give to others but to become a vessel that is more open to love and positive relationships. Others are doing it too and what's the big deal, isn't that what mothers are supposed to do? Say hi to all those inner voices of dissent, but remember that there's a truth that's higher than all of that: You deserve the recognition for you. By treating yourself kindly, giving yourself the breaks you need, and most of all being unconditionally loving to yourself, you will find that you're less dependent on external feedback and more full from within to keep giving.
3. How to Invite the Feedback
This one's a simpler tip, for those who prefer practical over introspective: Invite the feedback. When done not from a place of neediness, but from a healthy place of a desire for the back-and-forth that makes a relationship flourish, this can be a great way to open the valves of positive communication. Especially in marriage, most spouses neglect offering words of appreciation not with intention, but because they're simply not focused enough on doing so. "How do you like the soup?" "What do you say to my new skirt?" Inviting feedback requires a healthy dose of vulnerability. You're putting yourself "out there," communicating that feedback is important to you and that you need the other to give it to you, but when done from a healthy place it can open new channels for connection.
4. Here's the best tip of all, last on the list because it requires the most intention but reaps the most incredible results.
Pesach, we know, is zeman cheiruseinu. What does freedom even mean? While the mainstream world might define it as the absence of confines, the Torah's wholesome definition is otherwise. In fact, after the Chazon Ish zt"l once visited the incarcerated Rav Amrom Blau zt"l, he remarked, "It seems to me that the entire world is in prison and only Rav Avrom is free." What was Rav Amrom's secret? His sense of freedom lay in the fact that he wasn't limited to the confines of his cell room. To him, the bars and chains were only trappings. What really mattered was that Hakadosh Baruch Hu was at his side, that he was fulfilling His will in precisely the place he was meant to be. That, writes the Chazon Ish, is the recipe for experiencing simchah regardless of our circumstances. It's the reason Mrs. Tammy Karmel, who's been confined to the debilitating limitations of ALS for almost a decade, keeps conveying that she feels more at peace than she's ever felt in her entire life.
In other words, being free is less about our life looking a certain way and more about how much we feel Hashem's presence in the life He chose for us. Of course, we are perfectly imperfect human beings, and reaching this state takes effort (and a lifetime of work!) on our part. But even taking baby steps toward this ideal feels so liberating. In a moment when I feel underappreciated, I can remind myself that Hakadosh Baruch Hu has my back, so to speak. He's right there with me, His loving gaze upon me. The more I can believe and feel that He certainly notices every single one of my efforts, including the countless chasadim I engage in unpretentiously every day on behalf of my family and others, the less limited I am to my current circumstances and the more I can feel His light shining upon me, guiding me through my life, filling my spirit and making me feel whole, alive, and free. What cheirus!
May all of us merit a truly liberating Yom Tov with lots of positive interactions, connection, and simchah.
****
Dear BCP readers and friends,
I'm excited to let you know about a series of shiurim that I will be giving during Sefirah, live in Yerushalayim and also over Zoom or telephone. In this series, called Project Kindle, we will iy"H delve into fascinating Torah principles for emotional wellness and see how they plug in to every area of our life. It will help you understand yourself and your life circumstances in a way you never did—all through a lens of Torah, including Tanach, sifrei mussar, chassidus, and machshavah.
Some of the topics we will cover:
*How your life can shift from a series of to-do lists to an experience of vitality and connection
*How your parenting journey is tailor-made for you
*How every step of your life's trajectory is a stepping stone for your growth
*The meaning of ezer kenegdo, the Torah's recipe for oneness in marriage
*The Torah's infallible "prescription" for handling pain
*The unique needs of your nefesh and how each of them can be fulfilled so you can live the good life Hakadosh Baruch Hu wants for you.
To learn more, please visit LAHAV or write to info@lahavinitiative.org.
Looking forward to learning and growing with you,
Shiffy
FOR EXCLUSIVE CONTENT AND A PEEK BEHIND THE SCENES, MAKE SURE TO JOIN OUR WHATSAPP STATUS HERE. JOIN OUR WHATSAPP GROUP AND WE'LL LET YOU KNOW WHEN A NEW POST IS UP!