Is getting your kids to bed an endless challenge? It takes commitment, but you can make it work, once and for all!
Do you ever feel like getting your kids down to bed is like pulling teeth? Right when you think they're out for the count, you hear the little pitter-patter of feet tiptoeing down the hallway. Yep, been there, done that—and I've found the secret to getting them to want to sleep and stay asleep.
It sounds weird to think that your kids want to go to bed, but that's how it should be. Kids need sleep. Sleep is when all of their growth and development happens, and when they don't get enough sleep, you tread into troubled territory—not just in terms of your sanity but also their health and well-being. As a mom of five kids ages 3 to 16, I've been through my fair share of bedtime battles, and I don't wish them upon other parents. But at the same time, dealing with sleep struggles is an inevitable part of being a parent. 
But if there's one thing I've learned throughout the last 16 years of being a mom, it's that kids will do things when it's something they enjoy. So yes, kids will want to go to bed if you make bedtime FUN. And that's exactly what I do when it's time for my (younger) kids to sleep—we make a bedtime routine that they enjoy and want to do. 
I'm strict with bedtime routines for toddlers and preschoolers because kids thrive on routine and they like predictability. Typically, I want them to be followed to a tee, but not all kids are the same, so sometimes you have to mold the routine to the child and switch things up. But regardless of what kind of child you're working with, the bedtime routine should be fun and it should be engaging and connecting. The idea behind building a solid bedtime routine is to get your kids into the habit of winding down for bed so when it comes time to sleep, they're calm and ready to go down. Bedtime routines are not designed to actually put them to sleep—that is your child's job. 
So, before I dive into how to build the best bedtime routine for your kids, keep in mind that you want to keep your routine short—that means under 30 minutes. If your bedtime routine is too long, kids get overtired and frustrated, and then you're dealing with a cranky child who won't sleep—the exact opposite of what we want. Even if you don't have time every night to do 30 minutes, aim for whatever you can get in during the time you have—but be consistent. And the benefits of bedtime routines extend beyond just giving your child a good sleep. They've been shown to contribute to many positive developmental outcomes, including language development, literacy, child emotional and behavioral regulation, parent-child attachment, and family functioning.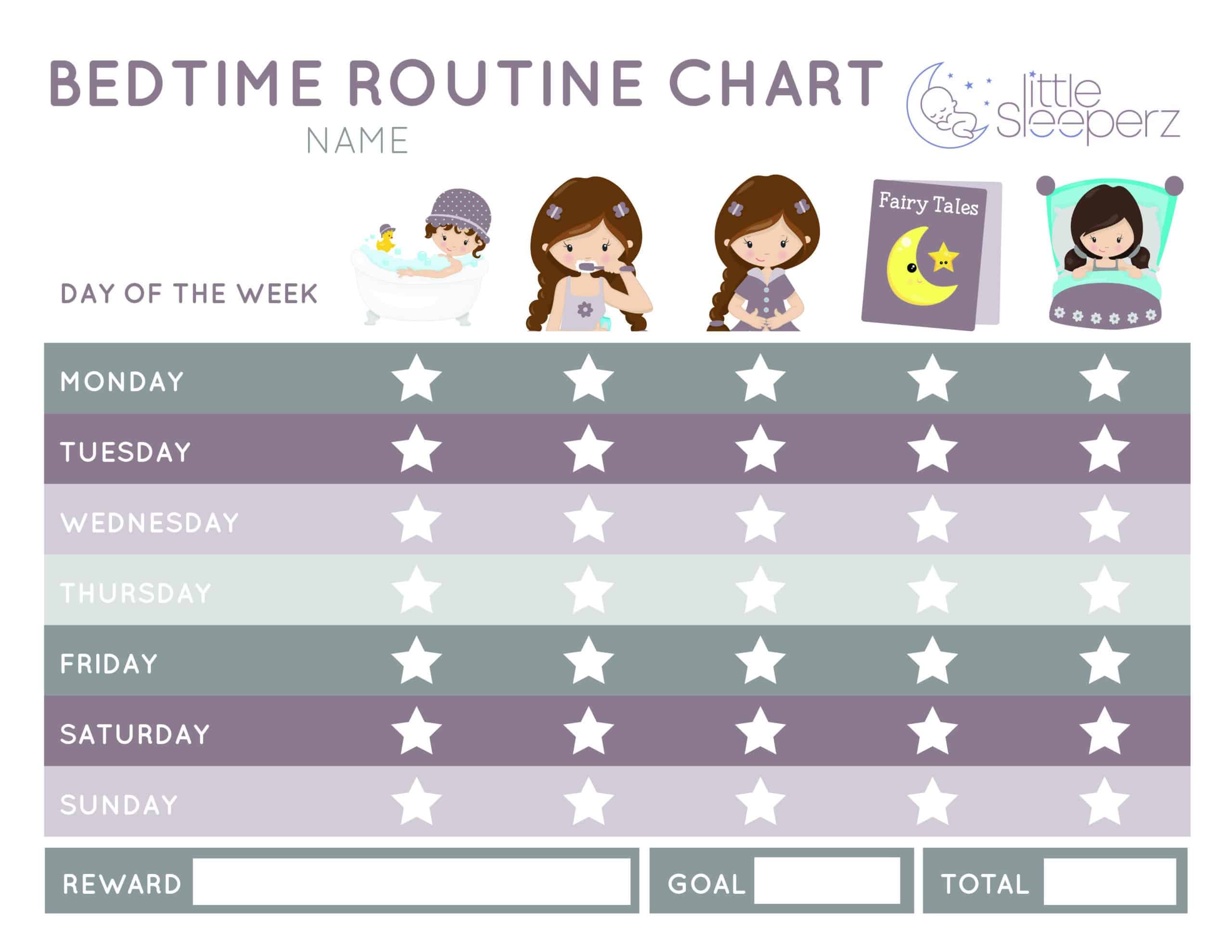 Here's a sample bedtime routine that you can adjust to suit your child:
Bath or shower (or washing your face)

Brush teeth and hair
Lotion
Pajamas – the parent should pick two options, and the child chooses
Playtime (optional)
Story time – 2 books or 5 minutes
Kisses & goodnight
Are you ready to get the show on the road and build a better bedtime routine?
Let your kids (help) make their bedtime routine. You want your child's bedtime routine to be something they look forward to. Going to bed shouldn't be a chore, and if they're not happy with what happens before they sleep, chances are you will hear about it. So, if your child can help create their bedtime routine, they're much more likely to do it. That said, there are some routine activities you'll want to include—like bathing, brushing teeth, putting on pajamas on, etc.
Although most bedtime routines are going to be pretty standard, letting them help allows them to feel like they're included in what's happening, and when they feel like they're part of something, you're less likely to go through a battle over something they don't want to do. Although, sometimes it's unavoidable (like when they don't want to brush their teeth!). 
Use a bedtime routine chart. If you've never used a bedtime routine chart before, this is a huge game-changer for your child – and it's also super fun for them. The bedtime routine chart is straightforward. It's a chart with photos of your kids' bedtime activities – bath/shower, brushing teeth, pajamas, books, and getting into bed.
Not only is it a great visual to help kids remember what they have to do and in what order (this builds consistency), but once they complete the task, they can choose a fun sticker to put in the box. Once the entire chart is completed, give them something small they've been asking for! Maybe it's a new toy or a book, but whatever it is, make it worth it for them. The "prize" is the incentive to keep the bedtime routine streak going.
Include high-energy playtime (exception for some kids) I know, I know. You probably think I'm crazy for giving kids a high-energy playtime before bed. It sounds counterproductive, right? But hear me out. It doesn't have to be bouncing off the walls kind of high-energy playtime (or maybe it is), but let them do what they want. Whether it's playing with blocks or jumping around and being silly, ask what they want and let them do it! You want them to have full control for these 10 minutes – what they want to do, what you will do, and how they act.
While most parents probably think the high-energy play will excite their child up before bed (believe me, I was one), there are a couple of reasons why I suggest you allow this:
 It gives you and your child one final connection/bonding time before the day ends and 

they are on their own. This helps your child feel more secure in bed alone because they had your full attention.
It allows your child to get rid of any excess energy! If you don't allow them to be silly and get that energy out, guess what will happen when they're supposed to sleep? Yep, all of that energy is going to start coming out. Toddlers don't need the same wind-down time as adults, so when you allow them to burn off their energy, they fall asleep faster and stay asleep longer!
Pre-bed play is also a great time for older children to bond with their parents, which helps to mitigate the need for attention before bed or after the lights go out.
Use a timer or a bedtime clock. The Hatch made a HUGE difference for my kids, so I recommend it to all of my clients. Toddlers may be unable to tell time, but they know what colors mean. You can let your child choose the colors they want, but make sure they understand what they mean. Here's an example: Green or blue = Get ready for bed (i.e. start your bedtime routine) Yellow = Last calls (water, toilet, tissues, etc.) Red = Bedtime Purple or pink = Morning
Using this is super fun for kids, especially when the noises come with music! The Hatch is completely programmable, which means that when the light for the morning goes on, so can the wake-up music. But before you start using your bedtime clock or sound machine, make sure your kids understand what each color means. Tell them, "When the clock turns _____, that means it's time to ____." Setting out expectations here is important. You want them to succeed and praise them when they do the right thing! 
Now what?! Now that you've set up and established a bedtime routine for your child, it's time to be consistent. Consistency is often the biggest challenge for parents because there are definitely going to be days when your kid doesn't want to do a single thing on that list – but it's important that they do. You're building a foundation for good sleep here, and going 50% on it isn't going to cut it, and it's not going to set them up for good sleep habits.
FOR EXCLUSIVE CONTENT AND A PEEK BEHIND THE SCENES, MAKE SURE TO JOIN OUR WHATSAPP STATUS HERE. JOIN OUR WHATSAPP GROUP AND WE'LL LET YOU KNOW WHEN A NEW POST IS UP!