You never imagined how much fun your family can actually have at a farm. It's worth the trip!
This year since Chol Hamoed Sukkos is earlier than most years and is at the beginning of the fall season I thought it would be a great time to enjoy a farm outing. Here are some farms we enjoyed visiting:
Note: Check if you need to make reservations due to COVID protocols.
Halachic Note: Fruits or vegetables picked on Chol Hamoed should only be done with the intention of using it on Yom Tov. Follow up with your Rav with additional questions or clarifications.
Alstede Farm: Chester, NJ
Alstede Farm is geared to all ages. From adults to small children, there is a lot to do when spending a day at the farm. The entrance fee for picking your own fruits and vegetables includes a tractor ride which transports you out to the fields. We visited in the summer and picked a variety of vegetables, peaches and apples. Alstede has a variety of fruits and vegetables to pick depending on the season. On the website there is a list of what fruits and vegetables are ready to be picked.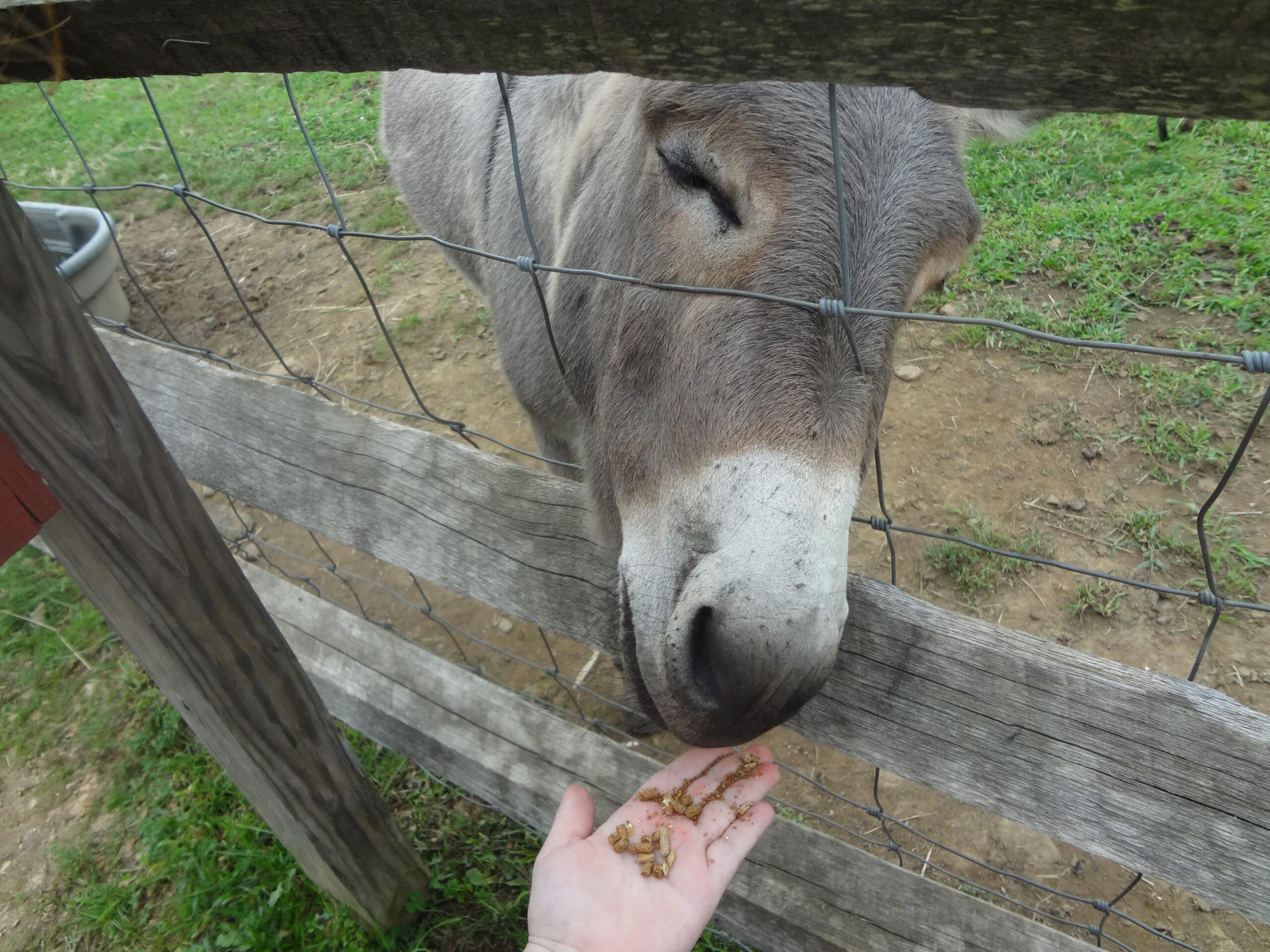 There are also lots of farm animals to enjoy petting and feeding such as horses, goats, donkeys, sheep, cows, chickens, ducks, turkeys, and rabbits. The pile of hay bales are lots of fun for kids to climb on. There are also plenty of picnic tables in order to enjoy a snack or lunch. When we visited there was a sunflower maze and it was very enjoyable. In the fall there is a large corn maze to navigate your way out of. The maze is included in the general admission for picking fruits and vegetables.
The moon bounce, tractor train ride and pony rides are fun farm activities for children that are not included in the general admission but can be paid for separately.
Address: 1 Alstede Farms Lane, Chester, NJ 07930
Phone Number: (908) 528-8823
Hours: Due to Covid19 tickets for entry and activities need to be purchased in advance online here.
Price: Prices Vary depending on what you want to do and pick
Approximate Distance from Brooklyn Bridge: 1 hour, 20 minutes
Approximate Distance from Lakewood: 1 hour, 25 minutes
Approximate Distance from Monsey: 1 hour, 10 minutes
Website: alstedefarms.com
Apple Dave's Orchard: Warwick, NY
Once fall arrives I get very much in the mood of picking my own apples. There's nothing like fresh apples off the tree! I researched the various picking farms in the area and found that a lot of them would come out costly. With the entrance fee, picking fee and sometimes fees for other activities, it ends up adding up to a pretty penny.  I found out that Apple Dave's does not charge an entrance fee nor for the tractor ride to the orchard. All they charge is $1 or $2 for either a peck bag or a  half bushel picking bag. The bag can be shared by whomever is with you. At the end, if the bag is full, the only charge is $16 for a peck bushel bag or $30 for a half bushel bag. If the bag is not full they do not charge the full amount, they prorate it according to how much is in it.
The flat bed tractor that brings everyone out into the orchard is lots of fun to ride. We were even able to take our stroller aboard. At Apple Dave's they allow you to enjoy apples in the orchard while you pick. There is a great variety of types of apples to choose from Macintosh, Cortland, to Red Delicious, and many more types.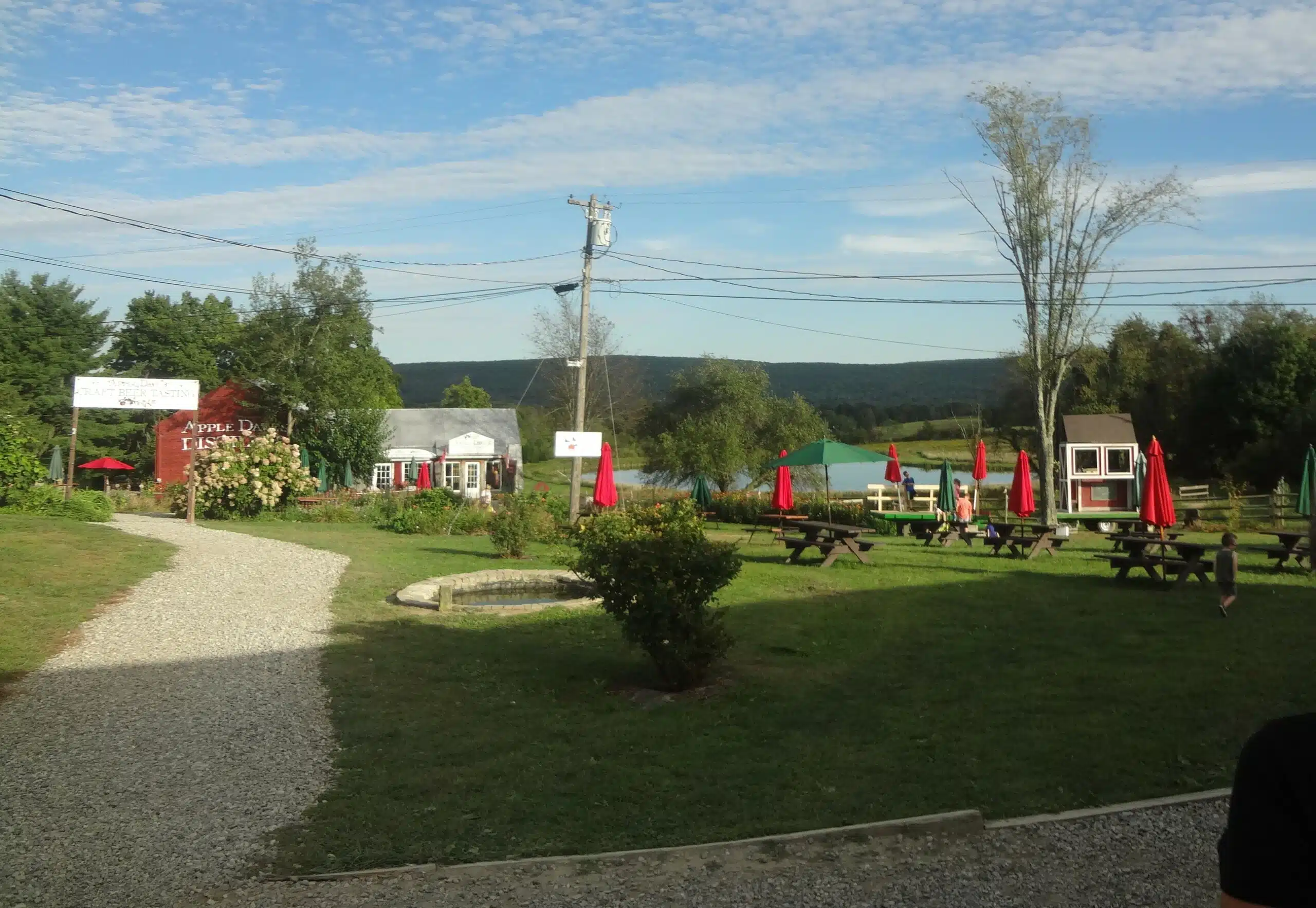 There is the Country Store and other cute shops at the farm. Picnic tables are found outdoors near the shops. You can enjoy a picnic in the beautiful outdoor area.  The puppet show and other fun activities keep the children entertained.
Address: 82 4 Corners Road, Warwick, NY 10990
Phone Number: (845) 986-1684
Hours: Hours are seasonal. Check online for the current hours.
Price: There is only a charge for a picking bag and the amount of apples picked.
Approximate Distance from Brooklyn Bridge: 1 hour, 25 minutes
Approximate Distance from Lakewood: 2 hours, 5 minutes
Approximate Distance from Monsey: 45 minutes
Website: appledavesorchards.com
Demarest Farm: Hillsdale, NJ
Imagine biting into a juicy sweet nectarine, peach or apple  just picked off the tree. That's exactly what we experienced after visiting Demarest Farm.
Demarest Farm has been a family-owned picking farm since 1970. In the summer they offer peach picking, and in the fall, apple picking. The peach/nectarine picking season is over, but the apple picking season is in full swing.
There is a tractor that transports visitors to the orchard to pick the fruit. There is a per person fee of $7 for the tractor ride. $14 is the price for a bag (1 peck) to fill with freshly picked fruit. After you fill your bag, the tractor driver takes a longer more scenic route back to the stop across the Farm Store.
Demarest also has a petting zoo with a variety of farm animals such as goats, llamas, pigs and chickens. There are also some adorable fuzzy bunnies in cages.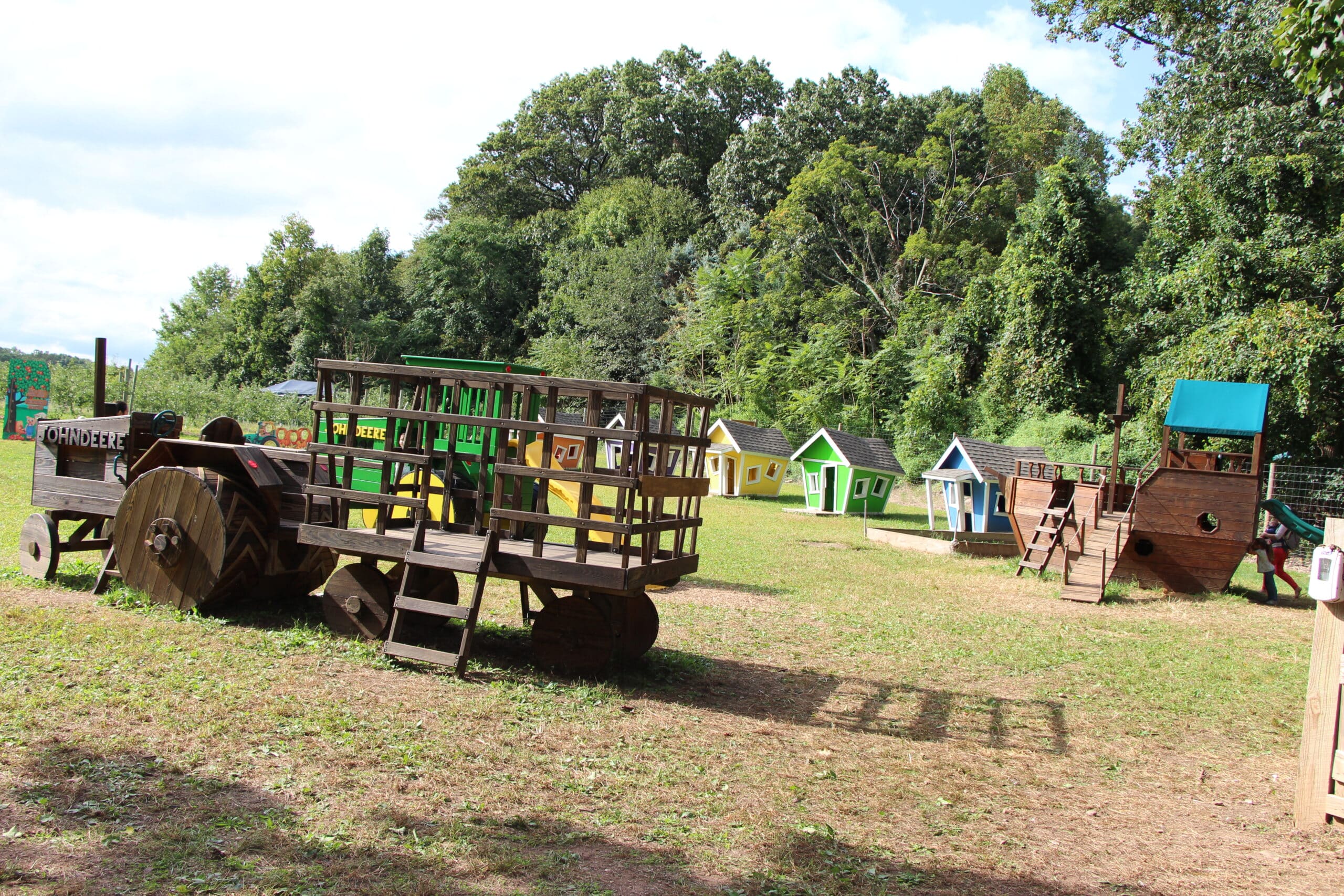 There is a beautiful picnic and play area outside near the petting zoo. There is no extra charge for the petting zoo and play area. Right by the apple orchard there are some play tractors and playhouses. There is also a second petting zoo with space to play.
Address: 244 Wierimus Road, Hillsdale, NJ 07642
Phone Number: (201) 666-0472
Hours: Due to Covid19 reservations must be made in advance for picking fruit. Make online reservations for apple picking.
Price:
General Admission (Ages 2 and Over): $7.00, which includes free parking, entrance to apple orchard, hay wagon ride, two petting zoos, adventure playground, corn box, photo display area, crooked house village, wooden playsets, and picnic area with tables; plus $14 for a bag to hold the apples that you pick! (Apple Bag holds approximately 10 lbs.)
Children under 2 – FREE
Approximate Distance from Brooklyn Bridge: 50 minutes
Approximate Distance from Lakewood: 1 hour, 20 minutes
Approximate Distance from Monsey: 20 minutes
Website: DemarestFarms.com
Lawrence Farm: Newburgh, NY
Lawrence Farm is a charming produce farm with a variety of fruit and vegetable picking options depending on what is in season at the time. The farm is set on the beautiful hills in Newburgh, NY. The admission fee is $5 per person. In addition to the admission, visitors need to purchase special picking bags and containers for the freshly picked produce. Whatever is picked needs to be paid for (no sampling.)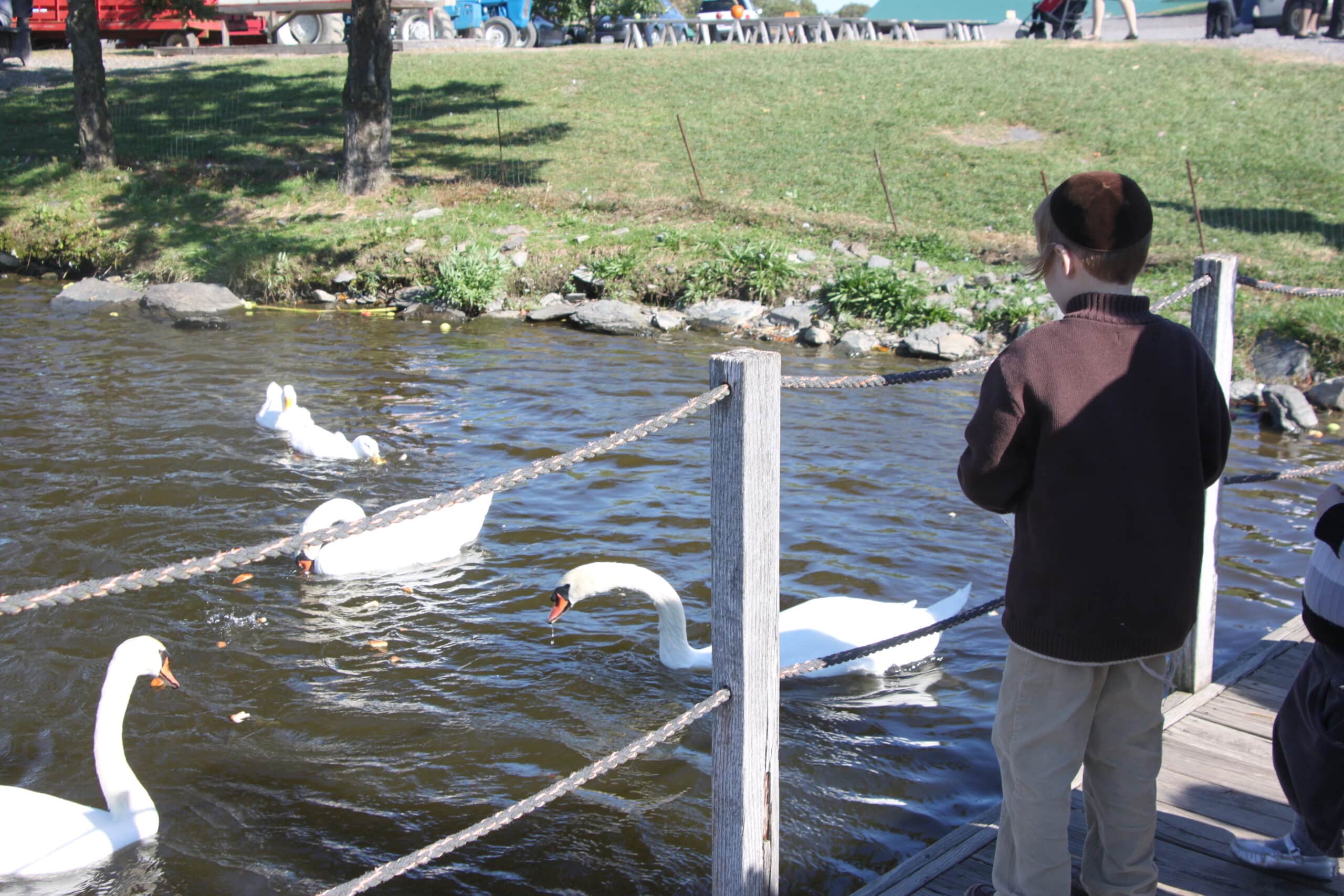 Entrance to the farms includes use of the cute little wooden huts, reminiscent of an old-fashioned New England Farm. The petting zoo, hay bale maze and beautiful grounds are also included. When we visited we rented a wagon for a nominal fee. It was a great way to transport the little ones. 
Address: 39 Colandrea Rd, Newburgh, NY 12550
Phone Number: (845) 562-4268
Hours: From June-October 9 a.m.-4 p.m.
Price:
General Admission: $5.00 per person, plus any fruits or vegetables you pick. Prices Vary.
Children 2 and under – FREE
Approximate Distance from Brooklyn Bridge: 1 hour, 45 minutes
Approximate Distance from Lakewood: 2 hours, 30 minutes
Approximate Distance from Monsey: 55 minutes
Website: lawrencefarmsorchards.com
Stony Hill Farm: Chester, NJ
Stony Hill Farm is famous for its 10 acre corn maze. The corn maze is shaped according to the theme of the year. There is a new theme every year. This year's theme is Orchid Adventure. There are a few bridges over the maze.
Before entering the maze there is a brief video explaining how the maze works. As you work your way through the maze, you'll play one of the games incorporated into the maze. There are also a variety of facts about the theme so visitors can learn them.
The Maze Masters wandering around the maze are there to help anyone that is lost or wants to exit early. The Maze usually takes 1-3 hours to complete. It is smart to come with comfortable walking shoes. Strollers are allowed into the maze, but it is not advisable to bring one since it is very hard to navigate in the maze.
The 10 acre corn maze is not the only type of maze found at the farm. There is also fence maze, rope maze, tile maze and there is also a 1 acre corn maze for those who don't want to do the bigger one. The Noah's Ark Playground is a great place for kids to let out steam. The Barnyard Boardgame is a life-sized game of Candyland where the children are the pieces. On weekends there are also Hay Rides and Trike Rides. 
Stony Hill Farms also has a picking farm where you can pick your own fruits that are in season.
Address: 15 North Road, Chester, NJ 07930
Phone Number: (908) 879-2908
Hours and Prices: Check online for current hours and prices. It is advisable to prepurchase tickets online to guarantee your entrance (and to save $3).
Approximate Distance from Brooklyn Bridge:1 hour, 10 minutes
Approximate Distance from Lakewood: 1 hour, 15 minutes
Approximate Distance from Monsey: 1 hour
Website: stonyhillfarms.com
FOR EXCLUSIVE CONTENT AND A PEEK BEHIND THE SCENES, MAKE SURE TO JOIN OUR WHATSAPP STATUS HERE.
Compiled and Photographed by: Sarah Einhorn
For more trip ideas visit: beentheredonethattrips.com