Your grill may keep you out of the kitchen this summer, but it needs a little care of its own too. Here's all you need to know. 
There is perhaps no better way to spend a summer evening than grilling and enjoying great food with friends and family. Doing so, of course, requires a properly functioning grill. Gas grills can usually last quite long, but not cleaning and maintaining it regularly may shorten its lifespan, due to a buildup of gunk and rust. Luckily, I'm here to help you keep your grill in tip top shape this season.
There really isn't too much to do in order to keep your grill functioning smoothly. Following these tips will ensure years and years of successful and safe cooking:
Routinely check for gas leaks.

Preferably once a month, run some soapy water along the gas line and connections, with the propane turned on. If you see bubbles forming, you know there is a leak, and then you need to either tighten the valve, or replace the line. This is extremely important.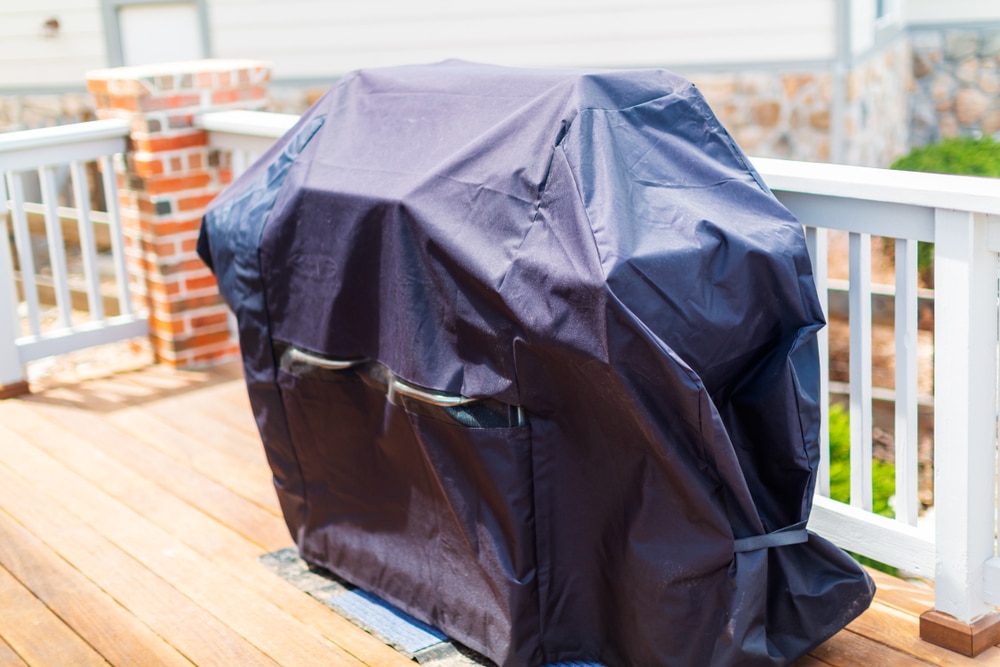 Cover your grill.

Keep your grill covered when not in use. Most brands make their own covers, which of course have to be bought separately, but it's worth it. Your alternative is scrubbing off rust, and ain't nobody got time for that.

Clean it regularly.

Besides for the more in-depth cleaning (described below) that you should do every few months, you should also spot clean it after each use. Brush the grates, and wipe down the exterior with any all-purpose cleaner (Windex, Mr. Clean) and then polish with Barkeeper's Friend or Turtle Wax. Weber, the largest grill manufacturer in the U.S., recommends brushing grates after a 15-minute preheat prior to cooking. This will burn any leftover food bits from last time into ashes, and make it easier to clean off. If you see flakes forming inside the cover of your grill, that's not paint chipping; it's actually grease and smoke deposits, and you should use a stainless-steel brush to scrape it off so they don't end up garnishing your steaks. If you're not grilling more than once a week, make sure to just turn on the grill to high heat for 15 minutes once a week to burn off the extra gunk.

Deep clean your grill every couple of months.

This doesn't apply during the off season, but if you grill throughout the winter, you should deep clean your grill 1-2 times during the year. If nothing else, your grill should get a scrub-down before and after the high holy summer grilling season. All you need is a good grill brush, a bucket of warm water mixed with soap or cleaning detergent, another empty bucket or garbage bag for debris, and a sponge you don't mind saying good-bye to.

Give the grates an extra good scrub with your grill brush. Most of us brush the grates before or after use, but this time use a little extra force to get the charred chunks off. Use the metal scraper on the back of the brush, if necessary. After you've brushed the top side really well, remove the grates and give the underside a good scraping too.

Remove and wash the burner protectors. These are long, narrow metal pieces, typically V shaped, that cover the flames on your burners to protect them from dripping fat and sauces.

Wipe grime from the burners. Some grills are made with removable burners. If you can figure out how to remove them and put them back in, go ahead and give them a wash down. If you can't take them out, just wipe with a damp, soapy sponge.

Remove the plates underneath the burners and remove all the gunk and ash that accumulated there. This is where your second bucket comes in handy. Use gloves to remove as much of the larger debris as you can, and use your grill brush and scraper for the stuck-on bits. Maybe a wad of steel wool would help here too, but sponges might not do much (the surface is abrasive). After the plates are out, you're left with basically just the removable bottom tray. Scrape chunks from the edges onto the tray. The tray should slide right out of the bottom of your grill, and you can dump all the loose bits before scrubbing down with a sponge or steel wool.

Put your gleaming grill back together and either store until next season, or fire it up to begin the festivities!
A few more things:
Choosing a grill brush.

This tool is a must. You should find one with either stainless steel or brass bristles, unless your grates are cast-iron, in which case you should just use a soft sponge or brush. You should replace your grill brush once a year, because it will lose bristles and become less effective. Note that bristles may get onto the grates when you brush it before cooking, so it's a good idea to wipe your grate with a cloth dipped in oil (using tongs) before putting food on, as the oily cloth will mop up any loose bristles, which could otherwise stick to your steak.

Oil your grate.

Nice segue there. If you don't want your food to stick to your grates while cooking, grease the grate before and after cooking. Never use olive oil! It emits toxic smoke when heated past its smoke point. Any neutral oil such as canola, vegetable or grapeseed will be fine.

Store your grill properly.

As mentioned before, get a cover for your grill. Also, disconnect the propane tank, so that if anyone accidentally bumps into the grill, there's no risk of turning on a burner or starting a fire, chas v'sholom. Lastly, do not store propane tanks in your house. A detached shed or garage is a good storage place.
Happy Grilling!