Looking for a Chanukah craft to keep the kids busy? This is embossed foil art project is our new favorite.
 It's always a challenge to come up with something to entertain the kids at the yearly family Chanukah party. With cousins of all ages, it can be hard to find a craft that will please them all. Especially if you are trying to budget, finding the perfect project can be a harrowing ordeal.  Embossed foil art is a fantastic activity that will appeal to children of all ages. It's easy, clean and cheap to boot! The teens can help with the glue gunning step and children of all ages will enjoy coloring in the foil. In fact, it's so much fun you may even find an adult coloring at the kids' table!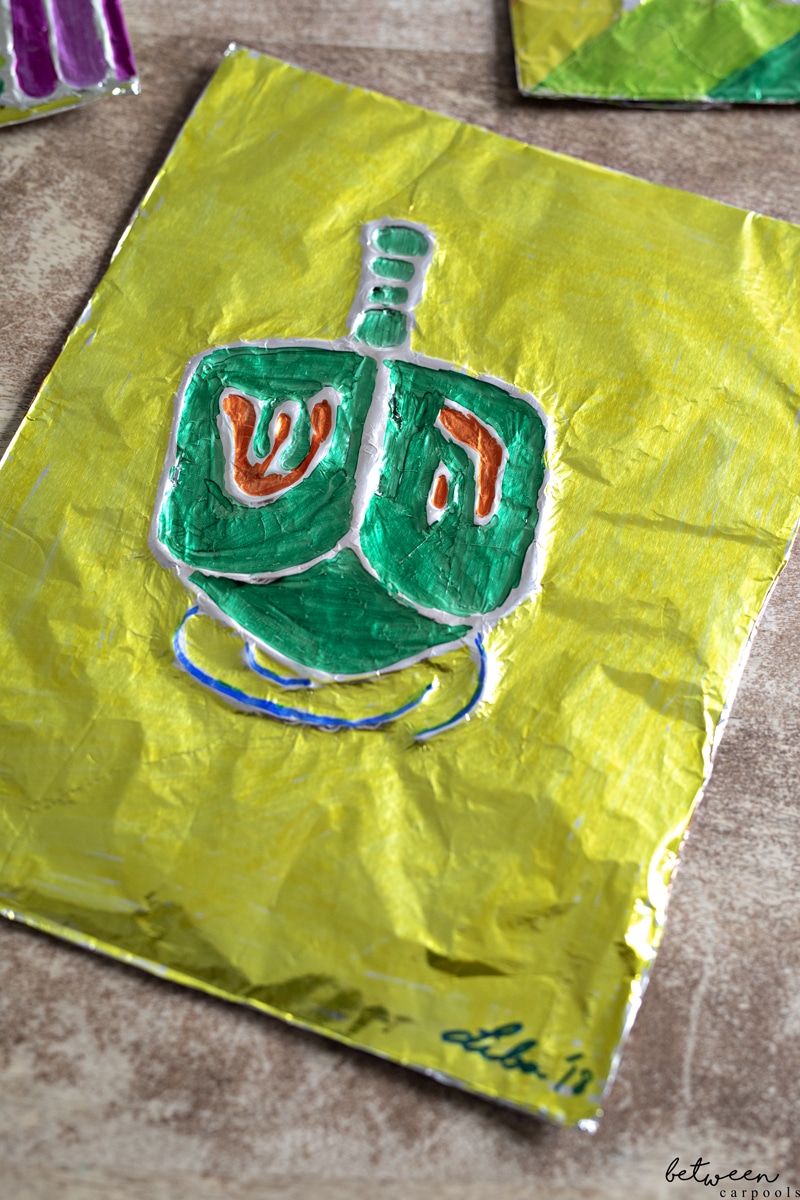 Supplies needed:

Cardboard, cut to size. I used cardboard from a cereal box, but a regular box cut up will also do the trick

Glue gun

(It's a good idea to have more than one if there'll be a lot of kids)

Glue gun sticks

– Make sure to have a big package!

Heavy-Duty Aluminum Foil

Sharpie Markers in an assortment of colors. You can purchase markers at the dollar store or alternatively

this is a great set by Amazon basics.

Washable markers will work, though the colors won't be as vibrant.

Image of your choice, printed

Picture frames (optional). Frames can be purchased at the Dollar Store, Amazing Savings, or Amazon. Alternatively, you can purchase

picture mats like these

on Amazon.
Directions:
Decide what size you would like your project to be. I did mine as an 8 x 10. Measure and cut out a template using a regular piece of paper. Using your template as a guide, cut out rectangles from your cardboard. Cut enough so that each person making the project can receive one.

Print a simple Chanukah clip art from your computer. Look for an image that is not too detailed and has clear defined lines. Dreidels and menorahs work great. Paste the image onto your cardboard using the glue stick.

Heat up the glue gun. Carefully go over the outline of the image with glue. Let dry.

Cut a piece of aluminum foil a bit bigger than your image size. Lay it on top of the image and then flip the image over and glue gun the excess to the back of the cardboard.

Turn the cardboard back over. Gently rub with your fingers to emboss the image in the aluminum foil.

Color your image with Sharpie markers. Enjoy the beautiful metallic effect!

If you choose you can frame the image in the frame of your choice. White frame mats from Amazon are wonderful as those can be decorated with Sharpie markers as well.