Does the Puddle Jumper fall right off your littlest one? Here's another solution.
By now, all of our closets (or wherever you keep your swim gear) is likely full of Puddle Jumpers, especially after lots of you took advantage of a Between Carpools Deals We Love last month and nabbed them for $10.99. (This is currently the best deal available on Puddle Jumpers).
Two years ago, when my youngest two were 4 and 6, Puddle Jumpers gave me so much peace of mind. But it's not going to work for me now. It's meant for kids over 30 pounds, and while it might fit some children that are a little smaller, it falls right off of my current almost 2-year-old.
I ordered this tube after I saw my friend's 2-year-old son jumping into the pool with it. No luck, it was still too big on my more petite girly.
While I've been trying to time pool time with her naps so I could avoid the worry, she'd outsmart me and shout "pool" whenever the other kids are getting ready to go swimming.
Enter the Stearns Infant Life Vest.
This is the only item I've found that's meant for the babies that are big enough to run around the pool area, but not big enough for the other solutions. It also supports the head, so they can lie on their back and float. It's also super sturdy and high quality. Finally. My eyes still won't leave my 2-year-old when we're by the pool, but at least I can now relax and enjoy the time we spend there. It's also a great idea to keep this one any baby that's able to get around on their own, even if you don't plan to take them in the pool.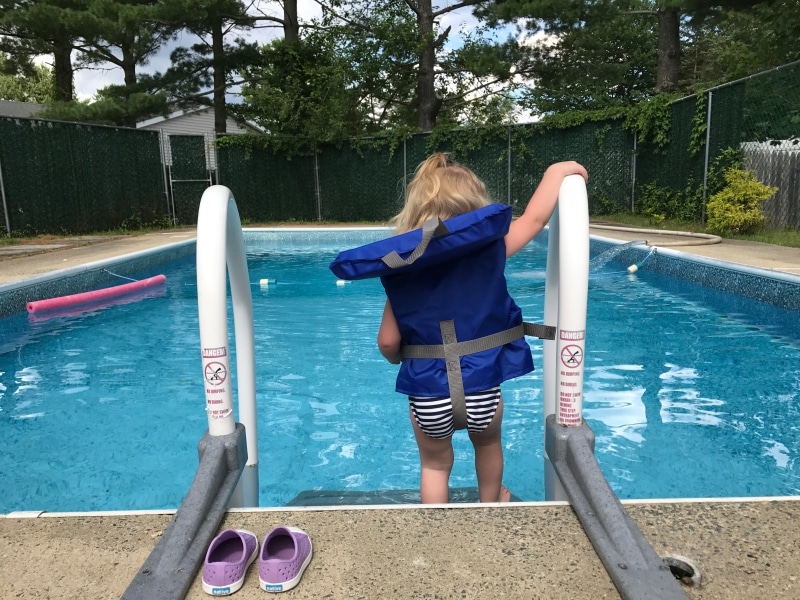 Headed to the pool? Here are some pool essentials you can't leave home without.