It's easier than you think to check and make sure your boys' tzitzit are kosher!
I never thought much about tzitzit. I'm a woman and I don't wear them. I've worried how I wash them for my family; I bought them lovingly for my sons and it brought tears to my eyes to hear my sons at age three say the bracha for the first time. Any other details never crossed my mind for more than a minute or two.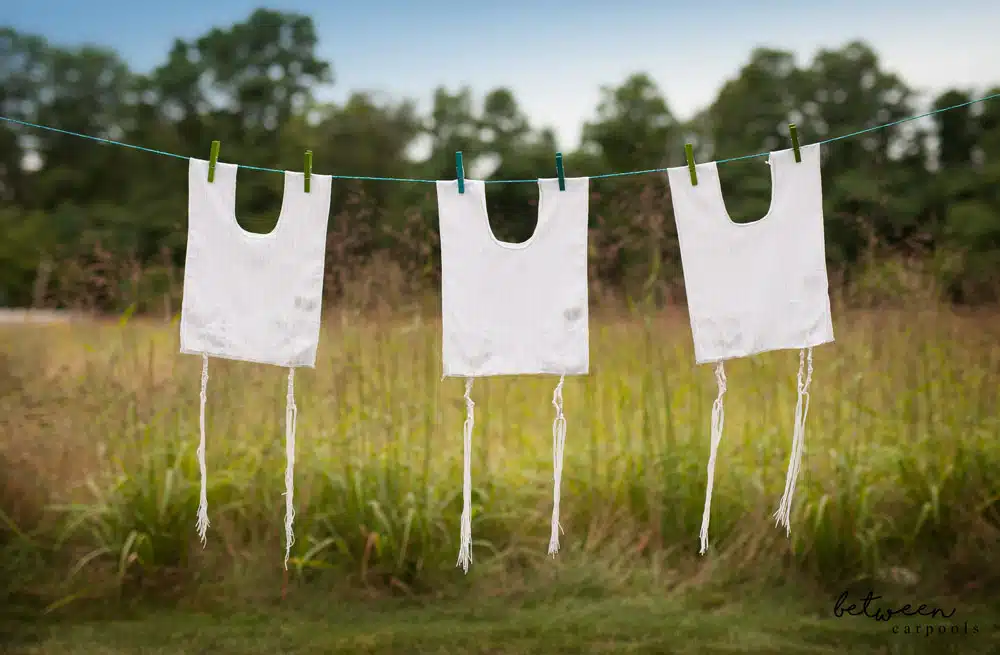 But what makes them kosher? I didn't think I would ever need to know.
That changed one early morning. My son stood crying at the side of my bed at some too-early hour. That day, his rebbi was going to teach the class what makes tzitzit kosher and he was worried all his pairs weren't kosher.  He wanted me to get out of bed and buy a new pair. Pronto!
Instead, I did the next best thing. I sat up in bed and called my sister in Israel. She was 7 hours ahead and has a couple of boys who knew this stuff.
She told me, "5 knots. 7, 8 or 9, 11, 13. Start with a knot and end with a knot."
That wasn't much of a help. I'm getting old, I need visual aids.
Here is the rundown if you want to understand your child's pair of tzitzit, or tzitzis.
On each corner, four strings are looped through a hole, and drape down on both sides, giving the appearance of eight tassels per corner.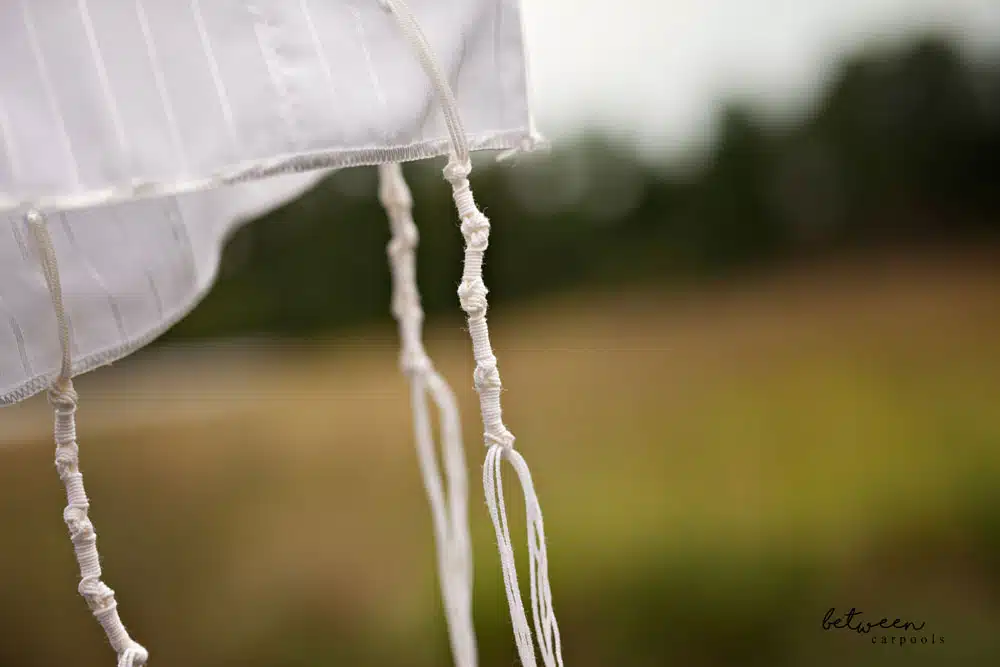 There's a double knot, then the strings are wound around 7 times, then another double knot, then they're wound around 8-9 times (depending on your custom), followed by another double knot, wound around 11 times, double knot, wound around 13 times, ending off with a double knot.
In most cases, the only thing that needs to be adjusted and fixed, especially if you check often, is the tightening or retying of the bottom knot. Occasionally, both bottom knots open and you'll need to wind the string around 13 times and double knot again.
For Sepharadim, the pattern is similar, but instead of winding 7, 8, 11, and 13, the strings are wound in a 10, 5, 6, and 5 times and instead of simply winding, the strings are brought under the previous wind, creating a spiral effect.
If one of the eight strings is ripped off entirely, the tzitzit are still kosher. If a second one is ripped completely off, the tzitzit may or may not be kosher but that's beyond the scope of my knowledge.
When buying tzitzit for a little boy, as long as the child didn't yet wear them and make a bracha, you can cut the string shorter (so they don't stick out of the pants, especially when wearing shorts) and throw those strings in the garbage. Once a child makes a bracha on the tzitzit, you can cut the strings, however, they must be put in sheimos/genizah to be buried properly.
And so, I checked my son's tzitzit, tightened the bottom knots, then noticed that there was only one knot on one corner. It must have gotten loose. After tying the second knot, he was good to go. With a quick wipe of the tears, I reassured him that he would not be embarrassed, his tzitzit were kosher.
Oh, one minor detail. A woman shouldn't be tying tzitzit. Now you tell me??
A boy over 13 should be the only one tying them. However, since young boys have no obligation to wear tzitzit and wear them for chinuch purposes, a woman or young boy can tighten or redo the bottom knots. More than that, ask your local Rabbi.