This is one amazing dessert, from a great cookbook you'll be happy you own!
Most of us at BCP have known Faigy Murray, author of My Pesach Kitchen, for some time and we know how amazing she is in the kitchen and how passionate she is about cooking.
So, when we knew she was working on a Pesach cookbook, we really were excited to have a look.
And rightfully so. My Pesach Kitchen is full of practical-yet-delicious recipes that YOU WILL ACTUALLY MAKE. We are very impressed. There's nothing that's just there to impress you, like the kinds of things that look pretty but don't actually happen in the kitchen. Faigy is really here just to help you feed your family on Pesach.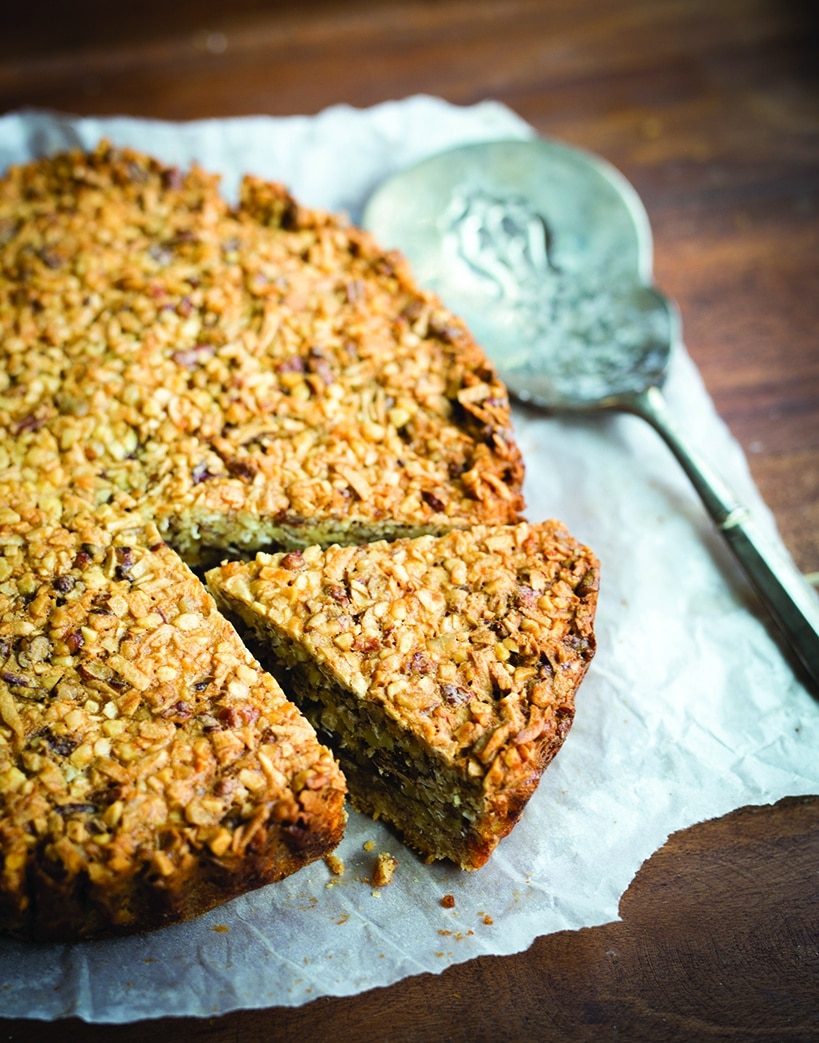 We trust Faigy as a cook. And if you're looking to cook Pesach on a budget, she also helps you out, showing you how to cook the more affordable cuts of meat. 
Faigy agreed to share one of her famous desserts, Mom's Nut Torte with BCP Readers

Mom's Nut Torte
Anyone who knows my mother-in-law knows that she makes this for Pesach. Her neighbors come by to get a piece of her acclaimed nut torte. The first time we went to my in-laws for Pesach, all I heard from my husband was "my mother's nut torte!" Her reputation for this dessert did not disappoint. Yup! We label it "liver" in the freezer so no one sneaks it at night!
Serves:
Yields 8-10 servings / Pareve / Freezer Friendly
Ingredients
Base
⅔ cup ground almonds
⅔ cup ground filberts
¼ cup sugar
6 Tbsp margarine
Filling
1 cup brown sugar
2 eggs
1 egg yolk
¼ cup potato starch
1 cup coarsely chopped pecans
1 cup coarsely chopped almonds
1 cup shredded coconut
½ cup chocolate chips
Instructions
Preheat oven to 350°F.
Grease a 9-inch springform pan; dust with potato starch.
Prepare the base: In a bowl, combine base ingredients. Press mixture into prepared pan; set aside
Prepare the filling: Using an electric mixer, beat together sugar, eggs, egg yolk, and starch until light and frothy, about 4 minutes.
Fold in nuts, coconut, and chocolate chips. Spread into base.
Bake for 30-35 minutes or until golden brown.
If you don't have a springform pan, you can use any round pan. Line it well with parchment paper, making sure there is an overhang so it can be lifted out.
I like this combination of nuts the best, but you can use any mixture of your favorite varieties.
(and ssshhh….we're sharing one more recipe soon!). We heard about this torte and made a special request ;).
Get My Pesach Kitchen on Amazon here.
Get My Pesach Kitchen at Artscoll here.