I thought I'd be the last person on earth to make baby food from scratch. But now I'm sold.
When my second daughter reached six months of age, I was determined to make my own baby food. I had never done this before, never even considered it for my boys or my first daughter.
The week that I began blending those fruits and veggies, I wrote in my Hello Cooks column in Whisk:
I am not the type of mother who makes her own baby food.
I am the last mother on the planet who would make her own baby food.
Then why, after I have cleaned the kitchen and put the kids to bed, am I standing here at the counter, steaming and blending apples, pears, zucchini, peas, and sweet potatoes (and making a big brand new mess)?
This is not your style Victoria. You're a practical, busy mother. You need convenience. If it's not available at the supermarket, you buy it online. And what's more, you don't even like the mushy food stage, when clean, delicious babies take on sweet potato-smeared faces. At least for the neatness and convenience of jars!
Why do I even want to do this baby food thing? I cook enough. Do I really need to add a couple of hours a week to my kitchen time to make mashed peas?
There was one convincing reason. At that time, I had four very picky children who thought I was the greatest cook in the world when I made macaroni and cheese for dinner. I wanted to expose this baby to a greater variety of food early on, so I don't have a picky eater later.
When I made the food, though, I discovered one important thing. Instead of dreading mealtime, I began looking forward to it. I felt proud to feed her. It was no longer something I had to get over and done with, so I could move onto that clean, easy bottle. It was a thrilling feeling when she enjoyed each meal. I can't even explain why.
This baby was my guinea pig; I gave her more variety than I gave my other children; her zucchini always had basil and her oatmeal always had cinnamon, cloves, nutmeg, ginger, and allspice. Unlike the others also, when it came time to introduce dairy, I didn't give her sweet yogurt. We stocked up on plain unsweetened Leben and plain Greek yogurt.
Even though my guinea pig is now only 18 months, so far my experiment has worked. While she'll definitely also eat all the kid-friendly stuff, this baby prefers colorful foods…she'll usually grab for my husband's dinner (chicken stir-fry?) after the kids have eaten pasta. She'll finish the broccoli before she takes a bite of the rice. She'll eat quinoa salad, complete with the crunchy red peppers. I hope it'll last, but in the meantime, I'm going to plan the same baby-food-making routine with my next daughter when she reaches six months of age.
Want to try it too?
Here's what you'll need to get started.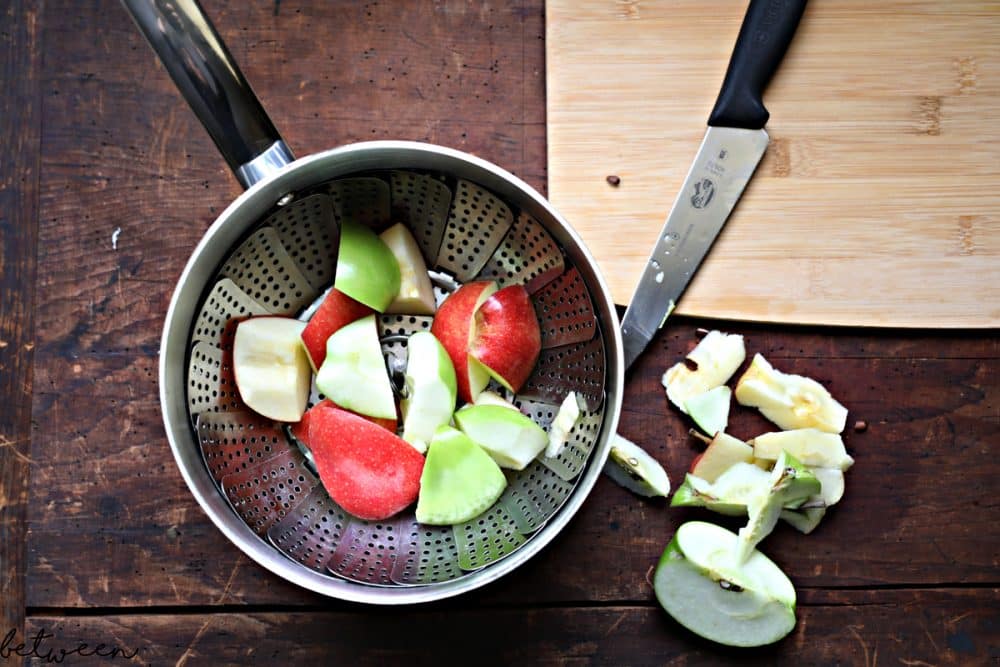 A steamer basket. Some steamers come with the pot, which is really convenient, but I simply used an inexpensive one I stick inside my pot like this one.
Freezable baby food jars. I found that these were the best value. Look out for Babys R' Us coupons.
A blender. Don't bounce for a single-purpose baby food blender. Your existing smoothie blender will do the job. I used the smoothie jar of my Ninja.
Fruit and veggies. Most often, you don't have to buy special fruits and veggies special for baby. Just blend the things your family hasn't eaten before they go bad.
Spices. Get baby used to different spices and herbs. While you don't need salt and pepper, pumpkin pie spice is great on sweet potatoes and butternut squash; try cumin on carrots, or any dried herbs or frozen herb cubes in zucchini, cauliflower, peas, or corn.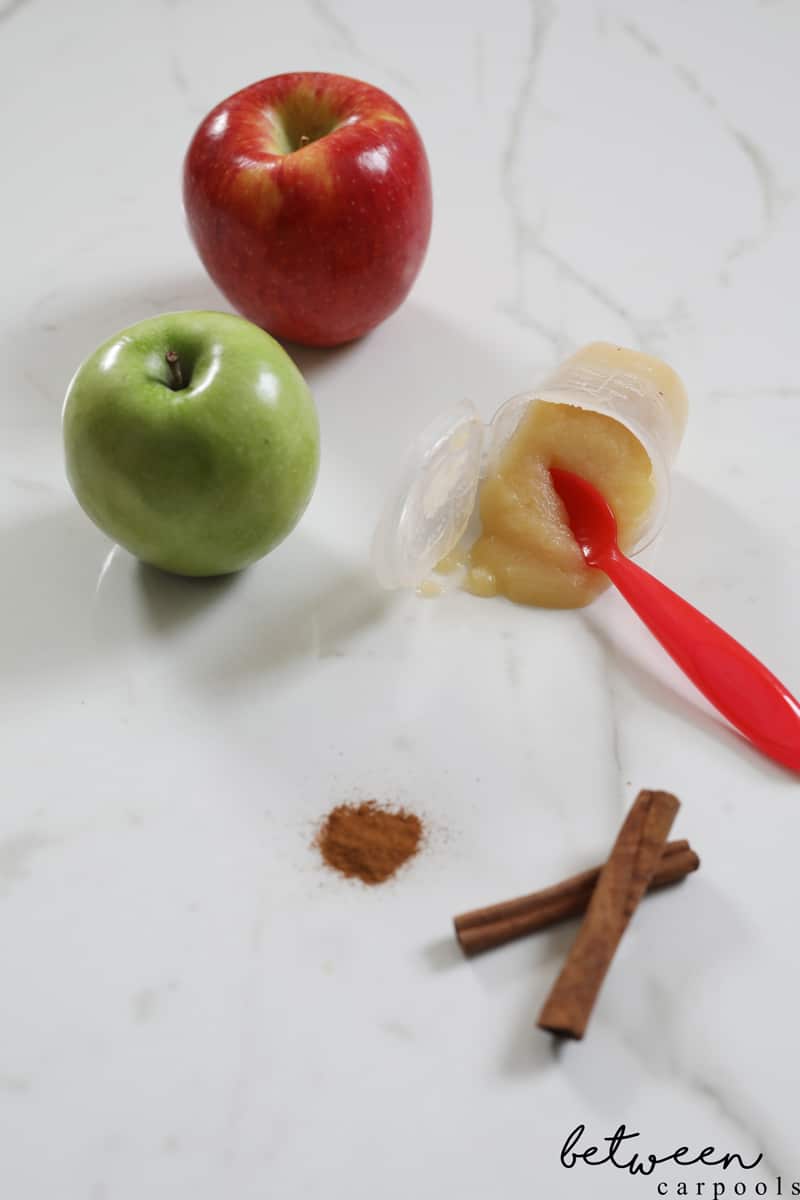 Baby Food Basics
All the following cooking techniques are appropriate for babies from 6-12 months of age, until your baby begins eating table food and can handle chunkier consistencies.
Steam & Blend
For all fruits: Steam with the skins, then remove skins and discard after steaming.
Apples 10 minutes
Pears 10 minutes
Zucchini 7 minutes
Peas 5 minutes
Peaches (Fresh or Frozen) 5 minutes
Plums 5 minutes
Frozen Mango 5 minutes
Roast & Blend
You can roast the whole veggie in the skin, then discard the skin before blending.
Sweet Potatoes 45-60 minutes
Butternut Squash 60-90 minutes
Beets 45-60 minutes (or simply blend vacuum-sealed beets)
Potatoes 45-60 minutes
Boil & Blend
Go out of the box with dried fruits. Broccoli and cauliflower can be fresh or frozen.
Dried Apricots 10 minutes
Dried Prunes 10 minutes
Broccoli 10 minutes
Cauliflower 10 minutes
Smash & Serve
For the first couple of months, I like to blend these too for a smooth consistency until baby can handle the chunks.
Avocado
Banana
Blend & Cook
Add these fruit purees to unsweetened yogurt once the baby starts eating dairy. Blend thawed frozen fruit, then cook in a saucepan for a few minutes.
Frozen blueberries
Frozen cherries
Great Combos
Why not let baby experience some more complex flavors by combining fruits and veggies? Pull different varieties out of your freezer and add spices and herbs for exciting meals.
Avocado + Cucumber
Sweet Potato + Beets
Apple + Butternut Squash
Zucchini + Peas
Broccoli + Potato