There's super cool and fun places to go to entertain your kids in New York…and it doesn't have to cost a thing.
After Jerusalem, my favorite city is New York. Being that the Holy Land is a place I can only visit sometimes, and New York is where I live, I spend the summer days exploring the city with my kids and finding new fun places to go.
Last year my boys had 7 days between school and camp, and 12 days between camp and school. I was on a mission to occupy all of those days with free trips only. Here I share our findings, as well as our summer 2018 Trip Wish List.
Most of our trip days are just Mommy and The Boys and all things sand and water are encouraged. If we get lucky and Totty joins, we take along bikes and fulfill his requirement of shade.
The only thing that must be avoided, for me, are crowds – I get that phobia from my mother. Bathrooms are a must.
Hope you enjoy what we found; can't wait to read your comments!
Disclaimer: my sons are 7, 6, and 10 months.
Central Park

In my opinion, Central Park requires its own article. The number one excuse I hear for people avoiding this gem is "how do you know where to enter and what to find?" Well, I'm here to simplify. Like I told my kids – you can go to the park every Sunday of summer and still not cover it.
Our love for the park began with a level 3 Scholastic book called "The Bravest Dog Ever: The True Story of Balto." If you don't own it, I can write another article on my love for children's books. The book informed my son that there's a statue of Balto in Central Park that has stood there since the 1950s. So our family set out to see Balto. What we found next kept us exploring all day.
"

Balto

" – You can enter the park at 67

th

street and have your children read the plaque and climb Balto for a photo.

The E. 67th street entrance will take you to a fabulous park called the "

Billy Johnson Playground

"- in essence, it's a monster rock that has path for climbing with a slide in it. Children come prepped with flattened cardboard boxes; those allow them to fly down the slide even faster. There's shady seating for the parents and a swing set for babies adjacent to the slide. So as my big boys rode the slide 99 times, Mommy and Baby were thrilled. I know it sounds like "just" a slide but it's thrilling and it keeps the children busy for a long time. There is also a very private picnic area there we enjoy.

The Tisch Children's Zoo

– I recommend this over the regular zoo for younger children but we have been to the regular zoo as well. We are

WCS Members

– I find it's highly worth it as members don't have to wait on lines, and enjoy free parking at many aquariums and zoos. Either way, single admission is somewhere between $7-$9 and the zoo is beautiful and entertaining. (Use the 64

th

street entrance.)

Mid-park at 65

th

Street is The

Carousel

which I've never visited with my children but is a major attraction.

Boating

– for $15 an hour you can rent a rowboat which seats up to 4. We loved it – word of caution: it gets very sunny on the lake so be sure you're all creamed up. (Bad sunburn experience, as you can guess) You can enter the park from E. 72nd for easiest access.
---
Hudson River Park
Last summer we chanced upon an area in Hudson River Park that we loved. The play area we found was called "Pier 25 Play Area." You can park off the West Side Highway and cross over at N. Moore Street in the area known as Tribeca. The park itself had the most fun water feature park where buckets get filled and dumped high above the playground – the children all wait underneath till it tips. Oh, the shrieking!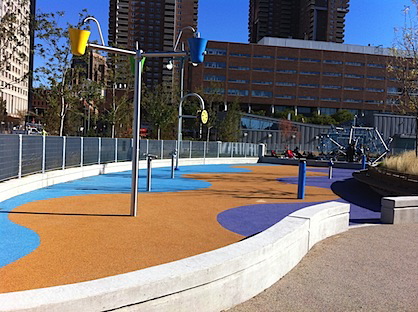 There's a sandbox, a rock climbing wall, and swings for all ages.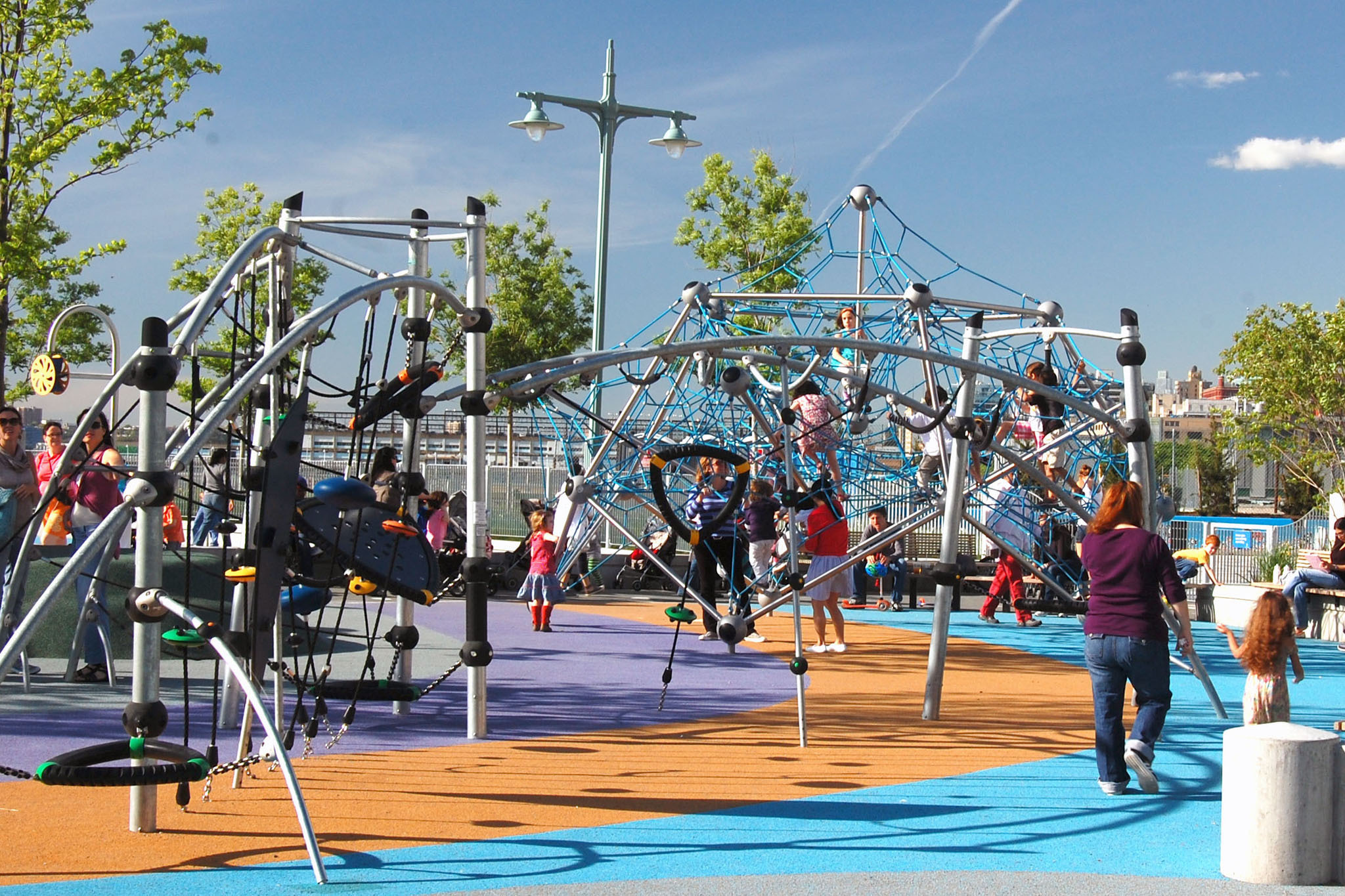 In this same area is a great Mini Golfing experience which we did not try because it was not free and like I mentioned earlier, I was on a mission. It did look very kid-friendly though.
At this same location at Pier 26 there are kayaks for rent (the activity is currently on our wait list).
Last year the city was offering free fishing rod rental for a half hour and a mini fishing lesson, which my boys loved. They had to free the fish they caught, thankfully, but they're always reminiscing about that experience.
Onto my third favorite place, by default, Brooklyn!
Prospect Park is where we like to go during the week because legal parking is never an option in Manhattan.
You can choose to visit

The Prospect Park Zoo

which has an amazing "Discovery Trail" where children can climb a spider's web, lay in a bird's egg, or turtle shell. My boys love the Barn where they allow you to feed the animals, and their baboon exhibit is larger than life. We always make sure to catch a Sea Lion feeding….

Vanderbilt Playground

–

I can't begin to provide directions to this one but if you have Waze it's worth it to take your younger ones here. There are plenty of baby swings here and a tot playground. The draw for us is the great water feature. Bring along some plastic cups – the kids love filling them in the canal. For older kids, although there aren't any swings, there's a huge star-shaped rope-climbing structure that seems to shoot in the sky,

and there are also two fabulous spinning structures. It's fun to go

feed the ducks

after – this playground is right near the lake.

We haven't been to

Splash Pad

yet; it's at the LeFrak Center (where the skating rink is) – I've heard great things and it's attached to a roller rink which my kids can't wait to try.
---
Brooklyn Bridge Park is by far one of the most fun parks. The choices of where to go and what to see…. I hope these pointers help you. Use the parking lot near Pier 6. Street parking is not possible.
Main Street Playground

is in Pier 5. It's a pirate themed playground with slides and a sandbox and tire swing. If kids are with friends, their imaginations can keep them here forever. From here we usually walk to

Jane's Carousel

which is always a blast and costs just $2.

Pier 6 Playgrounds

When you walk down the path from the Pier 6 entrance to the water, there are 4 fabulous choices of playgrounds. We like to start at

Slide Mountain

. There's basically 3 fast and fun slides which lead to hours of fun. From there we walk to

Sandbox Village

– I used to take sand toys but we now take plastic cups in two sizes, and plastic forks and spoons. They share because we bring plenty and the best part is we can toss 'em when we are done. Once the boys are nice and hot, we head to the

Water Lab

. The fun they have there is not describable. One they're exhausted from the sand and water play we try our luck at

Swing Valley

– they just don't have enough swings but we always wait for a short turn…
The Beach– The only clean beach we've gone to is Manhattan Beach – and only on a weekday because it's empty then. There's easy street parking and a great huge playground attached to the beach that we love.
Indoor Ideas (not free):
We enjoy bowling at

Melody Lanes

on 37

th

street in Brooklyn. I found it very kid- friendly and clean.

Pottery and Glass Land

– the children enjoyed the painting and found the staff to be super sweet.
I don't love museums. My oldest does. Always take stroller along – and wear your best sneakers.
The Museum of Natural History

was his request. We couldn't possibly cover the whole museum but he was happy. We skipped the floor of dinosaurs.

The Intrepid

was a smashing success. We've done it twice now. We buy tickets online to avoid the lines…There's currently a fabulous drone exhibit my boys loved.

NY Transit Museum

– This quaint museum is a short trip; it displays old trains, explains the subways, etc.

Brooklyn Children's Museum

It's s a hands-on, fun, and local way to spend the day. They have some science centers, and animal exhibits and a mini Brooklyn pretend play area where the kids are the shopkeepers. For younger kids, it'll be a successful trip.
Jewish Children's Museum

in Crown Heights is famous for its child-friendly and educational exhibits. We spent hours there, every summer they have a safety exhibit, and each Yom Tov will feature a new activity. Our favorite is donut decorating Chanuka time.
---
Barnes & Nobles. (I visit the Park Slope, 267 7th Avenue location). We LOVE it:
Barnes and Nobles is an easy trip for me. I love to read to my kids and they're both readers. So they'll each choose a big pile and we'll pick a number beforehand of the amount of books they get to keep, and they'll look through some of the others while we are there. But once I see what they like, I'll know what to buy next time we are low on books. The store also always has some toy out; during our last visit a jack-in-the-box kept my baby busy for the whole hour. The Thomas Train Table is also a favorite activity for the kids.
Our Wish List (all comments welcome please)
Gulliver's Gate

The Beast

Roosevelt Island Tram

Ferry to Governors Island
Did you see our post on places to go near Lakewood?