If Pesach cooking is as much work as making a Pesach menu, I'm in trouble.
I may add things, I may take out. My goal this Yom Tov is to be able to keep the 14 to 30 people that will be at the table for each meal as happy as possible…without having to spend all my time in the kitchen. (Sorry fellow Syrian folks, that means no mechshe this time. Don't worry, the traditional dishes have plenty of representation.)
I'm not turning over until Thursday night… hence I'm not preparing anything in advance. And so, I admit, homemade chicken fingers on erev Yom Tov may be replaced with frozen ones. Anything that says "stuffed" in the recipe name might possibly be replaced with something that gets a sauce or spice rub before being thrown in the oven. (It was more fun in the days when I'd prepare one big nice meal for 40 and be invited to my other family members for the rest).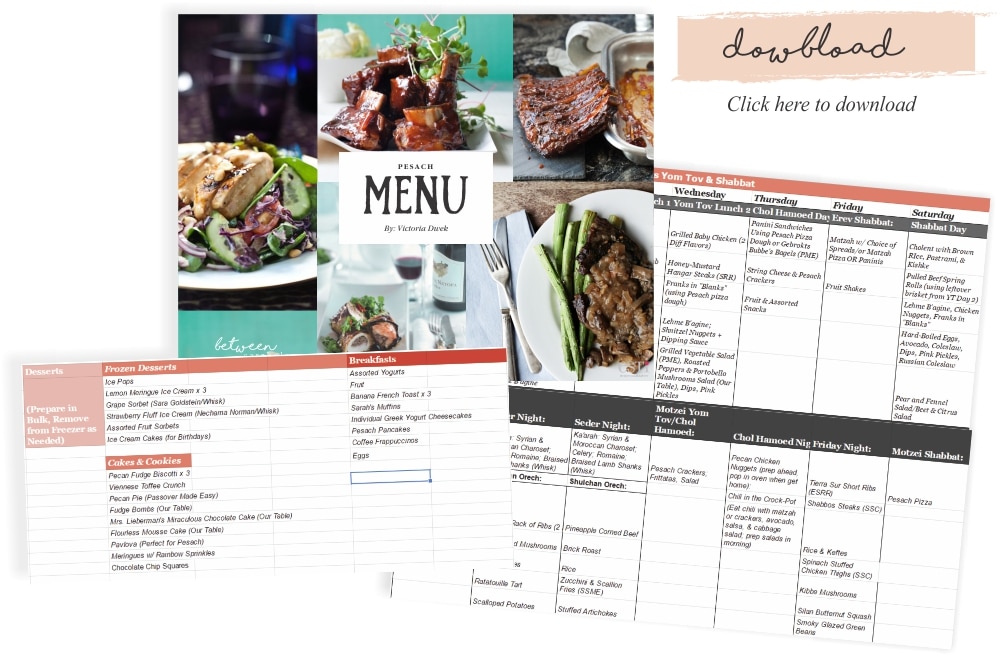 Click here to see my Pesach Menu / You can save a copy and edit this version.
---
Some things about this menu:
*Yes, it's full of kitniot and gebrokts. All of my guests are Sephardic; they will consume about 25 pounds of rice over the week. Simply replace kitniot with kugel of your choice.
*My Yom Tov menus are always a balance of traditional Syrian dishes, cookbook favorites, and new things I want to try. I'm taking a year off of some the things I prepare year after year (like our original Pesach favorites from Passover Made Easy). Instead, I'm serving some new dishes from my The Secrets of Skinny Cooking and other new books, like Renee Muller's Our Table, and the latest recipes from Whisk.
*Sometimes there are two meat mains in a meal. That's because I know my guests, and I know that different people like different things.
*I listed desserts and breakfasts separately. I'll just prepare desserts at once and we can decide, meal by meal, what to pull out of the freezer. Breakfast is more of an on the fly decision but I'll at least have the ingredients for all those options on hand.
*This year happens to be a tough schedule for the cook of the house, with potentially two kosher-for-Pesach Shabbatot. I really wanted a meal where I can simply enjoy eggplant Parmesan and Greek salad …but there is none! Most every day is a Yom Tov or an erev! It's a possibility that our one Chol Hamoed dinner will go dairy. I'll assess how hungry we are then.
*The abbreviations in parentheses mostly refer to names of books in the "Made Easy" and "Secret Restaurant Recipe" Series (PME, SSME, SRR, ESRR).
Good luck with your menu making and happy cooking!
Any ideas of what to add/take away? Let me know!