It's been 8 kids and I still don't know how to put a baby to bed. But I think now we're onto something…
Over 15 years ago, when my first child was a year old, I read a book about sleep training and I let him cry himself to bed. My son did not take to it well. He yelled, he cried, and then he threw up. I cried. Every time his stubborn streak would show itself I would blame it on the crying method I had tried when he was a baby.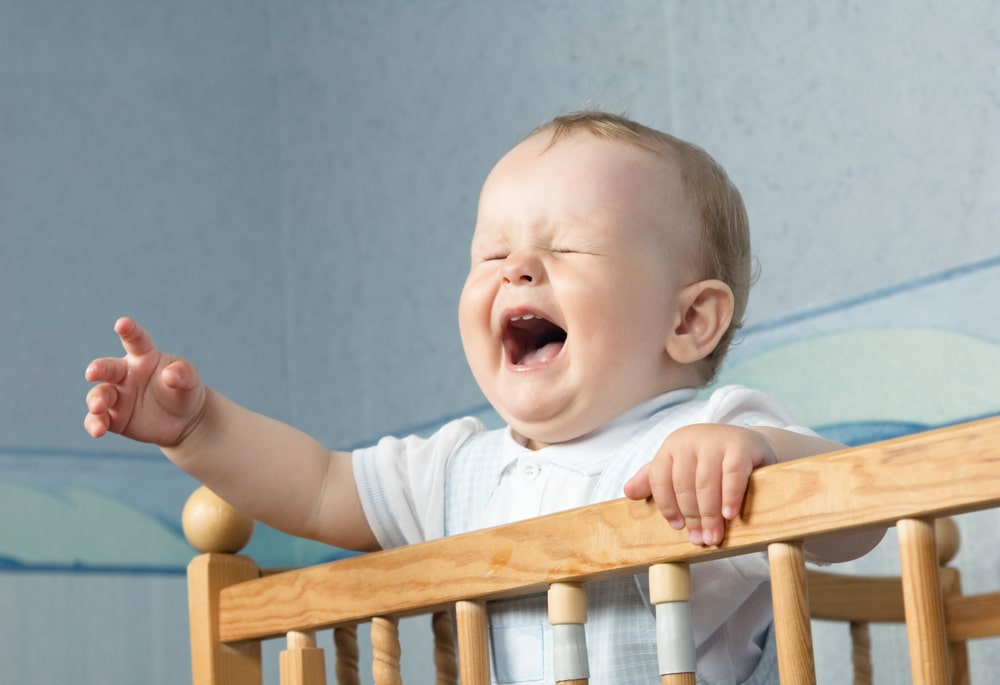 A few kids later I wasn't any smarter. I kept them in my bed, rocked them to sleep, and nursed all night. 
A while back I read a post on Between Carpools about sleep training here. In the comments, a reader wrote about Tracy Hogg's method. Her method is called PU PD which stands for "pick up put down." And it really spoke to me. Pick up the baby when he cries, put down when he's calm… and you do this as many times as it takes for the child to learn to fall asleep on his or her own. 
When you're a sleepy and tired mom, though, Tracy Hogg's book is way, way too long to read. 
Thanks to the comments in that same post, I also learned about a shorter book by Susan Urban (see here). Instead of 200 pages, it's 15 pages or so. It takes about 7-10 minutes to read. Even less if you read fast. And it pretty much teaches you Tracy's method. 
The Basics Steps:
When the baby starts to cry after being put down, pick them up, but do not rock them. 

As soon as the baby is calm, put the baby back down. 

If they start crying, pat them on the back and say shhh. 

If the baby is still crying, pick the baby back up and do it again. 

Don't leave the baby once the baby is quiet. Keep your hand on the baby's back until you are sure they are sleeping. 
Sounds easy enough! 
I was finally ready to try it with baby number eight, who is six months old, as I still had no idea how to get my baby to fall asleep without rocking, singing, or nursing. I'm too old to be putting a baby to sleep for a complete hour. I and the baby are both ready for this. 
I started with Friday afternoon's nap. Why? Because only crazy people think Friday is a good day to start something new. But here I am. There is no time like the present. 
Day 1: 
I still remember the trauma I felt when I let my 15-year-old cry himself to sleep. So even a little crying set me into anxiety. I kept on doing the method again and again; 
I put him up and down countless times. 10 minutes past, 15, 20 minutes. He really has no idea how to fall asleep. I naturally felt like rocking and singing to him. 
25 minutes later he was so exhausted. So was I! And Shabbos was coming; I had lots to do! He fell asleep in my hands. I know the book said to put the baby down at the first sign that they are quiet. But it was enough for me not to rock him. Just to hold him. Mother's intuition. Let's see what the next sleep will bring.
Night 1:
Baby ate. I do the up and down method 100 times. Maybe not 100, but I lost count. I also have no idea how long has passed since I'm not wearing a watch. 
I put the baby down. I call for my daughter and say "You try." She's not as emotionally attached. Or maybe the baby is tired. Two minutes later the baby is sleeping.
Day 2: 
Nap 1: Seems faster. Maybe 10 minutes? It was Shabbos and there's no watch on the bedroom floor.
Nap 2: We went on a walk and baby fell asleep in the carriage.
Night 2: 
I fed him and he fell asleep. Was that against the rules? 
Day 3: 
Nap: He looked sleepy. I put him in the crib. He went to sleep.
Whaaaaatttttt??? 
Night 3: 
I don't want to talk about it anymore. Let's just say it seems to be working. No need to jinx it. 
Experience has taught me that there is no three-day magic, but a baby falling asleep on their own is definitely a skill they can learn. You may go off schedule if the baby gets sick, you travel, or you fall back into old habits. However, this method was by far the easiest (emotionally!) and pain-free way of teaching your child to fall asleep on their own…even if you have to redo the training a few months later. 

To learn the full method, read Susan Urban's – How to Teach a Baby to Fall Asleep Alone
It's the quickest book to read with only a dozen pages or so. But it has all you need to know. Buy the book and download it to your Kindle or the iBook app on your phone. Otherwise, get the paperback. 
Tracy Hogg – The Baby Whisperer
This is a great book to read if you have time and energy. This is the comprehensive book from the entire series. 
It's been a few weeks since that night number 3. Getting the baby to sleep takes me max 6-7 minutes now. Is my baby sleeping through the night? No way. However, he now knows how to fall asleep on his own.  
We've also had our setbacks. Weddings, naps in the car, and traveling made sleep time less scheduled. Ideally, if my child was perfectly on schedule and only slept in the crib perhaps it would be "perfect" but I'm happy with a bit of flexibility and overall I'm thrilled that I read this book. 
Read the book and let me know if it works for you!