It's not always easy to get a baby or child to go to sleep on their own. So, which method works?
First things first: I really, strongly, dislike the terminology "sleep training." I am not a sleep trainer, and I do not sleep train my clients' kids.
Call it semantics if you will, but to me, sleep training sounds like a boot camp. CIO. 3 nights. Done. Brush off your hands, and you've got perfect little angels.
But kids aren't microwaveable. And as we all know, as soon as you get one thing tucked neatly away, you're dealing with the next thing.
Working with your children's sleep is not going to be a do-it-and-done sort of deal. There's usually going to be an initial investment period—whether that's by gently molding them in the newborn stage, or implementing something a little bit stronger later on (as infants, toddlers, preschoolers or even older!)—and then things will gently roll into a status quo.
But it'll still take skill, knowledge, and sometimes patience on your part to be able to sustain the changes that you've made.
With that behind us, let's tackle the details: the methods and what they mean.
Most sleep books and blogs boil down to one of three methods: Extinction, Leave and Check, or Stay in the Room.
Extinction (or, Cry It Out – CIO)
How it works: Put your baby (who does not know how to self-soothe) down in the crib, walk out and close the door. Leave baby in the room until morning, without any check-ins or removing baby from the crib.
Some more info: This is what most people think of when they hear "sleep training," and is very controversial. Some say this is the "easiest" way to get their baby to sleep, while others cannot fathom the idea of leaving their baby crying for an extended period of time without being present for them. Many parents find it hard to stick to it, and after 20 minutes of crying, 1 hour of crying, or even on the second night, end up reverting to the old habits.
This method should NEVER be used for children below the age of 6 months (adjusted when necessary).
Some poskim will tell parents not to follow this method, as it can cause desensitization to their children's crying.
Leave and Check (or, Ferberizing)
How it works: Put your baby (who does not know how to self soothe) down in the crib. So long as she is crying, you will spend some of the time in the room, and some of the time out of the room.
Some more info: This is the second most common method people think of when they hear of sleep training, and is called, by some, "controlled crying."
This is the method that Dr. Richard Ferber advocates in his book, "Solve Your Child's Sleep Problems." I have found that lengthening the time between check-ins, which is what he recommends, is unnecessary when implementing this.
This method should never be implemented with children below 4 months of age, and used with caution between 4-6 months (adjusted when necessary).
Stay in the Room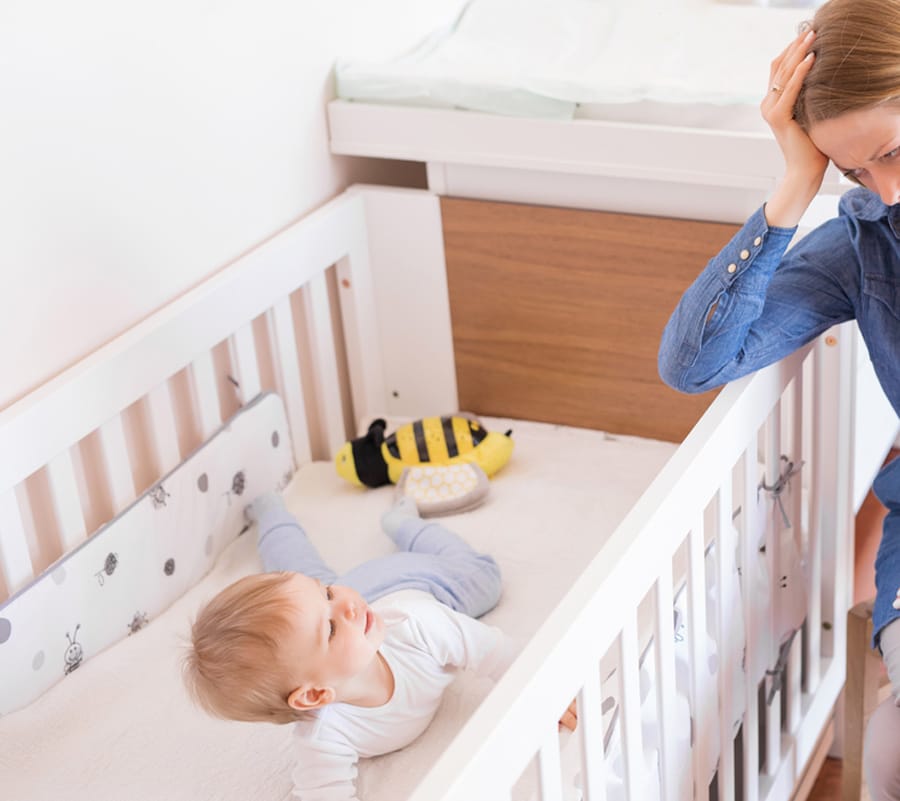 How it works: Put your baby down in the crib, or tuck your child into bed. Pull up a chair next to him, and sit with him as he falls asleep. Do not take him out of his crib, but use occasional touch, and voice to reassure him. As the nights pass and he becomes more proficient, slowly move your chair away from him and out of the room so that he is not dependent on your presence to fall asleep.
Some more info: While many sleep books and sleep consultants advocate and implement this method, if you've read Kim West's "Good Night Sleep Tight," you will be familiar with this as "the sleep lady shuffle."
When parents do use this method, they should be careful that their child does not become dependent on their presence to fall asleep.
My View
To begin, I don't like Extinction or CIO for a couple reasons:
First, it does not align with my parenting philosophy. While I am a proponent of giving children the space to learn new skills and practice independence when age-appropriate, I also believe that it's our job to support our children during difficult times and learning periods. This doesn't mean solving our children's problems for them, it means being present, comforting, empathizing, and encouraging. Total extinction takes the parents out of the picture entirely while the child is learning a new and difficult skill.
Second, it's very hard to sustain. While some parents do successfully sleep train their babies with CIO, many end up caving to their baby's cries. This is really not fair to the baby, who now has learned that he needs to cry to get what he believes he needs, and is also very confused by the inconsistency.
So what do I use? Well, it depends. I don't think that there is a one-size-fits all method (if there was, you'd never see any new sleep books being published!), so I really customize my plans to the family's needs.
When working with newborns, I don't use any of these. Newborns are a lot more "moldable," so we work to gently build healthy habits rather than attack old ones.
With infants and toddlers/children in beds, I'll usually err to the side of Stay In the Room, and with younger toddlers who are still in cribs, I often start off with Leave and Check.
When you're deciding what works best for your family, though, it's important to take any other factors into account. What's your child's temperament? Is she going to be too stimulated by your presence? Do you have any other children or obligations you need to be attending to during night and nap time that will make one method unfeasible? How about your level of comfort hearing your child cry?
Weighing your options and discussing them with your husband to make sure you're both totally on board with the method you've chosen is key—because the only way to see the results you want to is with 100% consistency.
Some other things to keep in mind
Bedtime and nighttime do not exist in a vacuum. It's important to implement the other foundational pieces of healthy sleep skills (routines, wake time limits, etc.) in order to set your child up for success.
I also want you to remember that we adults often impose our own views and feelings on our children's realities, but that does not mean that's what a baby is actually feeling. Your baby does not know what a jail is. And your baby does not think that, when you put her down for the night in a crib, you are locking her in jail. Cribs are the safest place for our children to be sleeping until they are developmentally ready to remain in a bed that does not physically constrain them (usually between 2.5-3.5 years of age). Help your child develop a positive association with bedtime and her crib so that she will learn to love sleep—and even ask for it when she knows that's what she needs.
[If you feel like you need a little more guidance and support in choosing and implementing the best method for your family, shoot me an email or give me a call – I offer a complimentary Discovery Call, and would love to discuss working with you!]