There's great new book choices for little kids, big kids, teens, and adults in every genre
When your Yom Tov prep is finally over and you have a few minutes to yourself between the serving and clearing, you want to sit down with a good book (and that's more enjoyable when the kids are also busy with books and there's some quiet!). Not all books are created equal, and matching a book to a reader is complicated work!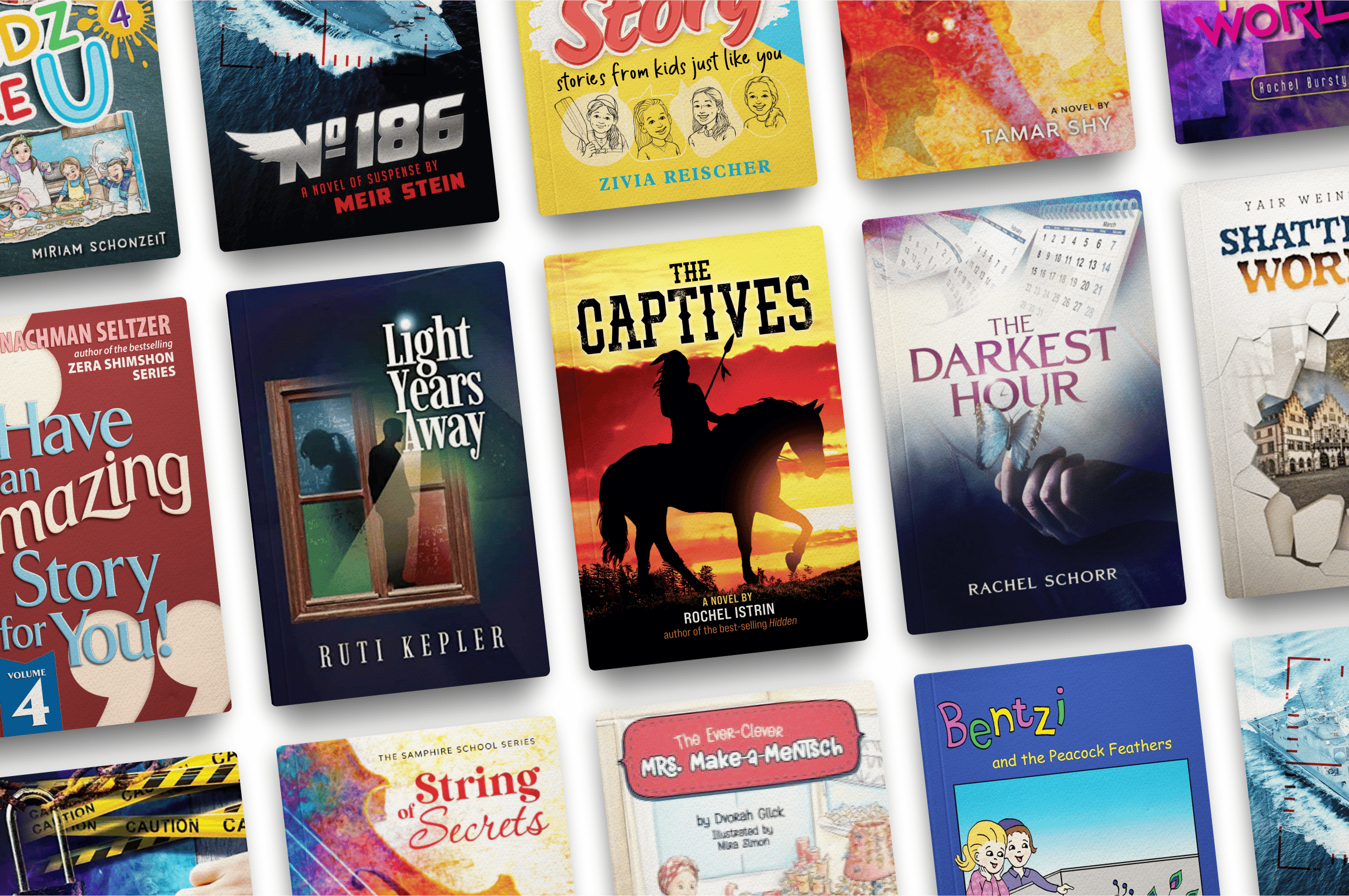 This roundup features the best of this season's releases, compiled by The Frum Books Newsletter. Top Picks will be appreciated by the widest audience, read the short descriptions to find the title that best matches your taste.
Young Readers.

 

2nd to 4th Grade
5th to 8th Grade Girls
5th to 8th Grade Boys

Adults. Historical Thriller
The Captives
You can purchase here.
by Rochel Istrin – Fans of The Mexico File will be enthralled by this fast-paced and nonlinear Western set in unexplored terrain. Dual plots weave a frum Russian immigrant family between the most unlikely settings. When surviving a Cherokee stake, swamp settlement, or Southern ball demands attention, can they maintain their identity and hope?
Shattered Worlds
You can purchase here.
by Yair Weinstock – Suspense meets history and its trauma in a dramatic and intriguing journey that leaps across time. Desperate to fulfill their father's last will, the Eisen brothers mine their family history and discover a family set on bitter revenge. As they stitch together the threads across generations, the brothers finally understand the people around them – and what has to be done to resolve deep-rooted fears.

Contemporary Fiction
Dream On
You can purchase here.
by Gila Arnold – In a delightful seminary bubble, staff and students discover themselves and form connections. But when well-meaning becomes unhealthy, they're forced to question their perceptions and make tough decisions. The layered plot reveals the complexity of relationships and internal development, while adorable dialogue and experiences make for a fun and easy read.
Light Years Away
You can purchase here.
by Ruti Kepler – Light Years Away has developed a "Love it or hate it" relationship with readers. Fans love the bold, fresh plot and nuanced characters who experience complex character development when their fiery ideals of Kollel and Kedushah come face to face with real life. Other readers shied away from the niche conflict and prominent "lesson" that framed the plot.
The Darkest Hour
You can purchase here.
by Rachel Schorr – A slow-paced and compelling psychological saga that highlights a family coming to terms with its bizarre circumstances. After waking up from a seventeen year coma, Bruriah learns that life has moved on without her. To heal, she must confront her life experience – what is age without the years? How can she take her place in her children's present life and build bridges to replace memories?

Inspirational Non-Fiction
I Have an Amazing Story for You 4
You can purchase here.
by RabbiNachman Seltzer
Center Stage
You can purchase here.
by C.B. Weinfeld

Biography
Our Morah in Uniform
You can purchase here.
by Fradl Adams
For the Sake of Heaven
You can purchase here.
by Devora Gliksman
Reb Dovid: Continuing the Brisk Dynasty
You can purchase here.
by Rabbi Shimon Yosef Meller
FOR EXCLUSIVE CONTENT AND A PEEK BEHIND THE SCENES, MAKE SURE TO JOIN OUR WHATSAPP STATUS HERE. JOIN OUR WHATSAPP GROUP AND WE'LL LET YOU KNOW WHEN A NEW POST IS UP!