How to dress your family for the portrait you'll cherish forever.
You've scheduled an appointment with your favorite photographer to finally get that family portrait you've been seeing in your mind's eye every time you walk past your couch. Now comes the big question—what will everyone wear?
1) Don't Match. Coordinate. My advice to my clients is always to avoid matching, but definitely make sure to coordinate. That doesn't mean you need to put your boys in pink shirts because your girls are wearing pink dresses. But if your daughter is wearing a pastel pink dress, consider a sky blue shirt for the boy. And if it's a hot pink dress, maybe go with turquoise. The colors should complement each other.
2) Avoid Prints…or Use Them as "Accessories." Avoid large pieces of busy patterns or break them up with a solid sweater or vest.  Notice the checked dresses in my sample outfits below. By putting cardigans over the dresses, the pattern becomes an accessory rather than a focal point. (And if red is too bold for you, consider burgundy. Same effect, but more subdued.)
3) Add a Pop to Neutral Colors. If you like neutral colors, assemble completely neutral outfits—but add that pop of color with an accessory or two. A mustard hair bow or a teal letter on a yarmulka can add just a little bit of visual interest.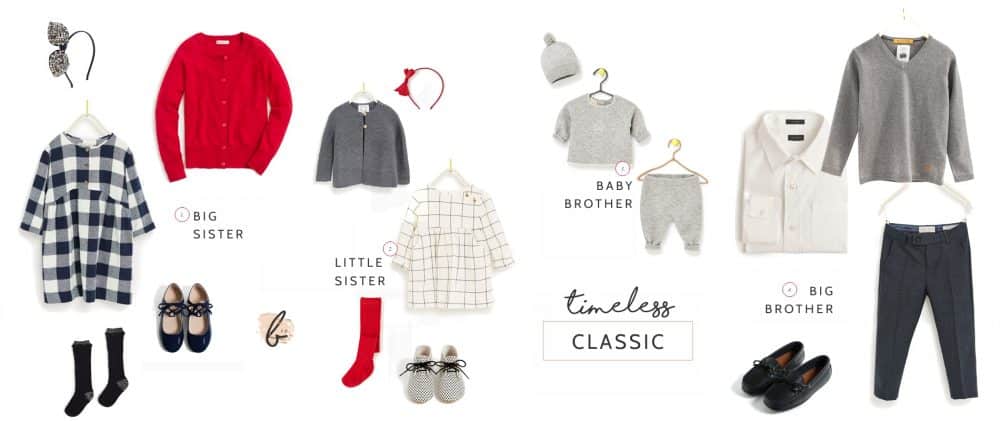 4) Don't Buy Clothes They Won't Wear Again. For my personal portraits, I try not to put clothing on my kids that they wouldn't wear "in real life." They might not necessarily wear the pieces in that particular combination, or it might not be part of a school wardrobe, but there will be no pink shirts for my boys who wouldn't ever dare wear them again.
5) The Details Matter. A bit of creativity goes a long way when creating a statement portrait. A scarf, a fedora, a bow tie, the perfect ankle boot—a little bit of extra detail helps.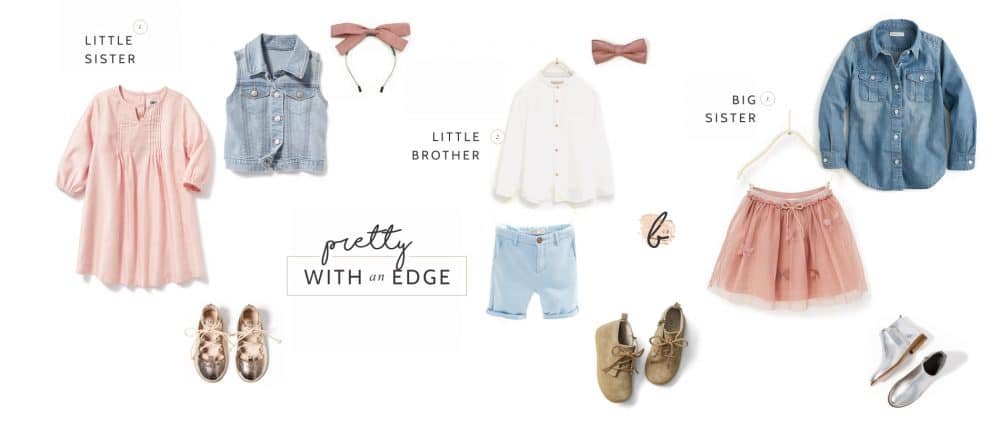 6) Great Fit, Good Condition. Most important of all is the fit and condition of the clothing. This can be tricky at the beginning of the season when clothing is still fitting loosely on little kids, and at the end of the season when shoes may be past their prime. Pay attention because scuffed shoes can kill the outfit. You're better off buying cheap new shoes vs. ruining your photo investment by wearing the old ones. Old Navy very often has super cute shoes that work really well for a portrait—for under $15.
And don't forget—clean faces, hands, teeth, and nails are the top priority! No orange soda or playing in the mud on the big day!