It's the Perfect Refreshing Salad You Need to Balance It All Out.
I'm not complaining about eating soft, pillowy doughnuts straight after they've been fried and coated in sugar (though I'm not much of jelly fan but I don't discriminate)…or the crispy potato laced latkes that are beyond golden brown, edging on blackened. I love Chanukah food. But I also believe in a big bowl of green, vibrant salad to round things of. Balance, I believe everyone is calling it these days. I just love the combination of fruits and vegetables bursting with flavor.
Salads are one of my favorite things to make and eat. I enjoy combining textures, flavors and colors so that each bite shines in your mouth.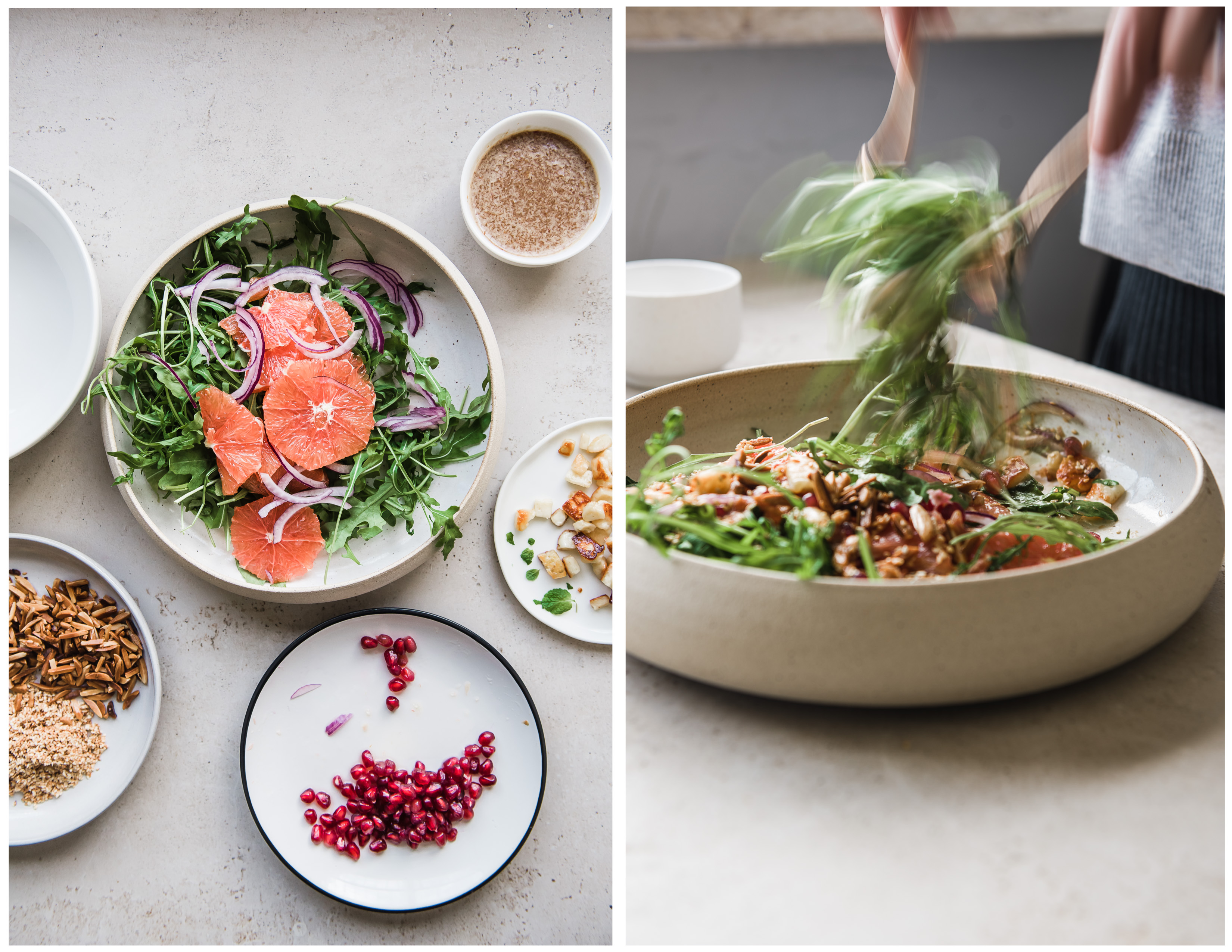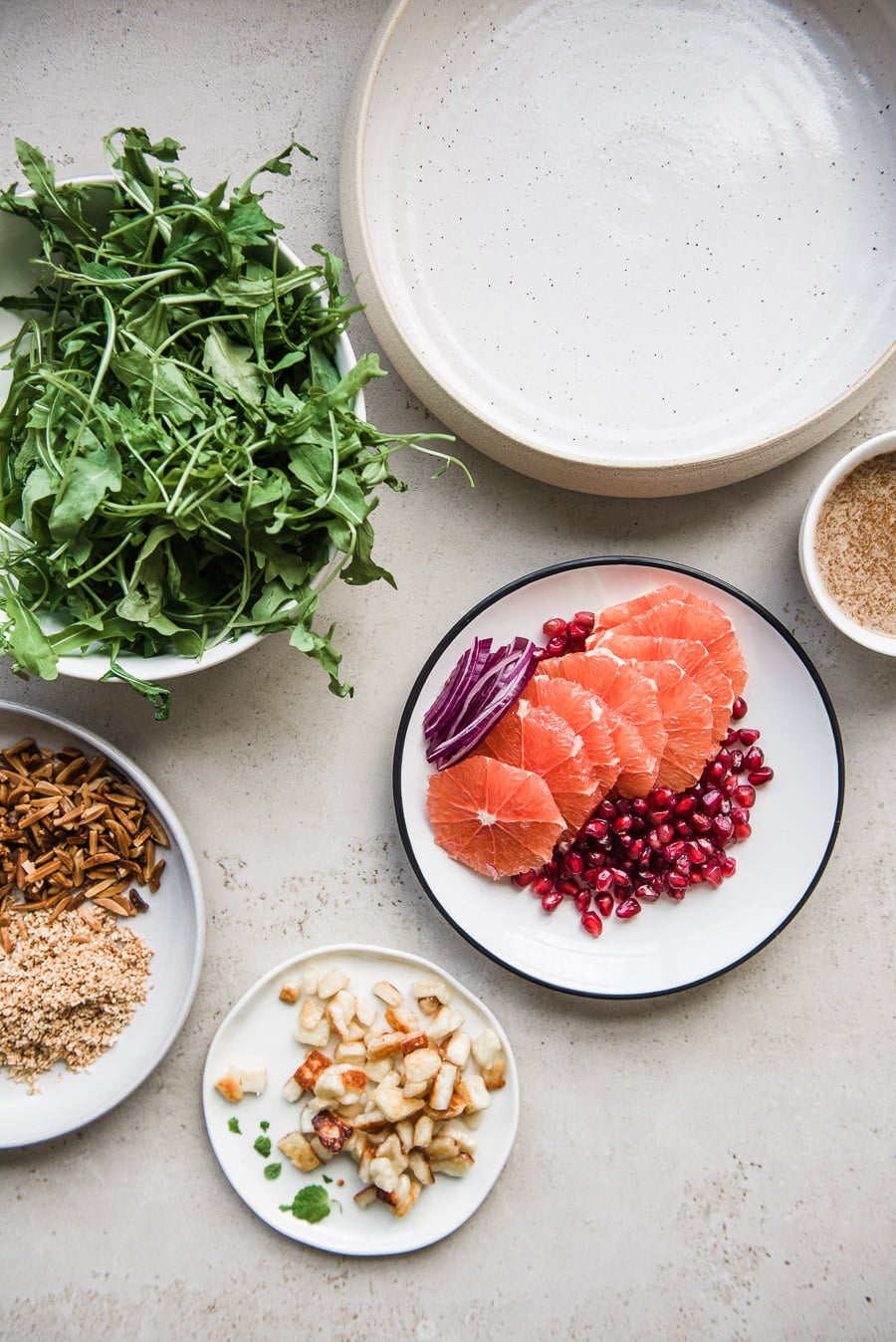 Here I started off with a blood orange as my initial inspiration. I love this winter citrus for its tart sweetness and vibrant color. I contrasted it with the sharp, peppery arugula lettuce mix and red onion. But let's focus on the toppings, aren't they the most important? I think toppings are. There are slivered almonds and sesame seeds pan-roasted in olive oil that add just the perfect touch of crunch and nuttiness. And the halloumi that's pan-fried in maple to create a sweet crust to contrast the salinity in the cheese. The ruby pomegranate arils speckle the salad like little jewels but if you're not fond of eating them you can substitute with dried cranberries. The dressing is a simple affair, all it takes is a spin in the processor to emulsify. It's sweet, acidic tones coat everything to make it just a little more special.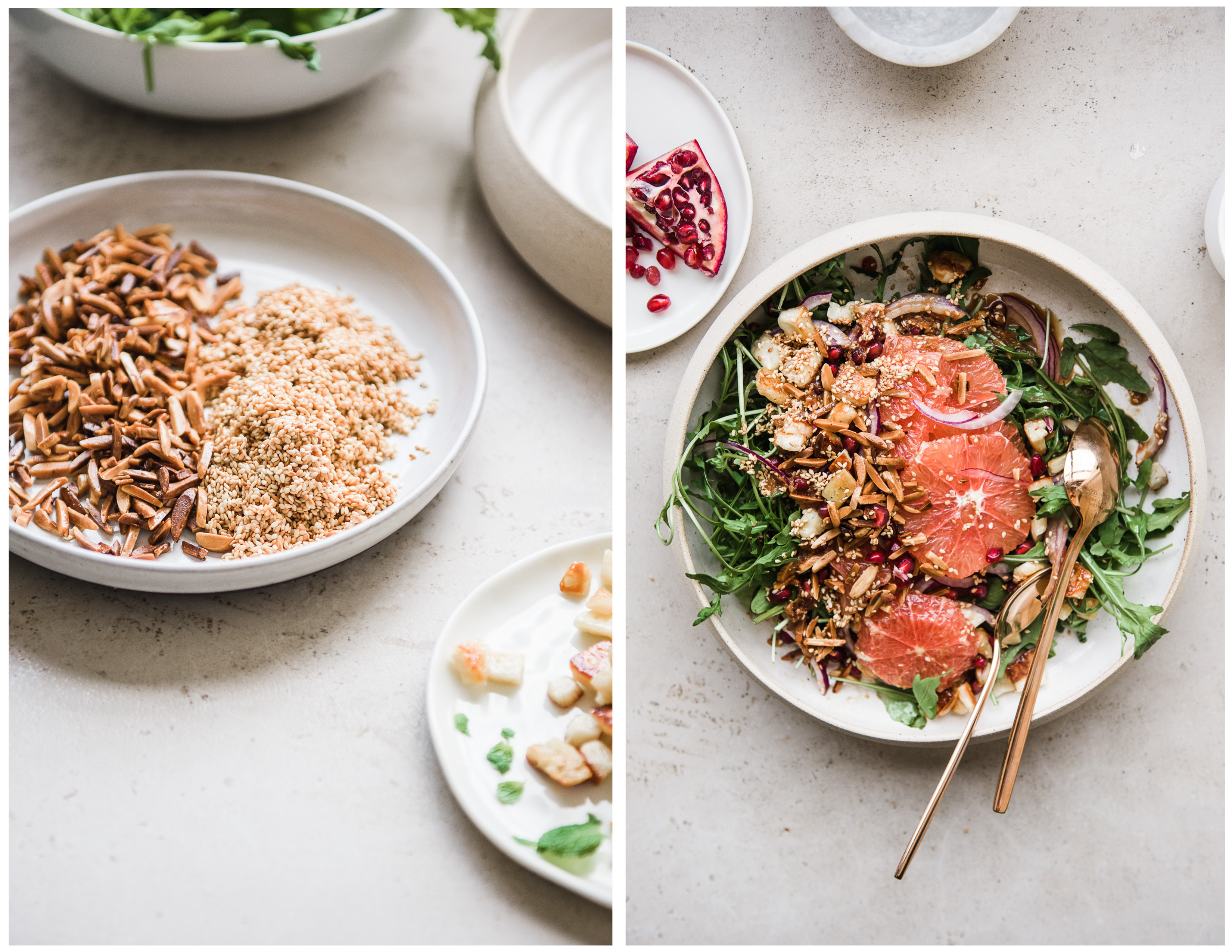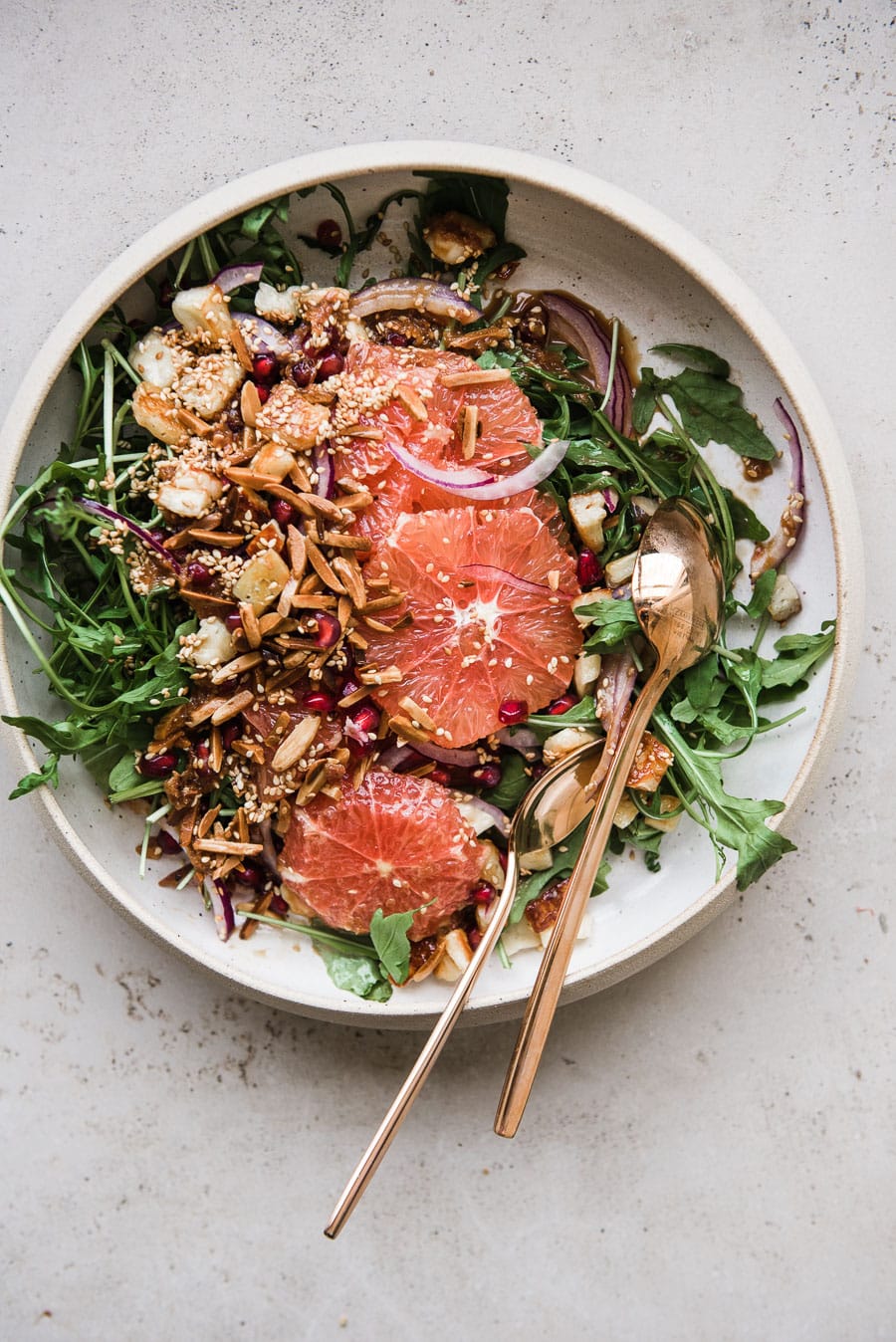 It's a beautiful salad, and delicious I would say, that your Chanukah or any day table needs. Enjoy. Tag me @sinamizrahi on Instagram. I would love to see yours if you make it.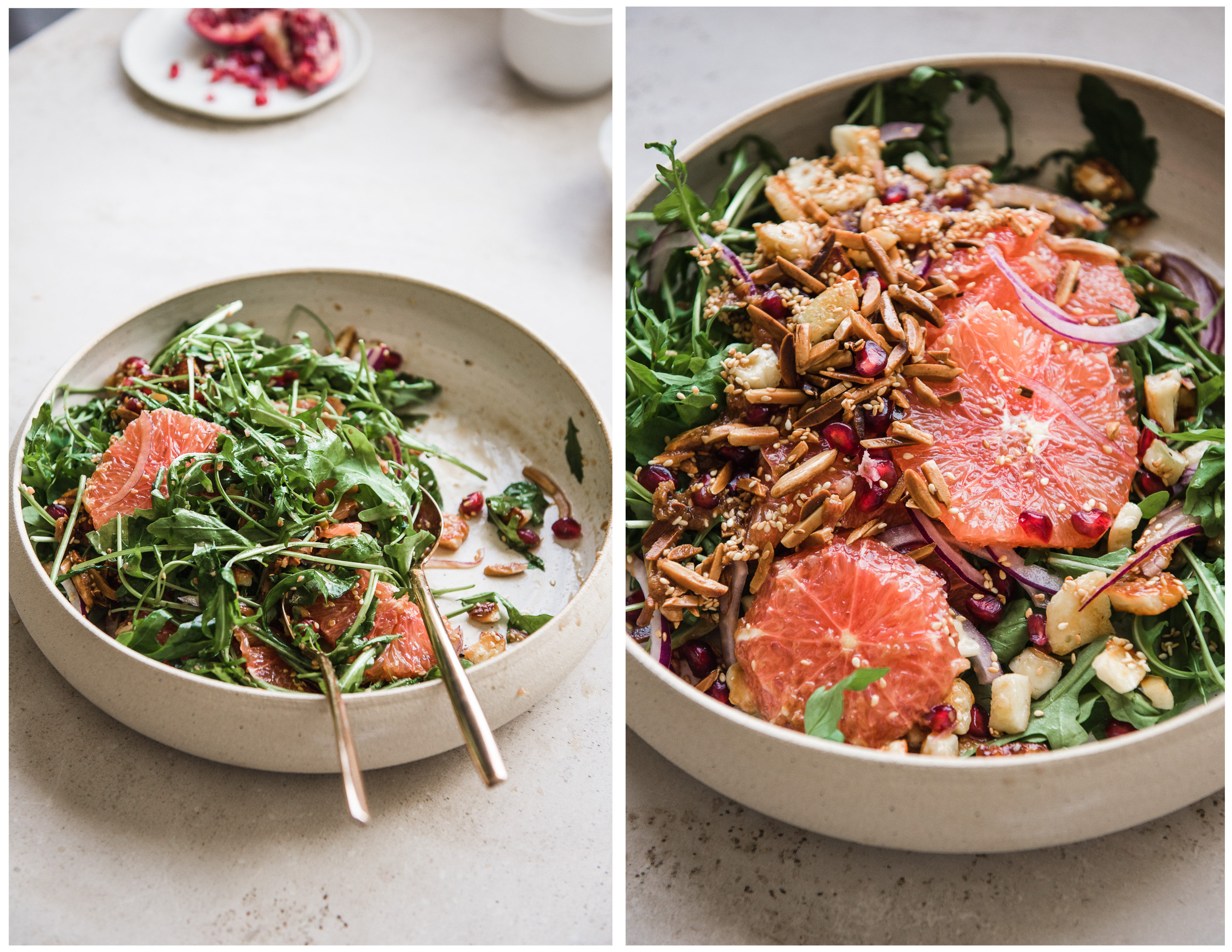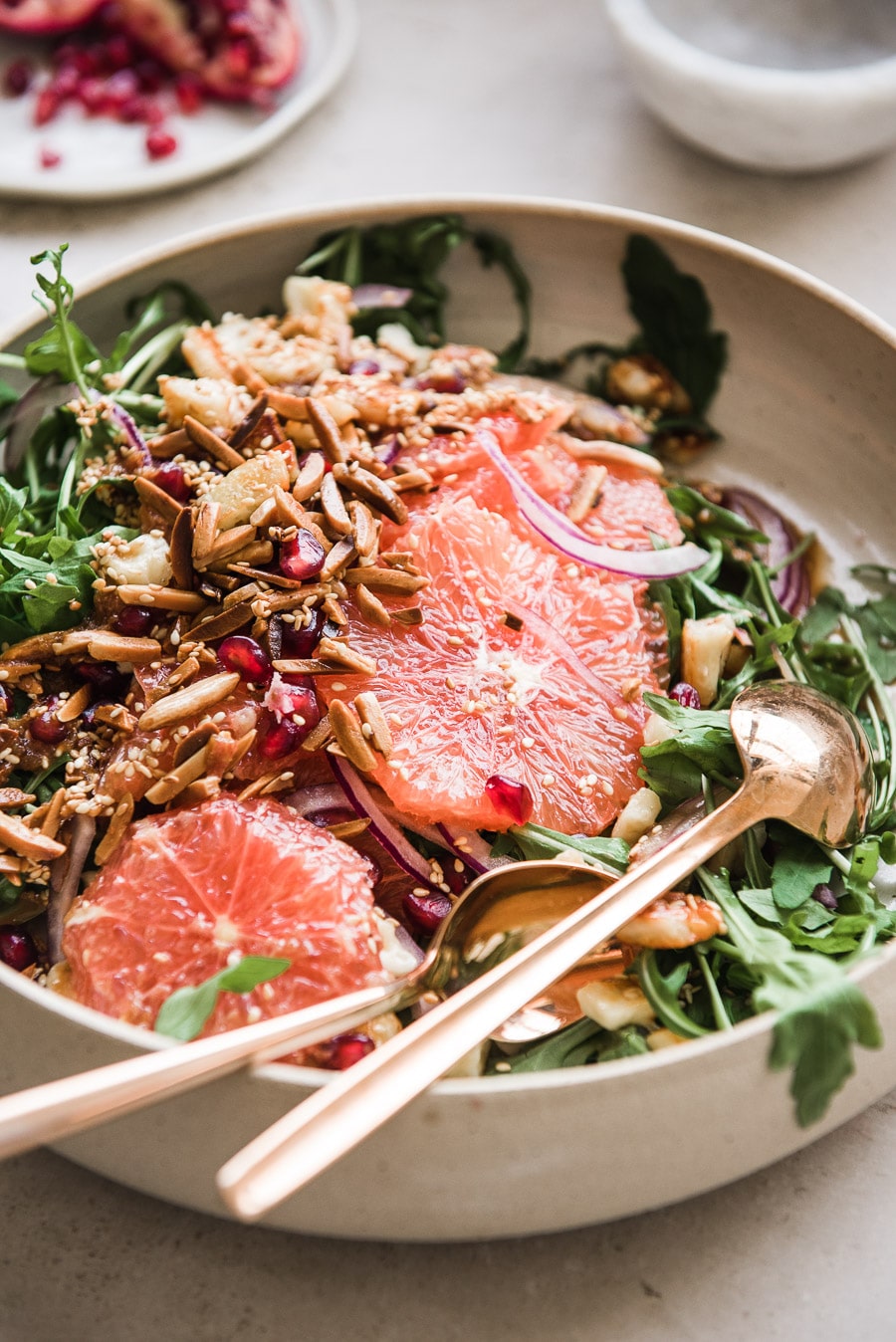 Blood Orange Salad
Note: You can prep all the elements ahead of time and assemble just before serving so the lettuce stays crisp.
Ingredients
Salad:
2 tablespoons olive oil, divided
1 cup sesame seeds
1 cup slivered almonds
100g halloumi cheese, see recipe below
8-10 cups lettuce (arugula, spinach, kale or a mix)
1 blood orange, peeled and sliced
½ cup pomegranate arils
½ small red onion, thinly sliced
Halloumi:
100g halloumi, cubed
1 tablespoon olive oil
1 tablespoon maple syrup
Dressing:
1 shallot
¼ cup extra virgin olive oil
3 tablespoons soy sauce
1-2 tablespoons brown sugar, depending on sweetness preference
1 tablespoon rice vinegar
Instructions
Heat a skillet over medium heat. Add 1 tablespoon olive oil and warm for 1-2 minutes. Pour the sesame seeds and roast until golden brown, stirring frequently so they don't burn. Transfer to a paper towel-lined plate and carefully wipe the skillet. Add the other tablespoon of olive oil and proceed with the almonds. Be watchful since nuts and seeds go from golden to burnt quite fast. Transfer the almonds to a paper lined plate and allow to cool.
Halloumi: Heat a skillet over medium heat. Add the olive oil and maple. They'll start sizzling while the maple caramelizes. Fry the halloumi until browned, about 2-3 minutes. Using a spatula, flip as many as you can and fry for another 1-2 minutes. Transfer to a plate and allow to cool before topping it on the salad.
Dressing: In a small chopper, blend the shallot, olive oil, soy sauce, sugar and vinegar.
To assemble: In a large bowl, layer the lettuce, orange, red onion, pomegranate, halloumi, roasted almonds and sesame seeds. Pour the dressing over and lightly toss to coat. Enjoy.