This one easy hack takes your dinners from eh to eh-xciting. And only adds 2 more minutes of prep time.
Bowls.
Yup, just make it a bowl.
Same dinner, same boring chicken, rice, roasted vegetable — but throw it in a bowl with any toppings you have on hand, and you'll be counting down until dinnertime.
When you're in a dinner rut, it's hard to experiment with new recipes—it takes time, more effort planning, shopping, double checking measurements and instructions. Plus the inevitable 'I don't like it!' without even trying it.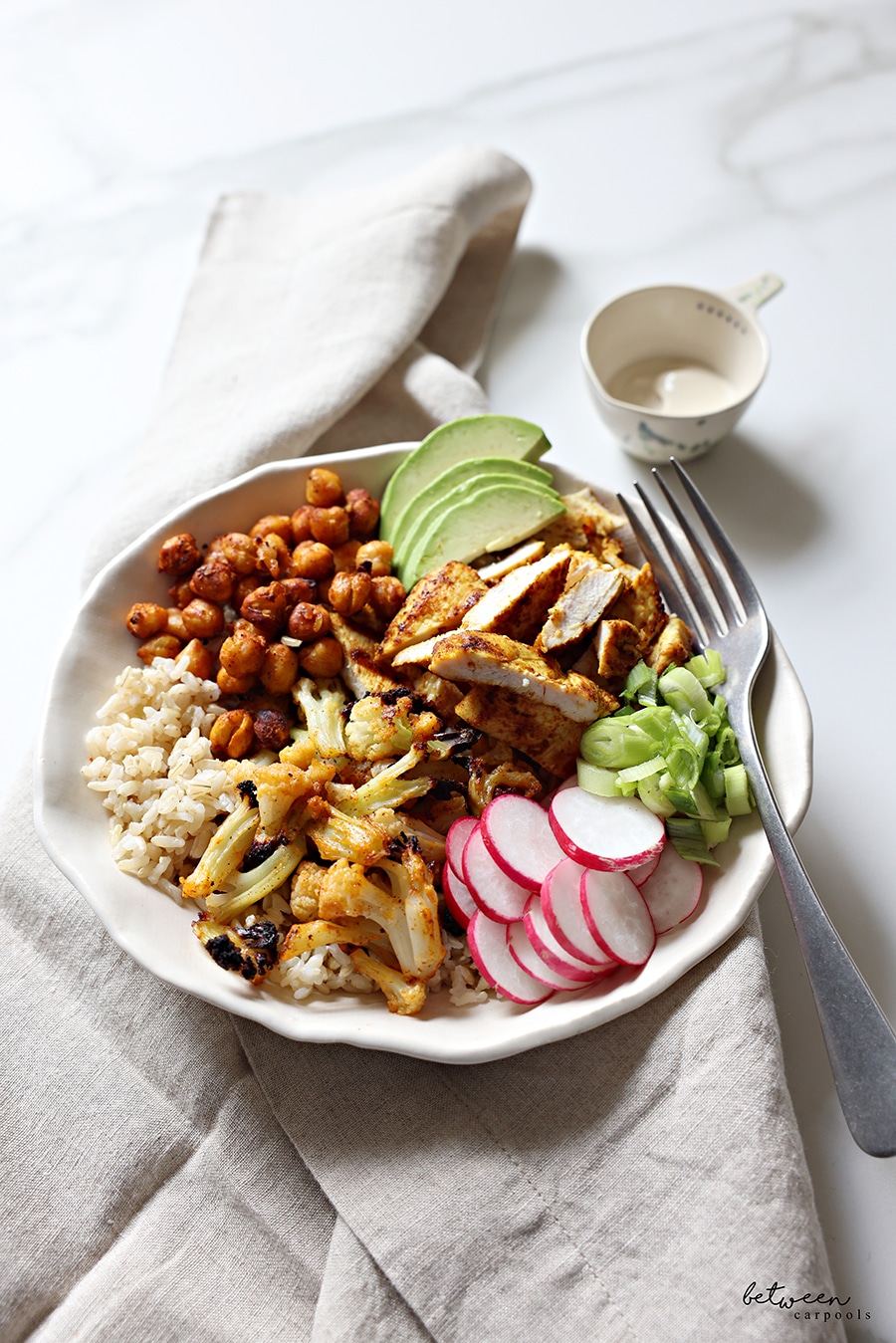 My solution is to take your same basic recipes that you come back to week after week because they're easy and familiar—just elevate them by adding a few toppings and making it into a bowl. It can be any toppings you have on hand [suggestions below].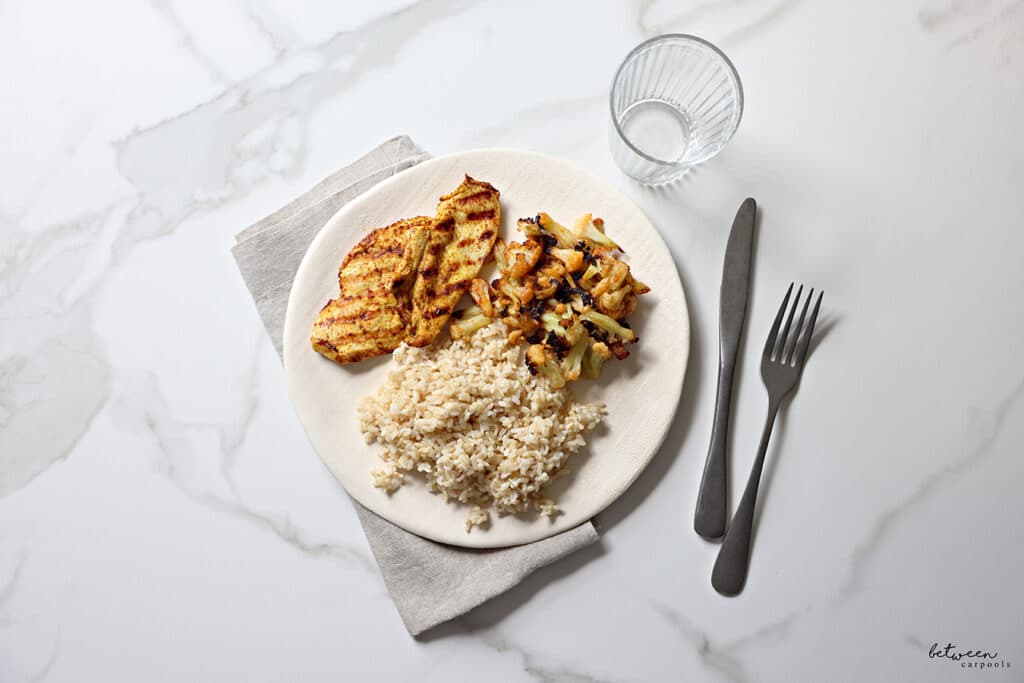 The beauty is if you do have a picky eater who only likes everything separate, you can still plate it for them that way. But if you have the more adventurous type or family members who eat with their eyes—the bowl may take the 'you always make that 🙄' to 'ooo what is this?!' And worse comes to worse you can have your own special meal, while everyone else has the basic without ever having to make a second dinner.
What makes a good bowl you may ask?
Base
Protein
Roasted Veggie
Something Crunchy
Sauce/Dressing
Basic Dinner: Grilled Chicken, Rice or Farro, Roasted Cauliflower
Make it a bowl: Top with crispy chickpeas, scallions, sliced radishes, avocado, techina, everything spice
Bowl topping ideas: squeeze sauces, crispy onions, fresh herbs, spicy mayo, chow mein noodles, pickled onions, pickled jalapenos, roasted onions, grilled mushrooms, roasted sweet potato, fried eggplant, techina, crispy chickpeas, radishes, avocado, sliced cucumber, sliced green apple, scallions, purple cabbage, beets, pickles, slivered almonds, roasted pistachios, everything spice, red pepper flakes.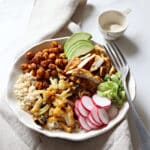 Print Recipe
Mediterranean Chicken Bowl
Ingredients
boneless chicken breast,

or chicken pargiyot

cauliflower

oil

za'atar,

or shawarma spice

cooked farro or rice 

crispy chickpeas

scallions

radishes,

sliced

avocado

techina

everything bagel spice
Instructions
Drizzle chicken with oil and some za'atar or shawarma spice.

Grill chicken on grill pan until cooked through.

Drizzle oil and sprinkle za'atar and salt over cauliflower and roast on 425℉ for 40 min or until lightly charred.

Assemble bowl: scoop 2-3 spoons of farro or rice into a bowl, and layer with sliced chicken and roasted cauliflower. To serve this as a Basic Dinner: Grilled Chicken, Rice or Farro, Roasted Cauliflower

Top with crispy chickpeas, scallions, sliced radishes and avocado.

Drizzle with techina and sprinkle some everything bagel spice.
More bowl combo ideas:
Basic Dinner: Teriyaki Salmon + White Rice + Broccoli
Make it a bowl: Top with sliced avocado, spicy mayo and/or sweet sauce, purple cabbage, pickled red onions, sesame seeds
Basic Dinner: Schnitzel or Pan-Fried Tofu + Quinoa + Roasted Sweet Potatoes
Make it bowl: Lay over spinach, top with lemon garlic sauce or pesto mayo, sliced almonds
Basic Dinner: Pulled Beef or Pastrami + French fries
Make it a plate: Ok, this one technically works better on a plate or even on the sheet pan straight out of the oven, but it's the same idea: top with truffle mayo, coleslaw, pickles, grilled onions, crispy fried onions
FOR EXCLUSIVE CONTENT AND A PEEK BEHIND THE SCENES, MAKE SURE TO JOIN OUR WHATSAPP STATUS HERE. JOIN OUR WHATSAPP GROUP AND WE'LL LET YOU KNOW WHEN A NEW POST IS UP!