Kim's kids love this chicken & potatoes the most
Below is an original recipe that will appear in my next cookbook!
This is a one-pot dinner recipe that my children call their "favorite."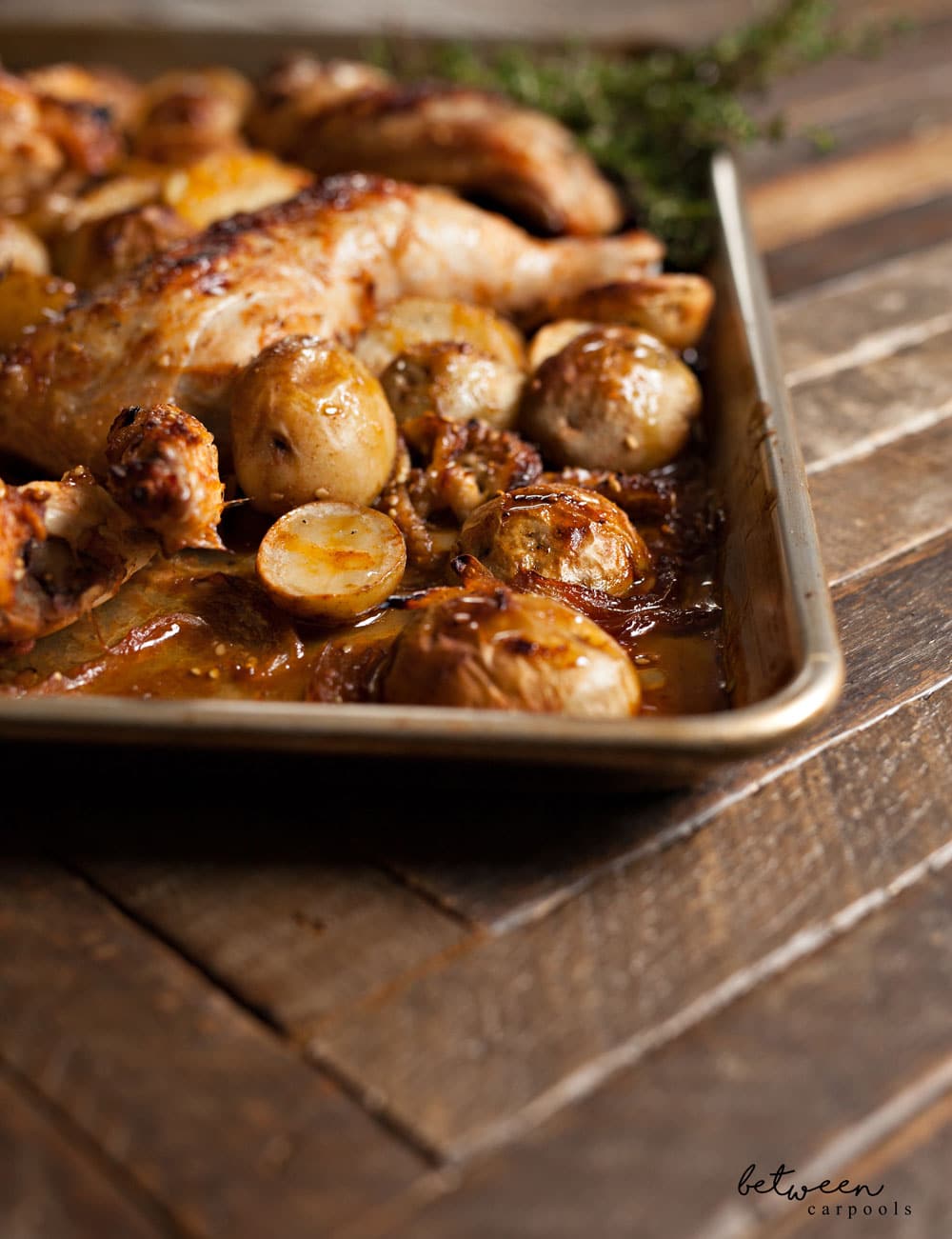 Instead of roasting the chicken whole, I like splitting the chicken into 2 halves as this speeds up the cooking time and allows the chicken to get really crispy and delicious. I always keep small portions of sautéed onions in my freezer at all times, making recipes like this one a breeze to prepare. (I recommend peeling and slicing several bags of yellow onions. Sauté the sliced onions in olive oil until caramelized and golden. Let the onions cool, then divide them up in small freezer bags. Keep in the freezer and add to enhance chicken, meat, and fish recipes. To thaw, simply place on the counter for 30 minutes or thaw in the refrigerator overnight.)

This weeknight one pot dinner will be a staple.
Ingredients
2 cups baby potatoes, cut in half
1 whole chicken, bone in and skin on, trimmed and split in half lengthwise (or cut into four), rinsed and patted dry (you can ask your butcher to do this)
1 onion, sliced and sautéed in olive oil (1/2 cup sautéed onions)
1 garlic clove, chopped
¼ cup tomato paste or ketchup
2 tablespoons Worcestershire sauce
2 tablespoons balsamic vinegar
1 heaping tablespoon za'atar
Drizzle silan or maple syrup
Kosher salt
Black pepper
Instructions
Bring a pot of water to a boil. Add potatoes and boil until they are par-cooked, about 6 minutes. Drain and set aside.
Preheat oven to 375ºF. Place the 2 chicken halves in a large roasting pan. Season with garlic, salt and pepper. Add sautéed onions, tomato paste, Worcestershire sauce, balsamic vinegar, and za'atar. Use your hands to spread these ingredients all over the chicken, inside and out. Add potatoes, and toss all together until well-coated. Turn the chicken halves skin side up and place them over the potatoes. Drizzle the silan (or syrup) over the top of the chicken.
Cover and bake in the oven for 30 minutes. Uncover the chicken and cook for 30 minutes longer until the chicken appears golden and the potatoes have crisped. Enjoy!