Are you considering a trip into Manhattan this Chol Hamoed? Here are my picks of the most fascinating places and sights around the big city.
For more ideas in a variety of places please check beentheredonethattrips.com
 Manhattan can be overwhelming. There are so many things to do there. Every type of attraction is found on that small Island. In addition, there are also the sightseeing options specific to Manhattan.
Below I will share my experiences in Manhattan. I'm sure there are plenty of amazing places that I did not mention, but since I only write about places I've been to, you'll be able to make informed decisions of what is worth your time and of course what is worth the money. Attractions in Manhattan can often be pricey due to the touristy nature of the place.
Getting into Manhattan can be a daunting task. Between the traffic and exorbitant parking rates, it is better to use public transportation if you can. Otherwise, it is best to check for parking online before you get to your destination. There are often better options that way than on the spot.
Another way we've traveled to Manhattan is via the Weehauken Ferry-NY Waterway. Keep in mind that return tickets for a few people and parking at the ferry terminal for the day (not especially expensive) can sometimes add up to more than parking fees. Also, a ferry does not include the convenience of being able to go home as soon as you are done. The way it is often more affordable is when there is a special with NY Waterway that children under 12 ride free with paying adults (often during the summertime). Another upside is that there is an enjoyable ferry ride as well.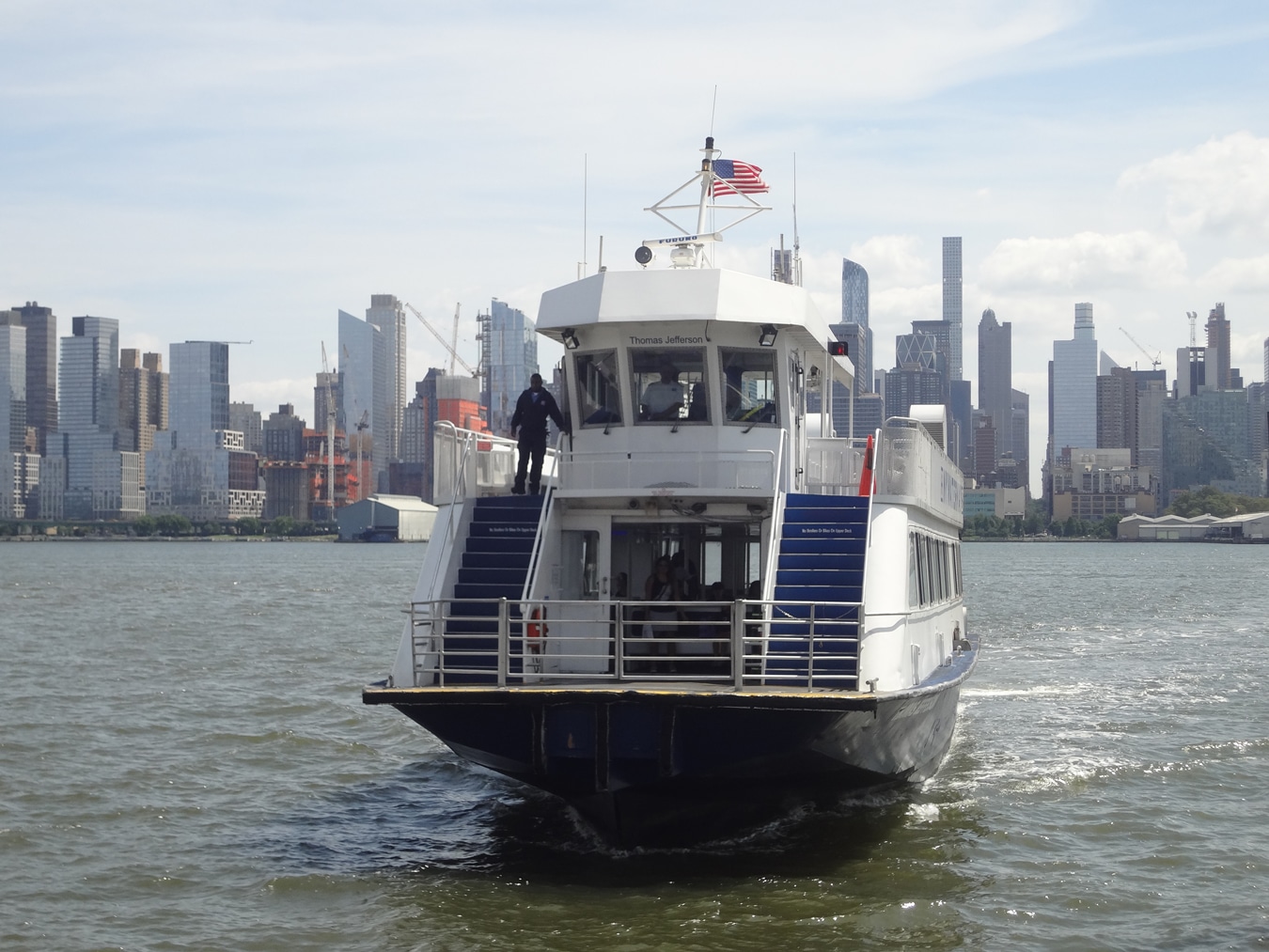 We took the ferry from Hoboken NJ to Manhattan. Parking was very easy and inexpensive at the garage across the street. The 8-minute ferry ride was relaxing and enjoyable. There are a few terminals that the ferry goes to: to Midtown, to Wall Street, and to the World Financial Center. Each terminal offers free bus shuttles leaving from the ferry terminal to various locations in Manhattan. Getting to your destination is easy and convenient.
 Address:
4800 Avenue at Port Imperial
Weehawken, NJ 07086
 Phone Number: (800)-533-3779
Hours: Check the website for schedule: http://www.nywaterway.com/FerryRoutesSchedules.aspx
 Price: Check website for price: http://www.nywaterway.com/FerryRoutesSchedules.aspx
 Parking Prices in Weehauken:
Up to 15 minutes: free
Early Bird (In by 9 a.m. out by 7 p.m.): $14
Evenings after 4 p.m.: $10
Up to 1 hour: $6
Up to 2 hours: $8
Up to 4 hours: $10
Up to 12 hours: $16
 Approximate Distance from:   
Lakewood: 1 hour, 10 minutes
Monsey: 45 minutes
Roosevelt Island: New York, NY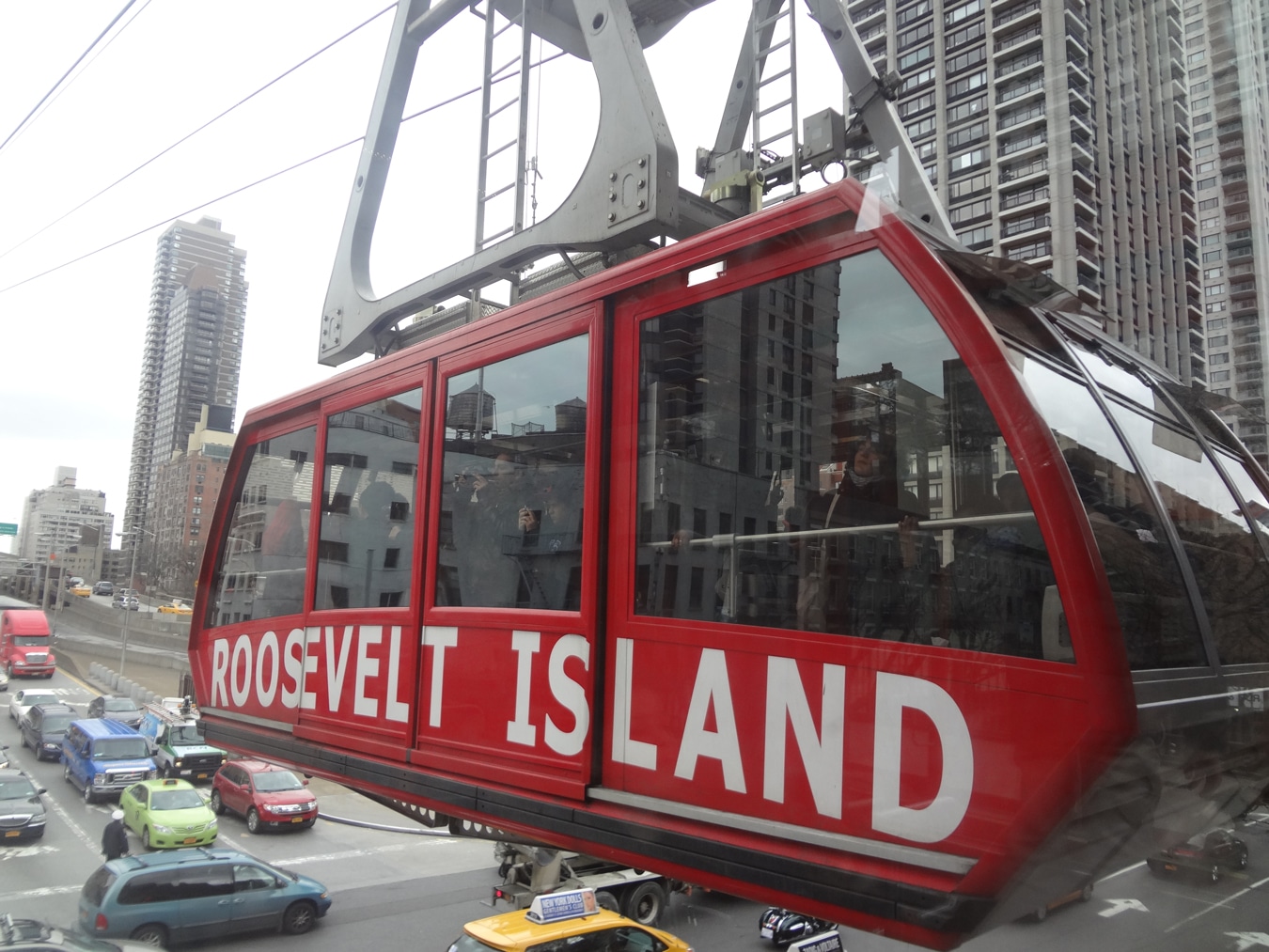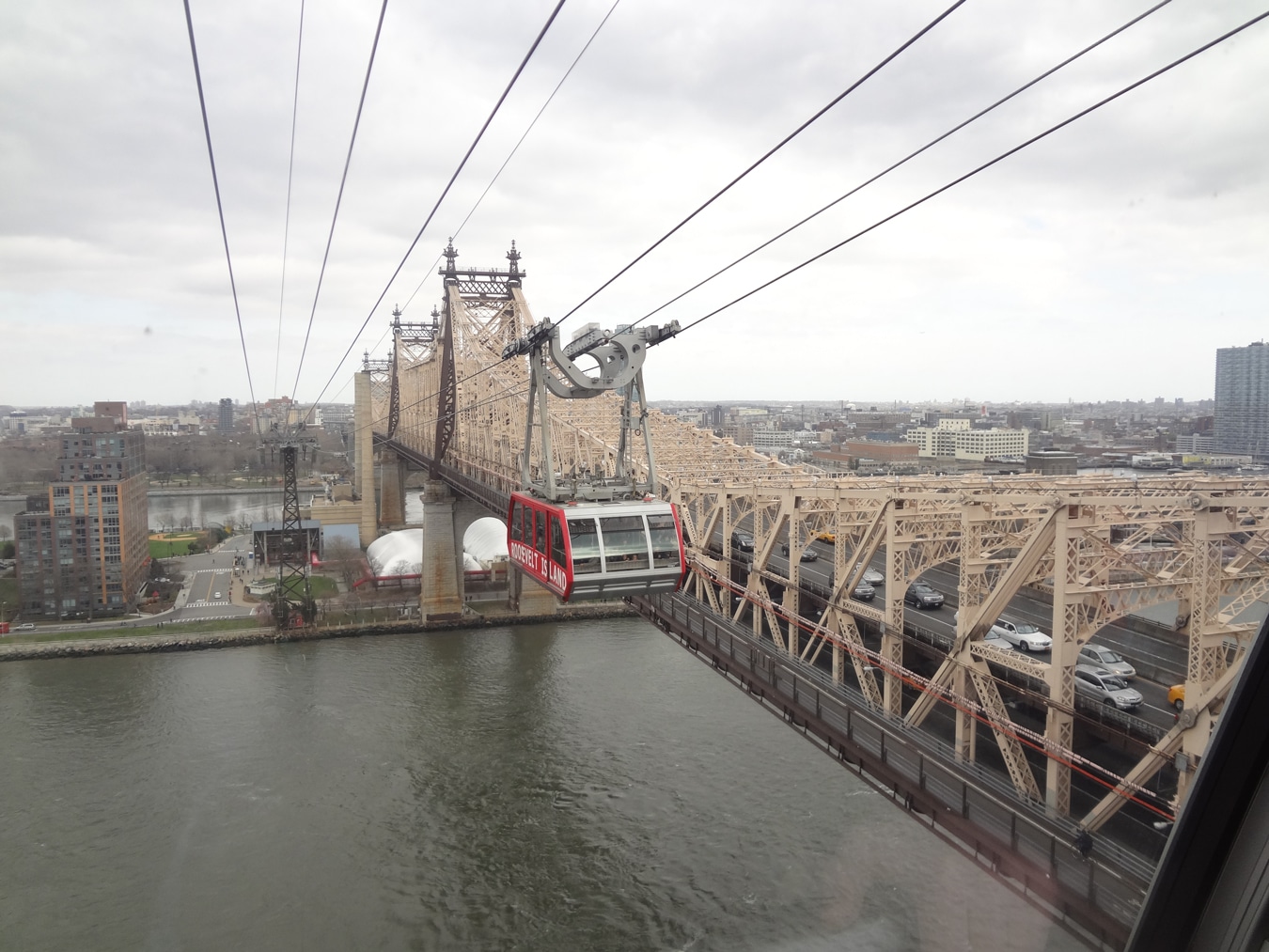 There's nothing like seeing NYC traffic from above!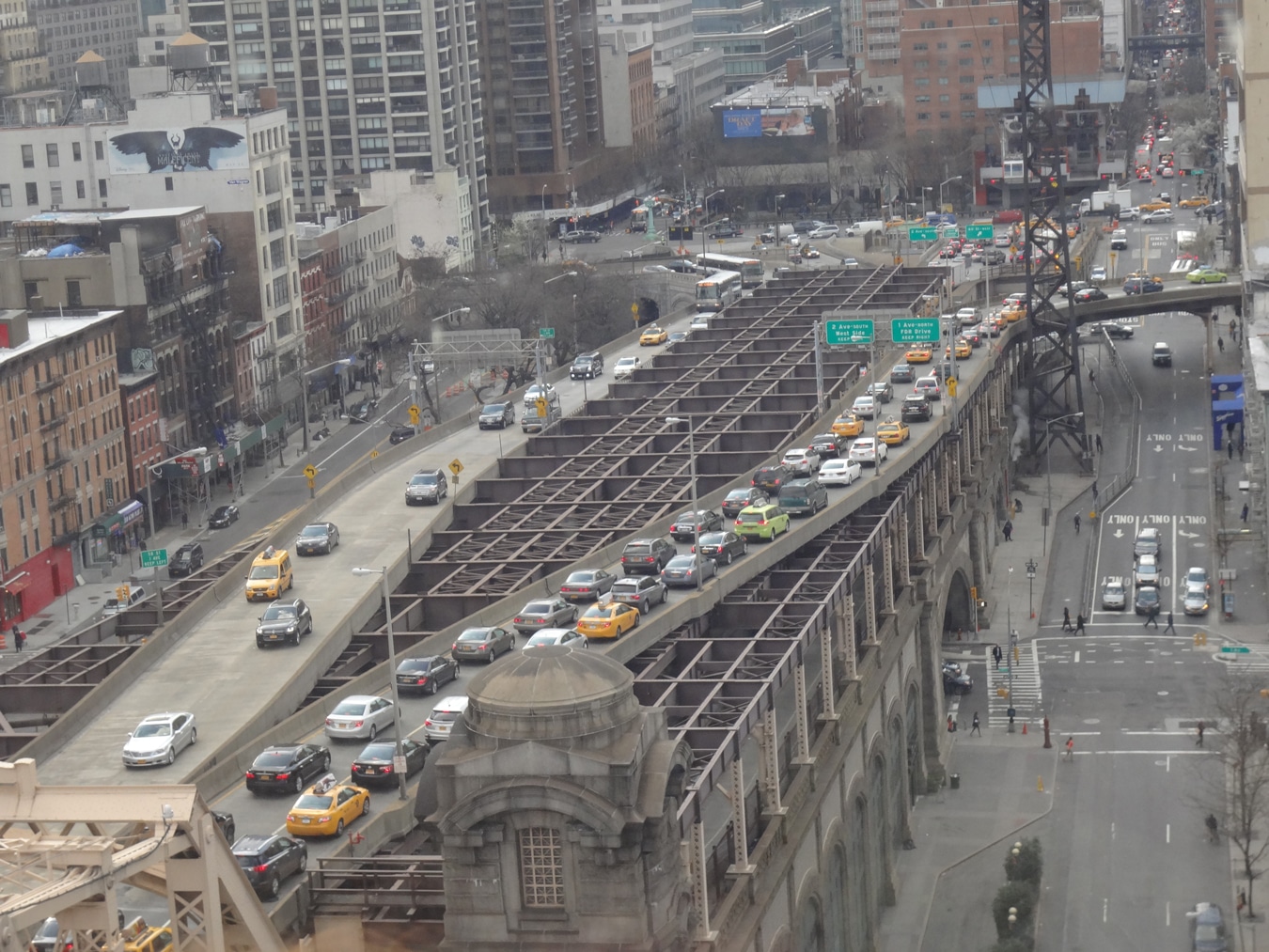 Roosevelt Island is a narrow two-mile-long Island in the East River of Manhattan located between Queens and Long Island.  The Island is on the outskirts of the City and can be accessed through an Arial Tramway. The Arial Tramway station is near the FDR. The tram ride lasts just for a couple of minutes but is fascinating. When we rode the tramway, there was a lot of traffic on the street below. We were enthralled!
The Island has various playgrounds to accommodate different ages. There is also a walkway alongside the river where you can ride bikes or take a leisurely stroll. The open fields are great for ball games or flying kites. The Price of the Arial Tramway is very affordable since it is part of the Metro system. Up to three (3) children 44 inches tall and under ride for free on the Tram when accompanied by a fare-paying adult
 Tramway Station: E 59th St & 2nd Avenue, New York, NY 10022
 Phone: (212) 832-4583
 Hours:
Sunday through Thursday: 6 AM – 2 AM
Friday and Saturday: 6 AM – 3:30 AM
Morning Rush Hours (Monday through Friday): 7 AM – 10 AM
Evening Rush Hours (Monday through Friday): 3 PM – 8 PM
Holidays: Tram runs on a regular schedule, except for major holidays (New Year's Day, Memorial Day, Independence Day, Labor Day, Thanksgiving Day, Christmas Day), during which the Tram runs on a rush hour schedule.
 Price: To ride the Tram, you must use an MTA MetroCard. MetroCards are available for purchase at either Tram Station and at subway stations throughout New York City. Full fare: $2.50 per trip Reduced Fare MetroCard: $1.25 per trip
 Approximate Distance from:
Monsey: 55 minutes
Brooklyn Bridge: 20 minutes
 Lakewood: 1 hour, 30 minutes 
Battery Park Area
 Battery Park is a beautiful green waterside haven at the tip of Manhattan. It has lots of attractions connected to it. A building housing The Seaglass Carousel, an unusual glass carousel with fish-shaped seats is right in the park. The free Staten Island Ferry leaves from there. Boats that go to The Statue of Liberty and Ellis Island leave from there as well. (I haven't been to the Statue of Liberty and Ellis Island for many years, therefore, I did not include my experience here). Manhattan By Sail, a sailboat tour also leaves from Battery Park.
Museum of Jewish Heritage also known as the Holocaust Museum is located right across from Battery Park and just a few minutes walk to the Freedom Tower and the 911 Memorial Museum.
Museum of Jewish Heritage-Holocaust Museum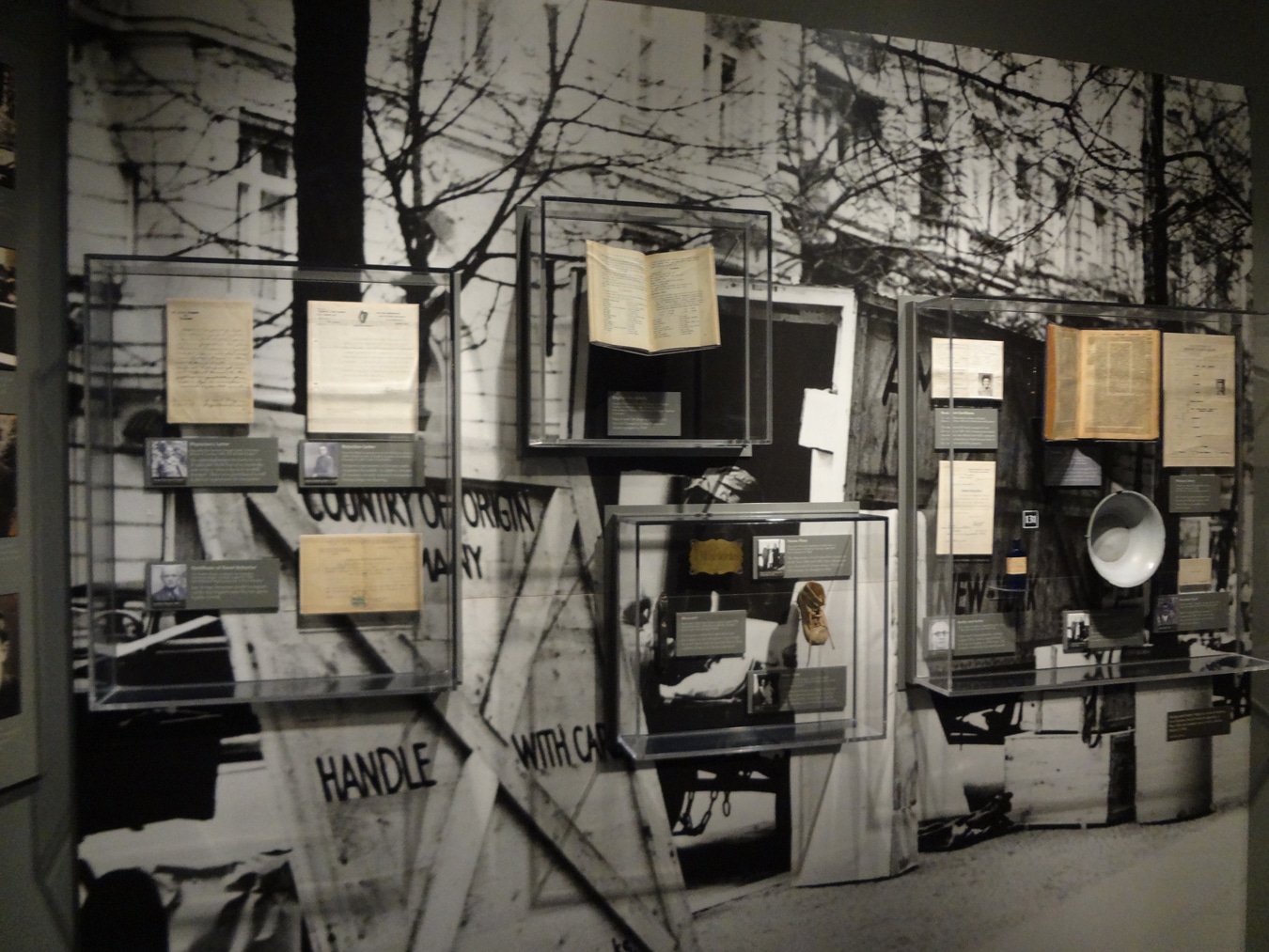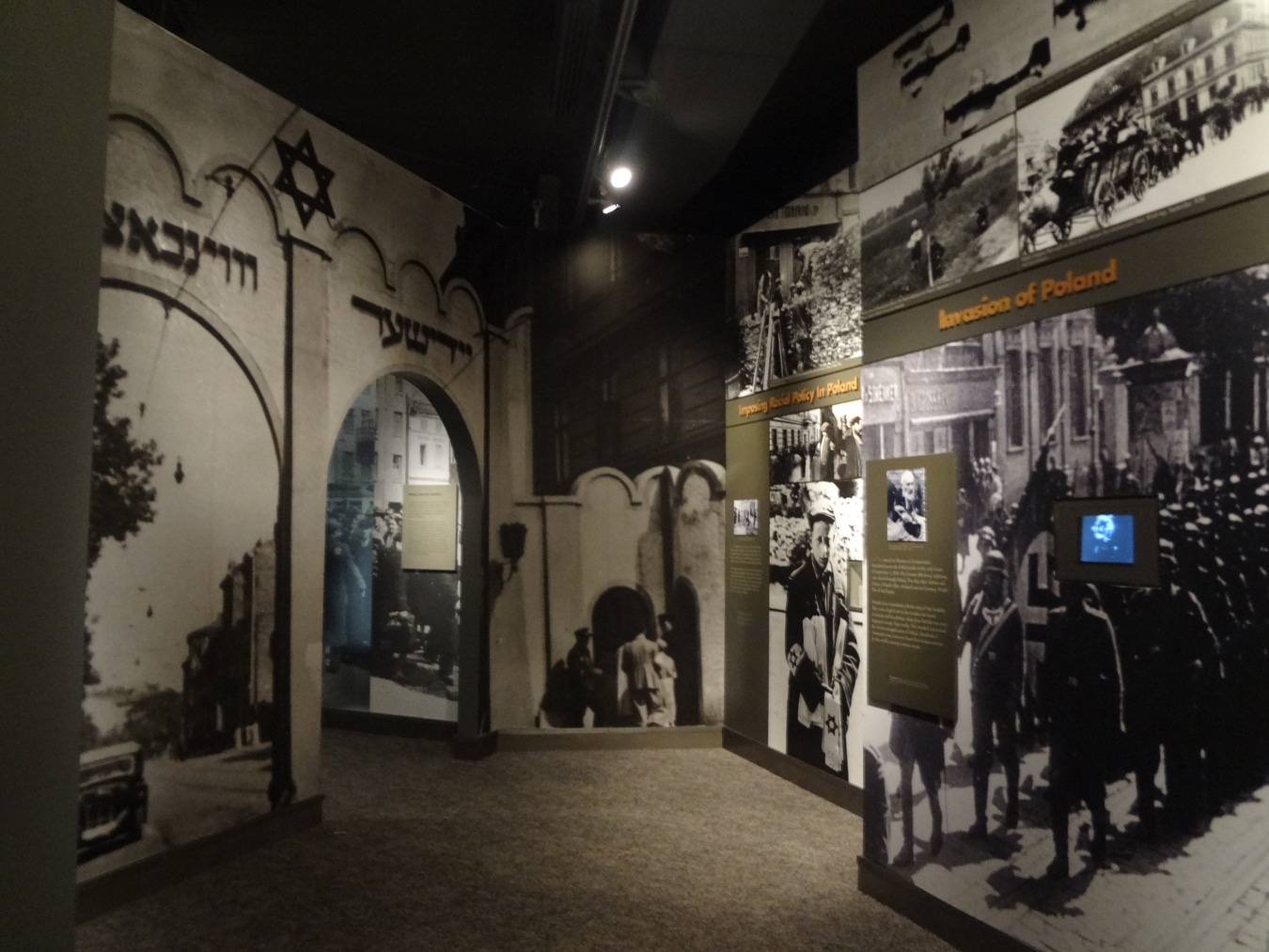 Located in the picturesque setting of Battery Park, The Museum of Jewish Heritage has a mission of teaching the world about the past, confronting the present, and educating the future generations about the horrors of the Holocaust.
The Museum's Core Exhibition features a plethora of artifacts and photographs in connection to Jewish history. The Museum is divided into three sections: Jewish Life a Century Ago, War against the Jews, and Jewish Renewal. The sections dedicated to the periods before and after the Holocaust help to understand the events, as well as show how the Jews rebuilt and live on.
One of the most powerful exhibits is the collection of pictures of Holocaust victims. There is also survivor testimony and 24 documentary films interspersed throughout the Museum.
There is, in addition, a variety of temporary exhibits in the Museum at any given time.
The Garden of Stones was planted by Holocaust Survivors and their families in 2003. This garden, visible from the museum, is a place used by many to contemplate the horrors of the Holocaust and the future of the next generations.
There is currently a temporary exhibit on Auschwitz there until this January.
 Address:
Edmond J. Safra Plaza
36 Battery Place
New York, NY 10280
 Phone Number: 646-437-4202

Hours:
Sunday: 10:00 AM – 9:00 PM
Monday: 10:00 AM – 9:00 PM
Tuesday: 10:00 AM – 9:00 PM
Wednesday: 10:00 AM – 9:00 PM
Thursday: 10:00 AM – 9:00 PM
Friday: 10:00 AM – 5:00 PM
Saturday: Closed
From November 8, 2019, through March 14, 2020, we will be open from 10:00 AM to 3:00 PM on Fridays. 
Last admission to Auschwitz. Not long ago. Not far away. is 2 hours before closing time. The last entrance to the rest of the Museum is 30 minutes prior to closing time. All visitors must exit the galleries 15 minutes before the Museum closes.
 Admission:
Auschwitz. Not long ago. Not far away.
(includes audio guide and entrance to all exhibitions)
$16 Adults
$12 Seniors and Patrons with Disabilities (ADA)
$10 Students and Veterans
$25 Flexible Ticket (enter any time on a specific date, from 10:00 AM to two hours before
the Museum closes)
 MJH Highlights (all exhibitions except Auschwitz. Not long ago. Not far away.)
$8 General Admission
$5 Seniors, Students, Veterans, ADA Access
Free Members, Children Age 12 and Younger
Free 4 – 9 PM Wednesday and Thursday
FREE admission to all exhibitions for Holocaust survivors, active members of the military and first responders, and students and teachers through grade 12 in schools located in New York, New Jersey, and Connecticut (with valid school-issued ID).
 Approximate Distance from:   
Brooklyn Bridge: 15 minutes
Lakewood: 1 hour, 15 minutes
Monsey: 1 hour
One World Trade Center- Freedom Tower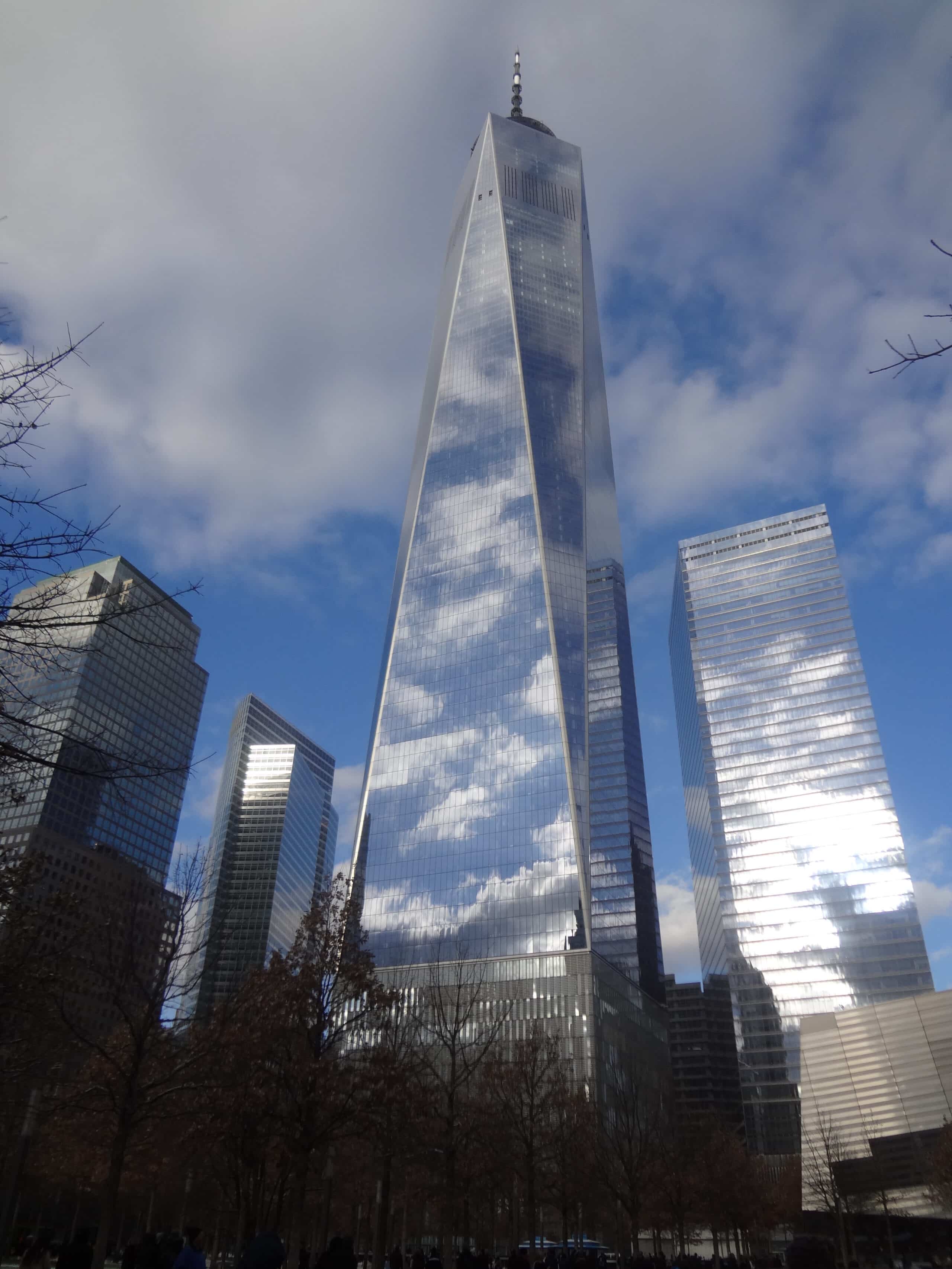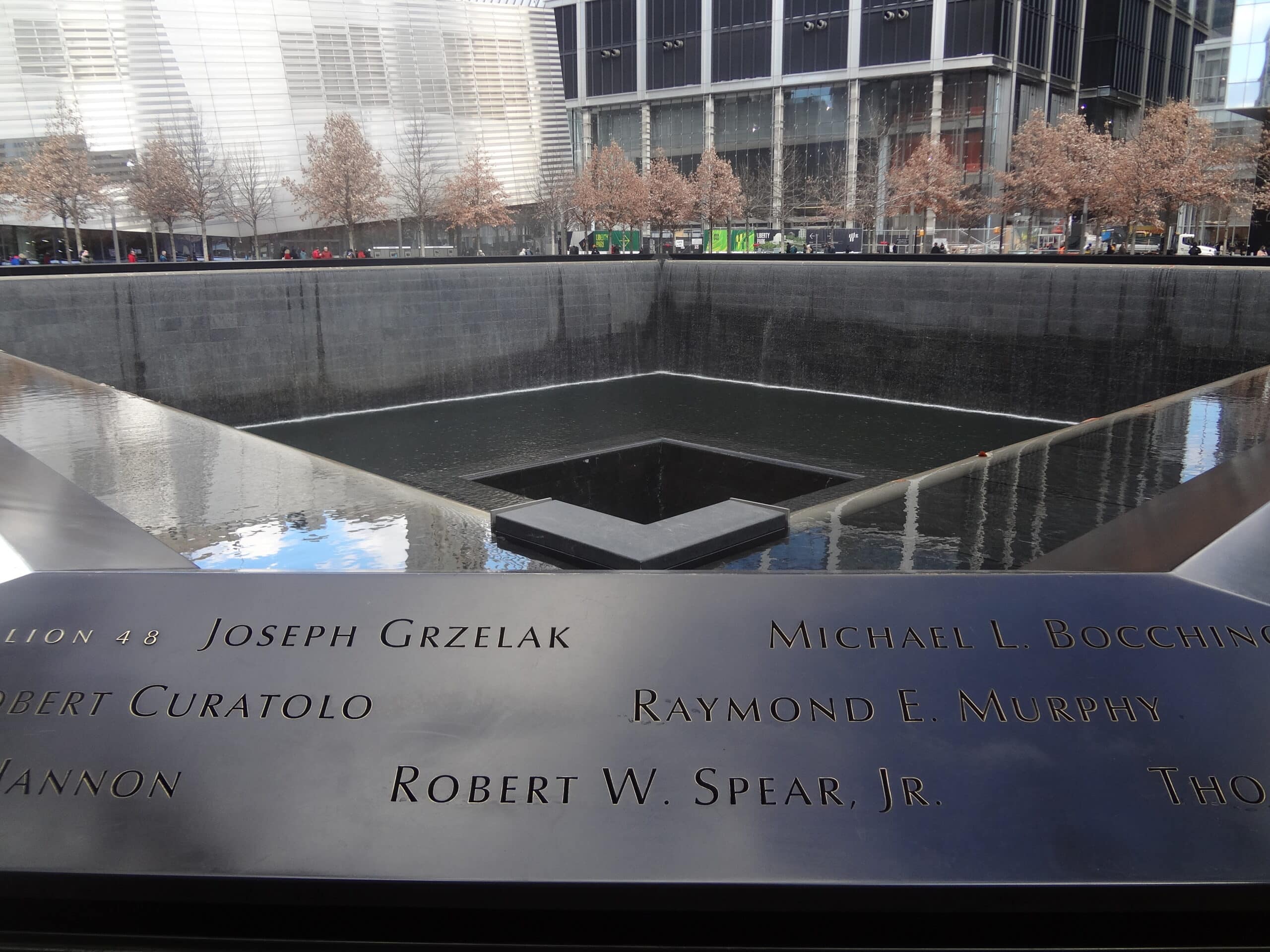 The beauty of the view from the Freedom Tower is that you get to see all sides of Manhattan clearly. There are beautiful unobstructed views of the Hudson River, The Statue of Liberty, and Ellis Island. At the same time, there are magnificent city views of the buildings and the streets, of the hustle and bustle that makes New York City such an exciting place. The view from atop the tallest building in the Western Hemisphere is truly breathtaking.
On the way from the entrance to the elevator, there are informative and interesting exhibits about the construction and interesting facts about the Freedom Tower. Climbing to the 102nd floor of the Freedom Tower is just a 47-second ride by elevator. The walls of the elevator have a rapidly changing informative mural of Manhattan and how it metamorphoses from forest to a city with huge skyscrapers. When exiting the elevator, visitors get to see a two-minute movie all about New York City. At the end of the movie, the walls that displayed the movie lift and the awesomeness of the view can't help but amaze you. The views can be enjoyed on floors 100, 101, and 102. There is also a restaurant located on the 101st floor.
The Freedom Tower is located adjacent to the 911 Memorial and Museum. It is a real-life lesson of destruction, rebuilding, and moving on.
 Address:
One World Trade Center
285 Fulton Street
New York, New York 10007
 Phone Number:  212-602-4000
Hours: Oct. 3 – Dec. 19: 9:00am – 9:00pm (last ticket sold at 8:15pm)
 Price: Prices online start at $35 per person
 Approximate Distance from:
Brooklyn Bridge: 10 minutes
Lakewood: 1 hour, 10 minutes
Monsey: 1 hour
There is a deafening silence in the exhibition rooms at the 9/11 Museum. The mood is somber, and visitors can't help but feel pride in all the people who came to aid those in need, and sadness for all those who lost their lives in the process. 
The 9/11 Museum was designed extremely well. The exhibitions are divided into sections and categories, with some pieces of the original structure displayed within the 110,000-square-foot museum. The museum begins from the planning and building of the towers and continues on to 9/11 and beyond through interactive technology, archives, narratives and a collection of artifacts.
There are sections of witness encounters; there is a memorial section, a Historical exhibition, and a rebirth section.  No flash photography is allowed in the museum and in certain sections, no photography is allowed at all.
The mangled fire trucks and the actual Vesey Street "Survivors Stairs" used by many to escape the towers make the events feel very real. The many Docents around the museum share information and several share personal experiences of how they or their loved ones were in the tower on that fateful day. The many personal accounts and recordings draw people in and you can't help but realize that the world will never be the same since 9/11.
Outside the Museum are the two Memorial Pools with names of all the victims inscribed on the sides. There is no entrance fee to see the pools which are large and square-shaped. Their water flows downward, not upward. It has a symbolic feel to it, commemorating all those brave men and women who perished on 9/11. 
 Address:
180 Greenwich St,
New York, NY 10007
 Phone Number: (212) 312-8800
Hours: 9/11 Memorial Daily, 7:30 a.m.–9 p.m.
 9/11 Memorial Museum
Sun.–Thu., 9 a.m.–8 p.m. with last entry at 6 p.m.
Fri. and Sat., 9 a.m.–9 p.m. with last entry at 7 p.m.
Last admission two hours prior to closing
 Price:
Adult$26
US College Student: $20
Senior (65+):$18
Youth (7-12):$15
Young Adult (13-17):$20
US Veteran: $18
Children ages 6 and under are free. . Free Admission Tuesday 5 p.m. to close. Tickets are distributed on a first-come, first-served basis at the Museum starting at 4 p.m. Distribution time subject to change. 
 Approximate Distance from:
Brooklyn Bridge: 10 minutes
Lakewood: 1 hour, 15 minutes
Monsey: 1 hour           
As one of the three most popular Observation Buildings in Manhattan, Top of the Rock has its own uniqueness. Located within the Rockefeller Center, you'd never believe what 360-degree breathtaking unobstructed views of Manhattan can be seen right there in Midtown Manhattan.
There are three levels of viewing decks. The Radiance Wall (and gift shop), the outdoor Breezeway, and the roof deck. The open-air roof deck on the 70th floor is the highest observation deck of the three. It doesn't have a gated closed-in feel, it's open and free. The sweeping views of Manhattan include lots of famous landmarks and a clear view of the Empire State Building.
All tickets for the Top of the Rock are with a time slot. Tickets without a time are available but need to be exchanged for one with a time upon arrival. Tickets may not be available for hours later so it is advisable to get timed tickets. When we arrived, the friendly staff greeted and helped us get to the security line which then led us to the elevator up. The ride up with the elevator Sky Shuttle is really quick featuring a show of lights.  Once on the observation deck, visitors can stay as long as they want. We went during sunset – one of the most popular times. It was quite crowded but awesome at the same time.    
Address:
30 Rockefeller Plaza
New York, NY 10112
 Phone Number: (212) 698-2000
 Hours: Sunday–Saturday
8:00am – Midnight
Last elevator up at 11:00 pm
Price:
Adult$38
Child (6–12)$32
Senior (62+)$36
 As Sunset is the most popular time to visit Top of the Rock, entries during designated sunset times are an additional $10 per ticket. To visit during sunset, purchase a regular admission ticket and select a sunset entry time online or at the Top of the Rock Box Office.
Upgrade to Sun & Stars to visit Top of the Rock twice within 24 hours. Visit during the day and return after sunset to see the city in a whole new light. Purchase a regular or sunset admission ticket and upgrade to Sun & Stars online or at the Top of the Rock Box Office.
 Sun & Stars Ticket
Adult: $56
Child (6–12): $45
 Approximate Distance from:
Brooklyn Bridge: 20 minutes
Lakewood: 1 hour, 25 minutes
Monsey: 50 minutes
USS Intrepid, also known as The Fighting "I", was built during World War II. It was commissioned in August 1943 for the United States Navy. The Intrepid has one of the most distinguished service records of any Navy ship. She fought in WWII, the Vietnam War and served on various missions mainly in the Atlantic Ocean. She was decommissioned on March 15, 1974. In 1982, Intrepid was converted to the foundation of the Intrepid Sea, Air & Space Museum in New York City.
The Intrepid Sea, Air & Space Museum features the huge Intrepid Aircraft Carrier with 28 authentically restored aircraft. The Lockheed A-12 Blackbird, the world's fastest military jet and spy plane, is on display as well as the British Airways Concorde, the fastest commercial aircraft to ever cross the Atlantic Ocean.  The space shuttle Enterprise, the world's first space shuttle that paved the way for America's successful Space Shuttle Program, is also a popular exhibition that made its home in the museum in July of 2012.
There is also a guided missile submarine at the Intrepid Museum.  A tour of the ship will take you through lessons in history where you will learn about American innovation and bravery up close. 
 Address:
Pier 86, W 46th St & 12th Ave,
New York, NY 10036
 Phone Number:(212) 245-0072
 Hours:
Spring/Summer Hours (April 1 – October 31):
Monday – Friday: 10:00am – 5:00pm
Saturday, Sunday & Holidays: 10:00am – 6:00pm 
Price:
General Admission (Includes Space Shuttle Pavilion, submarine Growler, and all Temporary Exhibits):
Adult (13 – 64): $33
Seniors (65+): $31
Child (5-12):$24
Children (4 and under): Free
Special NYC Resident Rate (valid ID required):
The Museum offers free admission for electronic benefits transfer (EBT) cardholders and up to three guests. Must have a valid photo ID. Tickets can be redeemed at the box office. 
Admission
Includes Space Shuttle Pavilion, submarine Growler, and all temporary exhibitions
Approximate Distance from:
Brooklyn Bridge: 25 minutes
Lakewood: 1 hour, 20 minutes
Monsey: 45 minutes                                                
Times Square Area
There is an overwhelming amount of things to do and lots happening in Times Square. We went to Times Square for some of the museums such as Ripley's Believe It or Not, National Geographic Encounter and Gulliver's Gate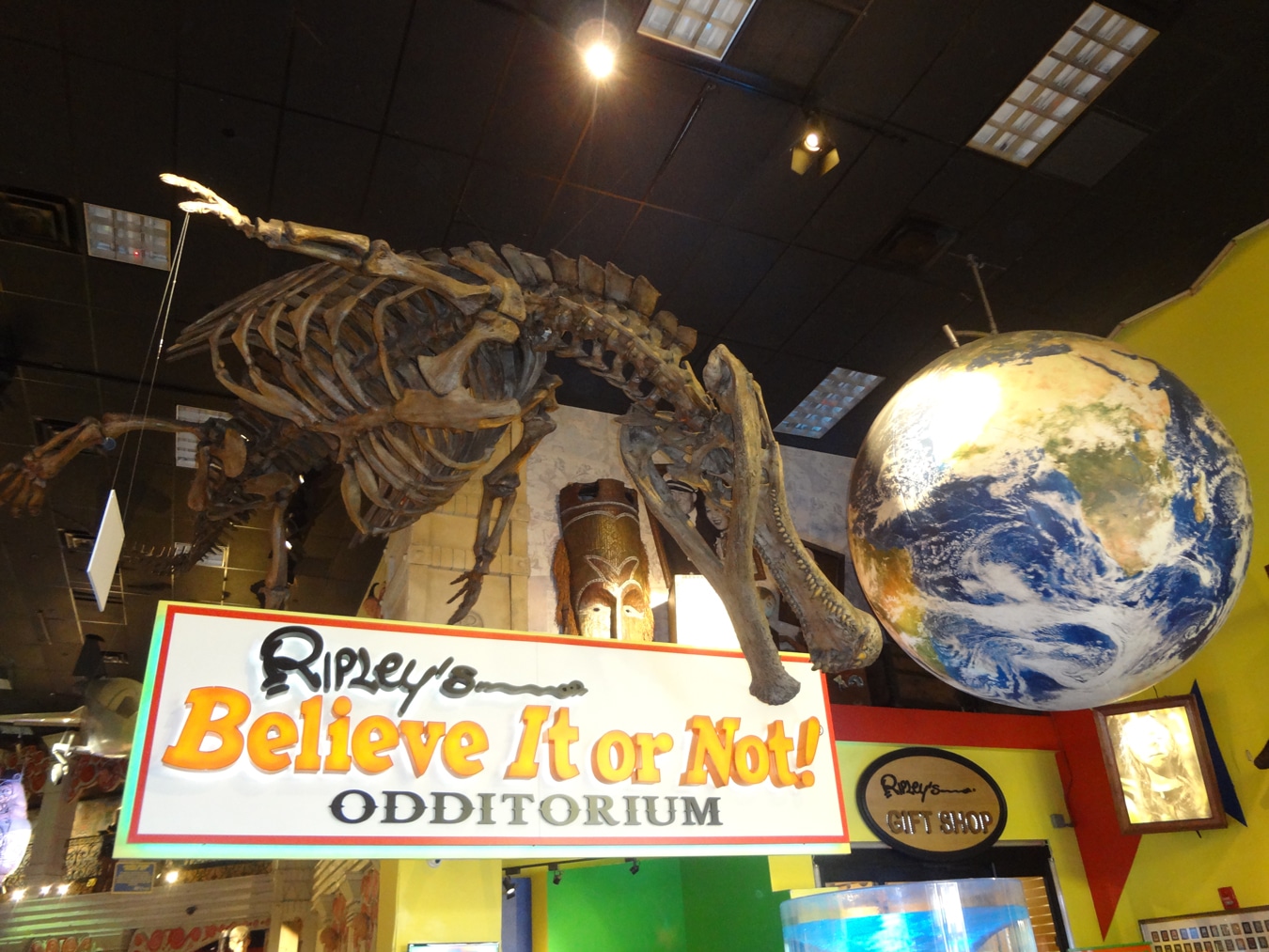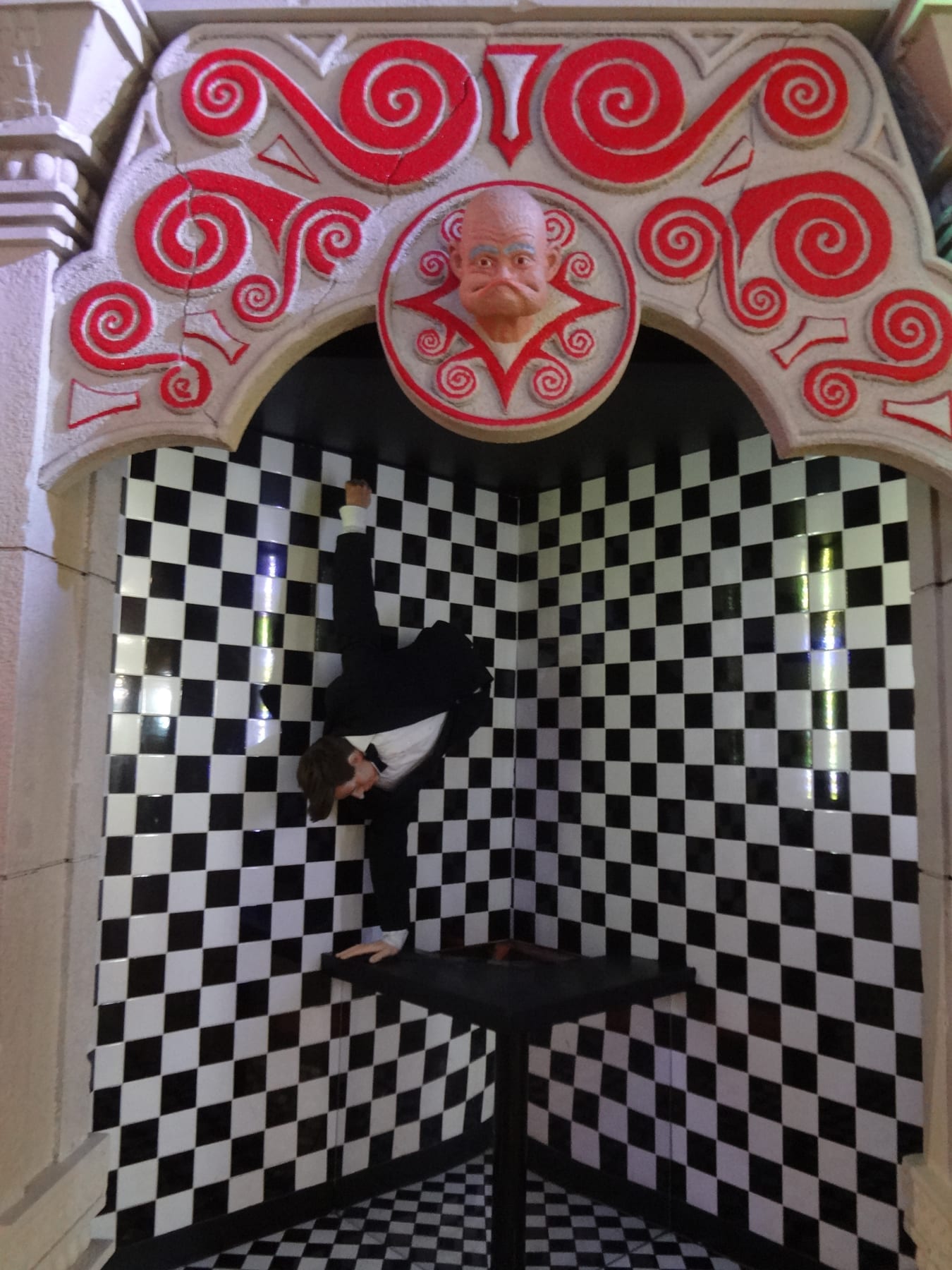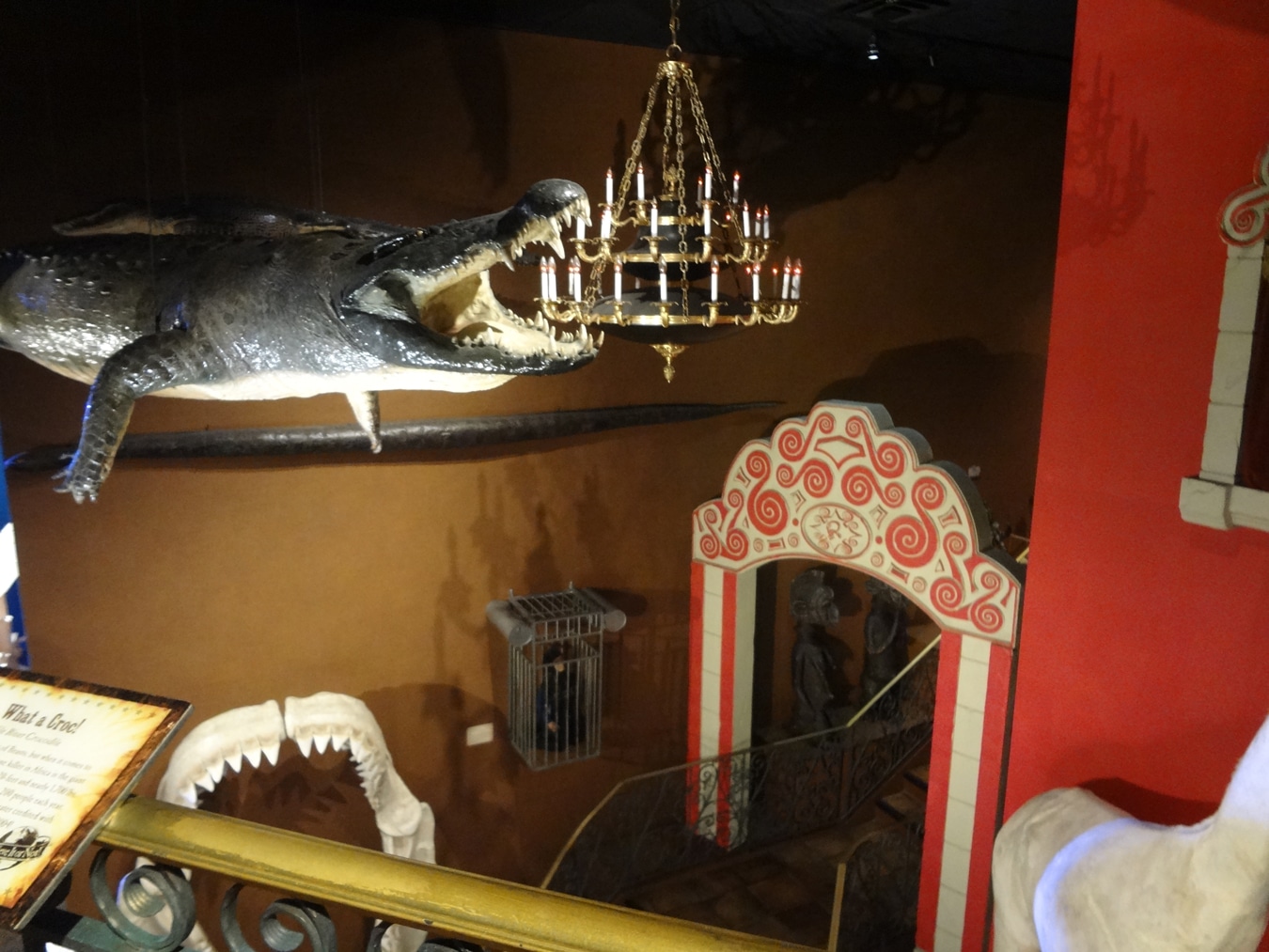 Imagine an elephant with two trunks, or a fellow 9 feet tall, the tallest man in the world. You don't need to imagine it. In Ripley's Believe it or Not museum in Time Square, Manhattan, you can see and experience over 500 exhibits in over 18,000 square feet of interactive space spanning two floors.
Robert L. Ripley (1890-1949) was a cartoonist, reporter, and adventurer. He traveled around the world and traversed 201 countries in 35 years. In each place, he sought out the odd, unusual and unexplained. He became famous for the phrase "Believe It or Not." He acquired lots of rare and unusual artifacts from around the world.
He used all the unusual things he came across as topics for his cartoons. The cartoons were really popular and were released as a book which became a fast bestseller. His success led to radio and television shows and later exhibits at the World Fair.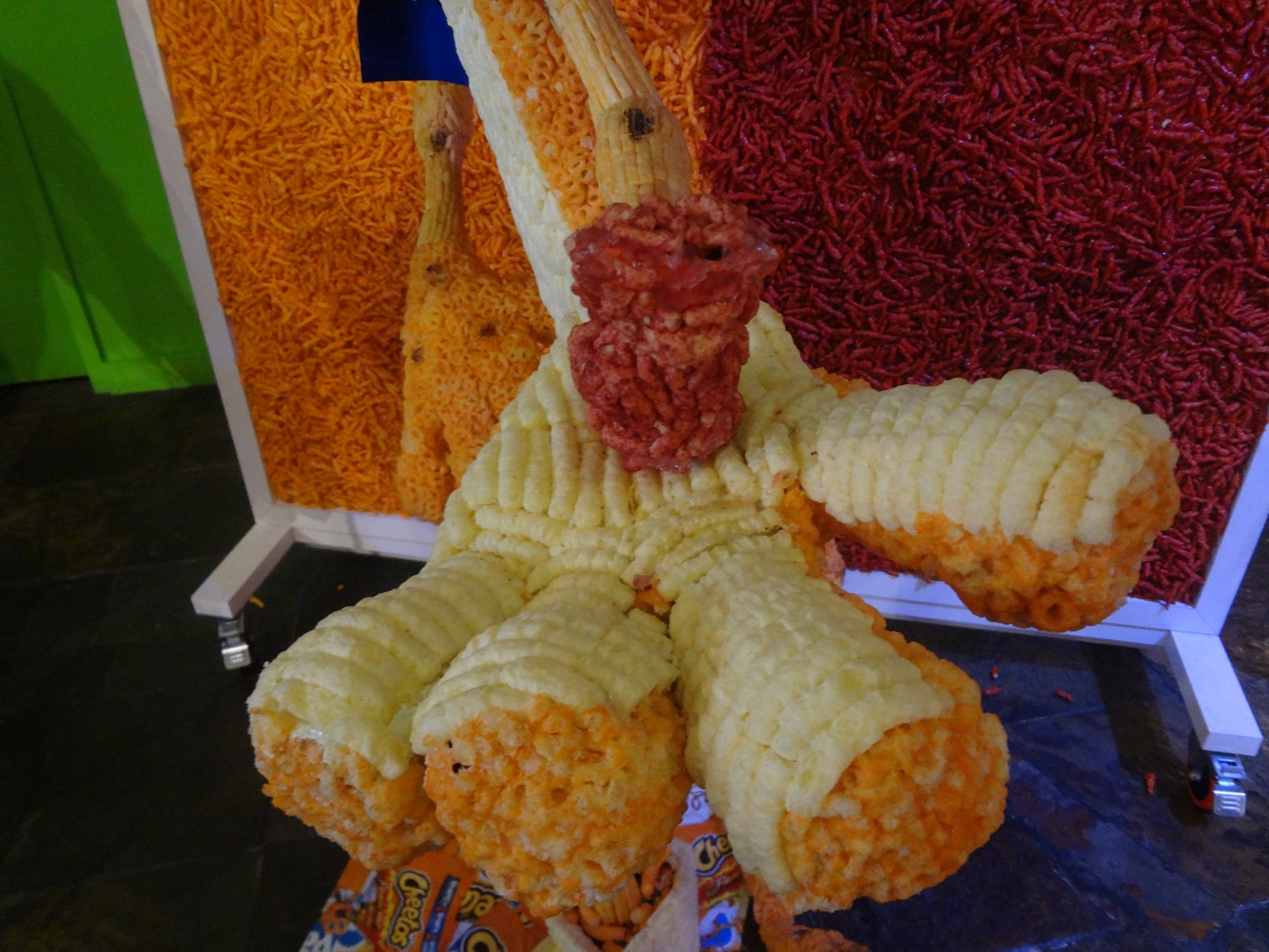 Interest in these unusual facts and artifacts still continues today. Ripley's Believe It or Not Museum is fascinating. There are displays of the fattest person, tallest person, a scene using thousands of postage stamps, the black hole which really makes you feel like the ground beneath you vanished. There are many amazing photo opportunities throughout the Museum such as having your face in a pickling jar or tightrope walking over Manhattan.
Address:
234 West 42nd Street
New York, NY 10036
 Phone Number: 212-398-3133
Hours:
Sunday-Wednesday: 10 am – 11 pm
Thursday– Saturday: 10am – 1am 10am – 11pm
Last tickets sold one hour prior to closing.
 Price:
Adult in person: $32
Adult Online $25.60
Child in person: $24
Child Online: $19.20
 Approximate Distance from:
Brooklyn Bridge: 20 minutes
Lakewood: 1 hour, 15 minutes
Monsey: 50 minutes                                              
National Geographic Encounter: New York, NY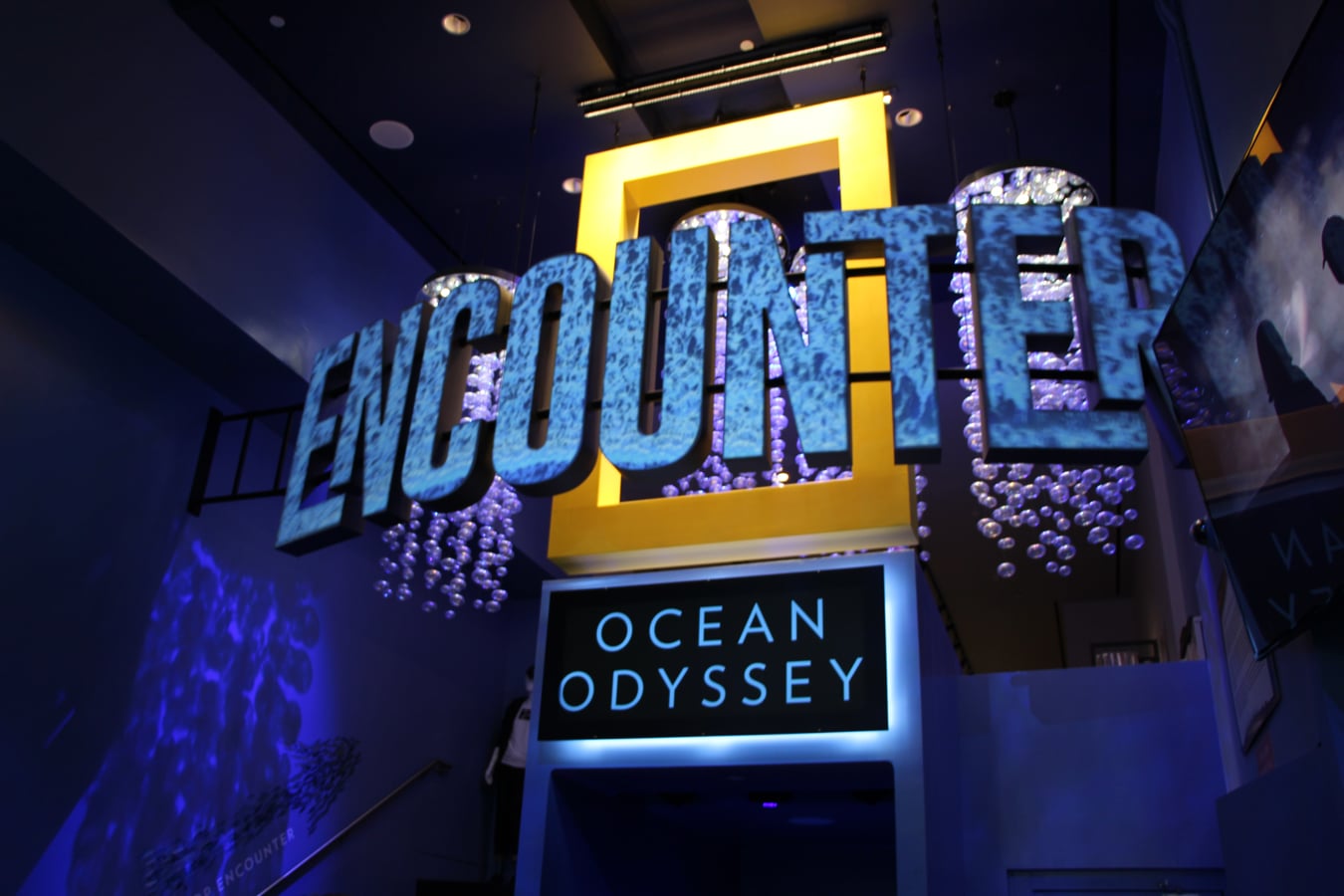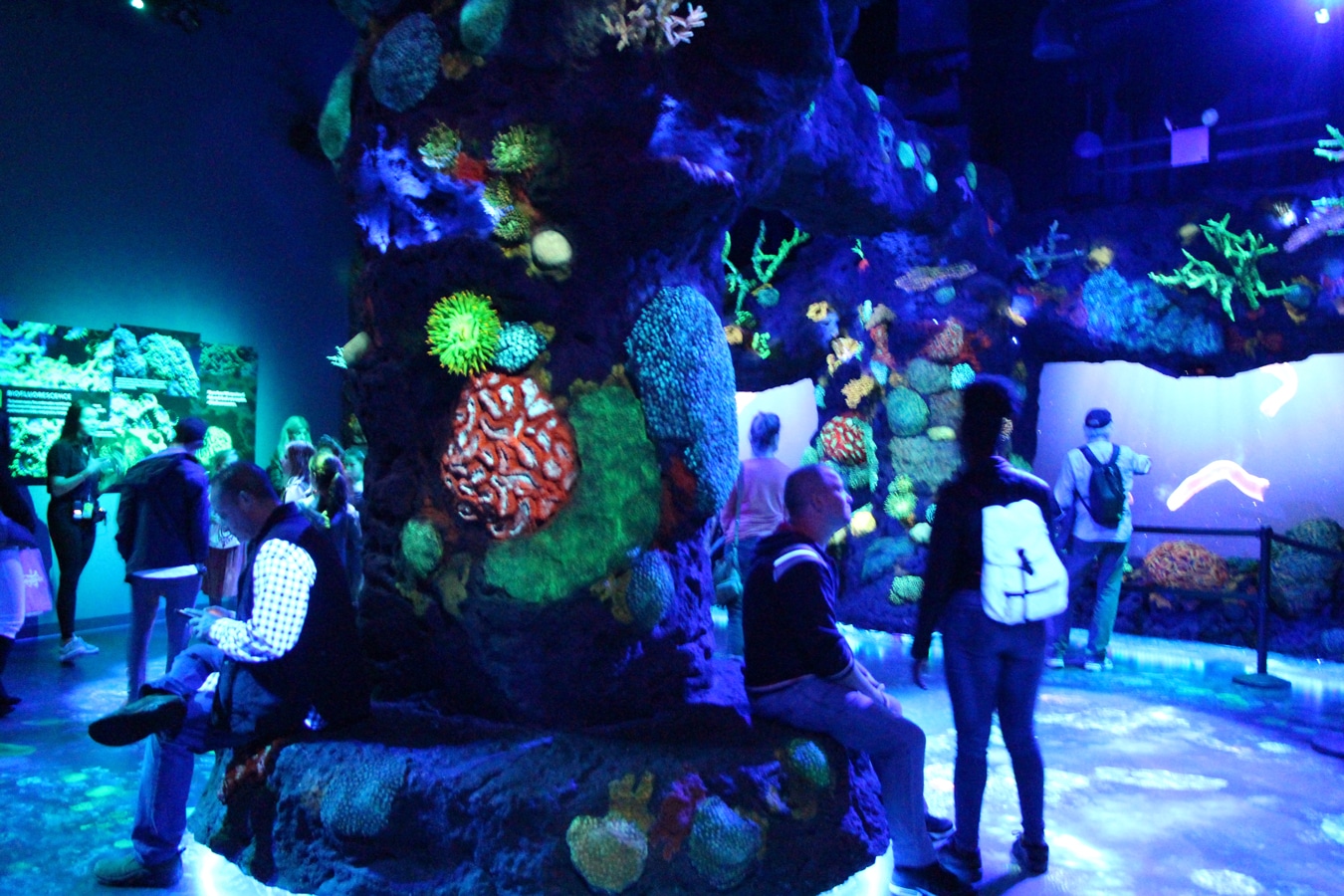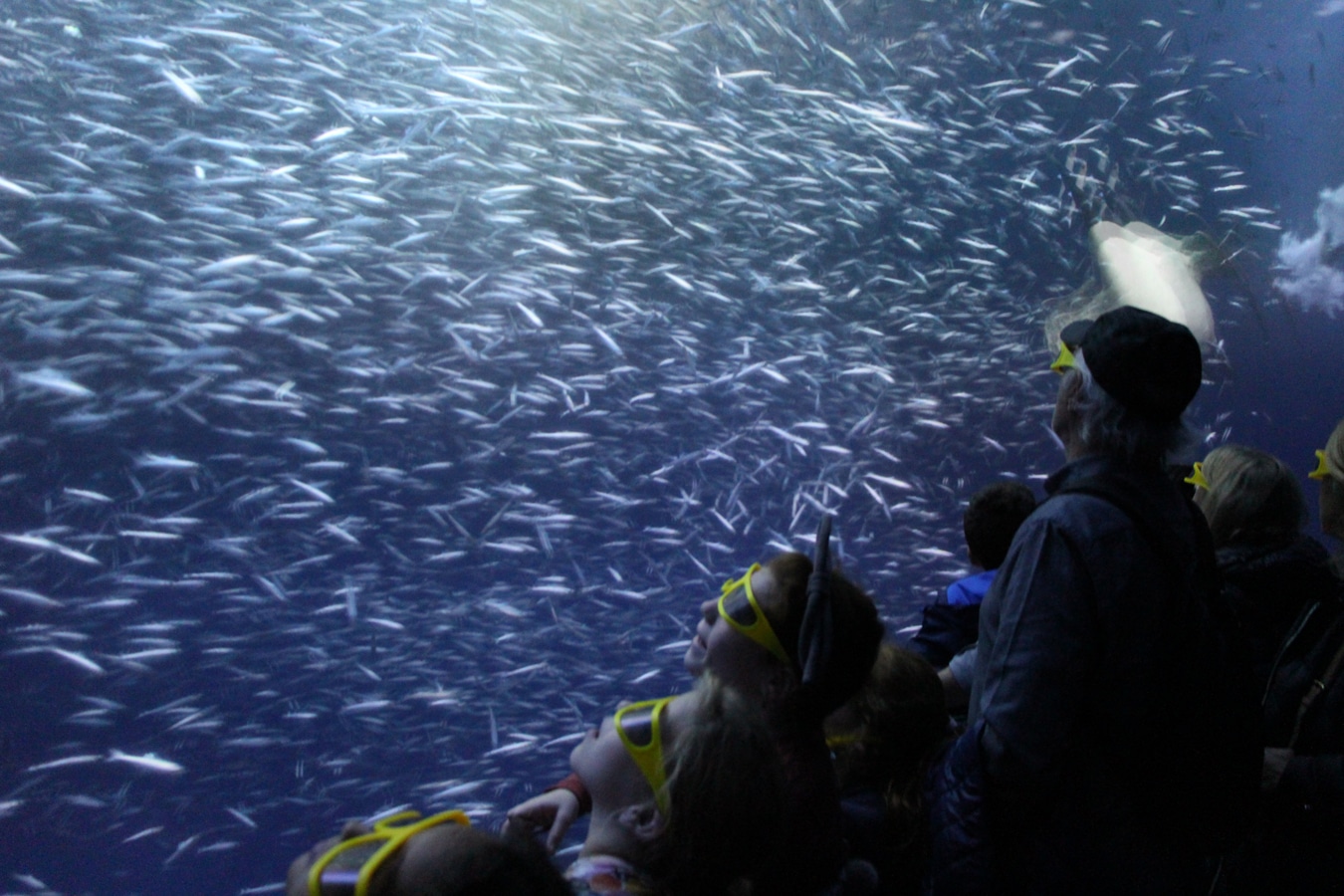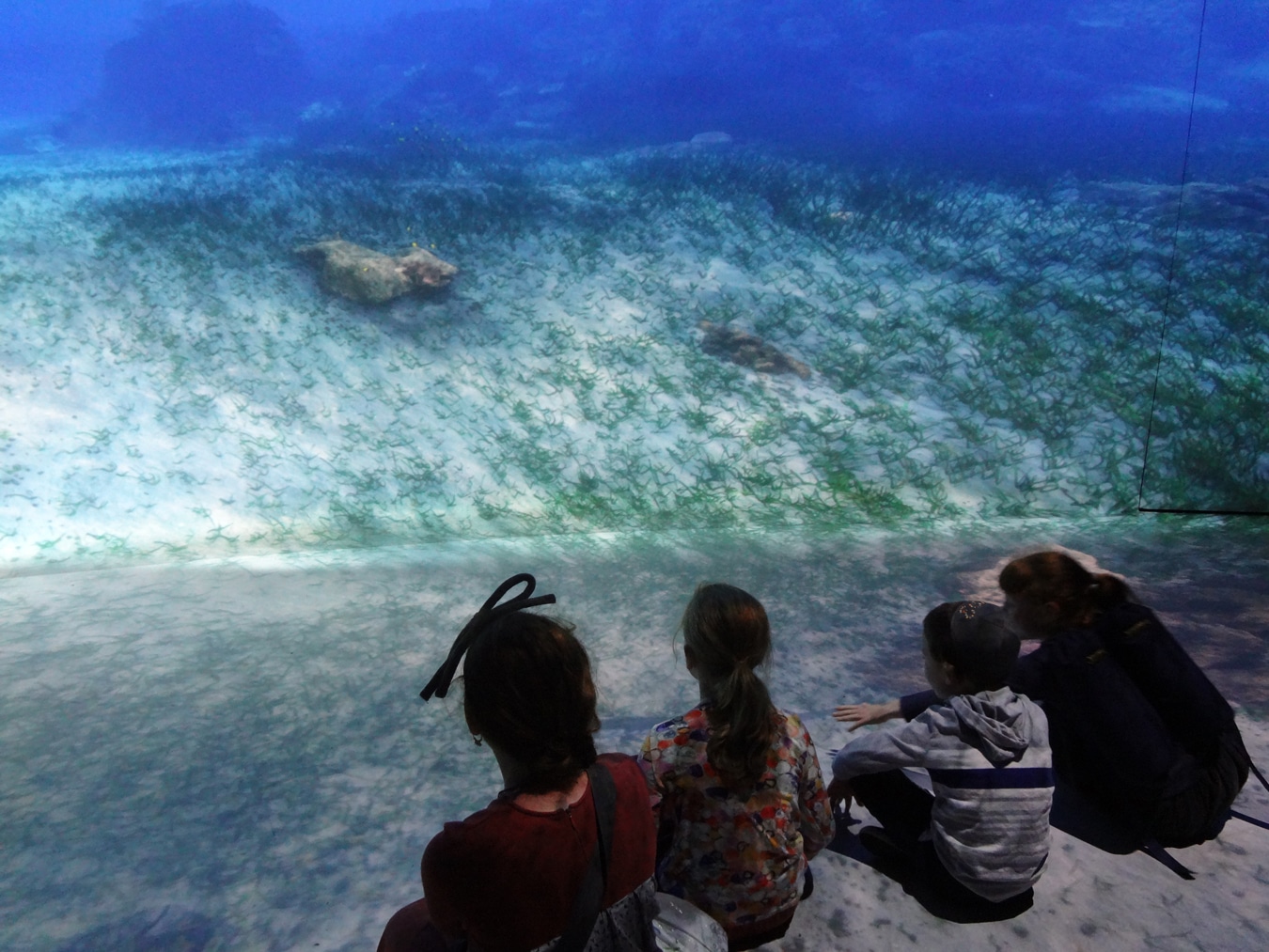 I couldn't wait to see all the amazing fish and plants in the Ocean Odyssey. Although the ecosystems, fish, and a variety of animals seemed very real, there were no live animals at the National Geographic Encounter. Instead of taking the animals out of their natural habitats and homes, the NGE transports guests all over the world through amazing realistic animation based on genuine pictures, videos, and documentation.   
Tickets to NGE are timed. All visitors join a group led by a knowledgeable guide who explains everything you see. Included in the many fascinating displays is a night visit to a luminous coral reef, a virtual dive deep into the ocean. The life-sized humpback whale sure surprised us. The rainforest mirror maze was really enjoyable.  It is hard to believe that none of the animals are real. The state of the art technology used replicates the encounters so realistically that you need to remind yourself at times that you are not snorkeling but on dry land. At the end of the tour, there are hands-on activities and games in the Exploration Hall as well as real footage of some of the most amazing sites seen by deep-sea explorers.
 Address:
226 W 44th Street
New York, NY 10036
 Phone Number:646-308-1337
 Hours:
Sunday-Thursday: 10 a.m.-9 p.m.
Friday & Saturday: 10 a.m.-10 p.m.
Price:
$39.50 (Adult)
$32.50 (Child 3-12)
$36.50 (Seniors & U.S. Veterans)
FAMILY FUN PACK-4 TICKET PACKAGE:
$99 for 4-ticket package 
($24.75 per ticket)
 Approximate Distance from:
Brooklyn Bridge: 30 minutes
Lakewood: 1 hour, 15 minutes
Monsey: 50 minutes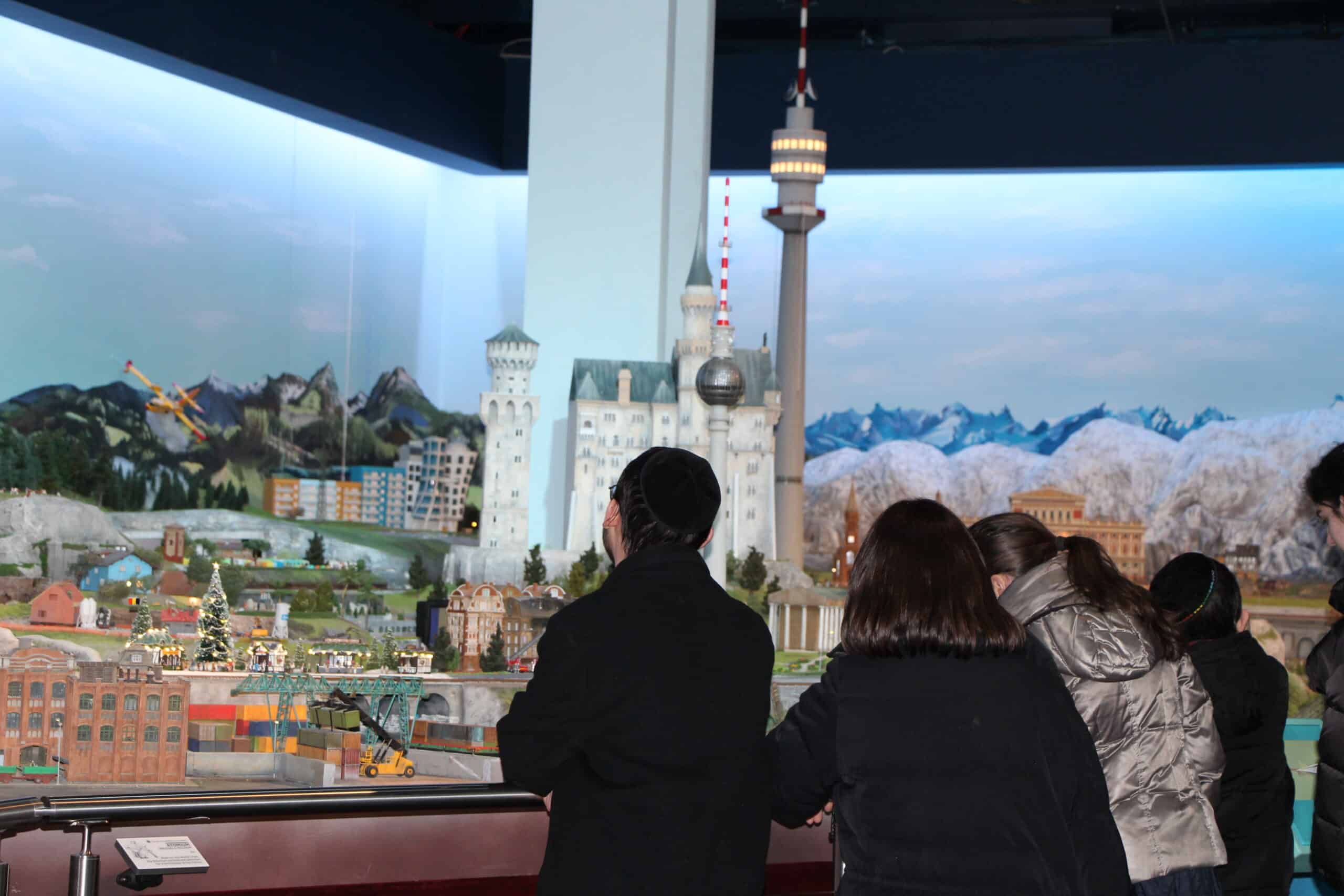 Gulliver's Gate is a miniature world the size of a football field. Each display was created by professionals in the native country that is featured. The displays are very realistic and extremely detailed. The major landmarks of each place are included in the display with a lot of extra detail added.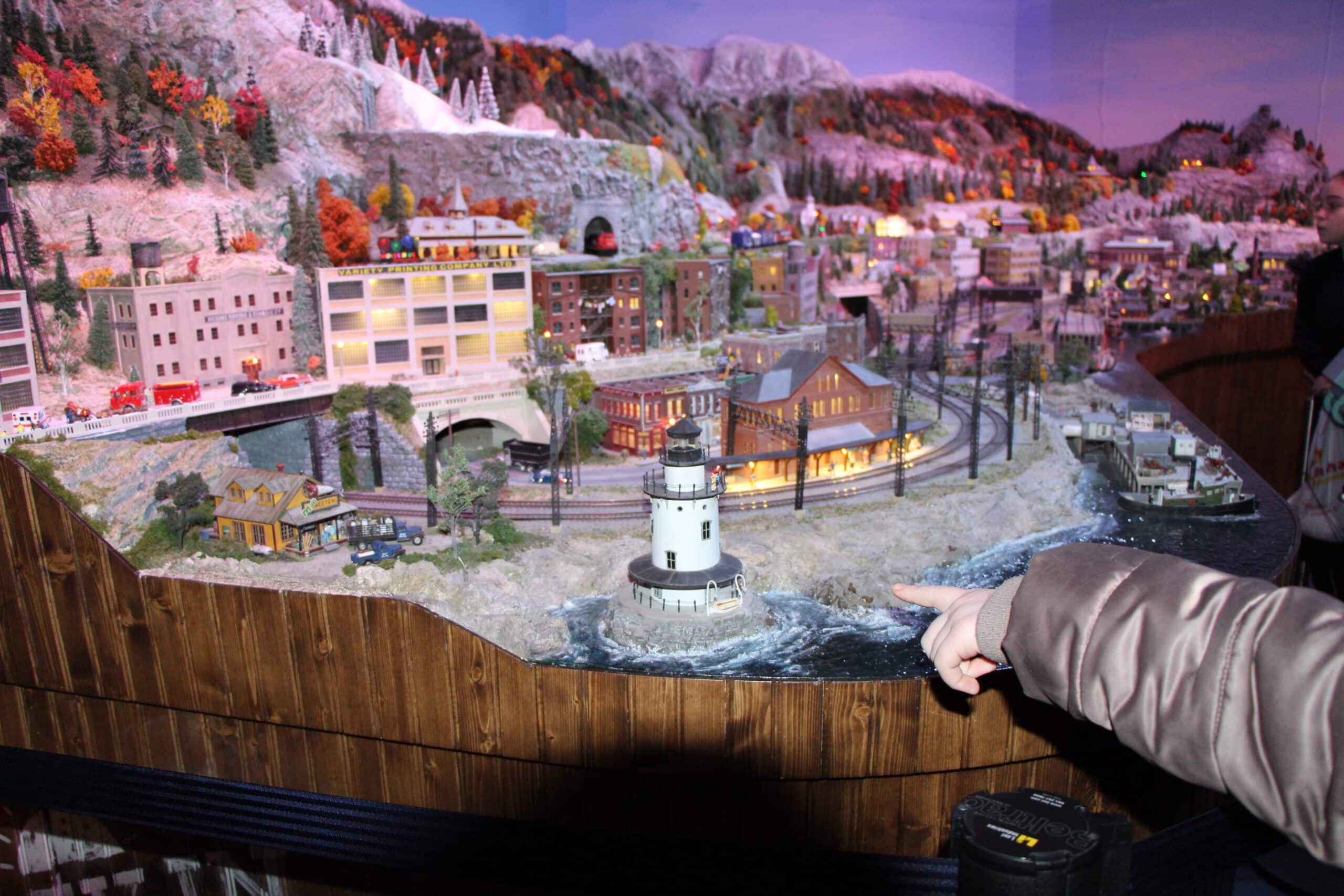 New York City is the first stop on the route of touring the world. It is so exciting to recognize all the city's main attractions such as the Empire State Building, Central Park, Grand Central Station, The George Washington Bridge, The Staten Island Ferry, Roosevelt Island Tramway and many more details to be enjoyed. Every visitor is given an adorable key necklace which is the entrance ticket and can be inserted in stations scattered around the exhibits. When you turn the key, something extra is activated. In New York when we inserted the key in one of the stations we got to see a parade. There is also a separate display of the New England area.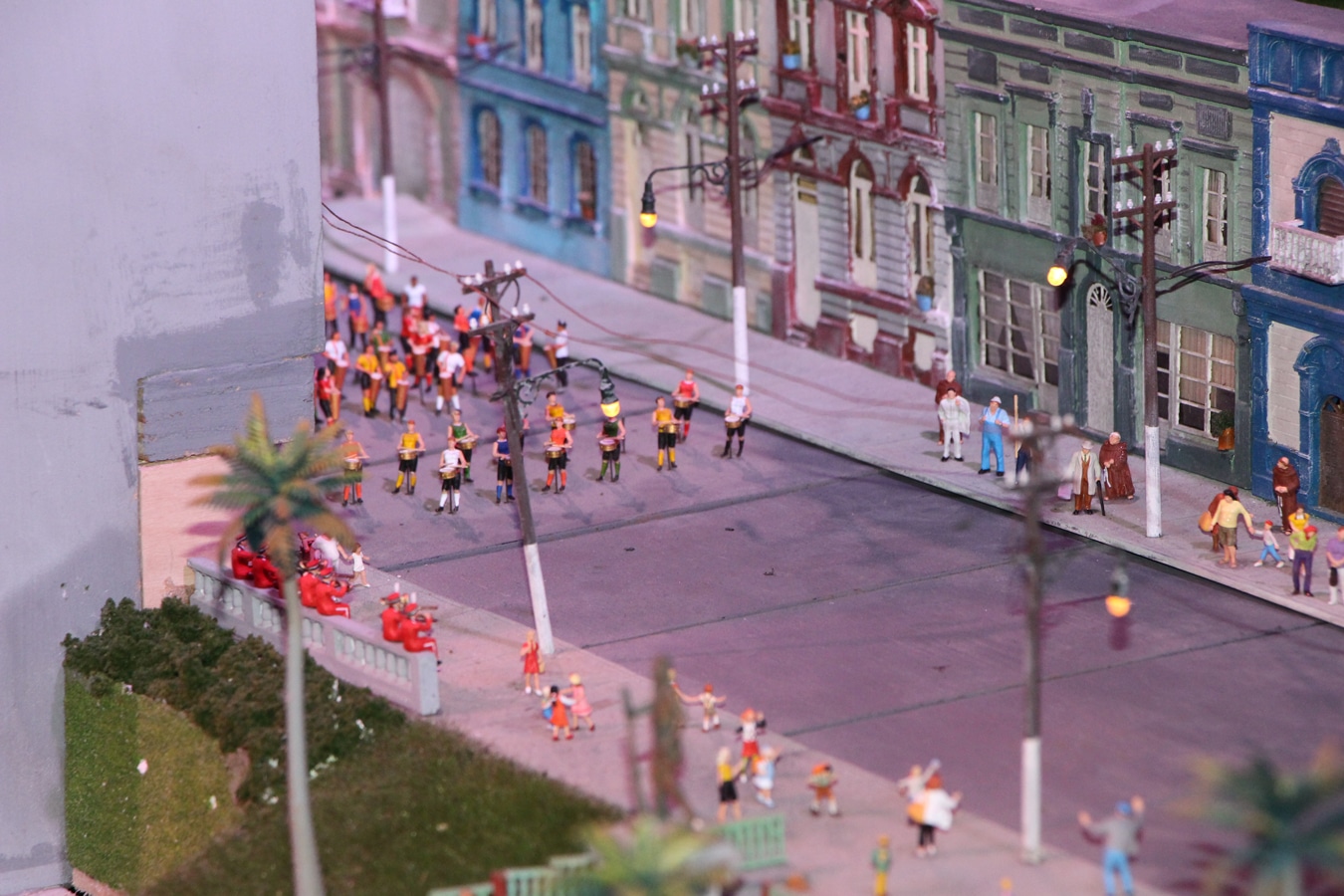 After leaving the New York area you take a direct route to Europe with section features many of the famous tourist attractions such as the Eiffel Tower, The Leaning Tower of Pisa, The Tower Bridge, The Matterhorn Mountain, the Norwegian Fjords just to name a few.

Russia is next as well as Asia, Latin America, and the Middle East.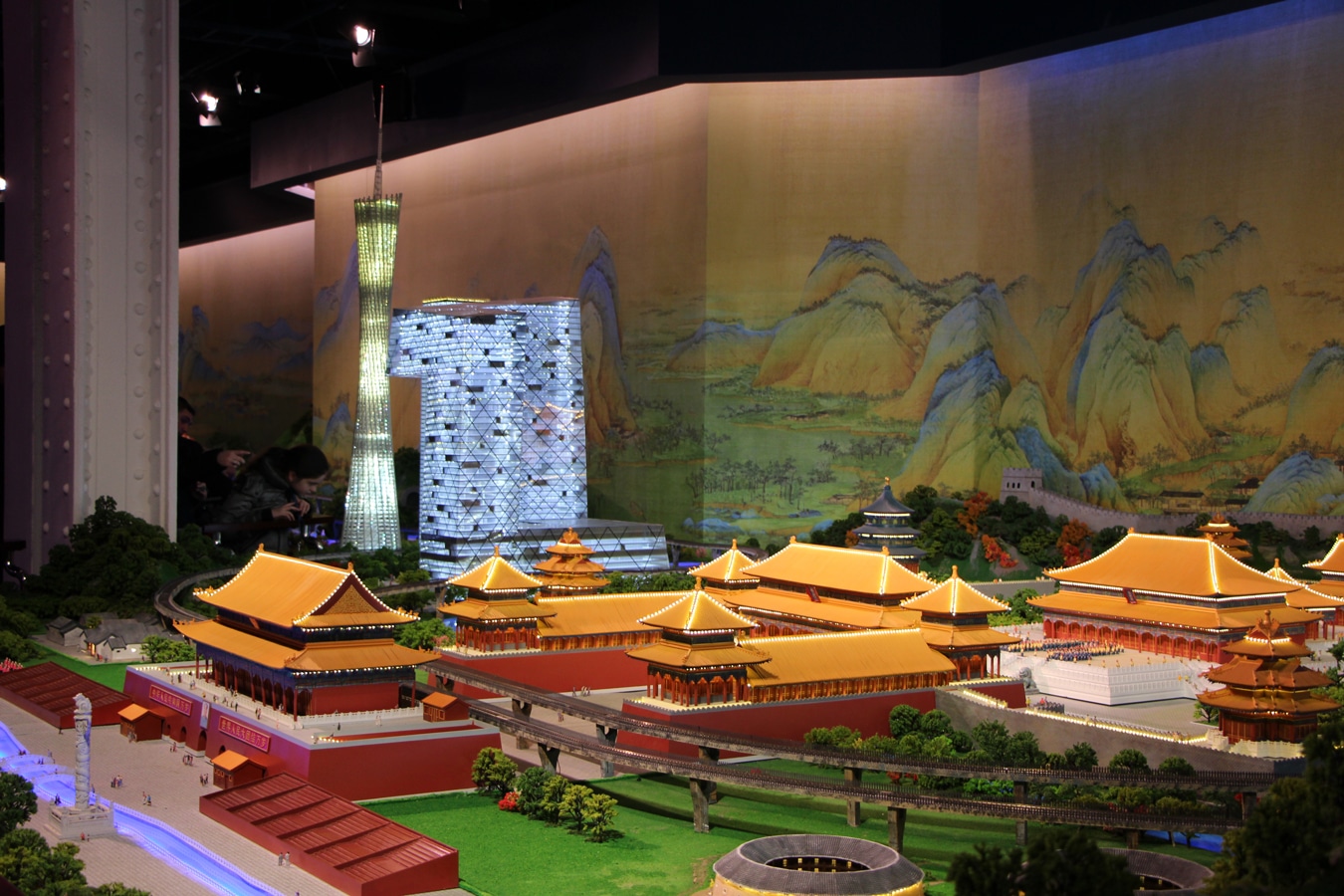 There is so much detail in the displays that you can get lost in the mini world for hours of pleasure.
 Address:
216 W 44th Street
New York, NY 10036
 Phone Number:212-235-2016
 Hours:10:00 AM-8:00 PM
Last entry is 1 hour before closing
 Price:
Adult entry: $36.
Children (12 and under) entry: $27
Senior (65+) entry: $27
 Approximate Distance from:
Brooklyn Bridge: 30 minutes
Lakewood: 1 hour, 10 minutes
Monsey: 1 hour, 10 minutes