Did you find it stressful to get your kids to stick to a schedule?
When we first heard our kids were going to be home for a couple of weeks before Pesach a month ago, we all started preparing schedules for our families to keep some kind of structure. We even posted sample schedules and templates for you to download and fill in here on Between Carpools.
We quickly realized in our own homes that schedules don't work. They might work for a day or two and then we feel all proud of ourselves. But that doesn't last long. If it has worked for you long term, great.
Rather than keeping things running orderly, most often schedules turn us into policemen. Kids need to do this or that at this or that time and it takes all our energy to get them to stay in line.
This "box system," described below, is a decent alternative. It might save you from a couple "What do I do now?!?" questions.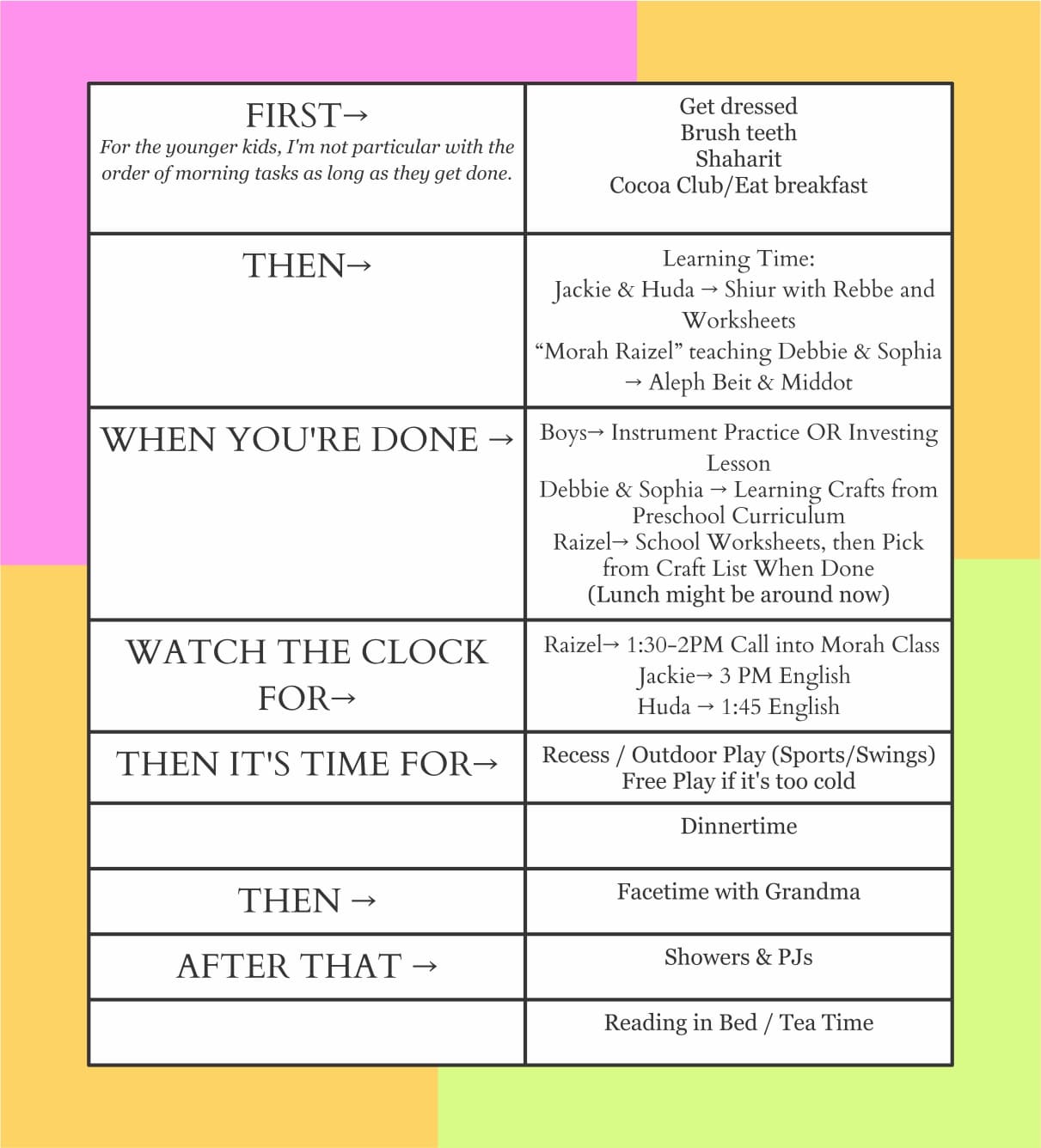 We're going through this at the same time as you, so we don't have all the solutions on how to fill our children's schedule so they're constantly learning and growing and not stagnating, while still affording us time to get our own work done. For me, as I need to work, yet I want my kids to be doing productive things, I needed my 9-year-old to be the "Morah" for the preschoolers for a couple of hours each morning and she's great at it!
I suppose we'll all learn and adapt as we go.
There is no end-all be-all solution. I don't know if this system is going to be "the one" that works for us long term, and it might not be the right fix for all. But it's been good so far for me, so I'm sharing it here.
What is the "Box System" (or we can call it the "First, Next, Then" System!)?
Basically, the box system gives kids some guide as to "what they should do now." No matter what time they get up, they do box one before moving onto box two. Box one in most homes will alway include getting up, brushing teeth, getting dressed, davening, and breakfast. The rest of the boxes can vary according to your family's preferences. The boxes don't have set times, just a set order.
Why Mom Doesn't Need to Nudge
It doesn't matter if they want to sit in bed and read a book for an hour before starting their day. You don't need to nudge. They're going to have to do box one no matter what time it gets done (anytime before their first live class). They're going to have to do box two before they get to do box three.
Watch the Clock
Some parts of the day will definitely be taking place at specific times, such as the boys shiurim or other phone or Zoom classes. There are "watch the clock" items throughout the day. Those are the items that are bound by time.
Box Order
It helps to have the learning box earlier in the day with something the kids look forward to taking place later in the afternoon, so there's incentive to keep moving forward.
And If the Boxes Don't All Get Done?
It doesn't matter! As long as the kids tune in and pay attention to their classes, whether they choose to engage in the other activities in each time slot doesn't matter so much. You can decide which boxes you are set in stone and which not.
Download a blank schedule here.

What solutions have worked for you in managing your family's schedule? I'd love to hear your tips!